People in the app industry use App Annie Store Stats every day to find hot apps and follow the publishers that make them. But what are they searching for on Store Stats? In this ongoing series, we'll highlight the apps that industry pros are watching, in an effort to uncover the trends before they hit the headlines. In this edition, we'll look at an app experiencing a surge of attention in Japan from July 21-27, 2014.
COLOPL Lets the White Cat Out of the Bag
Japanese mobile app publisher COLOPL may have another huge hit on its hands. On Store Stats in Japan, "白猫プロジェクト" (The White Cat Project) -- a recently released action RPG from Tokyo-based COLOPL -- topped user searches. COLOPL launched The White Cat Project on Google Play at an opportune time in Japan. The freemium app landed in mid-July, right before the Japanese national holiday Marine Day.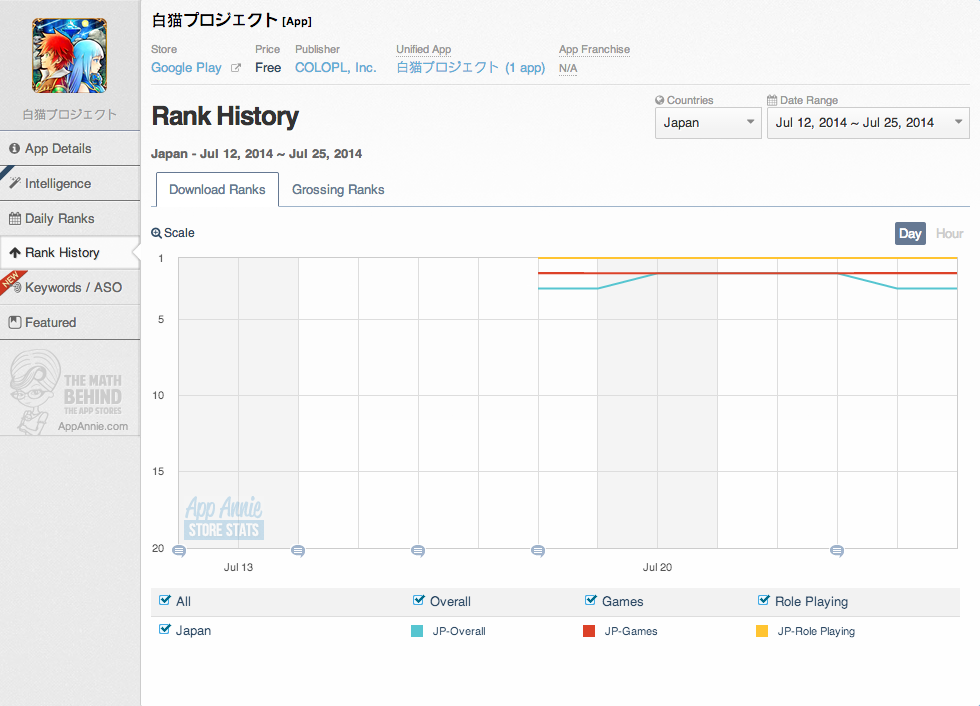 The White Cat Project is off to a blistering start.
The timing of the action RPG's release couldn't have been better. The White Cat Project instantly sprung up the Japan Google Play top overall download and grossing rankings. By July 18, the action RPG found itself among the top 3 in the Japan Google Play top overall download ranks. In the Japan Google Play top overall grossing ranks, The White Cat Project was clawing at the door of the top 10 as it sat at #12 (as of July 24).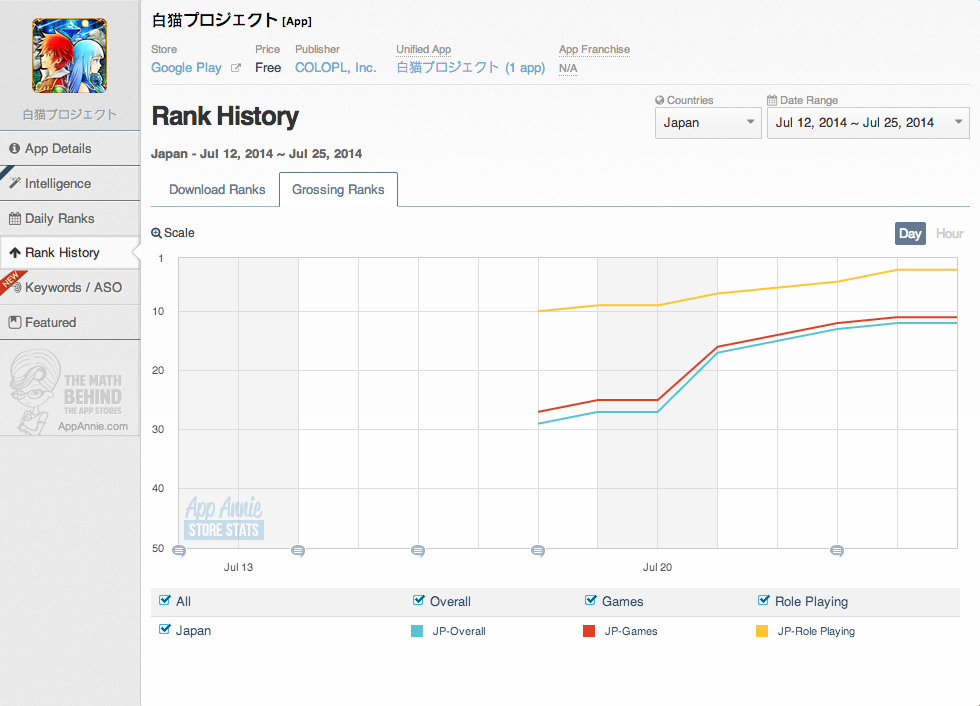 The White Cat Project is sinking its fangs into the competition on its way to the top.
Investigating the Elements of a Hit Japanese App
While The White Cat Project isn't a successor to COLOPL's hit game Quiz RPG: World of Mystic Wiz, both games prominently feature cats. In The White Cat Project, players explore and battle in free-roaming environments. Players don't have to journey alone, though. They can choose to fight alongside AI-controlled characters or with up to four other players simultaneously. The game also weaves in city-building gameplay elements, allowing users to build their own towns where they can interact with friends, enhance their characters and upgrade weapons.
The White Cat Project shares one common thread with hit Japanese mobile games including GungHo Online's Puzzle & Dragons, Mixi's Monster Strike and COLOPL's own Quiz RPG: World of Mystic Wiz -- you can play with only one hand. Players need only their thumbs to control the game via swipe and tap gestures.
Get our next Top Trending Apps on Store Stats series sent straight to your inbox by subscribing to the Apple Annie Blog (use the form below). Plus, you can follow us on Twitter, Facebook and LinkedIn.