Following our recently released report, we highlight two important trends fueling the top mobile games of 2017
As we pointed out in our recently released report with IDC, the Gaming Spotlight 2017 Review, mobile gaming first overtook both home game consoles and PC and Mac gaming for highest consumer spend in 2014, and since then its global lead has significantly widened. In fact, in 2017, mobile game spending was 2.3x PC/Mac gaming and 3.6x home game consoles, leaving mobile as the clear leader.
Narrowing our focus to specific games, there are some clear takeaways that can be gleaned from examining similarities between the top grossing titles.
For instance, even a quick glance at the top five grossing games across the iOS App Store, Google Play and handheld games consoles last year reveals that all but two came from companies headquartered in Asia-Pacific, further demonstrating the region's large and growing influence (not just in aggregate spending, but in game origination and gameplay innovation).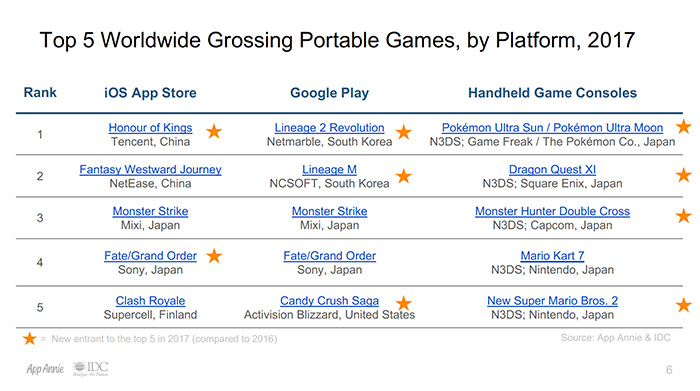 Additionally, it's important to note that the top two grossing games on both iOS and Google Play in 2017 featured live player vs. player (PvP) gameplay, demonstrating that hardcore-leaning multiplayer elements aren't just possible on mobile devices, they've already proven popular and lucrative. In fact, live PvP or co-op gameplay is increasing in popularity on all major platforms, a trend that's consistent with the rise of esports-related games, associated tournaments and related video content.
This look at the trends behind the top grossing games of 2017 is just a slice of the overall report. For more detailed stats, analysis and stories, download the Gaming Spotlight 2017 Review report directly on the page by filling out the form below. Customers who log-in can download immediately.