TikTok Has Seen $3.7 Billion in Lifetime Consumer Spend Off the Back of the Biggest Quarter in Spend Among Any App or Game Ever
TikTok has hit the major milestone of seeing over $3.7 billion in lifetime global app store consumer spend as of Mar 31, 2022. 
The app first launched in April 2014, and after just 8 years since launch, TikTok has proven to be a global force on mobile. TikTok's rise to dominance started in 2018 when it acquired Musical.ly, and has set new global records on mobile — the latest being its Q1 2022 performance for consumer spend.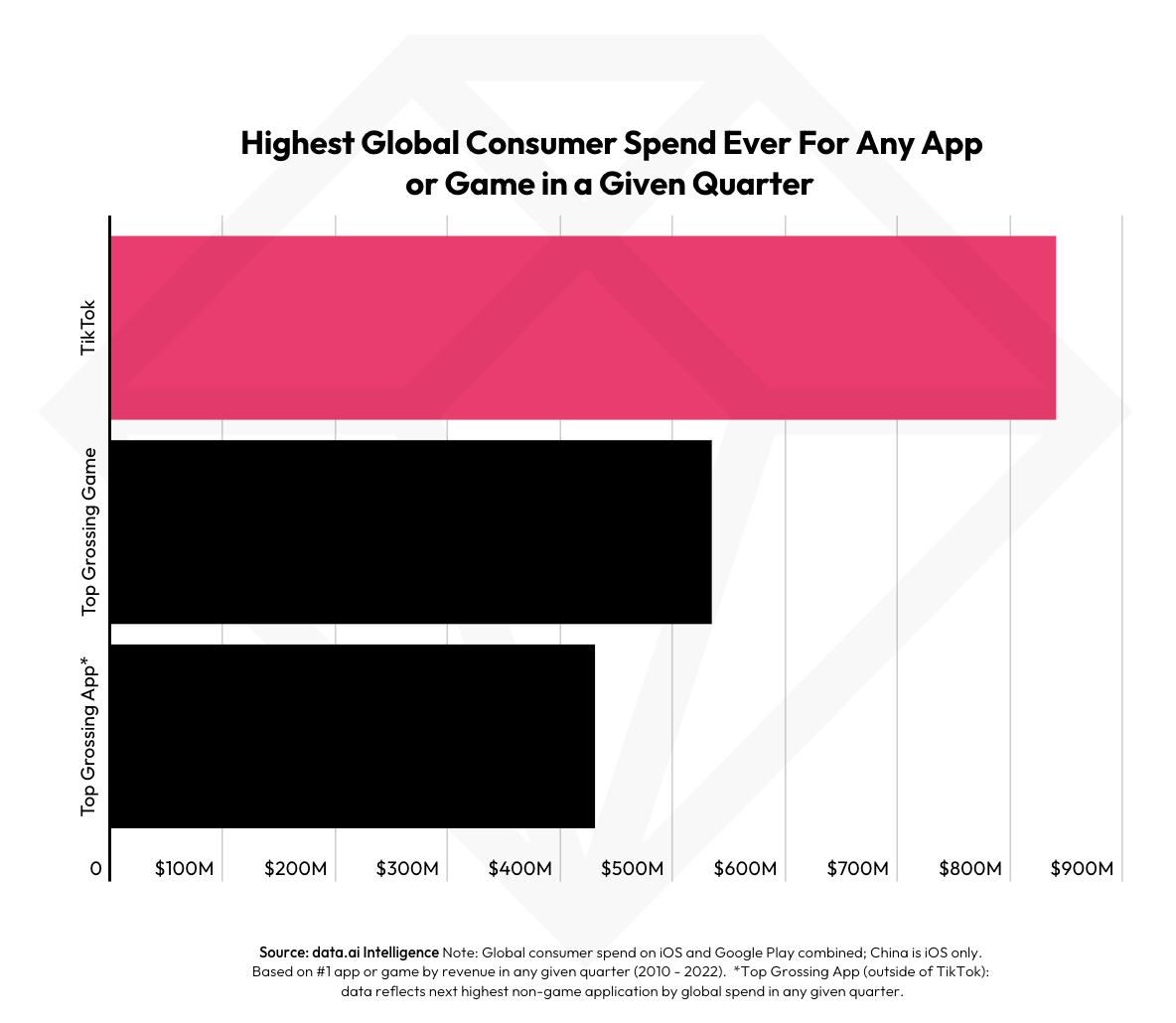 A major factor in TikTok's recent rise to the top is its monetization strategy. TikTok primarily monetizes through advertising — attention-grabbing content critical to their success. Outside of in-app advertising, TikTok uses a feature similar to the tipping system that Twitch uses to monetize. Coins are TikTok's currency. Fans can buy gifts using coins and give the gifts to their favorite creators. Creators can also buy coins to use tools like the Promote tool – where creators can choose a video to promote in hopes of increasing views or followers. Coins allow creators to then set a promotion budget, duration, goal, and audience for a set amount of coins.
TikTok's Global Consumer Spend Jumped 40% Quarter over Quarter from Q4 2021
TikTok ranked #1 among all apps and games by consumer spend in both Q1 2022 and the previous quarter – becoming the first app to ever beat a game in consumer spend in a given quarter — first in Q4 2021, and again in Q1 2022.
Furthermore, global spend in TikTok in Q1 2022 marked the biggest quarter for any app or game ever. The app surpassed $840 million in consumer spend worldwide, a 40% jump from Q4 2021. The US was among the primary drivers of growth — with consumer spend increasing 125% QoQ in Q1 2022.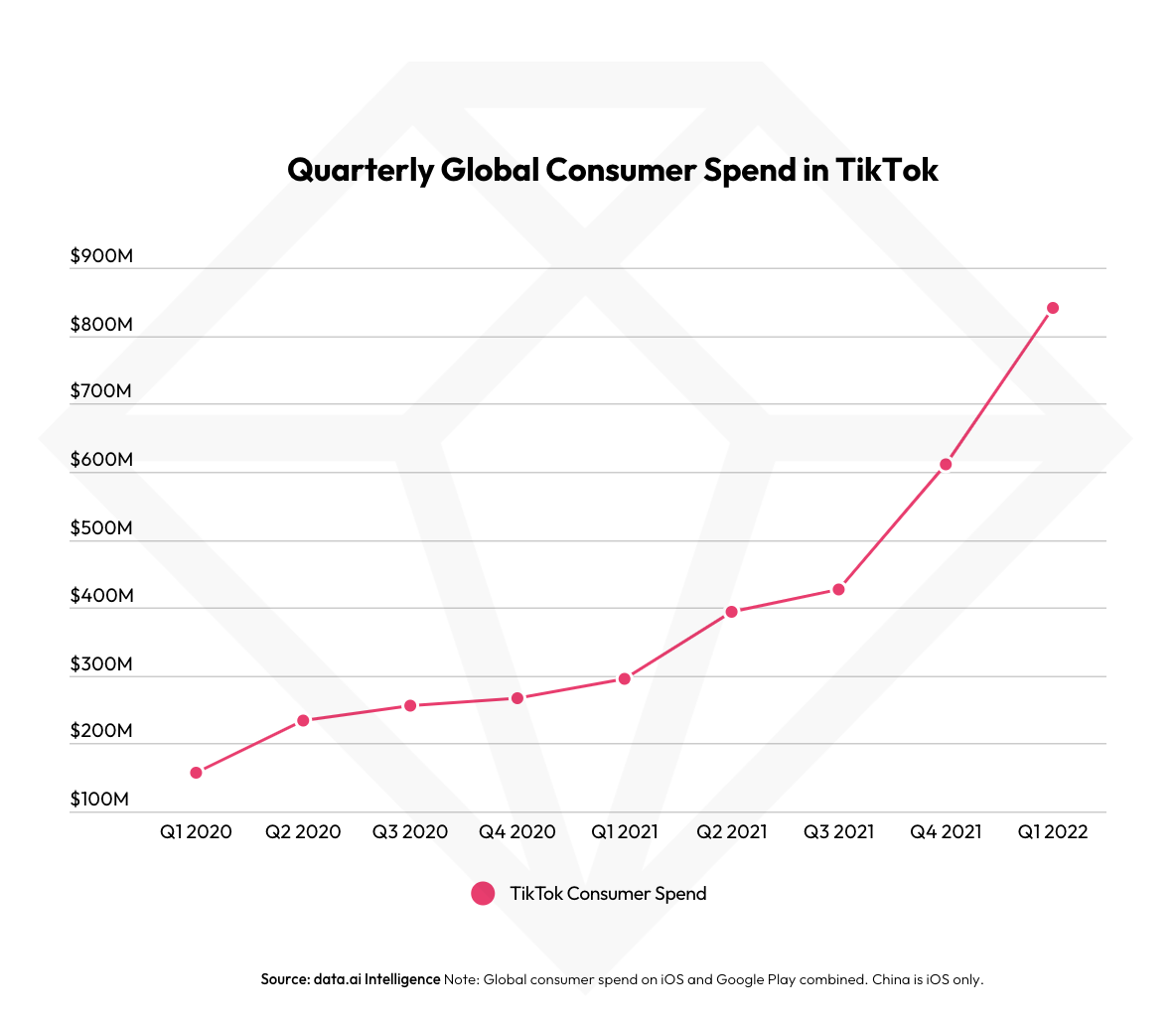 The US ranked #1 by consumer spend in Q1 2022 for TikTok, contributing to 37% of total spend. China was #2, contributing 26% of TikTok's spend in Q1 2022. 
Outside of the US and China, the top markets by spend for TikTok in Q1 2022 included Kuwait, Germany, Saudi Arabia, United Kingdom, Russia, Japan, France and Italy.
TikTok Nears 1.6 Billion Monthly Active Users Worldwide in Q1 2022
TikTok ranked #2 by downloads, #1 by spend, and #5 by average MAU in Q1 2022. We forecast that TikTok would surpass the 1.5 billion MAU milestone in 2022, and after just 1 quarter in 2022, TikTok has indeed shattered that prediction. Not only does TikTok have a growing user base, the app has fostered deep engagement — with global users outside of China spending 19.6 hours per month on average in the app during 2021. While this is equal to Facebook (the #1 Social app by time spent globally in 2021), TikTok's growth trajectory is unrivaled, up 4.7x in just 4 years. In 2018, its average monthly time spent per user was only 4.2 hours.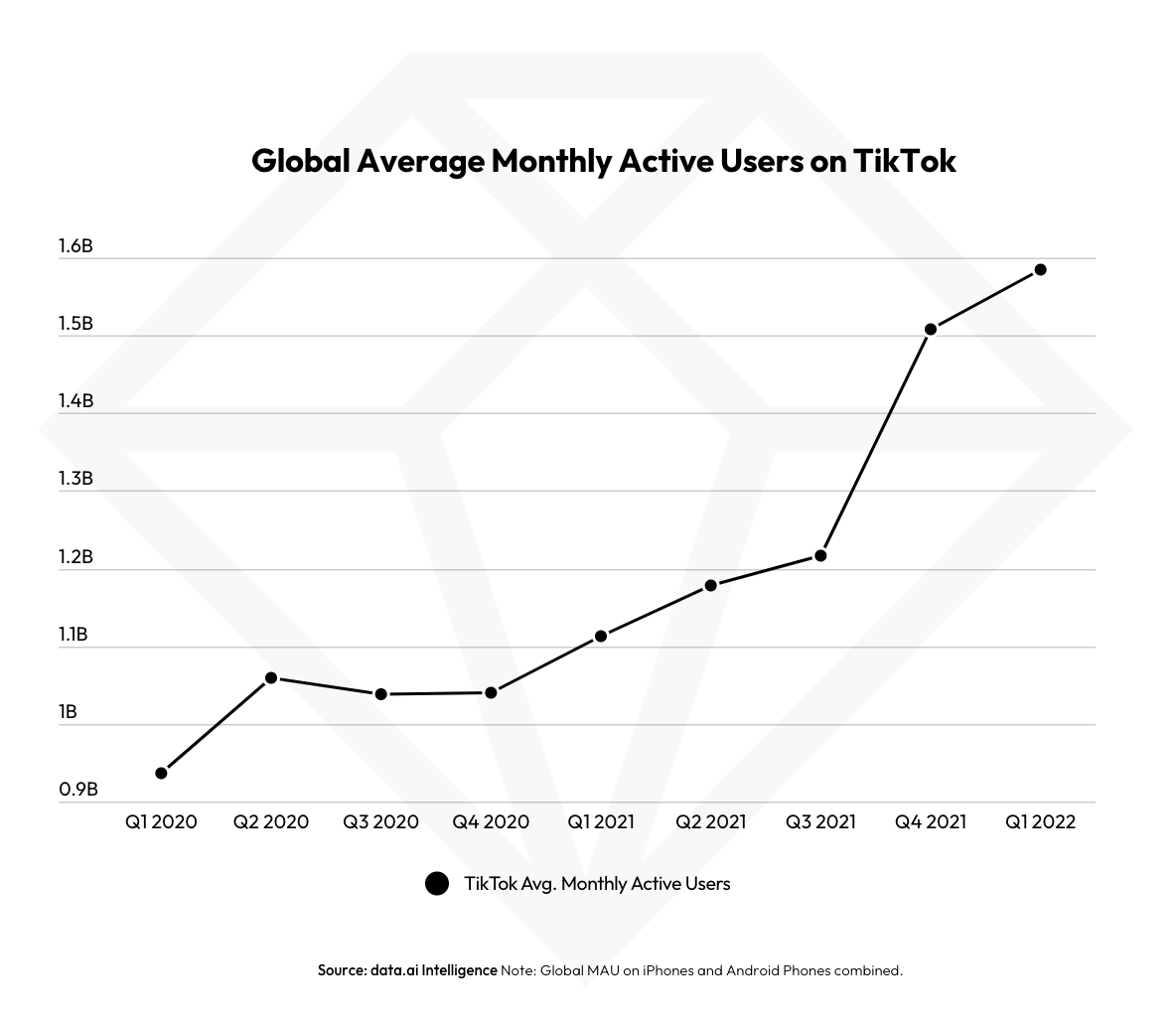 TikTok continues to expand its capabilities — blurring the line between social, video streaming and music, all the while bringing in new users and providing innovative new features to foster greater retention among its current base. 
In March 2022, TikTok expanded the pilot of its Stories feature, which began testing in  summer 2021. During the same month, TikTok also launched SoundOn, allowing artists to upload and monetize music — encroaching on the music streaming territory of apps like Spotify and Apple Music, among others. According to our State of Media & Entertainment report, Spotify ranked #1 for global downloads in 2021, followed by ByteDance's (TikTok's parent company) music streaming platform Resso, which underscores TikTok's commitment to the music discovery and streaming space.  
Looking for More Mobile Insights?
Sign up here to claim a copy of data.ai's industry-leading State of Mobile report:
Looking to make more of the mobile opportunity? Talk to an expert today.
DISCLAIMER: 
data.ai is a mobile market estimate service provider. data.ai is not registered in any investment advisory capacity in any jurisdiction globally, and does not offer any legal, financial, investment or business advice. Nothing contained in this communication, or in any data.ai products, services, communications, or other offerings, should be construed as an offer, recommendation, or solicitation to buy or sell any security or investment, or to make any investment decisions. Any reference to past or potential performance is not, and should not, be construed as a recommendation or as a guarantee of any specific outcome. You should always consult your own professional legal, financial, investment and business advisors. Additionally, by providing the information herein, data.ai does not make any representations or warranties and does not undertake any legal or contractual obligations whatsoever. No liability may accrue to data.ai as a result of providing this information to you.