data.ai's new App IQ Shines a Spotlight on the Entertainment and Books & Reference App Genres, Together Accounting for Half of 2021's Global Consumer Spend
data.ai's Latest Report Unveils the Power of App IQ, the Industry's First Robust Taxonomy

Our latest report unveils the State of the Media & Entertainment on mobile with unprecedented granularity across video streaming, Music & Audio and Books & Reference apps powered by App IQ.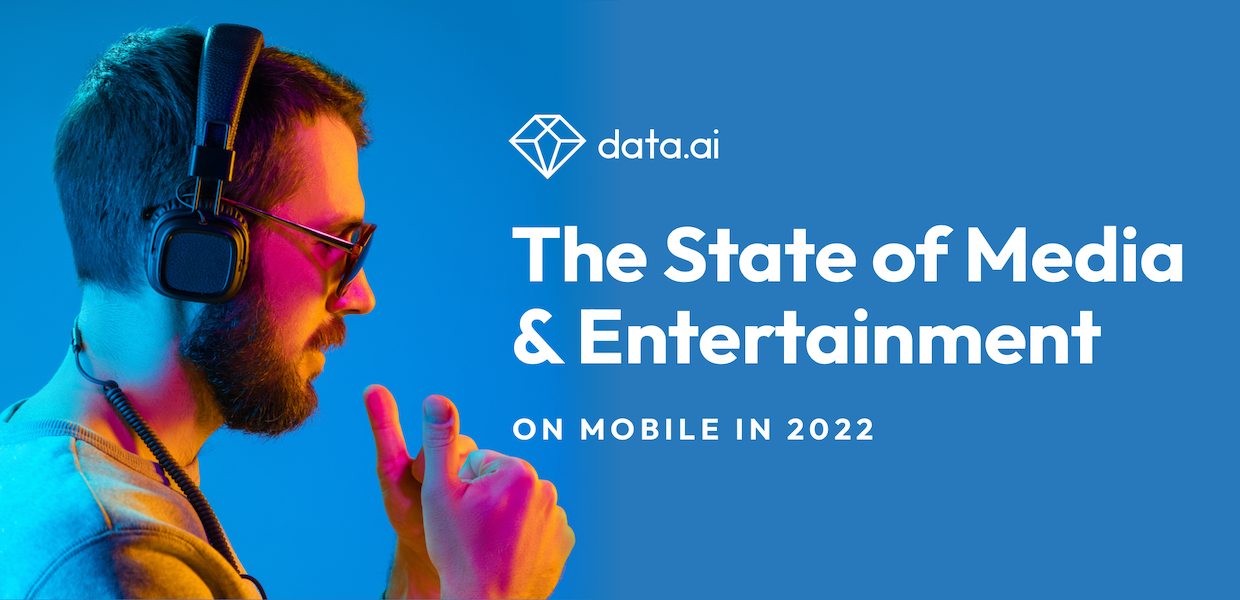 App IQ is the industry's first comprehensive taxonomy — replacing antiquated app store categories with unparalleled granularity into the mobile ecosystem across 19 genres and 152 subgenres. Our State of Media & Entertainment report is an example of App IQ in action, allowing us to dive deep to uncover nuanced insights publishers need to succeed on mobile, such as:
Entertainment and Books & Reference app genres together accounted for nearly 1 in every 5 non-gaming app downloads and

nearly 50% of consumer spend worldwide

in 2021

The OTT subgenre alone accounted for 25% of all spend in Entertainment apps,

representing a highly competitive market ripe for disruption and consolidation

Comics apps saw 44% growth YoY in consumer spend and represented a market 6x larger than that of Audio Books for global consumer spend —

highlighting a large consumer shift fueled by Gen Z

YouTube Music

was the #2 breakout music streaming provider by consumer spend —

showcasing the power of service synergies across genres
Media & Entertainment is an evolving sector, with mobile as the primary battleground among media giants. With a third of waking hours spent on mobile, it is critical for any business on mobile to keep close tabs on granular shifts to remain competitive. Our latest report — powered by App IQ — can help you do that.
OTT (Entertainment) Apps Represents 17% of All Non-Gaming App Spend Share — The Highest Share Among All App IQ Subgenres
Our latest report covers 6 subgenres under the Entertainment and Books & Reference app genres across 29 markets, ranging from Short Videos to Music & Audio to Comic Books apps.
Download the report to dive into which App IQ subgenres have seen the greatest growth and represent areas of opportunity for mobile success.
Within the Entertainment app genre, the OTT subgenre took the largest share of downloads and consumer spend worldwide, with more than 2.2 billion downloads and $6.3 billion in consumer spend worldwide in 2021 — the latter representing an astounding 53% increase YoY. 
The report also features Short Video apps, a new challenger on the block that is quickly capturing consumer attention. Thanks primarily to apps such as TikTok and Kwai, this subgenre saw a 38% increase in time spent worldwide YoY to reach a collective 450 billion hours, more than 3x the total time spent watching OTT apps. Although OTT apps successfully monetize via in-app subscriptions, competition is now not only between one streaming service and another, but also across short video apps featuring snackable user-generated content and social media influencers. App IQ can help you identify emerging trends such as these so you can craft a successful strategy.
Taking It a Step Further: Illuminating In-App Features of Media & Entertainment Apps with App IQ
App IQ's Feature Tags allow you to go even deeper and compare detailed in-app features. Using feature tags in the State of Media & Entertainment report, we discovered that Short Video apps account for 4 of the top 10 downloaded apps that contain Video Playing features. By comparison, OTT only accounted for 3. However, OTT apps accounted for 37 of the top 100 apps that featured Video Playing capabilities, while Short Videos apps accounted for 10. This means that a few Short Videos apps such as TikTok see very high downloads globally, resulting in a larger percentage of the pie concentrated in a handful of major competitors, whereas OTT apps dominate the share of pie in volume of apps. This means more opportunities for publishers to tailor their video streaming platform's content to best fit the market, including optimizing for a specific niche or audience such as anime, documentaries, limited-series shows, etc.
App publishers can leverage App IQ's Feature Tags to quickly scope the granular features of emerging apps and stay ahead of the competition. Read our report to uncover how video and social features differ across top Video Playing apps in 3 major markets.
We see these features playing a role in market adoption of top streaming apps. Netflix was #1 in 23 out of the 29 markets analyzed in terms of average monthly active users in Q4 2021. However, Disney+ has gained traction in recent months. This could be due in part to their inclusion of Party Play and Share features — points of differentiation highlighted by App IQ's Feature Tags, as well as exclusive content and strong IP. Their recent announcement of launching a new ad-supported subscription tier that's cheaper than the existing subscription could also attract new global viewers. Feature tags also illuminate how China's OTT apps such as iQIYI and bilibili are blurring the lines between OTT, Video Sharing, and Social subgenres, allowing more interactive features to emerge. With App IQ, publishers can quickly compare features from direct competitors or even from apps in other subgenres to identify emerging threats, keep up with the competition and pinpoint apps offering innovative features that span multiple genres.
The Future of Media & Entertainment is Determined on Mobile
As the Entertainment genre continues to evolve and shift according to viewer preferences, so too will app publishers when determining the best way to accommodate — and stay ahead of — those fast-changing preferences. Whether it's OTT apps vying for global subscription dominance or Live Streaming apps taking over mindshare or Comics apps (Books & Reference) innovating to fuel new areas of demand, one thing is for sure: Entertainment apps will continue to be the primary battleground for consumer attention. Our latest report will help you stay ahead of the competition.
Download the Report Today to Uncover Trends Across 6 Subgenres in 29 Markets:
To uncover deeper insights into which Entertainment apps are growing in popularity, read our latest report: State of Media & Entertainment on Mobile 2022. Insights include:
Understand the comprehensive Media & Entertainment on mobile

to put your best foot forward in a market where competition is heating up

Uncover which video streaming apps Gen Z, Millennials, and Gen X/ Baby Boomers prefer

and how this factors into optimizing for your target audience

Identify keywords most in demand for Music Streaming apps

and how you can maximize your App Store Optimization strategy to drive organic growth

Discover regional differences in music streaming and radio apps —

and how these factor into your go-to-market strategy

Follow the rise of the comic books apps and

be among the first to learn which titles are poised to disrupt the entire Books & Reference app genre

And More!
DISCLAIMER:
data.ai is a mobile market estimate service provider. data.ai is not registered in any investment advisory capacity in any jurisdiction globally, and does not offer any legal, financial, investment or business advice. Nothing contained in this communication, or in any data.ai products, services, communications, or other offerings, should be construed as an offer, recommendation, or solicitation to buy or sell any security or investment, or to make any investment decisions. Any reference to past or potential performance is not, and should not, be construed as a recommendation or as a guarantee of any specific outcome. You should always consult your own professional legal, financial, investment and business advisors. Additionally, by providing the information herein, data.ai does not make any representations or warranties and does not undertake any legal or contractual obligations whatsoever. No liability may accrue to data.ai as a result of providing this information to you.