TV advertising in Japan has shown to be effective for driving new mobile users and re-engaging existing ones.
Japan represents a mobile gaming population unlike any other. With their high engagement and unmatched spend in-app, these gamers are a huge opportunity for publishers. While it's a market known to prefer local companies, with about 90% of 2015 mobile gaming revenue generated from Japanese publishers, there remains a global opportunity. For foreign publishers looking to break into this market, taking care to localize and build awareness for higher likelihood of adoption is crucial.
Television advertising, though often overlooked, has become a growing (and effective) method to acquire users. In Japan, it's often used as a channel to re-engage potential players in Japan for both new and older games. Harnessing data supplied by Video Research and Dentsu, App Annie found that TV ad spend for mobile games has steadily increased in Japan, growing nearly 70% from 2013 to 2015. All of this spend is garnering results for top apps, helping them realize a bump in both revenue and downloads. The data also suggests that these types of ads are sticking as a tool for foreign publishers to make a name for themselves.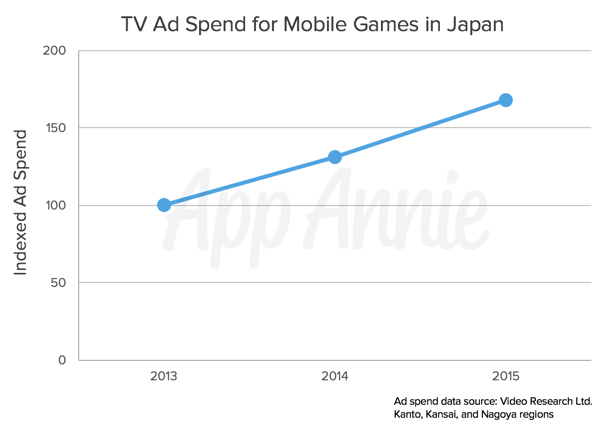 Within the first month of a TV campaign in Japan, downloads typically see a much higher average percent increase than revenue, at nearly 225% versus approximately 25%. Older games specifically have found TV ads of significant importance for user re-engagement purposes. Games like Puzzle & Dragons and Monster Strike, which have been a part of the Japanese mobile gaming scene for a while, are still seeing the benefit in advertising heavily and continuing to generate revenue based on those efforts.
Role-playing games (RPGs) represent a huge part of the Japanese mobile gaming culture; they're often faster to monetize and tend to dominate the top download charts. Taking a look at TV ad spend for RPGs versus non-role-playing games, Japan saw a significant skew at over 1.75x toward RPGs. However, RPGs and non-RPGs are seeing a positive benefit from any TV advertising campaigns that are put into effect.
For more insights into effective TV advertising for mobile games in Japan, download our complimentary report.
To get the full report, click the download button below:
Looking for More?
Follow us on Twitter (@AppAnnie).