Temu made its US debut during the run-up to Black Friday and Cyber Monday holiday shopping fervor and has continued to top the charts in 2023. Following a high-profile Superbowl LVII television ad, Temu may see a sustained lift in Q1.
Temu Breaks Into the US Shopping Market and Accelerates Momentum with Superbowl LVII TV Ad
Temu has taken the US market by storm — debuting on the app stores in August 2022, but making a significant ramp-up over the Black Friday shopping period — surpassing Amazon, Walmart and SHEIN to claim the #1 rank by Shopping app downloads in November 2022. Temu has held the #1 rank for the next two months through January 2023. Since launch, the app has been downloaded 20 million times in the US as of Feb 11, 2023. 
Follow the latest app ranking charts with a free data.ai account. 
Temu has prioritized heavy app user acquisition — even securing an ad spot during the Superbowl LVII game with a hefty $7 million price tag. The ad featured the mobile app throughout and ended with a prompt for consumers to 'Shop like a billionaire' with prompts to download the app. 
What Is Temu and How Is It Capturing US Market Share? 
Temu is leveraging a sophisticated strategy to tap into price-sensitive consumers in the US through:  
Competitively low prices 

Timely holiday & event promotions 

Mobile-first user acquisition

Gamification  
Competitively Low Prices: Temu is a sister app to Pinduoduo, an ecommerce platform in China offering "factory-to-consumer goods". Temu is short for 'Team Up, Price down', based on users joining group deals with others to lock in large discounts on products. By cutting out the middleman, Temu offers deep discounts and bargains. 
Demand for Deals & Timely Bargains: Part of its rapid ascent lied in the strategic timing of its launch — capitalizing on price-sensitive consumers facing lower disposable income ahead of the holiday season and timely Black Friday deals. Temu ran strategic campaigns with full App Store Optimization (ASO) tactics driving towards Black Friday and deal-driven traffic.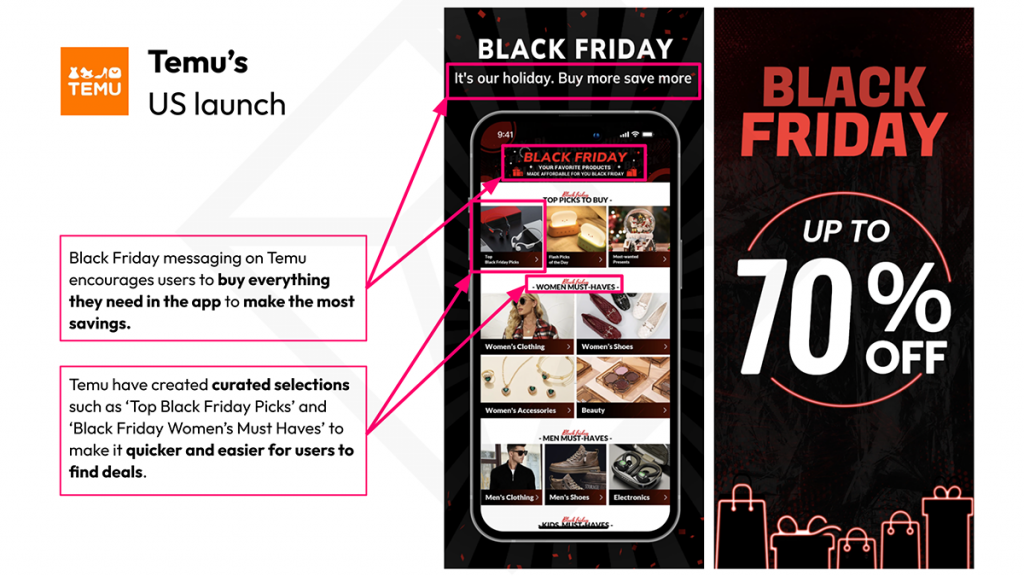 Mobile-First User Acquisition: Consumers in China were early adopters for mobile commerce (m-commerce), with mobile accounting for the lion's share of sales during many shopping festivals like Singles Day (11.11). Markets like the US lagged until the onset of COVID-19 greatly accelerated adoption of mobile-first shopping habits. 
The US market has seen the highest levels of mobile shopping ever in 2022 — topping 2.8 billion hours spent in shopping apps. In this climate, Temu is capitalizing on market demand and leveraging savvy ASO tactics to drive first-time downloads as well as re-engage users, including paid search ads and in-app events. These can be savvy tactics to increase discovery as well as engage lapsed users, particularly when centered on holidays and tentpole events to drive demand.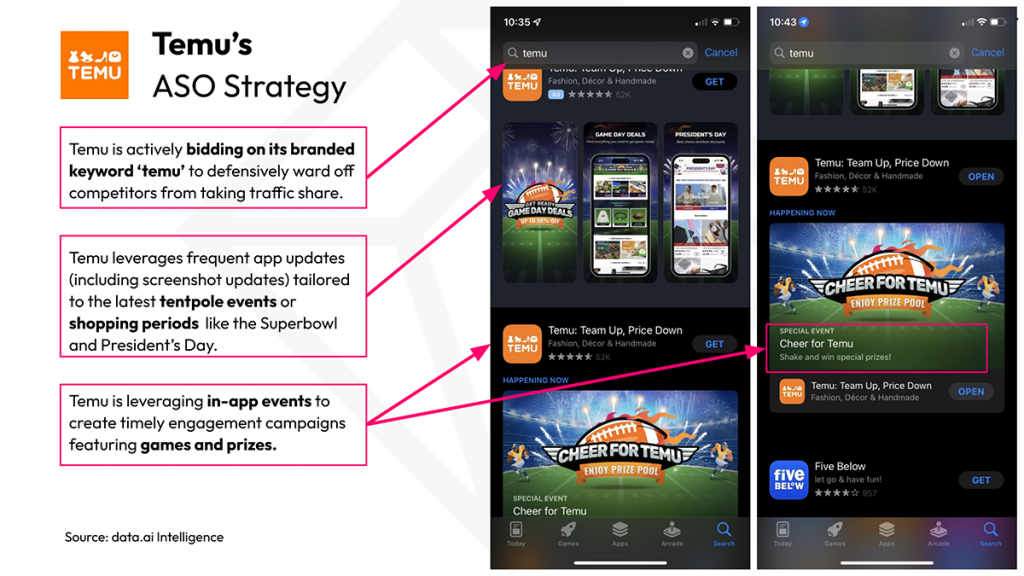 Temu has also promoted mobile-first re-engagment tactics such as enabling push notifications and text messages so that users can access some of the time-sensitive key value propositions of their app: exclusive deals, flash sales & checking order status.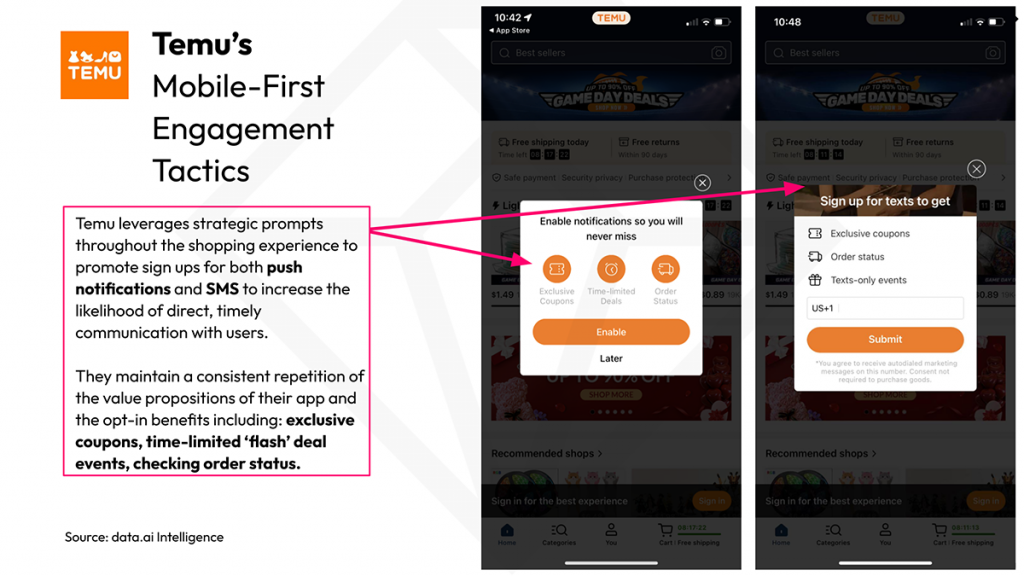 Gamification: Deepening App Engagement with Games, Rewards and Referrals
Part of Temu's success lies in its engagement tactics. Temu has leveraged sophisticated gamification tactics in its app designed to increase retention, delight users and keep them coming back. Subtle additions and larger more-direct games have helped to steadily increase daily active users throughout Q4 2022. 
These tactics vary as seemingly 'small' features like countdowns to free shipping, progress bars, order tracking and flash deals with counts on how many items have been sold — designed to tap into the fear of missing out and the social 'proof' point of being a good deal. These can make it feel more like a game — that you are unlocking something of value or have 'won' something.  
Temu has also leveraged more overt gamification with direct games, and gamified referral programs in-app to drum up deeper engagement, directly entertain and delight users and reward them for promoting the app and staying engaged.  
What's Next for Temu? 
Temu is not the first factory-to-consumer retailer to break into the US market. Wish is a well-known competitor in the space, alongside other industry giants offering fast shipping and low prices like Amazon, Walmart and Target. Product quality, customer service, shipping speed, product bundling (such as Amazon's prime service offering Prime Video plus fast and free shipping) and same-day convenience and essentials (such as Walmart's grocery store and in-store pickup) could represent headwinds to retention down the line. The next step will be to monitor app retention and reviews to understand staying power and product-market-fit. 
Hungry for More Shopping Insights? 
Download the State of Mobile 2023 Report to uncover the latest mobile trends for Shopping apps: 
DISCLAIMER: 
data.ai is a mobile market estimate service provider. data.ai is not registered in any investment advisory capacity in any jurisdiction globally, and does not offer any legal, financial, investment or business advice. Nothing contained in this communication, or in any data.ai products, services, communications, or other offerings, should be construed as an offer, recommendation, or solicitation to buy or sell any security or investment, or to make any investment decisions. Any reference to past or potential performance is not, and should not, be construed as a recommendation or as a guarantee of any specific outcome. You should always consult your own professional legal, financial, investment and business advisors. Additionally, by providing the information herein, data.ai does not make any representations or warranties and does not undertake any legal or contractual obligations whatsoever. No liability may accrue to data.ai as a result of providing this information to you.