For app developers looking to enter new markets, finding one that is low risk and offers a higher chance of success is key. Smaller and sometimes overlooked markets present a great opportunity for app developers to enter lower-risk environments that are more susceptible to new apps from global publishers.
Taiwan — a high-growth market where Western publishers have prospered — is one such place.
Cracking the Code: the Asian App Economy
Some app economies, like Asia, tend to favor locally produced apps, as their publishers are more attuned to cultural preferences and references. This can make it much tougher for Western apps to see success in Asian app markets, as the level of localization and culturalization required to succeed can be cost-prohibitive.
China is especially well-known for preferring publishers that are locally based. From dating apps to ride-sharing companies, app publishers from other regions are finding added obstacles when trying to infiltrate the top charts.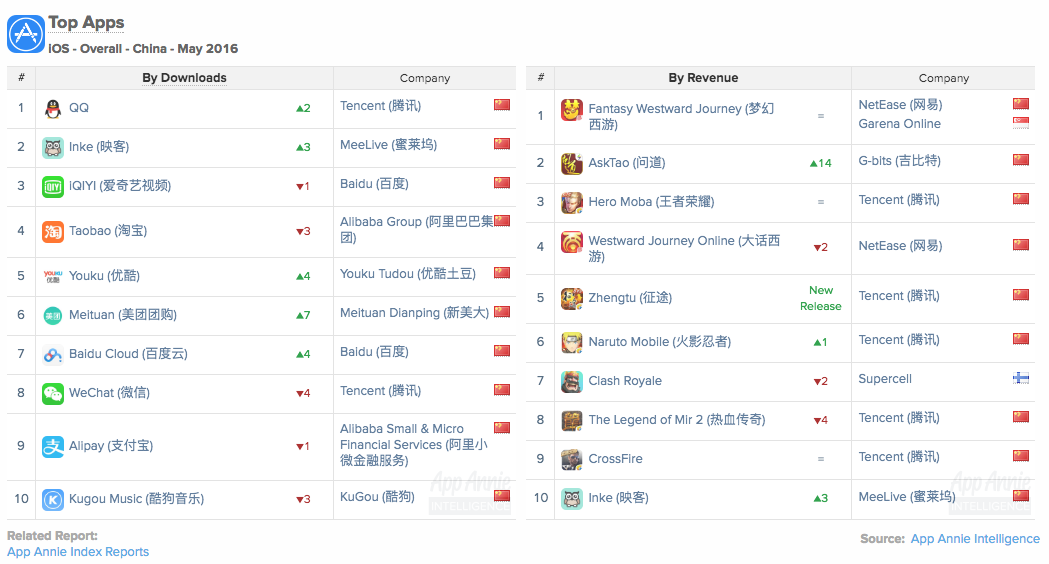 Local apps dominate the iOS charts in China.
A few brands have found success, but only after doing a considerable amount of research. Kabam took care to get to know the cultural preferences of Chinese gamers prior to its regional launch of Marvel: Contest of Champions by developing characters, gameplay and an overall UI that would cater to the proclivities of users. These feature updates helped Kabam claim a top spot in downloads for the Games category.
Taiwan Is the Next Asian App Market to Consider
Gaming has been a large part of the culture in Taiwan since the 1980s. Historically, Japanese titles and IP apps have performed well there; however, in recent years there has been a shift toward users embracing publishers from all countries.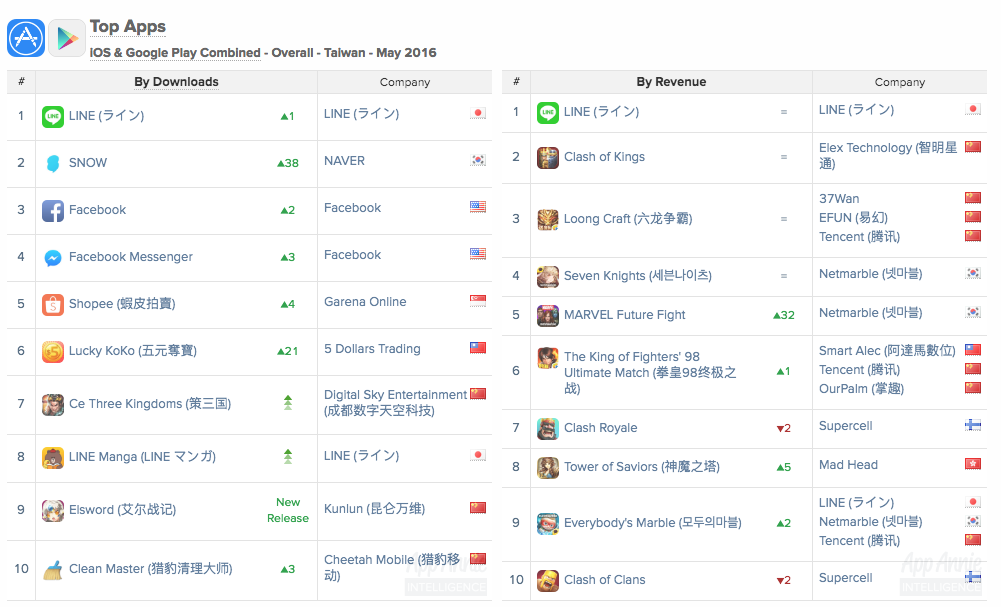 Taiwan saw a mix of popular global publishers for May 2016.
Smartphone penetration is at 78% in Taiwan and users average about 40 apps on their mobile device, presenting a huge opportunity for app developers in general.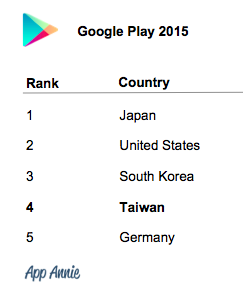 Taiwan jumped to the top five for Google Play revenue in 2015.
In 2015 we continued to see Taiwan's revenue growth boost it to the top 10 for both iOS and Google Play, putting it in the good company of other leading markets. This shouldn't come as much of a surprise since like Korea and Japan, Taiwanese gamers are accustomed to micro-transactions occurring within gameplay. This trend is expected to continue — according to Forecast Intelligence, game market revenues in Taiwan will quadruple over the next four years.
Taiwan's Success Stories
Taking a peek at some of the top Western companies who've succeeded in entering Taiwan, we can see a range of apps from across the globe.
Some of these apps localized to adapt to a new region, while others found a gaming model that translated across cultural barriers to remain relevant and keep users coming back for more. For app publishers looking to expand into Asia, Taiwan is a key mobile game market to consider alongside Japan, China and Korea, with Taiwan proving an easier market to crack.
What Sets Taiwan Apart
According to App Annie Intelligence, Google Play revenue was 1.3x higher than iOS App Store revenue in Taiwan for the 12-month period ending May 2016. And mobile infrastructure is continuing to expand with LTE coverage ranking in the top 10 globally. Developers ready to commit to imbuing their apps with cultural relevance are poised to strengthen their chances for success in Taiwan, as they boast a foreign-friendly app market with less bias toward regionally based publishers.
Taiwan proves the relevance and opportunity of smaller Asian app markets, including other up-and-coming mobile spaces like Indonesia and Thailand that are poised to make an impact. Building up a user base in these regions can only increase an app publisher's potential to top the charts in larger, established Asian markets like Japan and China.
Entering the Asian app market via Taiwan does not guarantee success. While it's clear that Taiwan is a promising app economy to explore, app publishers should be sure to prioritize localization efforts in Taiwan prior to launch. Stay tuned for our next post focusing on actionable items for app publishers to consider before entering the Taiwanese app market.
Build a Better App Business
Subscribe to see more app industry reports, conference updates and guides. Have something to add? Share your questions and comments on Twitter.
Want to take your app business to the next level? Track the performance of millions of apps across the world with download and revenue estimates from Store Intelligence within App Annie. Request a demo today.