| | |
| --- | --- |
| Each month, the App Annie Index highlights the top-performing games and apps for the iOS App Store and Google Play. Our analysis covers trends among the leading apps across countries and categories, and is the industry standard for professionals looking to compare leading apps and publishers. | You might also be interested in: |
This Month's Top Performers
Taiwan: A Laboratory for Mobile Games Going Global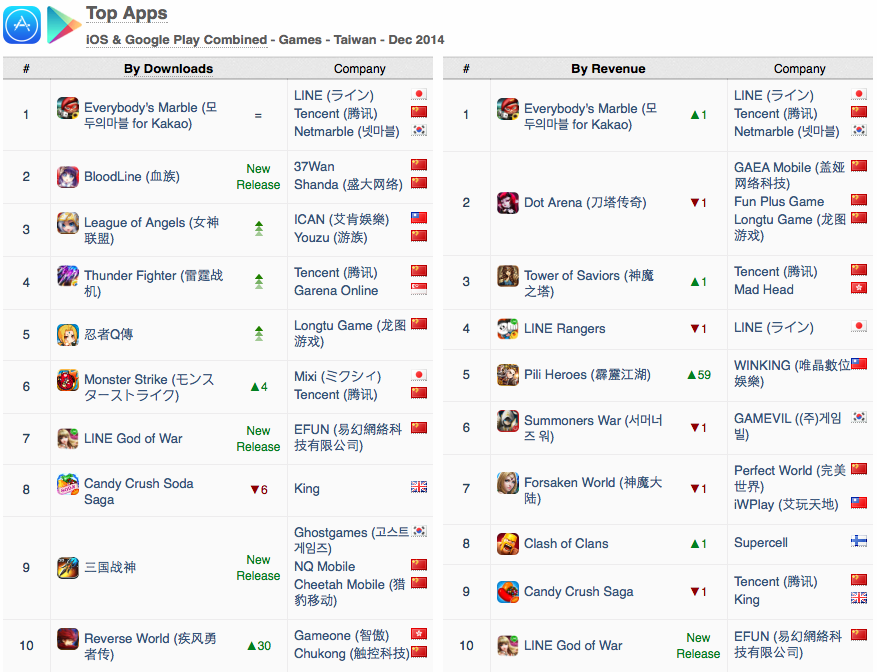 Taiwan has become one of the largest and most important mobile app markets in the world. According to App Annie Intelligence, Taiwan was ranked #10 in apps outside of games and #9 in games by combined iOS and Google Play revenue in December 2014.
Taiwan's culture is primarily Chinese, with a splash of Japanese influence. Taiwanese people share the same historical and ethnic roots with mainland Chinese people and speak the same language. However, Taiwan has been deeply influenced by Japan's pop culture as manga, anime, pop songs and TV dramas are hugely popular -- especially with younger generations.
In terms of gaming culture, Taiwan has been a key market for Chinese, Korean and American massively multiplayer online role-playing games (MMORPGs) for the past 10 to 15 years. Free-to-play, in-game item billing (a form of in-app purchase for in-game items), collectible cards and many other gameplay elements and business models have been well accepted by Taiwanese gamers. Chinese and Korean online game publishers have also established local branches in order to market games in Taiwan.
Trends in Taiwan's mobile app market reflect these influences as Chinese, Japanese and Korean publishers dominated in the gaming and social communication categories. This makes Taiwan an excellent trial market for Chinese and Japanese publishers looking to expand beyond their home markets. Monster Strike from Japan and BloodLine (血族) and Thunder Fighters (雷霆战机) from China are leading examples of this.
Today, three types of games occupy most top spots in the Taiwanese mobile game market: games from LINE, content-heavy titles, and hits from global leaders.
The first category, LINE games, claimed the top spot on both the download and revenue charts in December 2014. LINE is the most popular social app in Taiwan. Of Taiwan's population of 23 million, over  17 million are registered LINE users. As a result, games launched on LINE's platform are easily discoverable, attaining top app store ranks and gaining even more attention. In December, Everybody's Marble (LINE 旅遊大亨) led both the revenue and download charts. While the game was not released in Taiwan until October 22, 2014, it secured the top download rank in the first week after release and the top revenue rank the following week. If we extend our analysis over a longer time period, other LINE games like LINE Rangers, Pokopang (LINE Pokopang), Disney Tsum Tsum (LINE: Disney Tsum Tsum) and Cookie Run (LINE COOKIE RUN) have all been chart leaders at different points in time.
In contrast with their business strategy in Japan to publish all games exclusively on the LINE game platform, LINE provided a game demonstration section for publishers in Taiwan. LINE God of War (LINE 戰神黎明) by EFUN (易幻網絡科技有限公司) is an example of a company that tested the platform. This strategy shift could help LINE quickly add content-heavy games into their mobile portfolio in Taiwan.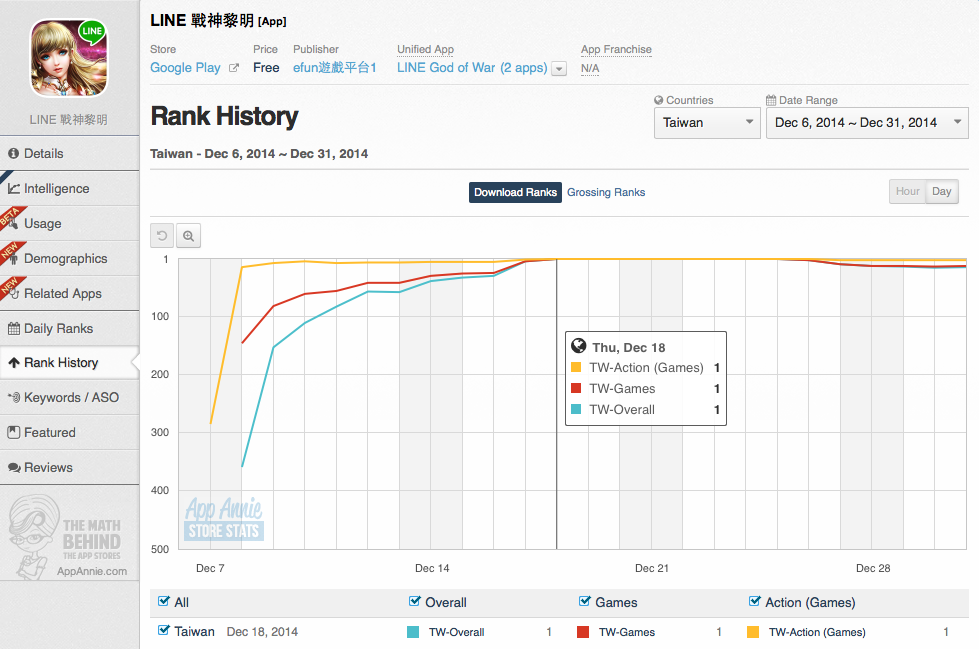 Marketed as "the first RPG on LINE," LINE God of War soared to the top of Google Play's download charts in just 10 days and remained until Christmas.
The second category covers content-heavy games blending RPG and collectible card genres, often developed by game studios in mainland China, South Korea or Japan. Games in this category — including Dot Arena (刀塔传奇) and Forsaken World (神魔大陆) — share gameplay elements, in-app purchase designs and even intellectual property with traditional online PC games, but with simplified controls and shortened game sessions tailored to mobile devices. The marketing campaigns for these games were also reminiscent of online PC games. Taiwan's familiarity with traditional online games helped content-heavy mobile games quickly take over the market, and encouraged Chinese and Korean startup developers to leverage their popularity.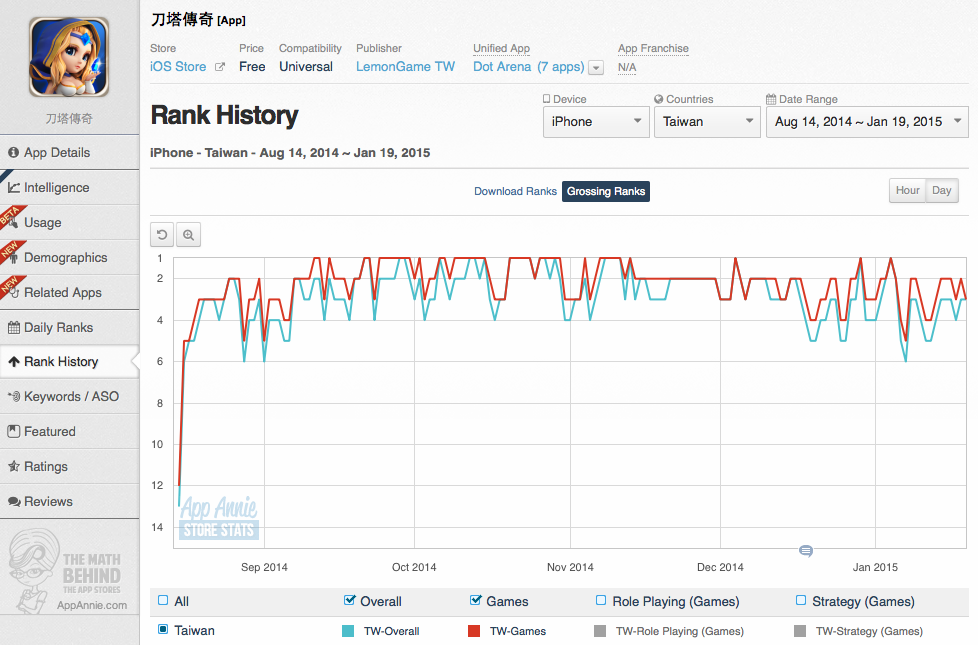 Dot Arena adapted the multiplayer online battle arena (MOBA) genre's PC gameplay for mobile and achieved financial success in Taiwan.
The third category includes global leaders like Clash of Clans and Candy Crush Saga. Clash of Clans and Candy Crush Saga achieved moderate success in Taiwan through organic growth as they were #8 and #9, respectively, on Taiwan's combined iOS App Store and Google Play revenue rankings. Taiwan could be a growth market for Supercell and King if they invest in large-scale user acquisition, as they have in Japan and South Korea.
Pili Heros Injects Local Elements Into the Market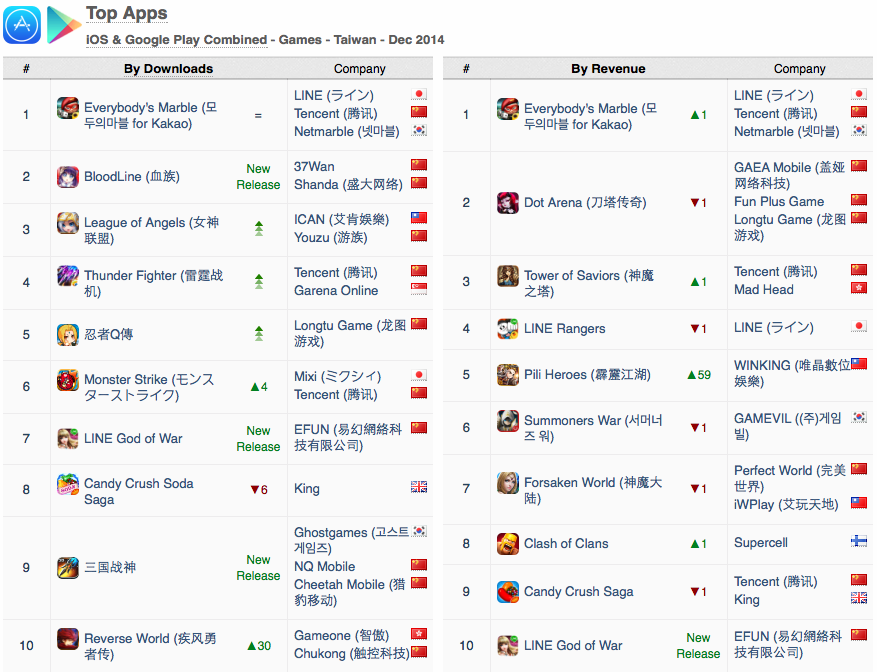 Pili Heros (霹靂江湖), an RPG featuring cute character designs, a card-based combat and trading system, and Pili World (霹靂神州) branding, jumped into the top 10 games by revenue following the locally developed game's Google Play release in early November.
Glove puppetry is a form of traditional Chinese entertainment and was especially popular in Taiwan. Pili International Multimedia, previously a puppet troupe, created the Pili brand with storylines and original characters and adapted it for TV in 1985 to appeal to a younger audience group. The series lives on and has become one of the most popular TV shows in Taiwan, spawning a variety of movies and video games.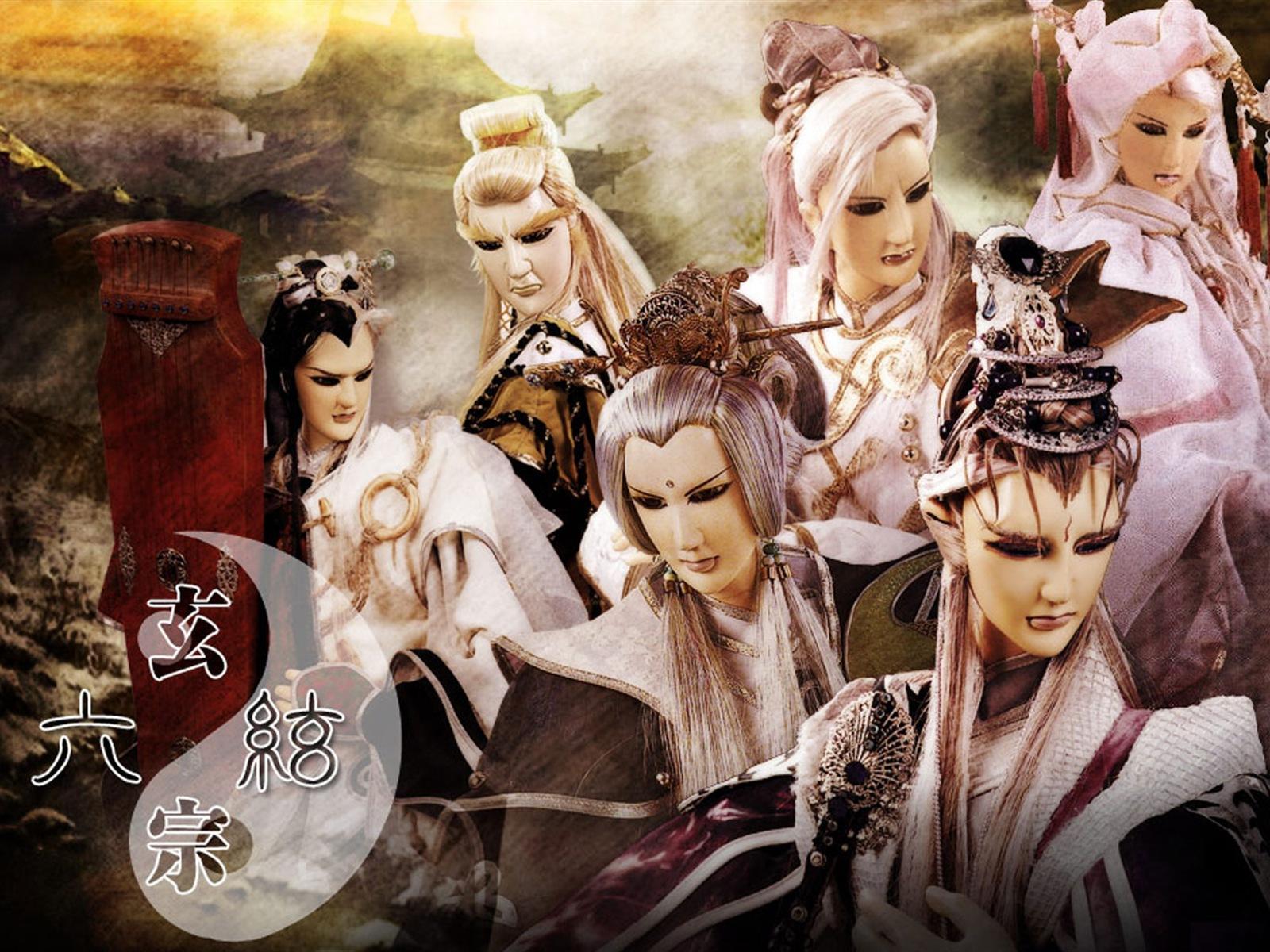 Pili's TV show uses state-of-the-art animation and special effects for its fighting art to appeal to younger audiences. (Image Credit: Pili.com.tw)
Pili Heroes leveraged the strength of Pili's brand in Taiwan and offered a game experience on par with other trading card games (TCGs) and RPGs. Its publisher WINKING DIGITAL ENTERTAINMENT recently spoke with App Annie about the success of its game:
"Pili Heroes has done phenomenally in the Taiwanese mobile game market. Revenue in its release month exceeded $80 million New Taiwan Dollars [!ed!], and we feel this success was driven by the strength of the 'Pili' IP in Taiwan, its detailed and high-quality graphics based on state of art puppet designs, and its familiar-yet-innovative gameplay systems that players love. Also, WINKING's top-notch operations and marketing teams utilized massive resources to push game trials and build awareness around the game, delivering this finely crafted game to the app stores." --Mimi Hsu, CEO of WINKING DIGITAL ENTERTAINMENT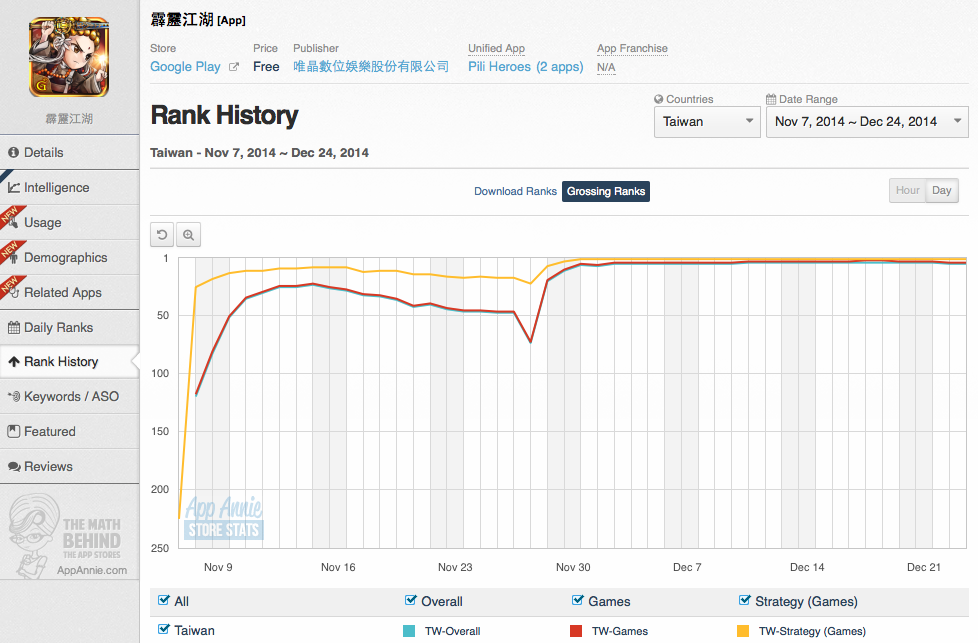 Pili Heroes saw its revenue ranking surge at the end of November in Taiwan, remaining in the top 10 throughout December.
MAPS.ME Guides Users When Signal Drops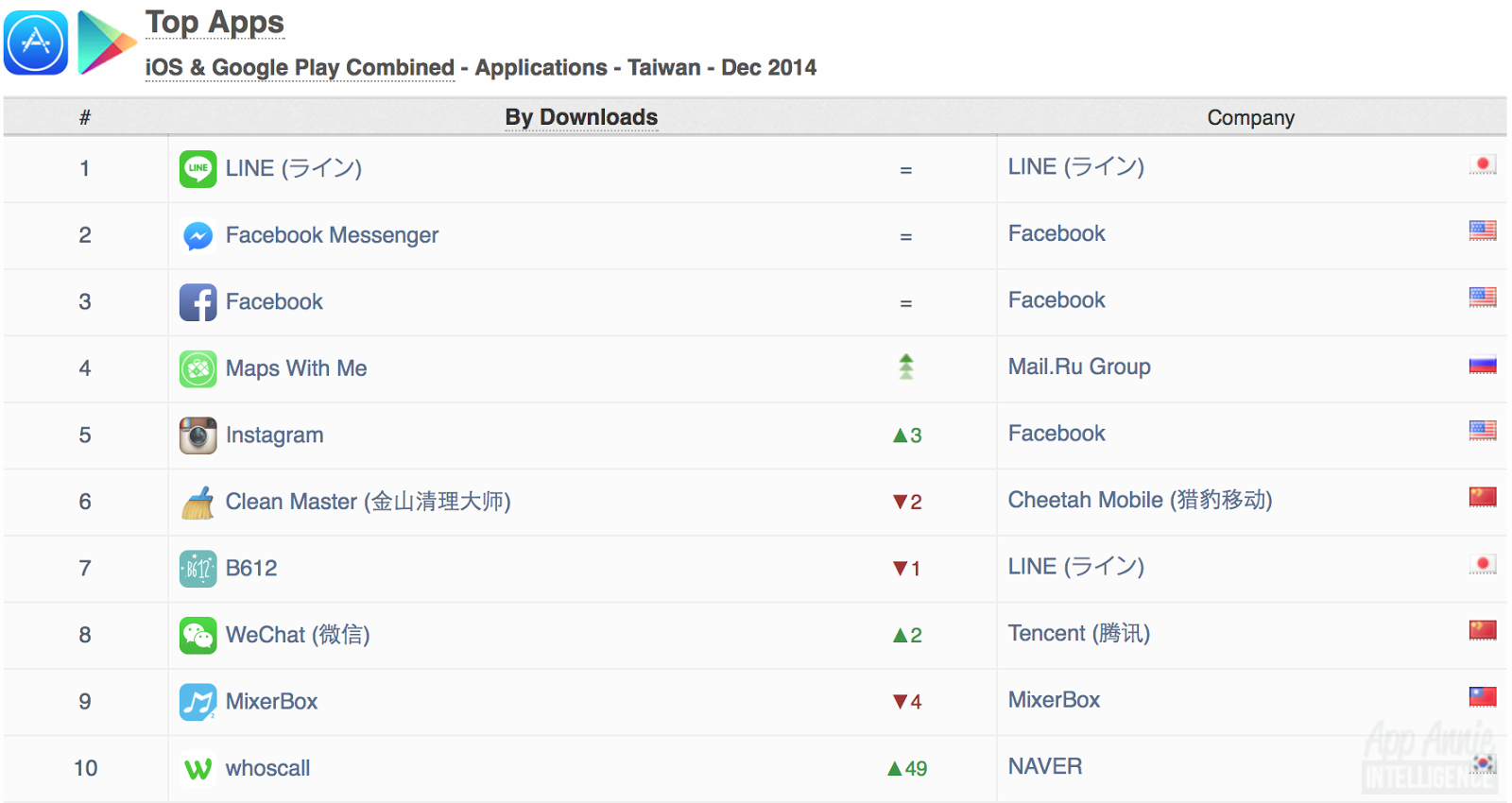 MAPS.ME shot up the download charts in Taiwan by differentiating themselves from typical navigation apps.
Map and navigation smartphone apps provide key information whenever and wherever users need it. These apps are one of the the most essential functions of mobile devices. That is why almost all major players in the mobile ecosystem, including OS developers, device makers, mobile carriers, Internet giants and third-party app developers, are rolling out their own mobile map services.
However, very few apps work out of signal range, so most services are useless when people find themselves without a network connection. This is common when traveling abroad without data roaming or hiking in remote areas. MAPS.ME is a mapping app with full offline map availability, ideal for capturing this segment of users.
In December, MAPS.ME became the only navigation app among Taiwan's top 10 apps by iOS and Google Play downloads combined. MAPS.ME offered offline maps of more than 345 countries and territories, a much higher count than other map apps. The app included downloadable maps for the top 10 major tourism destinations in the world for Taiwanese people, such as mainland China, Japan, South Korea and Southeast Asia.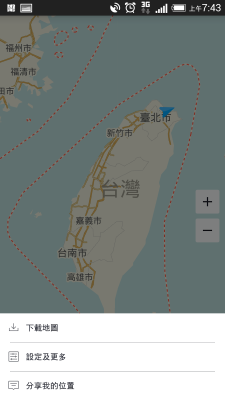 Users can download maps of 345 countries and islands and use them offline on MAPS.ME.
Taiwan was an early adopter of 3G technology, with penetration reaching 90% by the end of September 2014. As its population is heavily concentrated in the western coast metropolitan corridor, 3G base stations in downtown areas serve populations beyond their capacity. While governments and telecom carriers introduced alternative solutions such as public Wi-Fi hotspots, consumers are also minimizing their 3G data usage. Heavy cell network congestion may also drive people to use offline maps even within cities and towns.
In addition to offline maps, MAPS.ME also provides functions typically found in map apps like city guides, points of interest and turn-by-turn navigation for both driving and public transit. Previously, some of these functions were only provided on the paid version of MAPS.ME Pro, but on December 3 its publisher My.com announced that the full version would be permanently free, which was the major driver of its popularity.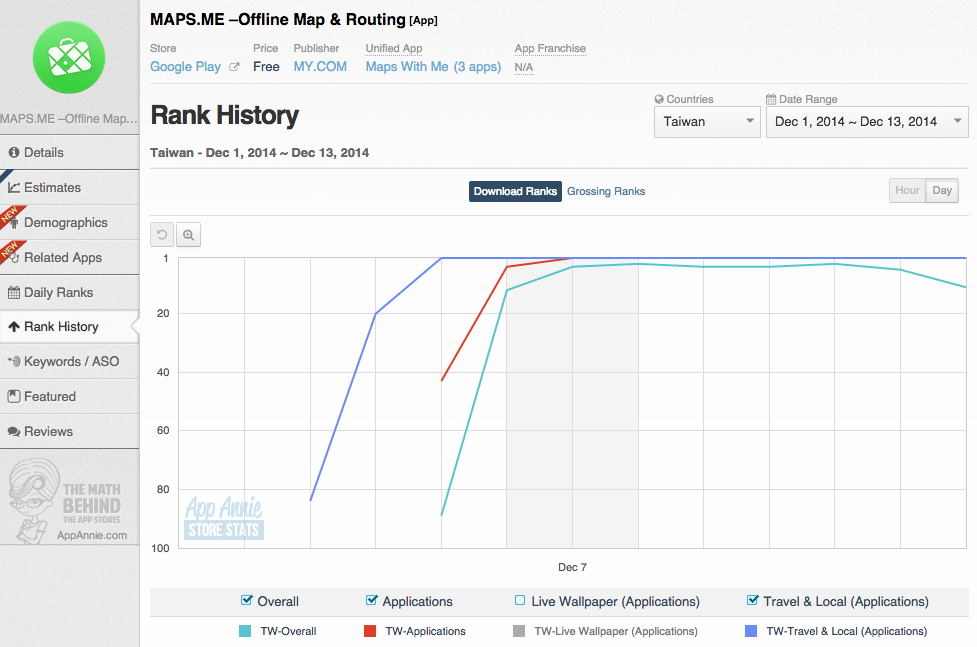 MAPS.ME climbed to the top download rankings in Taiwan's app stores the week following its switch to free.
The Technology Behind the Index
The information contained in this report is compiled from App Annie Intelligence, the leading market data solution for the app store economy. To see how our app store download, revenue, demographic and usage estimates can help guide your critical business decisions, take a tour or request a demo today.
---

---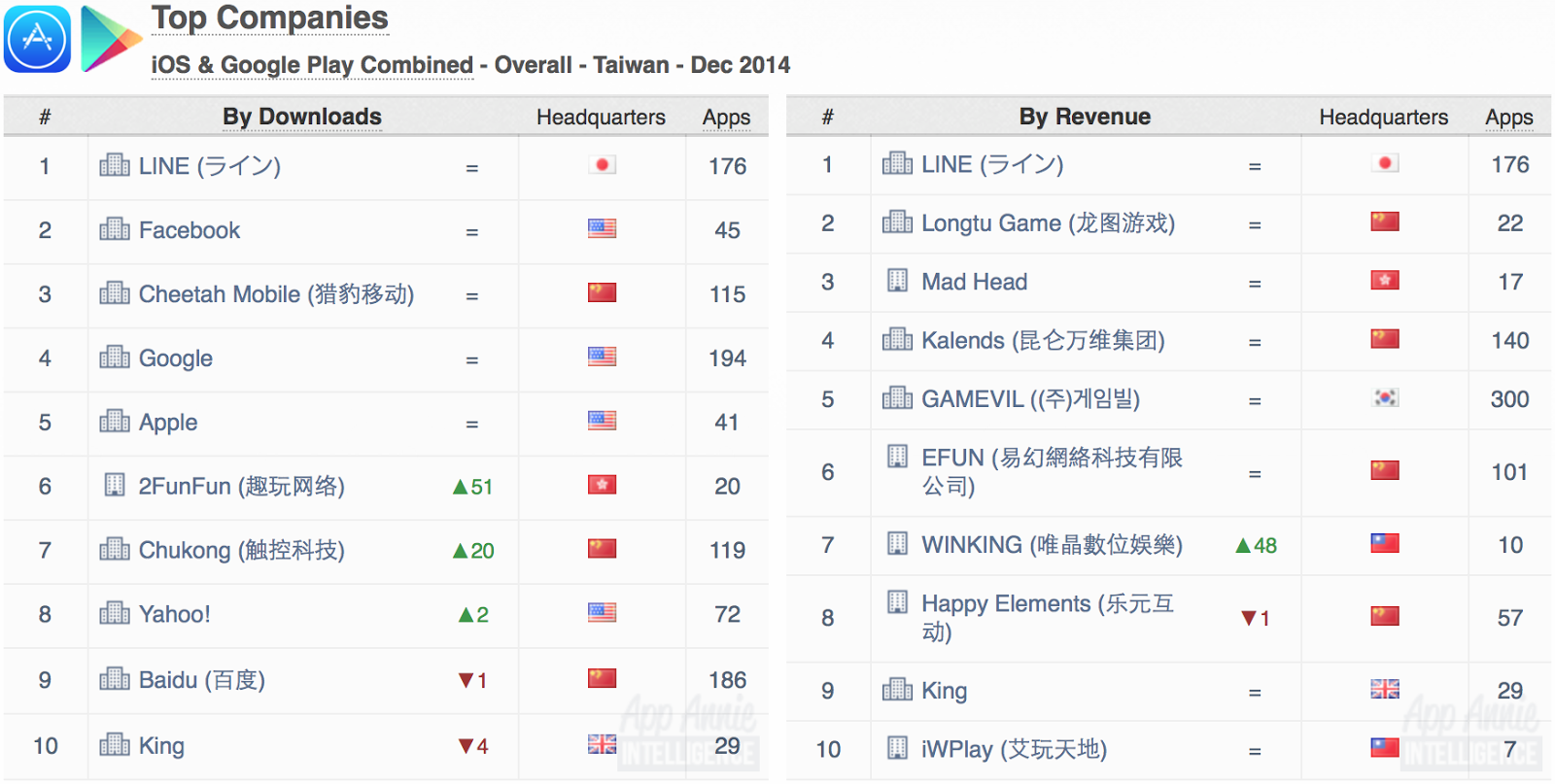 For the complete list of December's top apps and publishers in Taiwan, click the chart above.
Notes:
The publisher and app rankings reported in the App Annie Index are based on the download and revenue estimates available through App Annie Intelligence. The daily rank history charts and the homepage feature app data are available to all users through App Annie's app tracker solution, Store Stats.

While the Index for Games covers games, the Index for Apps provides app tracking for everything but games. Note that the Top Company rankings in the Index for Games are based solely on the publishers' games downloads and revenue, while the Top Company rankings in the Index for Apps are based on the company's downloads and revenue from apps excluding games.

Company and unified app rankings in the App Annie Index for Games and Index for Apps are based on individual apps that ranked in the Top 1,000.

Download rankings are based on individually downloaded apps and exclude downloads of app bundles. Revenue rankings are based on download revenue from individually downloaded paid apps as well as in-app purchase revenue from both individually downloaded apps and app bundles.

In the first month in which an app becomes unified, its rank change in the Index will compare the unified app that month vs. its highest-ranking individual app in the month prior. As a result, rank changes for newly unified apps may overstate ranking increases from November 2014 to December 2014.

In the iOS App Store, an app can be categorized under a Primary Category as well as an optional Secondary Category. If an app has a Primary Category of Games and a Secondary Category of Entertainment, it is a candidate to be included in this Index for Games. If the app's Primary Category is Entertainment and its Secondary Category is Games, then it will not be included in this Index for Games; it is a candidate for the Index for Apps.

Note that the ranking approach used in the App Annie Index differs from that used in the iOS App Store. In the latter, app rankings for a given category will include all apps whose Primary Category or Secondary Category matches that given category. So an app can appear in the rankings for more than one category within the iOS App Store or in App Annie Store Stats rankings.

In Google Play, an app can be categorized under only one category, so there is no double-categorization.

Occasionally, a publisher may decide to shift an existing app from one category to another category. In these cases, the App Annie Index will rank that app based on its categorization in the subsequent month. Given that the App Annie Index has a Games report and an Apps report, the only scenario where an app's recategorization could shift it from one Index to another is if its category changes from Games to a category other than Games or vice versa.
In the App Annie Index, all apps and publishers are reported under their parent companies, where available; for example, the Summoners War app is reported under its parent company GAMEVIL, rather than its direct publisher Com2uS. Note that if you view the GAMEVIL parent company page on Store Stats, you will see the publishers that roll under the parent company GAMEVIL, including Com2uS. The Summoners War app will be listed under the Com2uS publisher page.
Company and app rankings are based on the App Annie DNA relationships at the time of publications. App Annie DNA relationships are subject to change over time.
App Annie Index revenue rankings are based on revenue that the iOS App Store and Google Play earned from paid downloads and in-app purchases. They do not include revenue earned from in-app advertising.

Certain trademarks and/or images used in this report may belong to third parties and are the property of their respective owners. App Annie claims no rights to such trademarks or images.