We know that businesses are powered by mobile. But subscription models are what's driving mobile dominance.
In our State of Mobile 2020 report, we've seen how mobile powers businesses across industries. Mobile is the driving force of consumer spend in the gaming industry, often through freemium games that monetize through in-app purchases. Outside of games, what is powering mobile and driving mobile spend? The simple answer is: in-app subscriptions.
Mobile Subscriptions Fuel Access to Services That Power Our Lives
In some regards, this should come as no surprise. We are living increasingly in a subscription-based society, with everything from dog treats to streaming music to beer of the month clubs being offered via subscription. But the surprise is the massive amounts of revenue that apps drive through in-app subscriptions — especially in comparison to other types of spend. Our State of Mobile 2020 report found that on Google Play, 79% of the top 250 US apps by spend monetized through in-app subscriptions in 2019. On iOS, this was a remarkable 94%.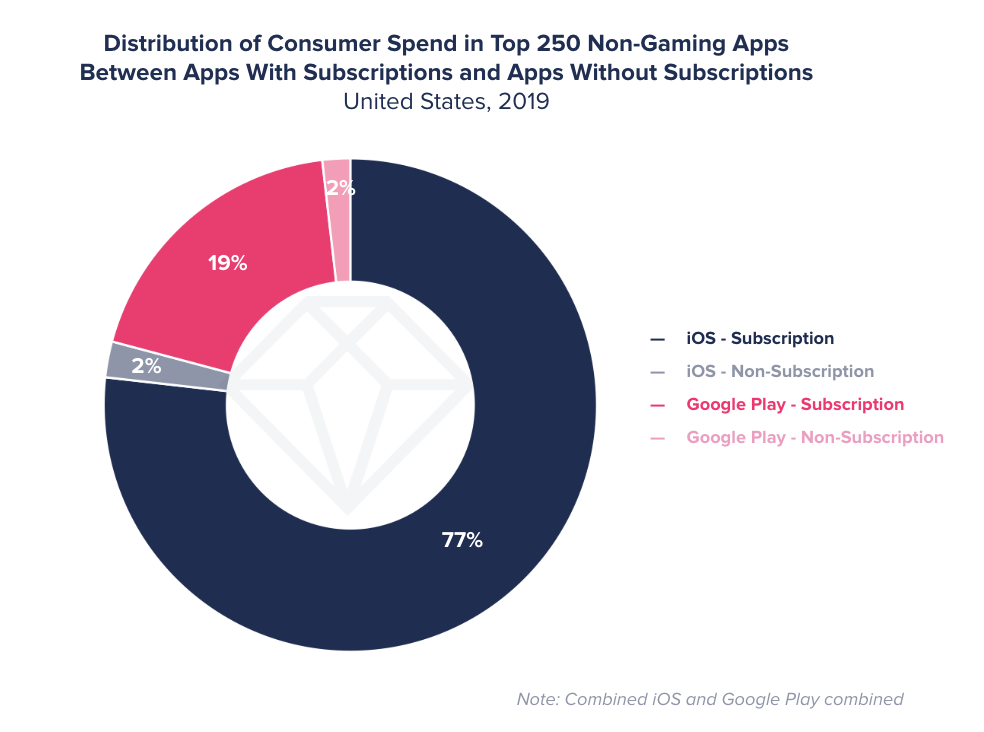 This trend is having an immense impact on apps that have built their business models around subscriptions. Tinder dominates for global consumer spend in dating apps, ranking #1 by global consumer spend in 2019.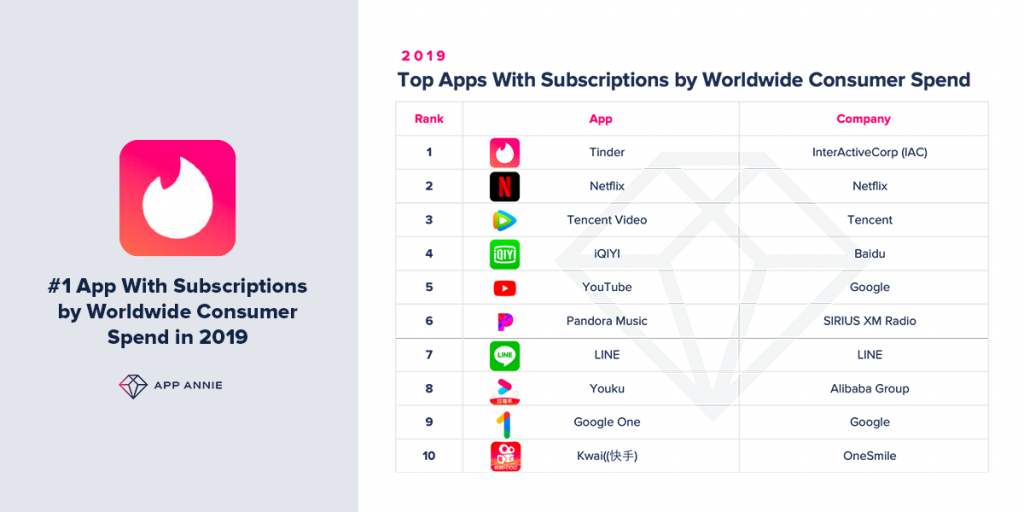 Netflix, Tinder and Pandora were the top three highest non-gaming apps for consumer spend over the last decade, seeing strong success from in-app subscriptions. In the US in 2019, music-streaming provider Pandora was the #1 app with subscriptions by consumer spend.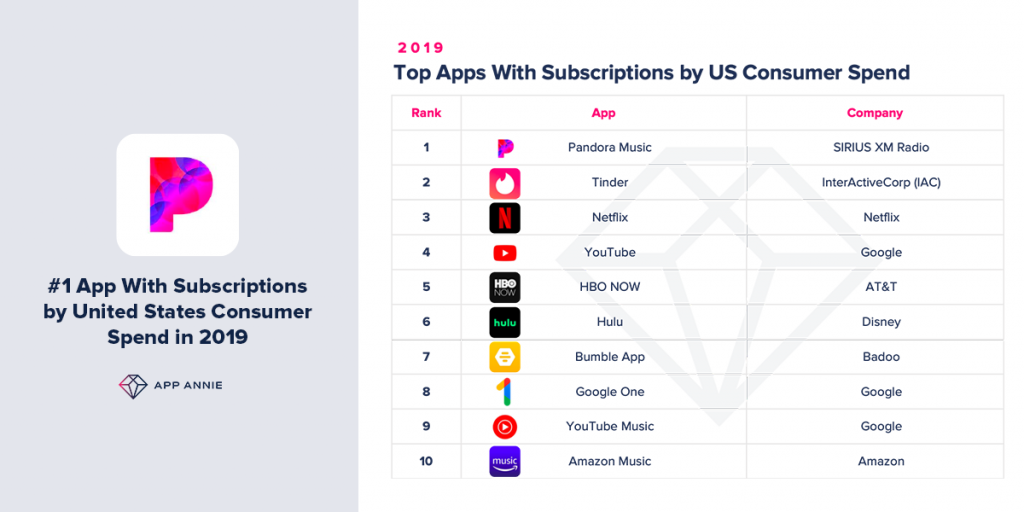 Mobile Success Through In-App Subscriptions
Many App Annie customers, such as VSCO and LinkedIn, have capitalized on a subscription model as well. In fact, Linkedin consistently ranks #1 or #2 for daily iPhone consumer spend among Social Networking apps in the US.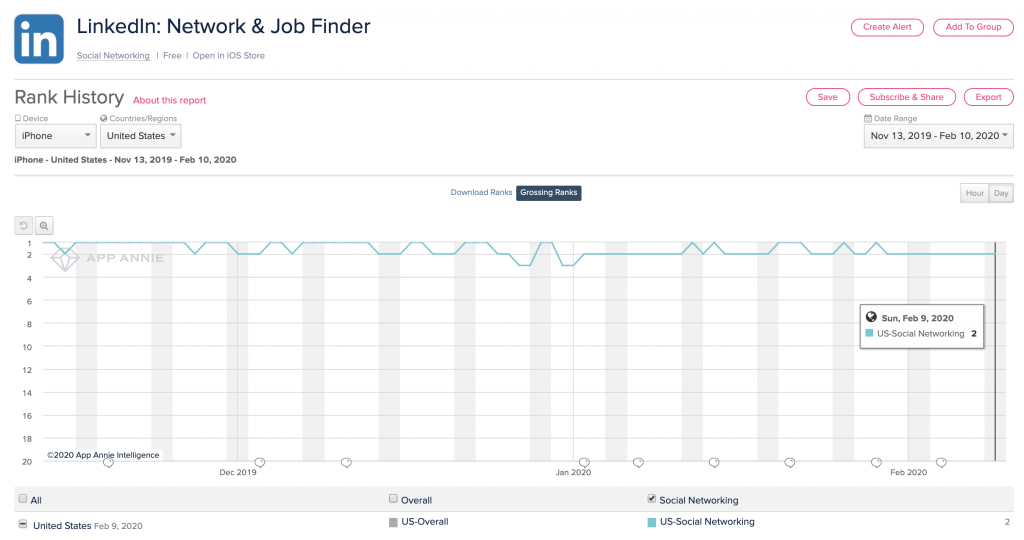 For VSCO, a premium subscription membership is critical to their business model, and rankings show consumers are paying for the value they derive from the subscription. As of Feb 9, 2020, VSCO was in the top 5 Photo and Video apps by daily iPhone consumer spend in 50 markets.

---
"Our business model is simple: we offer a premium membership. VSCO has been using App Annie since 2017 to inform our strategies around monetization, growth, and partnerships. App Annie has helped us make better, data-driven decisions essential to our growth."

— Bryan Mason, Chief Business Officer at VSCO
---
The Mobile Subscription Economy in 2020 
As we look to 2020, you can expect more subscription growth — but also companies exploring how they can offer certain products or new features as subscriptions to entice a wider range of customers. Google, for example, is testing a new product in the US where the company will mail users 10 hard copies of your photos per month for $8.
We'll also continue to see companies move away from larger one-time app purchases to smaller — but ongoing — subscription costs. In recent weeks, for example the calendar app Fantastical did away with its up front cost —  ranging from $4.99 to $49.99 — in favor of a recurring monthly $4.99 subscription. Apple Arcade and Google Play Pass are set to widen the overall gaming market, creating more opportunities for game publishers — particularly indie publishers  — and consumers alike. 
Clearly companies across industries need to not only be thinking about their mobile strategy, but also their subscription strategy, if they want to succeed in 2020. 
Ready to transform your mobile strategy?