Mobile gaming certainly felt the impact of inflation and economic hardship in 2022. Game downloads were up +6.7 billion, yet spending went down - 5%. What gives? Read on to learn what was going on in the mobile gaming space in 2022 in our overview of data.ai's State of Mobile Gaming 2023 report.
After more than a decade of dizzying growth, mobile gaming came face-to-face with two major roadblocks: 1) inflation and global economic uncertainty; and 2) new local restrictions on user targeting impacting monetization via advertising.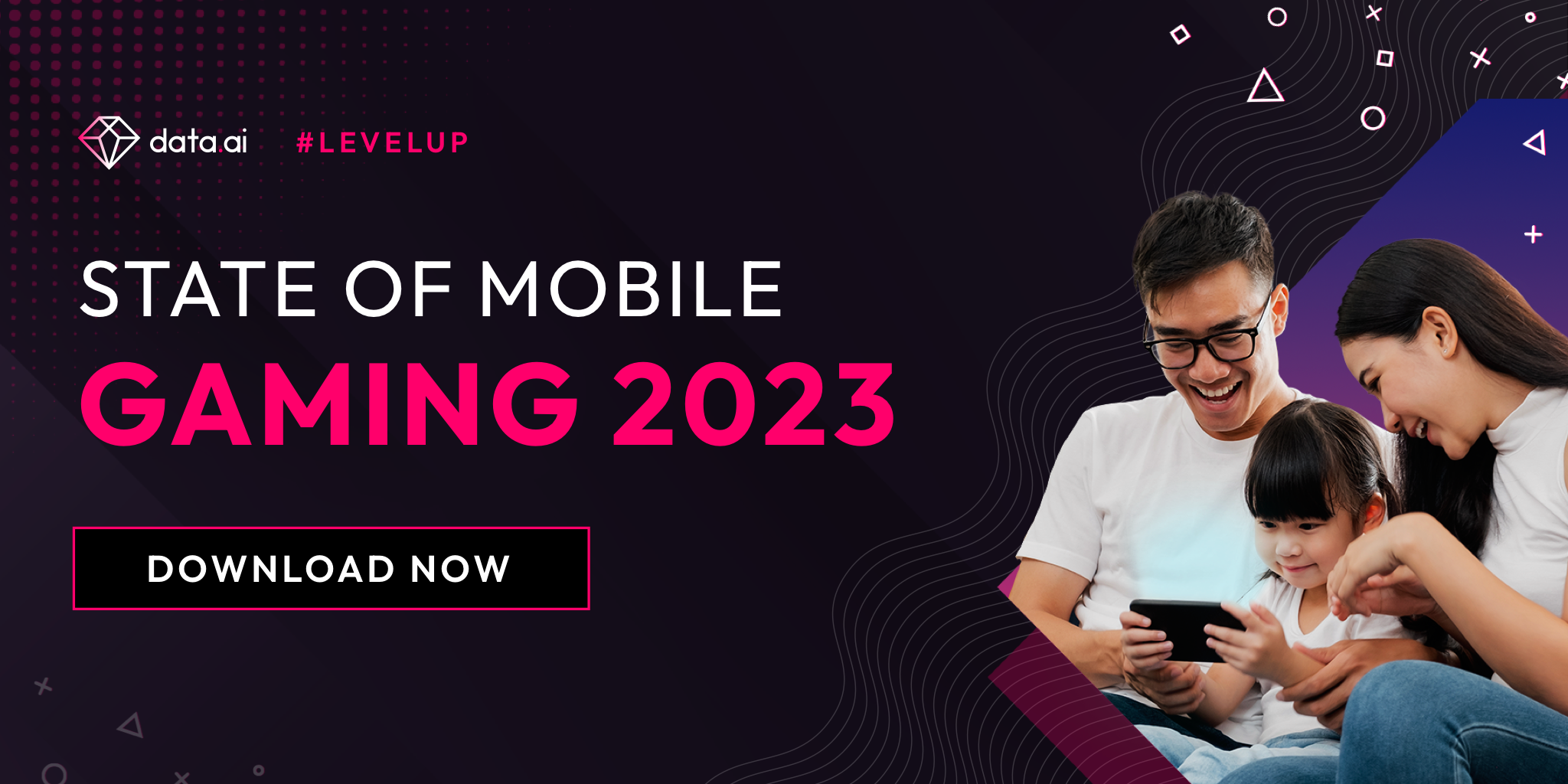 Both factors impacted overall revenue for mobile game publishers. According to our State of Mobile Gaming 2023 report, consumer spend in mobile gaming dropped -5% to $110 billion in 2022. Which might just be a short-term correction in a rising long-term pattern, considering consumer spend stood at $86 billion in 2019.
Absent the overall dip in spend, individual titles are setting new milestones for what is financially possible in the market. Like we saw with Genshin Impact, an open world RPG which eased past $3 billion in lifetime in-app purchase (IAP) revenue in Q2 2022. 
It is also clear that interest in mobile gaming is still growing, based on 2022's download numbers reaching almost 90 billion. That's 6.7 billion downloads higher than the previous year, and an impressive 22 billion downloads more than in 2019. And the growth was largely driven by hypercasual titles such as Merge & Fight (Hypercasual), DOP4: Draw One Part (Hypercasual Puzzle), Stumble Guys (Party Royale) and Wordle (Word Puzzle).
Overall, mobile gaming remains a vibrant market and continues to challenge decades-old forms of entertainment. .The foundation of the mobile gaming industry is strong, considering mobile gamers typically download 1 billion games a week. On top of which they spend an average of $1.6 billion overall, while devoting 6.4 billion hours of their time to the games they play. 
Old but Gold: Established Titles Outperform Newer Releases 
In 2022, The Atlantic published a much-shared story posing a question: Is Old Music Killing New Music? The article was prompted by the finding that older recordings represent 70% of total US music revenues – and that the 200 most popular new tracks regularly account for less than 5% of total streaming activity. 
Is the same true for mobile gaming? The 2022 data suggests it might be. Our research revealed that fewer new releases are entering the market, and that past releases achieve more average downloads than new ones.
Here are the headline numbers. In 2018 established games (in the US) achieved on average 2.7 million downloads each. New games (released that year) achieved 3.5 million. Four years on, the market had flipped. In 2022, old games accumulated an average 2.5 million downloads, while for new titles it was 2.1 million.
It's interesting because, despite the growing presence of hypercasual titles (games which are more pick-up and play with a short shelf life), evergreen games such as ROBLOX and Subway Surfers are still topping the download charts.  
What's more, those older games are pretty consistently outpacing newer titles when it comes to consumer spend, too. 
Just look at the market power of established titles such as Clash of Clans, Coin Master, Candy Crush and Free Fire, for example.
Regional Analysis: Developing Markets Stretch their Lead in Mobile Games Downloads
The democratizing effect of mobile has shifted the balance of power in gaming. In an industry  in which games are free-to-play, regions such as India, Brazil and Indonesia present the biggest opportunity. In fact, we believe they are poised for stellar growth in the coming years. And the signs are there already. 
In 2022, India was far ahead in downloads. Its gamers installed 9.5 billion Google Play titles – double that of the next biggest market (Brazil's 4.4 billion downloads) and nearly triple the market in third (Indonesia's 3.37 million downloads).
Conversely, it's a different picture on iOS, where the US continues to lead in downloads (2.2 billion) followed by China (1.4 billion). In comparison, India's gamers downloaded only 121 million titles on iOS. That's nearly 80x fewer than the total for Google Play.
Regional Analysis: Japanese and South Korean Gamers Lead the Way  in Gaming Spend Per Device
In terms of consumer spend, Asia Pacific (APAC) consolidated its status as the world's biggest region generating demand for mobile gaming, once again. Thanks largely to the passion of Japanese and South Korean gamers, APAC accounted for more than 51% of market share in 2022 – up from 48% in 2021.
On iOS, the Japanese spend the most, globally – $10.30 USD monthly, per device in 2022 (slightly down on 2021), followed by South Korea and Singapore (both of which upped their spend in 2022). 
APAC economies also dominate Google Play in consumer spend, per month. South Korea replaced Japan as the #1 region in 2022, with  South Korean gamers spending $11.20 a month on versus $9.8 a month for Japan (whose average slipped from $12.70 the year prior).
Genre Wars: Strategy and RPG Dominate Spend, While Hypercasual Rules Downloads
Although mobile gaming is comprised of  a large and diverse range of subgenres, there is a large gap between the leading subgenre and the rest.
In terms of consumer spend, the four clear category leaders are 4X March Battle (Strategy), MMORPG, Team Battle (RPG) and Slots (Casino). These genres all feature strong multiplayer mechanics and cross-play features, which tend to incentivize players to spend.
As such, 4X March Battle (Strategy) was 2022's leading subgenre, generating more than $9 billion, which represents 11.3% of total mobile gaming consumer spend, despite only accounting for <1% of total downloads. While the subgenre is more 'niche' in terms of downloads, the players tend to punch above their weight on spend.
The market by downloads reveals a similar delta between the top four genres and the rest, with hypercasual titles predictably (so far) dominating the download charts.
In 2022, Action games were  the leading Hypercasual subgenre, generating 4 billion downloads, and representing 7.3% of the total market. Puzzle (Hypercasual), Simulation (Hypercasual) and Driving (Simulation) were the other big hitters. And collectively, these four genres achieved roughly the same number of downloads as the next 16 genres combined.
Get an Insider Look into the State of Mobile Gaming in 2023:
Check out our State of Mobile Gaming 2023 Report to stay ahead of mobile trends and predictions. Because world-class brands leverage data.ai for the most powerful competitive advantage. So don't make a single decision without our first-party insights (and AI-powered solutions) on your side. Only at data.ai.
DISCLAIMER: 
data.ai is a mobile market estimate service provider. data.ai is not registered in any investment advisory capacity in any jurisdiction globally, and does not offer any legal, financial, investment or business advice. Nothing contained in this communication, or in any data.ai products, services, communications, or other offerings, should be construed as an offer, recommendation, or solicitation to buy or sell any security or investment, or to make any investment decisions. Any reference to past or potential performance is not, and should not, be construed as a recommendation or as a guarantee of any specific outcome. You should always consult your own professional legal, financial, investment and business advisors. Additionally, by providing the information herein, data.ai does not make any representations or warranties and does not undertake any legal or contractual obligations whatsoever. No liability may accrue to data.ai as a result of providing this information to you.