data.ai's latest analysis shows sports betting apps see surges during major sporting events in the US and UK
What's Happening:
Since the US federal ban on sports betting was lifted four years ago, state governments have been slowly rolling out their own policies. As more states change regulations around sports betting, especially ahead of major sporting events, sports betting apps are seeing a surge in downloads. When Michigan and New York opened up online sports betting ahead of the Super Bowl in January 2021 and January 2022, respectively, nearly all major sports betting apps saw a spike in downloads. When Arizona changed its state regulations on sports betting in September 2021, by January 2022 (again, ahead of the Super Bowl) the state had set a new state record with the handle figure, the amount of money in wagers accepted, of $563.6M. 
data.ai's mobile data shows the intersection of latent demand for sports betting apps and seasonal sports events. We expect to see upticks in downloads for the upcoming Kentucky Derby in May 2022.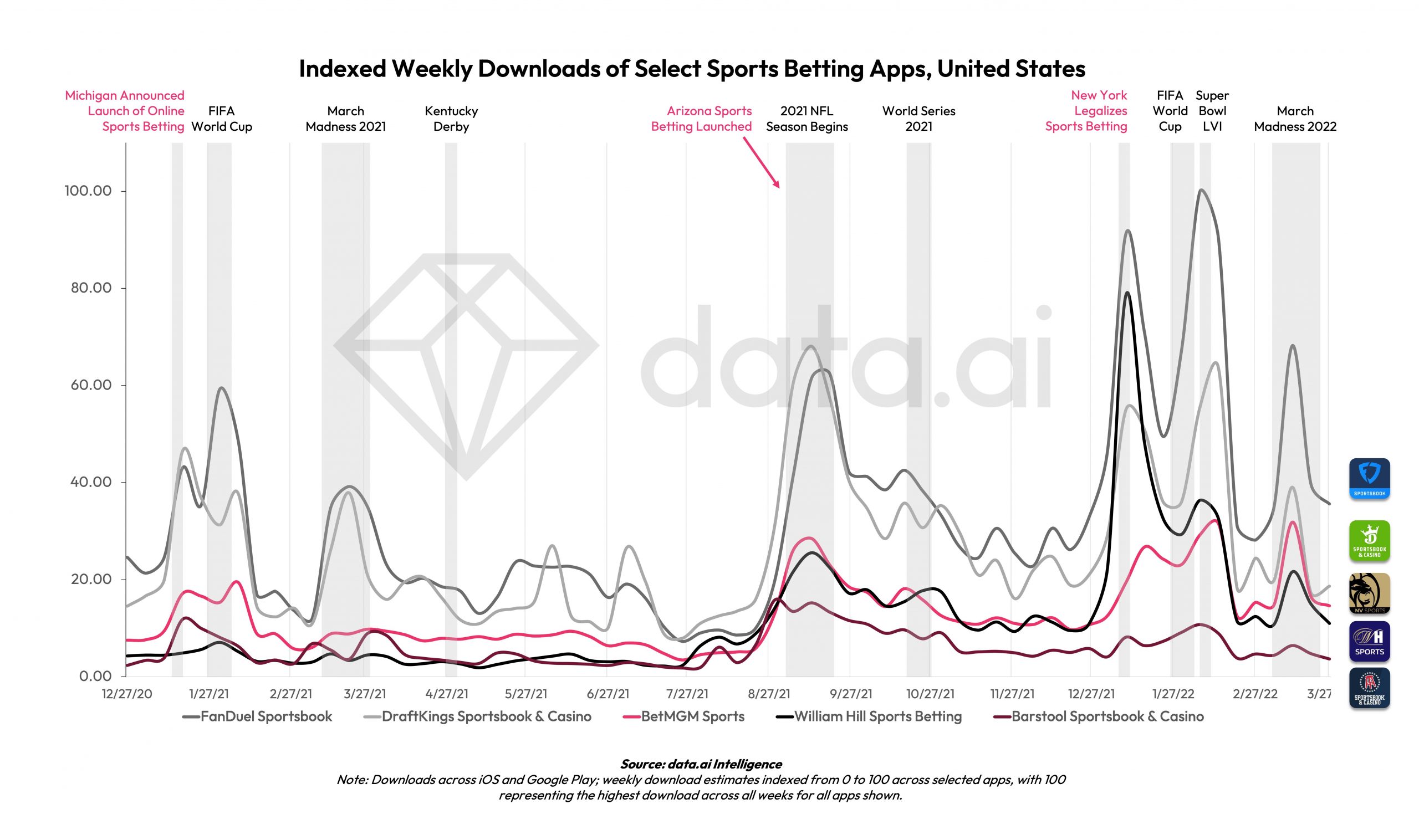 Why it Matters:
Mobile is the go-to portal for most people. As laws in a highly-regulated industry shift, mobile is often the first place for shifting consumer behavior to surface. App publishers should  consider User Acquisition and promotional strategies during these times — including marketing, app store optimization (ASO) and paid search — to sustain the boost from state-led policy changes. These strategies — alone or bundled — can boost awareness and downloads for sports betting apps by building hype for upcoming sports events including March Madness or the World Cup.
Other highlights in the category:
Barstool Sportsbook & Casino

saw the largest increase the month leading up to the beginning of the 2021 NFL Season, with downloads in September 2021 seeing an 85% increase.

Compared to downloads at the start of 2021,

DraftKings Sportsbook & Casino

saw the highest surge in downloads during the Super Bowl LVI

BetMGM Sports

saw the highest surge in downloads during March Madness 2022 compared to the start of 2021.

Despite

FanDuel

,

DraftKings

and

BetMGM Sports

capturing the bulk of downloads among sports betting apps, seasonality trends and different sporting events can substantially influence rank order.

FOX Bet Super 6 is the only UK-based sports betting app out of the competitive set, leading in terms of active users in March 2022. Its weekly cash rewards to players that correctly predict the outcome of US sporting competitions such as MLB, NFL, NASCAR, and NBA was likely a huge draw for its large user base.
 
Timely marketing promotions of sports betting apps can also help improve engagement in-app, especially during peak sports betting season. Sports betting apps are a well-established industry in the UK, and recently, we saw usage peak off the back of the 2022 Cheltenham Festival.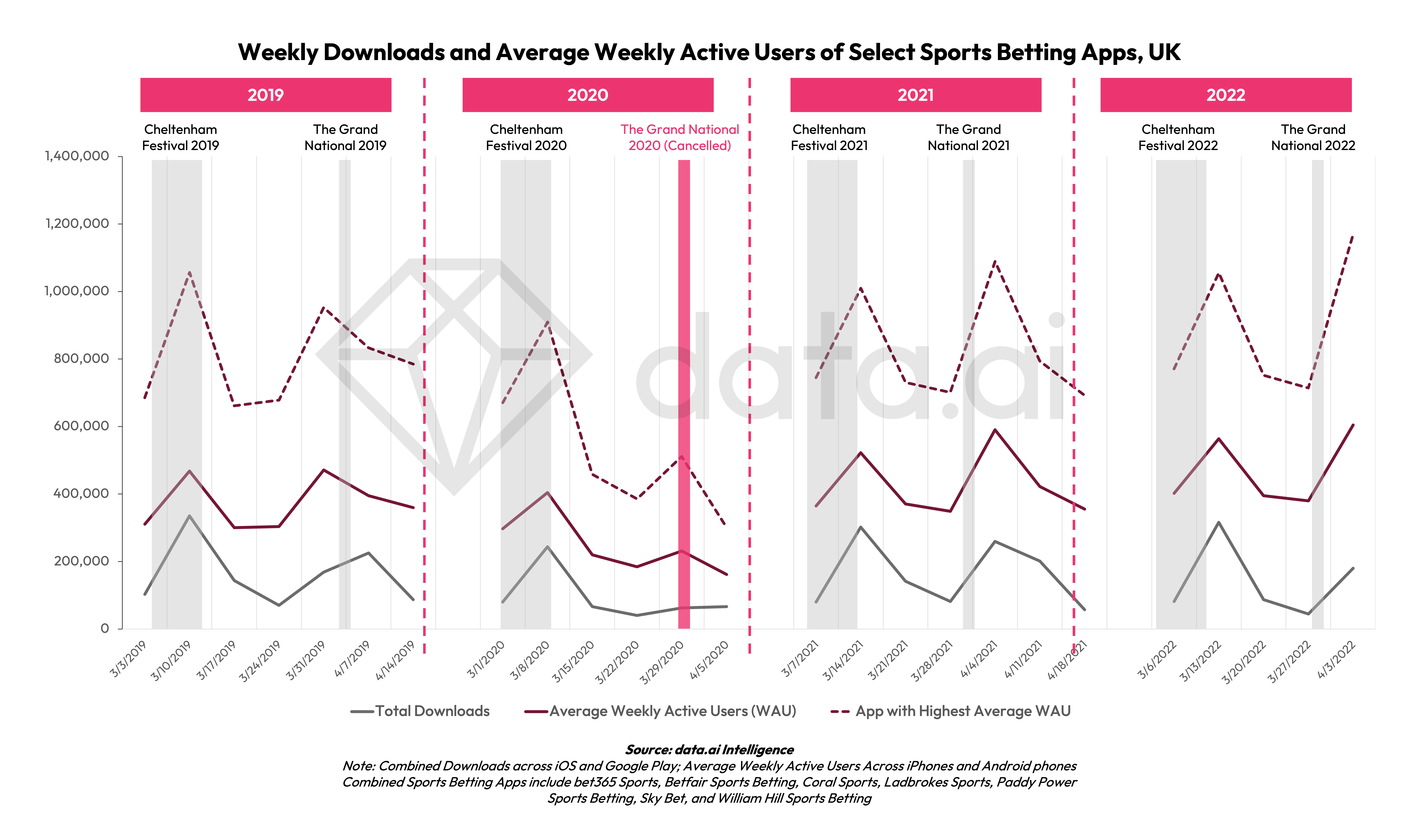 Go Deeper:
As regulations on sports betting continue to lift in areas in the US, we'll likely see the increased use and popularity of sports betting apps on mobile and, in turn, increased handle size, especially around popular sporting events including the Super Bowl, NCAA Tournament and horse races. We expect mobile to continue to carve out share of wallet during these events. It will be vital for app publishers to find ways not only to differentiate themselves but also to retain new users during seasonal peaks will be vital to sustain long-term success.
Looking for More Mobile Insights?
Sign up here to claim a copy of data.ai's industry-leading State of Mobile report:
Looking to make more of the mobile opportunity? Talk to an expert today.
DISCLAIMER: 
data.ai is a mobile market estimate service provider. data.ai is not registered in any investment advisory capacity in any jurisdiction globally, and does not offer any legal, financial, investment or business advice. Nothing contained in this communication, or in any data.ai products, services, communications, or other offerings, should be construed as an offer, recommendation, or solicitation to buy or sell any security or investment, or to make any investment decisions. Any reference to past or potential performance is not, and should not, be construed as a recommendation or as a guarantee of any specific outcome. You should always consult your own professional legal, financial, investment and business advisors. Additionally, by providing the information herein, data.ai does not make any representations or warranties and does not undertake any legal or contractual obligations whatsoever. No liability may accrue to data.ai as a result of providing this information to you.