We take a closer look at Southeast Asia's mobile shopping landscape, and highlight how this market has become the latest battlefield for Asia's technology giants.
Summer 2017 saw mobile shopping giants across Southeast Asia ushering in mobile sales campaigns targeting festive consumers. As a testament to the rise of the region's new urban middle class, Southeast Asia has quickly established itself as a dynamic yet financially rewarding market for mobile app publishers.
We at App Annie had briefly shed light on the region's prominence as a critical emerging market. Now, we will take a closer look at Southeast Asia's mobile shopping landscape, and highlight how this culturally diverse market has become the latest battlefield for Asia's technology giants.
In order to expand their spheres of influence, Chinese technology heavyweights such as Alibaba and Tencent have vigorously looked at international markets. With a tech-savvy population, among other cultural and geographical affinities, Southeast Asia finds itself the latest target market for these Chinese giants.
China's Alibaba Found Its Perfect Match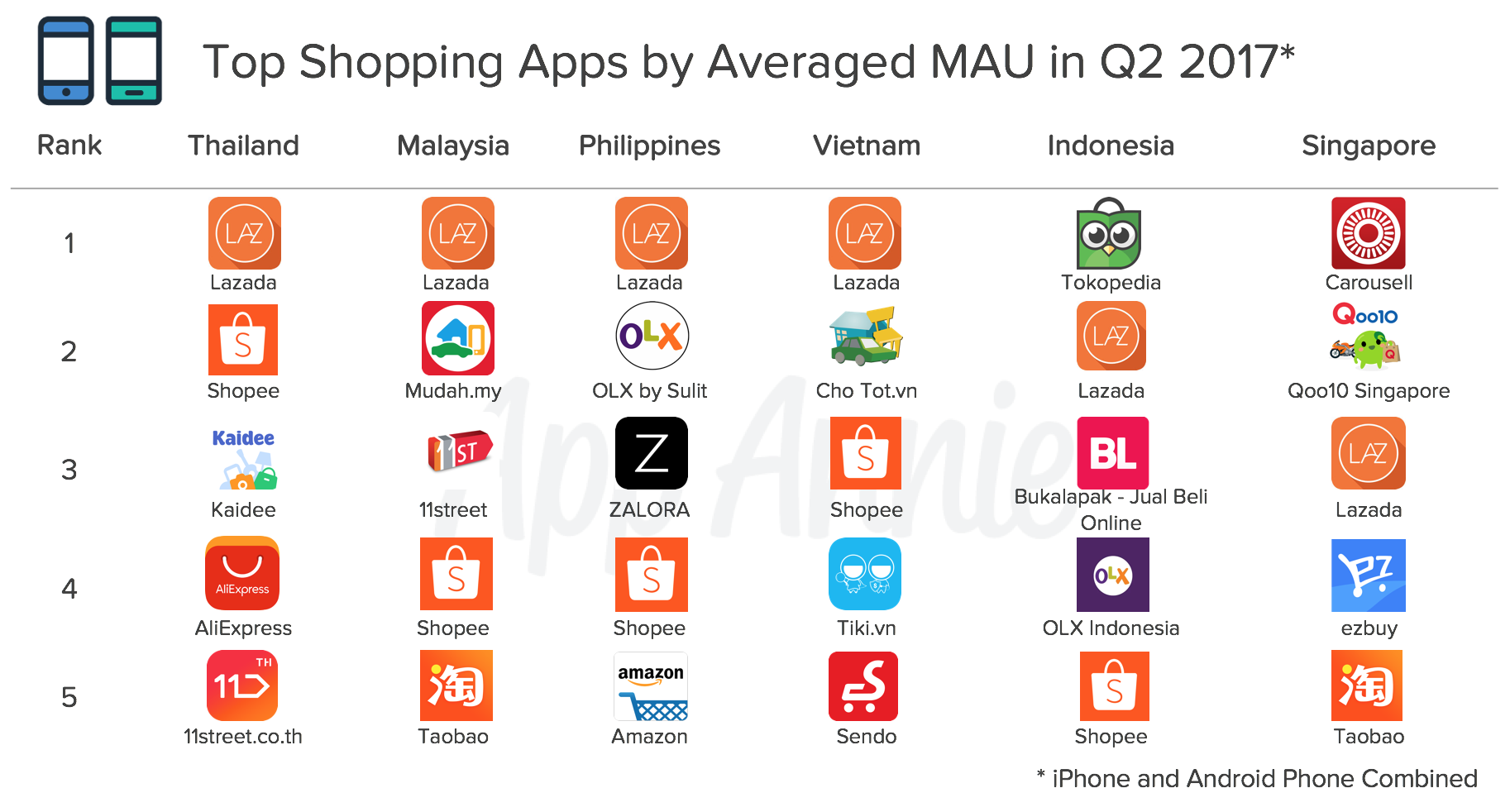 Lazada topped the charts in 4 out of 6 markets
Among the six largest markets in Southeast Asia in terms of total iOS & Google Play combined downloads and revenue in Q2 (Indonesia, Malaysia, the Philippines, Singapore, Thailand and Vietnam in alphabetical order), Lazada topped the iPhone and Android Phone combined averaged MAU charts in 4 out of the 6 markets. According to App Annie Intelligence, in markets such as Thailand, Vietnam, and the Philippines, Lazada's averaged MAU exceeded the next top shopping app by at least twice over this time period.
Hoping to gain a leading foothold in Southeast Asia, in April 2016, China's Alibaba forayed into the region by becoming the single largest stakeholder of Lazada. In June 2017, Alibaba announced its decision to invest a further $1 billion in Lazada, boosting its stake in the company from 51% to 83%. Alibaba's interest in Lazada is justified by its sheer size: According to Lazada, it currently lists more than 150 million different products across 2,500 brands and 120,000 sellers on the app, while operating 14 fulfillment centers across the region.
In recent years, Lazada has increasingly capitalized on Alibaba's vast global resources, most notably by introducing to its Southeast Asian consumer base a curated line of "Taobao Collection" products. This new initiative aims to enrich Lazada's product lineup by adding up millions of products sold on Taobao and Tmall, Alibaba's 2 online marketplaces in China. It has benefited not just Lazada customers, but also presented itself as the logical next step for Alibaba's global ambitions.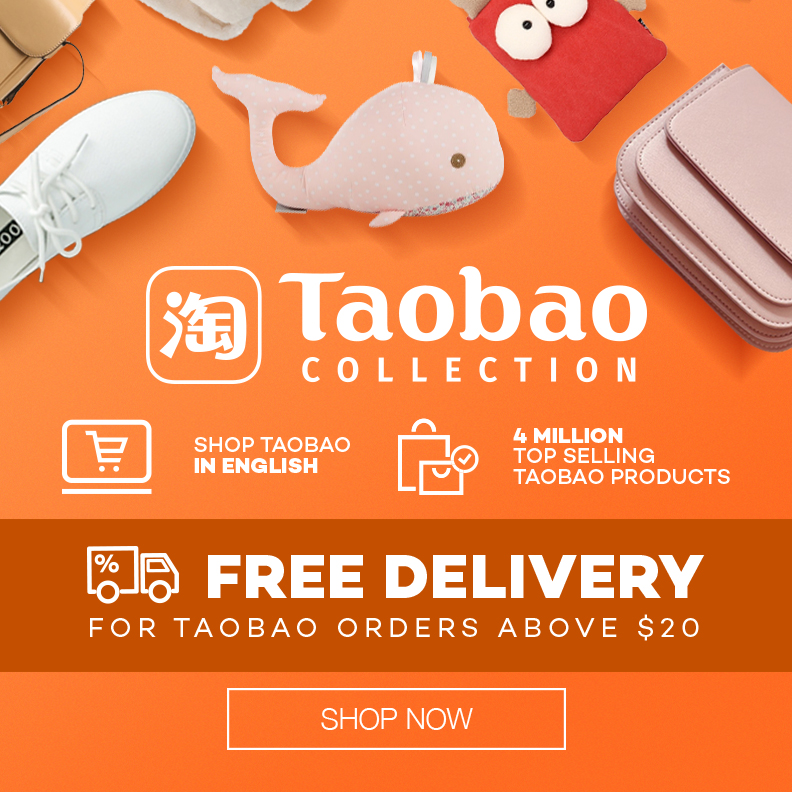 Lazada has introduced its Taobao Collection to customers in Southeast Asia
In August 2017, it was also confirmed that Alibaba had led a new $1.1 billion round of investment in Tokopedia, the largest shopping app in terms of averaged Monthly Active Users (MAU) in Indonesia in Q2 2017. This sends a clear signal of Alibaba's heightened interest in the region. Since February 2016, the number of Tokopedia's Monthly Active Users (MAU) among iPhone and Android Phone users in Indonesia had surpassed that of Lazada in this sizable market of 260 million people. It has kept its lead ever since.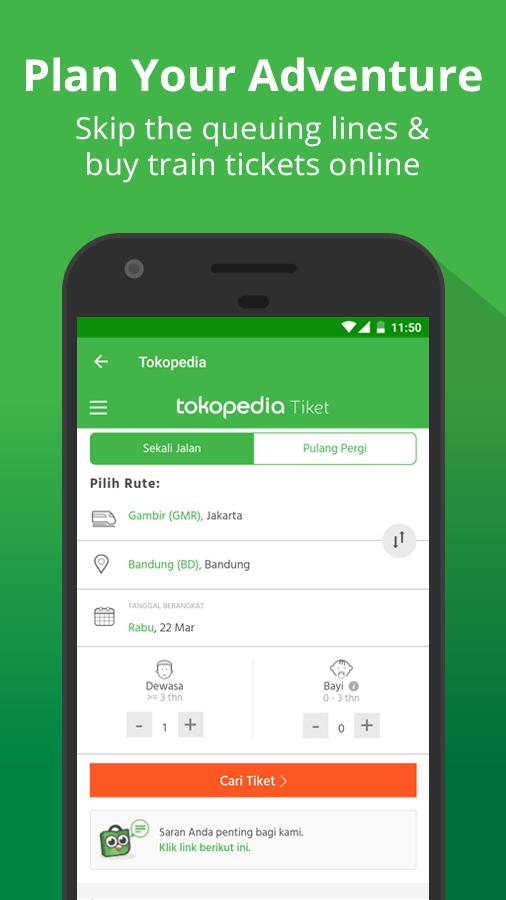 Tokopedia has expanded into new territories, such as train ticket sales, in Indonesia
Shopee On the Rise in Indonesia
Following the success of Tokopedia, another notable mobile-first online marketplace has taken the Indonesian market by storm. Officially launched only 2 years ago in 2015, Shopee, which came from Tencent-backed Sea (formerly known as Garena Group), has already garnered a loyal following in a few countries in Southeast Asia including Indonesia, Thailand and Vietnam. The app has rendered cross-border shopping in Southeast Asia effortless and its popularity also soared among sellers thanks to its no-listing-fee policy. In Q2 2017, Shopee topped the iOS and Google Play combined downloads chart among shopping apps in Indonesia.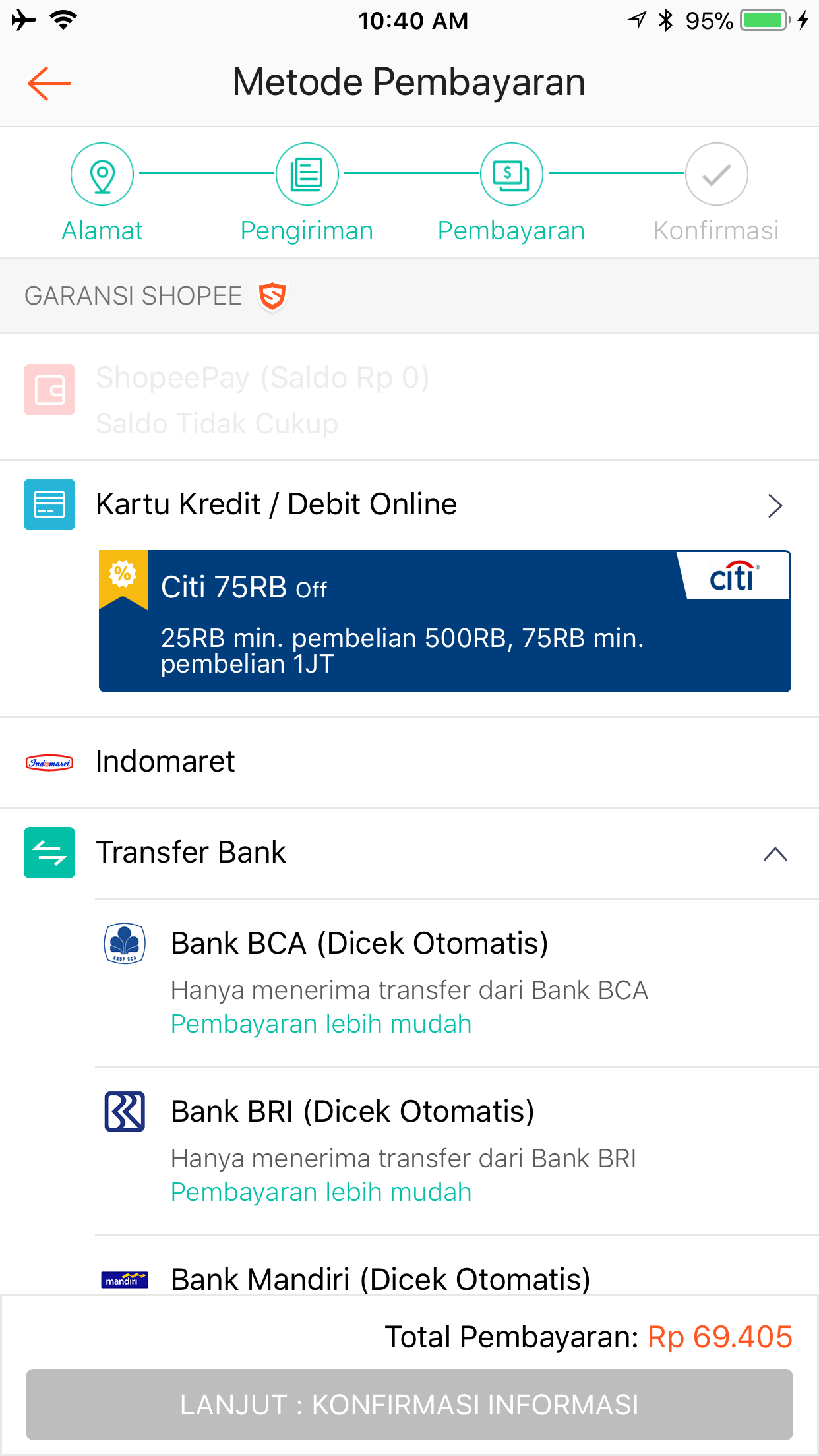 Shopee offers customers a wide variety of payment options
Similar to its competitors, Shopee's mobile app also boasts a number of locally-tailored features. One common practice among shopping apps in Southeast Asia is offering a wide variety of different payment options to adapt to local infrastructure. For example, all the mentioned apps allow for payment from almost every existing payment scheme, from virtual wallet, to cash payment on delivery, and payment through your corner convenience store. In Southeast Asia, a diverse set of payment options could grant an app access to more mobile consumers.
Mobile Shopping is the Field to Watch
Southeast Asia's online shopping industry has fully embraced mobile. Now, technology giants from China, arguably the continent's leading mobile innovator, has stepped into the regional mobile shopping arena. And it did not just stop there. In July 2017, Amazon also secured its first entry into Southeast Asia by launching Amazon Prime Now in Singapore, offering customers two-hour delivery on a diverse collection of different products. This move from one of the world's largest mobile shopping apps has upped the ante considerably in Southeast Asia, with heightened competition sure to lead to more innovative mobile solutions.
In the next few months, we at App Annie will continue to monitor the mobile shopping industry as we approach November, when we will dig deeper into this year's Black Friday, Online Revolution, and Singles' Day shopping festivals.
To see how top mobile shopping apps have succeeded, read App Annie's take on the growth of shopping apps. Stay tuned for App Annie's upcoming report on the global mobile shopping landscape.