South Korea has been a leading market in video games for years. Back in the 1990s and 2000s, Korean game developers were strong contributors to the rise of the Massively Multiplayer Online Role-Playing Game (MMORPG) genre in Asia. The popularity of e-sport competitions in South Korea has created a legion of dedicated and skilled professional gamers who, as champions of many worldwide e-sport competitions, became national heroes. South Korea is also a leader in mobile gaming, ranked as the third largest mobile game market. South Korean manufacturers such as Samsung and LG have continued pushing the limits of mobile gaming with their next-gen devices.
App Annie is excited to announce the launch of the South Korea App Annie Index for Games. This report will provide a detailed look at the major movers in one of the app economy's fastest-growing markets to help inform your business decisions in the region. To find out what's hot in South Korea in Apps, please check out the South Korea App Annie Index for Apps. For more information on global top apps and publishers, see the full Index charts for September, including newly added charts for other countries.
TABLE OF CONTENTS
1. The Technology Behind the Index
The information contained in this report was compiled from App Annie Intelligence, the leading market data solution for the app store economy. To see how our app store download and revenue estimates can help guide your critical business decisions, take a tour or request a demo today.
---

---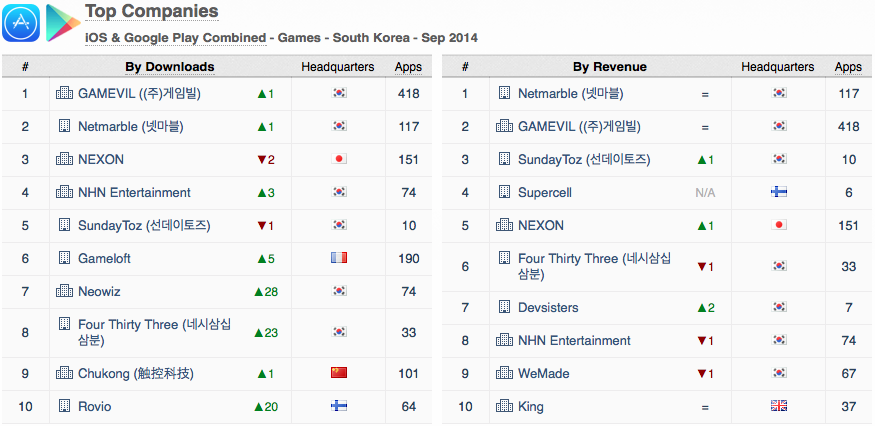 For the complete list of September's top apps and publishers in South Korea, click the chart above.
2. This Month's Top Performers
Kakao Delivers More Than Just Messages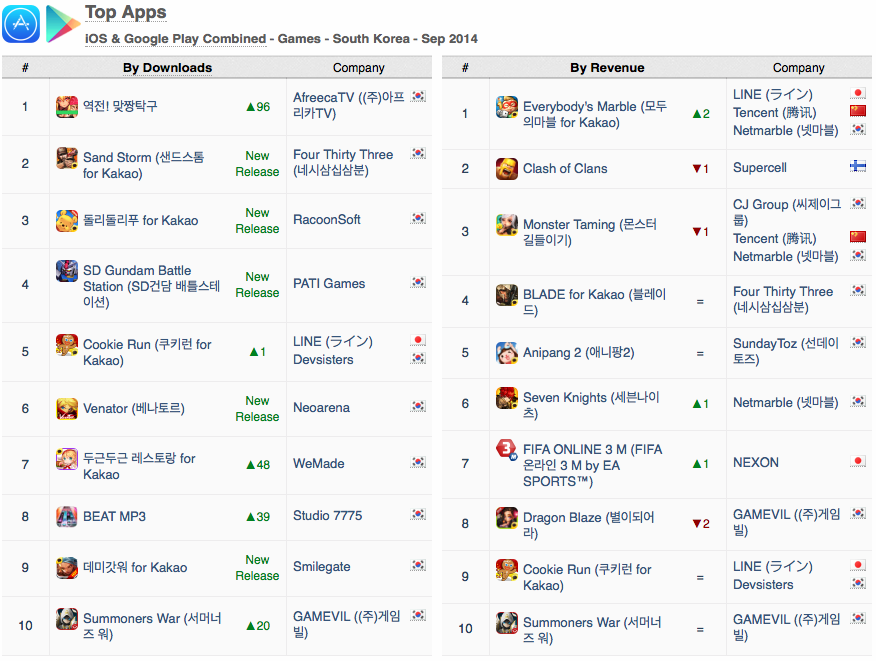 South Korea is arguably one of the most competitive mobile gaming markets in the world. Among the iOS top 10 games by September downloads, four were new releases and three shot up the charts to reach the top 10. The market is even more volatile on Google Play -- not a single game in the September top 10 download rankings appeared in August's top 10.
Traditionally, Korean game publishers have promoted their games using pre-registration, online ads on Facebook or Naver, outdoor ads in metro stations, or TV commercials, which are very expensive for independent developers and large publishers alike. However, messaging apps have become an increasingly important source for acquiring and retaining mobile customers, given the communicative nature of smartphones and their network effects. In Asia, WeChat, LINE and KakaoTalk are key established channels for increasing game discoverability. All three apps include a feature tab (namely WeChat Games, LINE Game and KakaoGame) to expose players to games and increase user trials.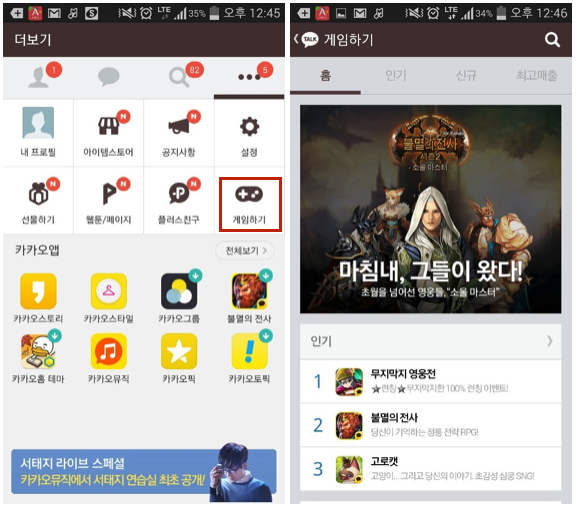 KakaoGame is a feature tab in KakaoTalk, surfacing games to its 20 million KakaoGame monthly active users.
While Tencent and LINE have adopted a vertical integration strategy towards game publishing, Kakao differs significantly by only providing an open platform to help game discoverability. Tencent and LINE have typically bought out game licenses or directly invested in developers, published the games themselves, and maintained control over live operations by deploying their own operations and marketing teams. But on KakaoGame, all games are published and operated by the publisher themselves, with KakaoGame charging a percentage of revenue to surface games to their user base. Also, Kakao's publisher relationships are not exclusive -- you may see a "For Kakao" and a "Regular" version of the same game simultaneously in the Korean iOS or Google Play app stores.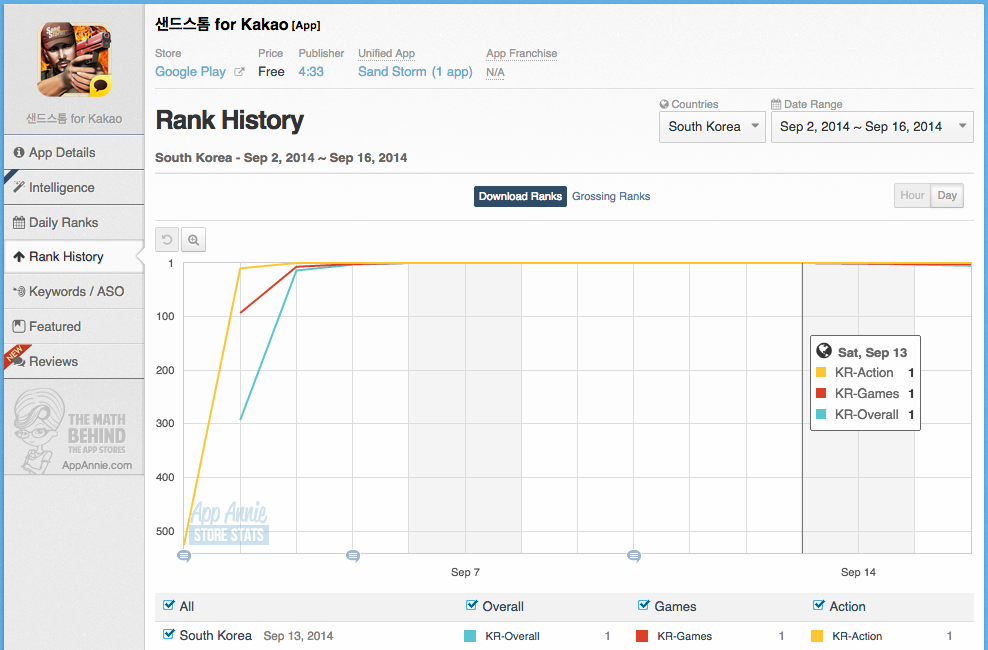 Released on September 2 on KakaoGame, Sand Storm (샌드스톰 for Kakao) rapidly climbed to #1 overall in Google Play Korea and held the rank for nearly two weeks.
In its press release to celebrate KakaoGame's two-year anniversary on July 22, Kakao announced that KakaoGame had more than 20 million monthly active users and collected approximately $560 million USD in total sales for the first half of 2014. KakaoGame finished September with three and five games in the top 10 by downloads on both iOS and Google Play, respectively. KakaoGame was even stronger in terms of revenue, with seven games in both iOS' and Google Play's top 10 charts. KakaoGame's great September performance reflects the company's ability to drive discoverability and monetization.
Netmarble Shows It's Better When You're Together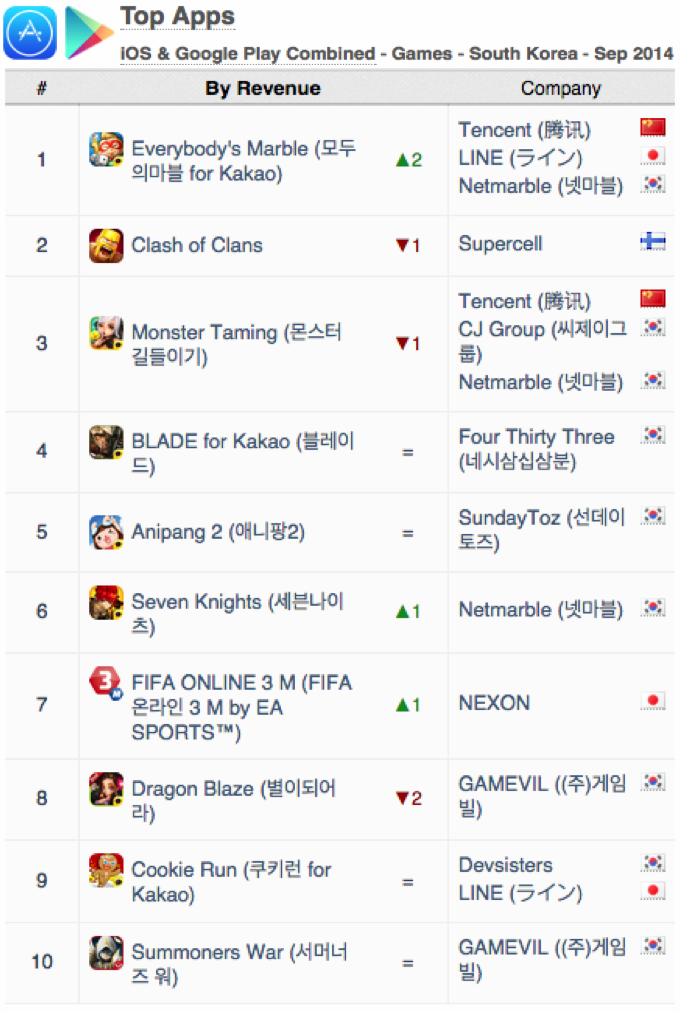 In August 2014, two long-term Korean game giants, CJ Netmarble (the gaming division of CJ Entertainment & Media) and CJ Games announced a merger to become Netmarble Games Corporation, effective on October 1. The newly formed company would immediately become the #1 publisher in terms of game revenue on iOS and Google Play combined. In September, CJ Netmarble and CJ Games had three games in September's top 10 games by revenue for both iOS and Google Play.
Their portfolio of games was headlined by Everybody's Marble, Monster Taming, and Seven Knights. Released in summer 2013, Monster Taming and Everybody's Marble dominated the KakaoGame platform, finishing as the #1 and #2 games by cumulative revenue from July 2013 to September 2014 in South Korea. CJ Netmarble and CJ Games also carefully selected top partners in key markets to further monetize those titles overseas. In China, both Monster Taming and Everybody's Marble are operated by Tencent and have consistently performed well. In Japan, Indonesia and Thailand, Everybody's Marble is licensed to LINE, which made extensive changes in order to localize the game for some markets. The game has frequently ranked  in the top 3 by monthly revenue in Indonesia and Thailand, and even claimed top honors at the Thailand Game Show Big Festival 2014.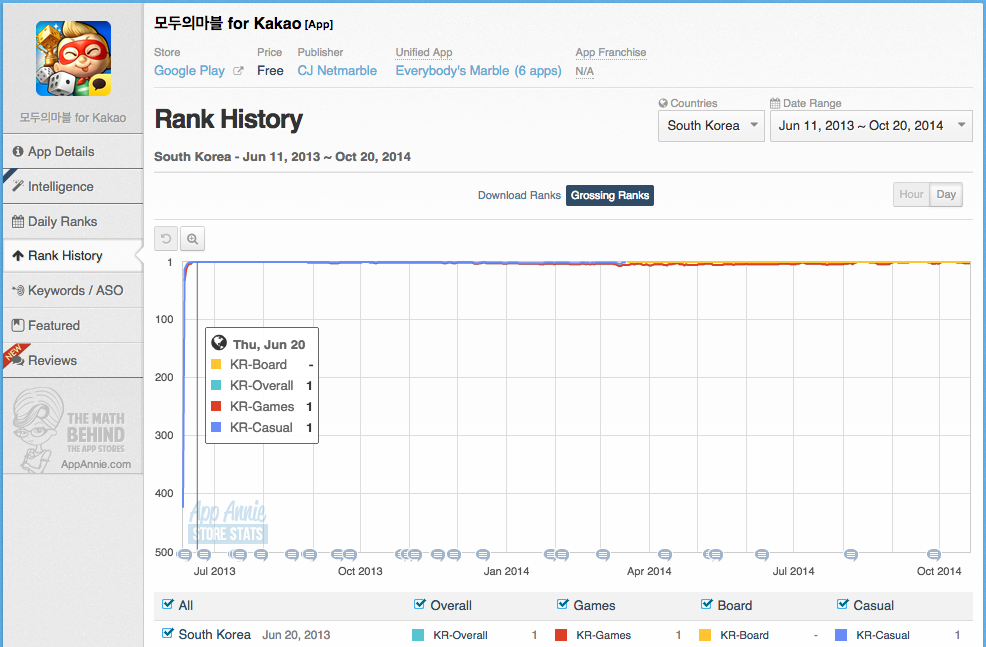 Everybody's Marble has enjoyed a steady stream of revenue since June 2013.
Post-merger, Netmarble aims to build up its product pipeline and cross-selling capacity using new games to funnel over players from older games. Seven Knights, a key content-heavy role-playing game in Netmarble's portfolio, has already cracked the top 10 by revenue on iOS and Google Play combined, bolstering Netmarble's strength in South Korea.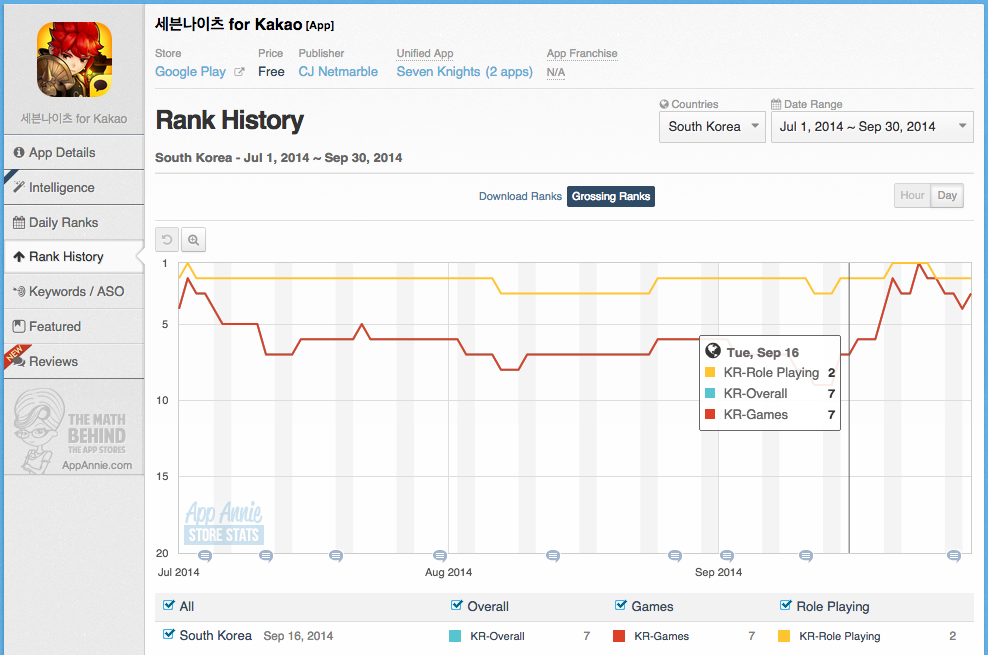 Released in April, Seven Knights secured a seat among the top 10 earners.
The Sky's the Limit for Summoner's War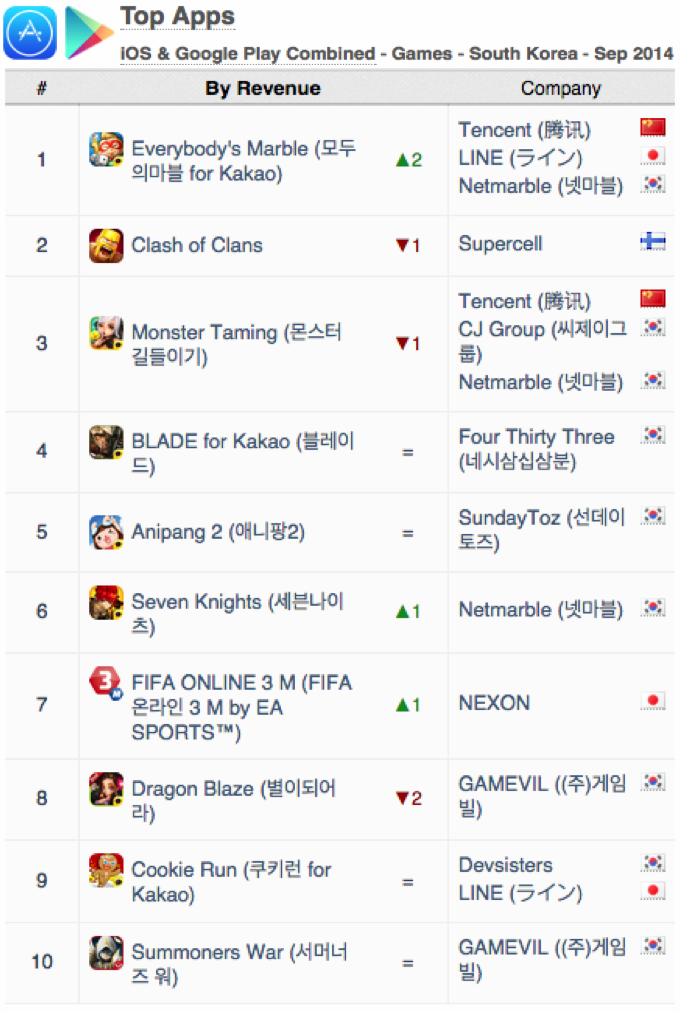 Another critical merger in South Korea's mobile game industry was Gamevil's acquisition of its long-term rival Com2uS in October 2013. This merger was considered a win-win situation for both companies -- it combines Com2uS' strong creativity and technical ability in game development with Gamevil's outstanding business analytics in live game operations, investment in 3rd party developers and expansive global footprint.
Summoners War was a beneficiary of this merger. It launched on Hive in April 2014, the merged company's new platform which integrated the legacy Com2uS Hub and Gamevil Live, and rapidly gained a significant user base in South Korea, Japan, United States, China, Taiwan and other markets. Revenue followed shortly -- in South Korea, Summoners War has been among in the top 10 games by combined iOS and Google Play revenue for three consecutive months since June, which is pretty impressive for a game released in April.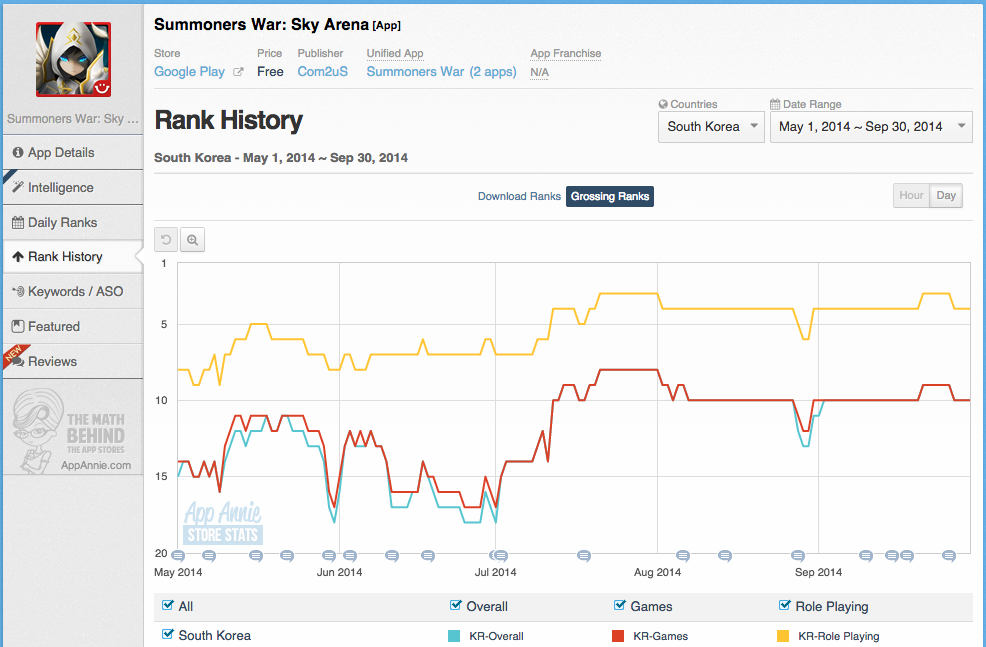 Launched in April, Summoners War quickly moved into the top 20 by revenue on Google Play and progressed to the top 10 in July.
Summoners War's most important innovation was its city-building gameplay system. As we mentioned in the Japan App Annie Index for Games, city-building features strengthen gameplay depth by increasing the amount of things players can "work on" to increase their in-game strength. It also creates in-app purchase opportunities for the publisher. In addition, the cities served as personal spaces for co-players to visit, setting the foundation for social features in the future. Other hits like The White Cat Project (白猫プロジェクト) followed this trend. We may see this system adopted by content-heavy games in the future.
---
| | |
| --- | --- |
| | Want to get even more advanced with your app store market analysis? Check out our enterprise product App Annie Intelligence. |
---
For those of you also looking for an update on South Korea's top apps outside of games, please check out the South Korea App Annie Index for Apps. To keep up-to-date with all the changes at the top of the app and publisher charts, check out the complete set of App Annie Index tables.
Notes:
The publisher and app rankings reported in the App Annie Index are based on the download and revenue estimates available through App Annie

Intelligence

. The daily rank history charts and the home page feature app data are available to all users through App Annie's app tracker solution,

Store Stats

.

While the Index for Games covers games, the Index for Apps provides app tracking on everything but games. Note that the Top Company rankings in the Index for Games are based solely on the publishers' games downloads and revenue, while the Top Company rankings in the Index for Apps are based on the company's downloads and revenue from apps excluding games.

Through September 2013, similar versions of the same app with different names (e.g., Megapolis and Megapolis HD were ranked separately). Effective with October data, similar versions of the same app with different names will be unified (e.g., Megapolis and Megapolis HD are now aggregated and ranked as a single Megapolis unified app).

Company and unified app rankings in the App Annie Index for Games and Index for Apps are based on individual apps that ranked in the Top 1,000.

In the first month in which an app becomes unified, its rank change in the Index will compare the unified app that month vs. its highest-ranking individual app in the month prior. As a result, rank changes for newly unified apps may overstate ranking increases from August 2014 to September 2014.

In the iOS App Store, an app can be categorized under a Primary Category as well as an optional Secondary Category. If an app has a Primary Category of Games and a Secondary Category of Entertainment, it is a candidate to be included in this Index for Games. If the app's Primary Category is Entertainment and its Secondary Category is Games, then it will not be included in this Index for Games; it is a candidate for the Index for Apps.

Note that the ranking approach used in the App Annie Index differs from that used in the iOS App Store. In the latter, app rankings for a given category will include all apps whose Primary Category or Secondary Category matches that given category. So an app can appear in the rankings for more than one category within the iOS App Store or in App Annie Store Stats rankings.

In Google Play, an app can be categorized under only one category, so there is no double-categorization.

Occasionally, a publisher may decide to shift an existing app from one category to another category. In these cases, the App Annie Index will rank that app based on its categorization in the subsequent month. Given that the App Annie Index has a Games report and an Apps report, the only scenario where an app's recategorization could shift it from one Index to another is if its category changes from Games to a category other than Games or vice versa.
In the App Annie Index, all apps and publishers are reported under their parent companies, where available; for example, the Summoners War app is reported under its parent company GAMEVIL, rather than its direct publisher Com2uS. Note that if you view the gumi parent company page on Store Stats, you will see the publishers that roll under the parent company GAMEVIL, including Com2uS. The Summoners War app will be listed under the Com2uS

publisher page.

Company and app rankings are based on the App Annie DNA relationships at the time of publications. App Annie DNA relationships are subject to change over time.

App Annie Index revenue rankings are based on revenue that the iOS App Store and Google Play earned from paid downloads and in-app purchases. They do not include revenue earned from in-app advertising.

Certain trademarks and/or images used in this report may belong to third parties and are the property of their respective owners. App Annie claims no rights in such trademarks or images.

Kakao Corp. and Daum Communications Corp. officially merged on October 1, 2014. When referring their Kakao or Daum's app performance in September, they will be referred with Kakao or Daum separately. When referring the action of the merged company in October, it will be referred as Daum Kakao.