South Korea is a critical market for the mobile industry. It hosts two of the world's biggest smartphone manufacturers, Samsung and LG, as well as various companies relating to the rest of the smartphone market. Carriers SK Telecom, KT and LG U+ have rolled out the ultra-fast LTE-Advance network across the nation, and with national smartphone penetration rate at 70 percent, South Korea boasts a booming mobile app economy.
App Annie is excited to announce the launch of the monthly South Korea App Annie Index for Apps. This report will provide a detailed look at the major movers in one of the app economy's top-performing markets to help inform your business decisions in the region. To find out what's hot in South Korea in Games, please check out the South Korea App Annie Index for Games. For more information on global top apps and publishers, see the full Index charts for September, including newly added charts for other countries.
TABLE OF CONTENTS
1. The Technology Behind the Index
The information contained in this report was compiled from App Annie Intelligence, the leading market data solution for the app store economy. To see how our app store download and revenue estimates can help guide your critical business decisions, take a tour or request a demo today.
---

---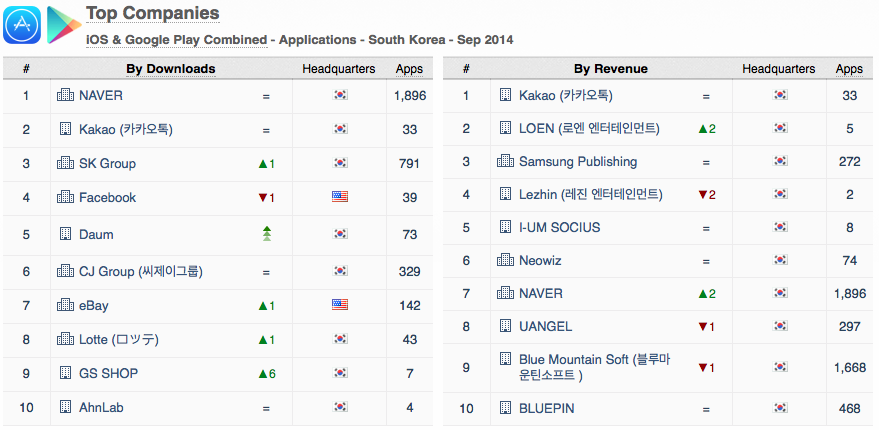 For the complete list of September's top apps and publishers in South Korea, click the chart above.
2. This Month's Top Performers
Monitoring Spurs Messaging Apps to Protect Users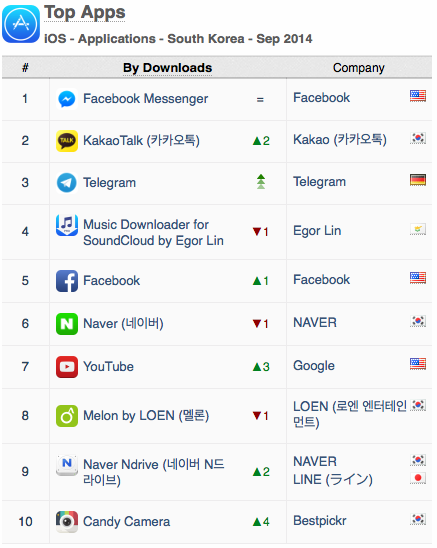 Communication has always been a key function of smartphones, and South Korea is no exception. Six of the top 10 downloaded apps on iOS and Google Play combined in South Korea are social networking apps, led by South Korean messaging app leader KakaoTalk, which boasts 140 million registered users.
When the Korean government began to discuss monitoring real-time Internet conversations, the German encrypted messaging app Telegram saw a large spike in downloads as people sought to safeguard their conversations. Messages sent via Telegram's Secret Chat mode can be programmed to self-destruct automatically and are fully encrypted to prevent hacking during or after conversations.
In fact, there are two versions of the Telegram app trending. Telegram is an open source project and supports multiple languages, but not Korean. Korean programmers quickly developed a Korean language version, 텔레그램 Telegram, and launched the app on Google Play on September 29. Both the English and Korean versions of Telegram then became popular in September and early October.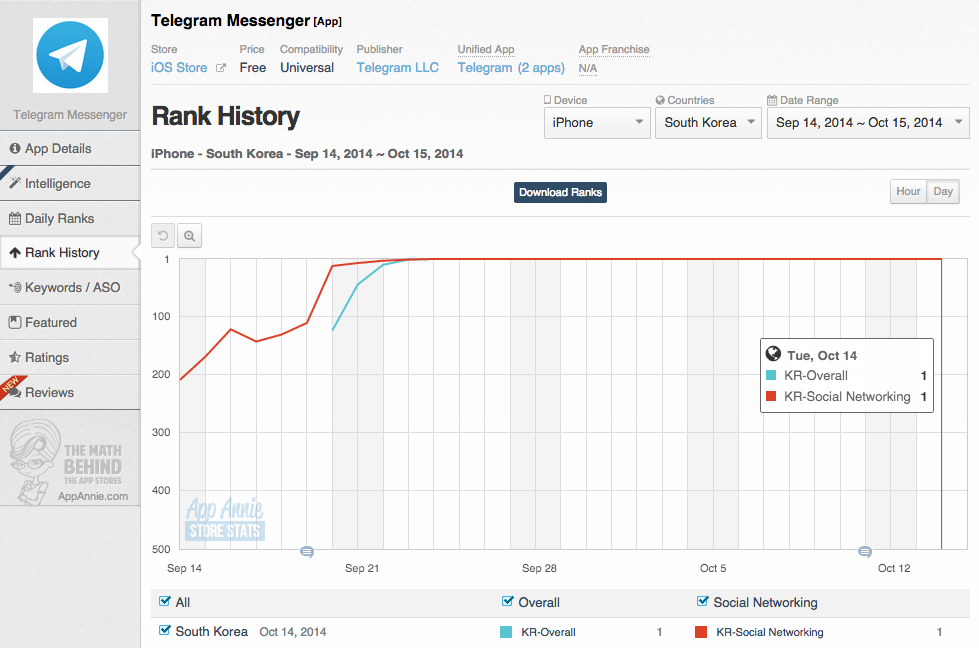 Telegram Messenger, the original English iOS app of the Telegram open source project, skyrocketed from mid-September to early October.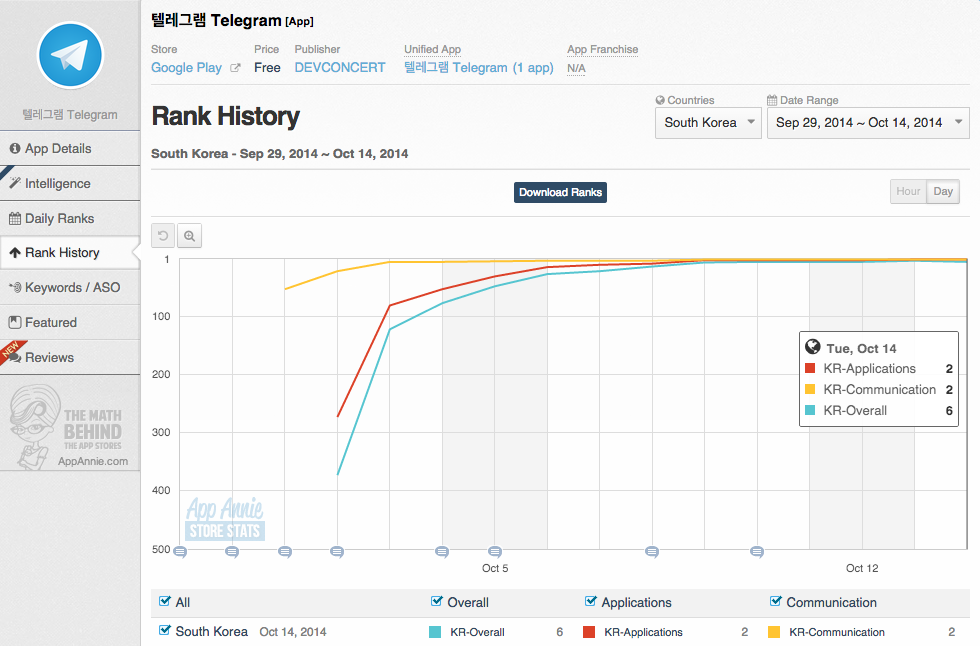 텔레그램 Telegram, the Korean version based on Telegram's open source code, launched late September and skyrocketed into the top 10 in early October.
Almost all Korean internet service and social networking giants immediately responded in favor of protecting user privacy. Daum Kakao, the company behind KakaoTalk, took a strong pro-customer stance and even apologized to the public for its "inexperience in the matter of data privacy," stating that it "didn't realize the real concerns of our KakaoTalk users early on." Its CEO Choi Sae-hoon also pledged to suspend submitting data to the government and tightening up its privacy protection measures. Naver and SK Communications also joined Daum Kakao's privacy protest, lobbying lawmakers to restrict the country's surveillance plan. Daum Kakao's stance on privacy was apparently well-received by investors as their share price increased in the days following the press release.
Streaming K-Pop on K-Apps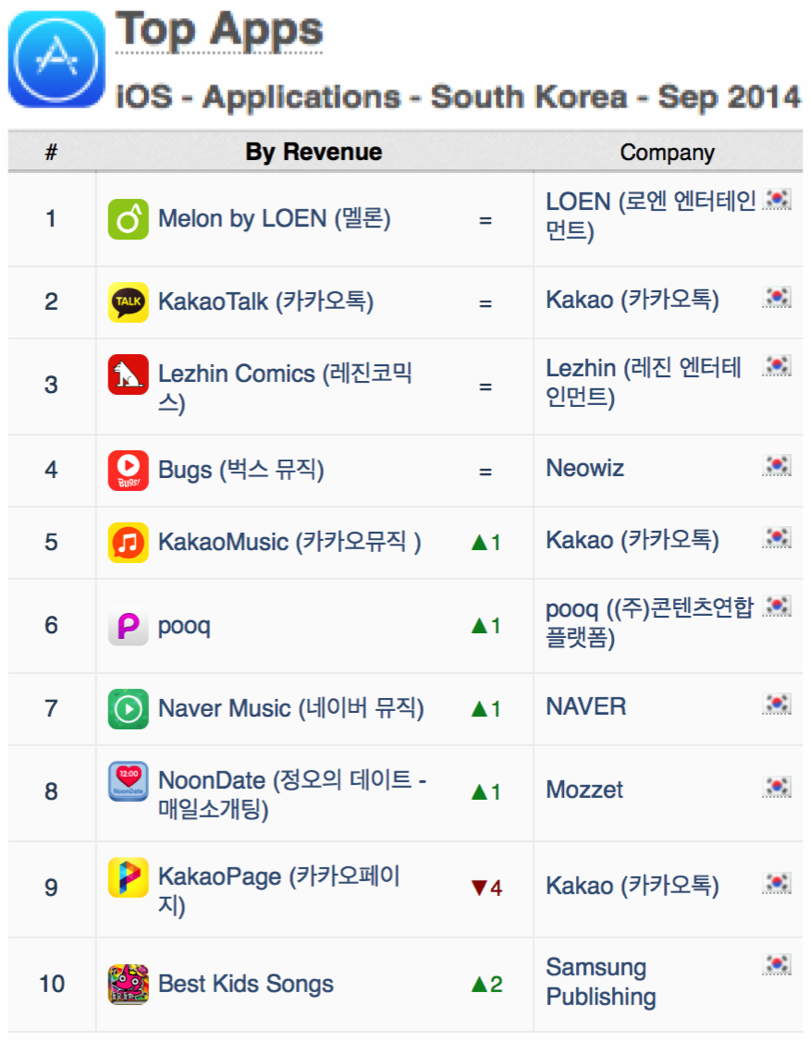 South Korea has a thriving entertainment industry, with enjoying K-Pop as one of its most popular pastimes.  A2013 TIME Magazine article said, "In 1998, the South Korean government invested $500 million into a cultural-promotion fund. Fifteen years later, its artists dominate the pop-music charts in Asia, its television and movie titles are top sellers throughout the region, and the whole world knows a South Korean rapper named PSY."
Consumer consumption of music on mobile phones has grown alongside K-Pop, which is reflected in the proliferation of "K-Apps" in today's Korean smartphone ecosystem. In September's monthly top 10 apps by revenue, four are music library or streaming apps: MelOn by LOEN (멜론) (LOEN Entertainment is a previous subsidiary of the largest Korean mobile carrier SK Telecom), Bugs (벅스 뮤직) (by Neowiz Internet), KakaoMusic (카카오뮤직) and Naver Music (네이버 뮤직). All of these apps opt to use alternative payment channels on Google Play, so they do not rank on the revenue charts. However, their download rank history charts tell us that they are pretty popular on Android as well.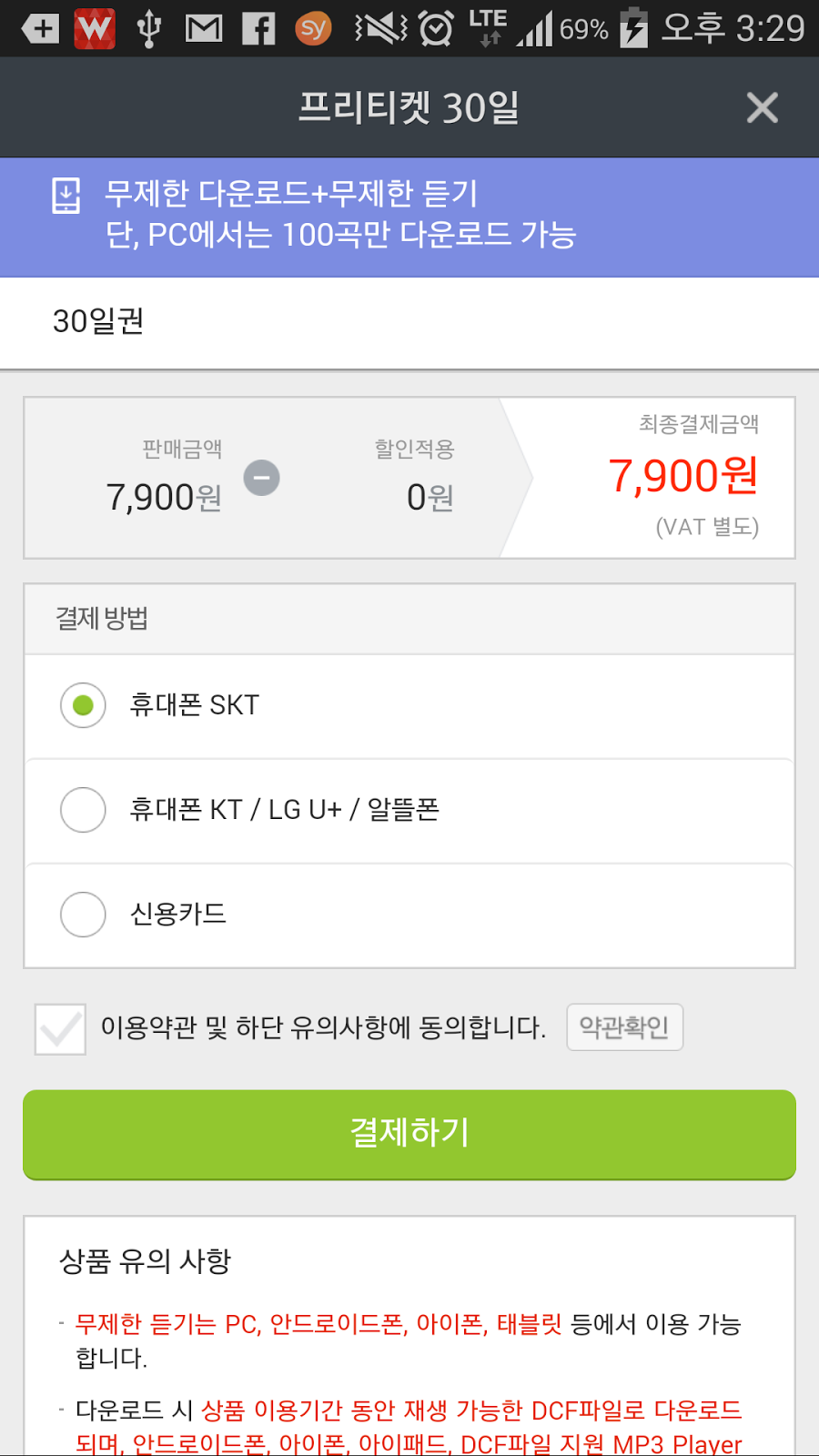 In MelOn on the Android platform, people are allowed to pay via alternative channels other than Google Play.
Other key players in South Korea include Mnet (엠넷) by CJ Entertainment & Media and genie (지니 뮤직) and KT Music (올레뮤직) by KT. There are numerous potential drivers behind the dominance of local streaming services. First, possibly due to copyright restrictions, global leaders in music streaming Pandora and Spotify are not available to stream in all countries. Second, local streaming services backed by user aggregators like carriers or social networks acquire and retain users much easier with their marketing, infrastructure, and platform resources than foreign companies (typically start-ups). Last but not least, local companies have built music libraries highly tailored to local tastes in terms of content by leveraging their knowledge and relationships within the local music industry.
Now, even device makers have joined this fierce battle -- Samsung Electronics launched MILK Music (밀크) in South Korea on September 20 following its release in United States back in April. The largest music service in Korea with free streaming access to 3.6 million songs, MILK Music, rapidly reached a milestone of 500,000 downloads by September 29 and surpassed KakaoTalk and V3 Mobile Plus 2.0 to become the daily downloads champion on September 30. It will be interesting to see how this crowded space continues to grow as K-Pop's popularity grows globally.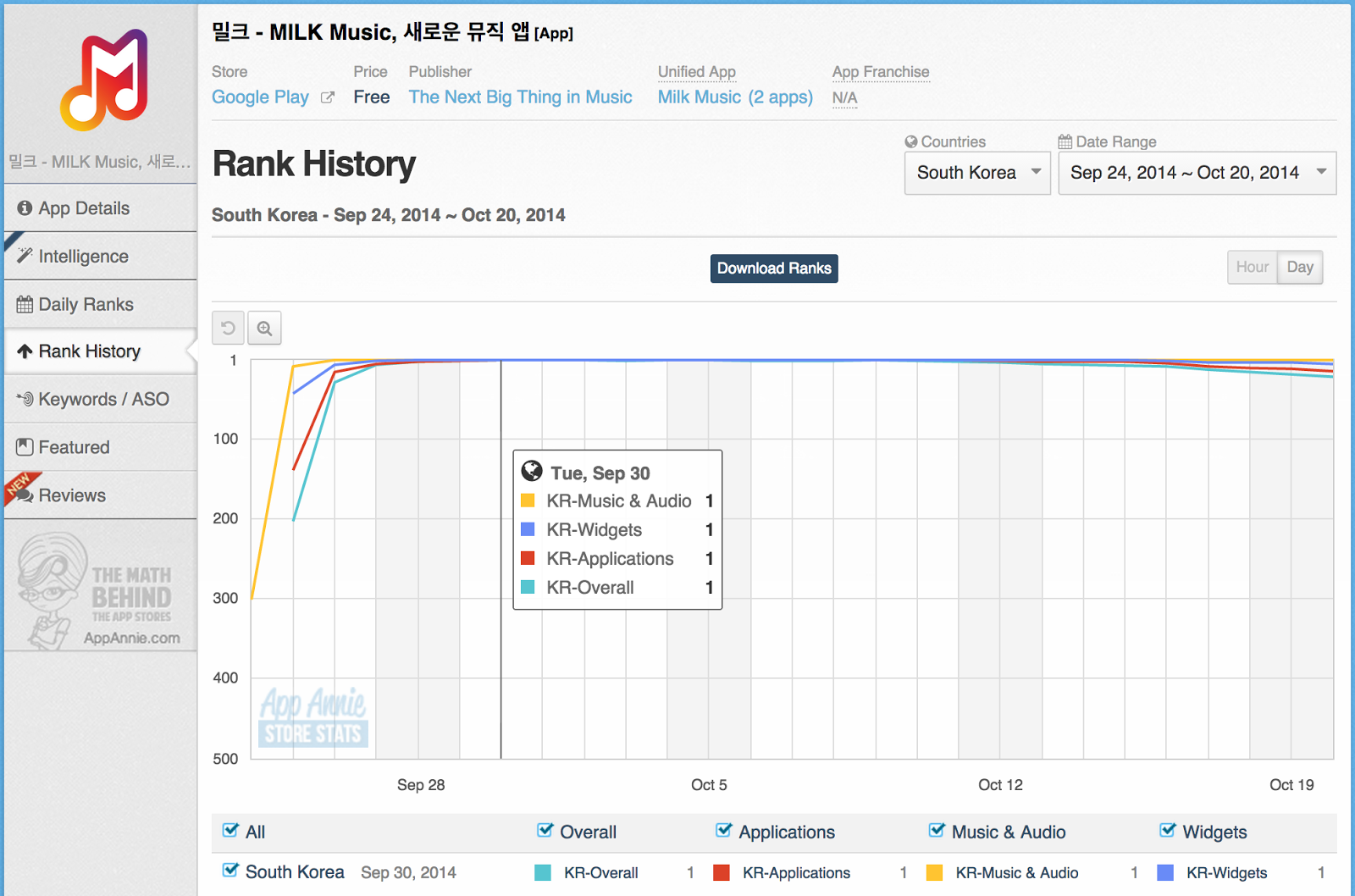 MILK Music, will it become the next big thing in music?
V3 Mobile Plus 2.0: The Guardian of the Galaxies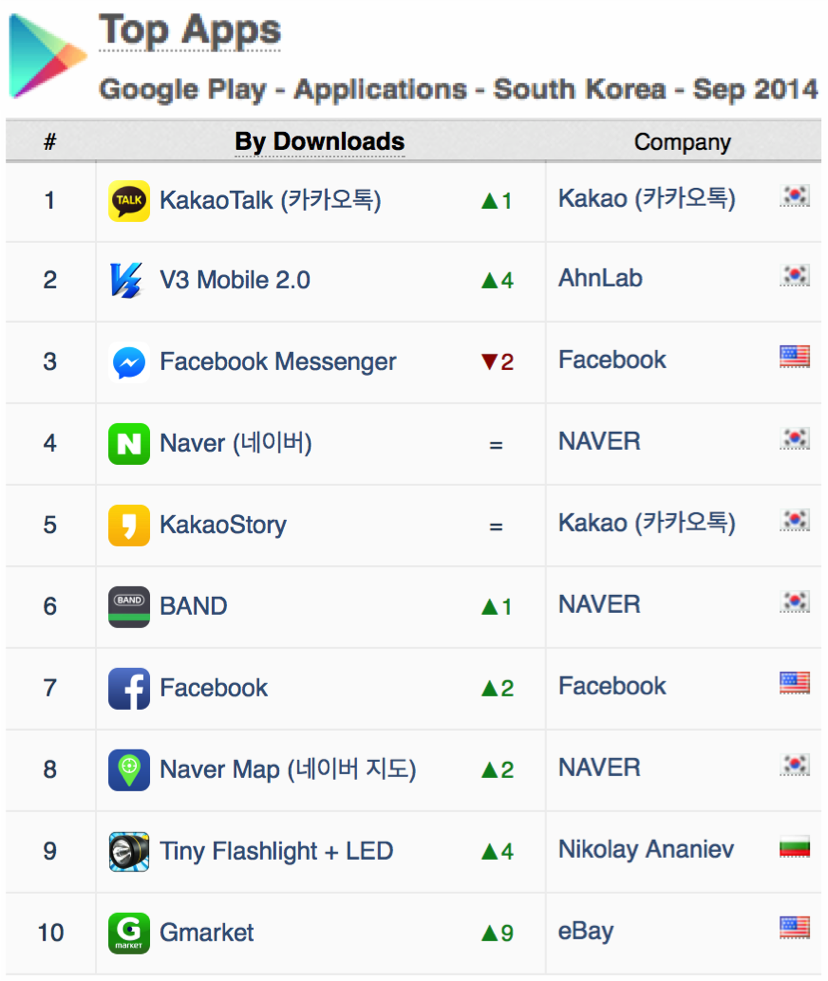 V3 Mobile Plus 2.0, the most downloaded mobile security app on Google Play Korea, finished #2 among the monthly top apps by downloads. The app works like a firewall and real-time virus/malware scanner on Android devices. It has become so widely adopted as the standard in mobile security that many banking and insurance apps in South Korea require the app to be running the background.

V3 Mobile Plus builds an encrypted data tunnel for banking, trading, and other security sensitive apps to communicate with their servers.
The downloads of V3 Mobile Plus 2.0 spiked on September 26, coinciding with shipments of Samsung's new 5.7-inch Galaxy Note 4. Samsung and all three major carriers had aggressive marketing promotions to push the device during September. According to ZDNet Korea, Galaxy Note 4 was sold out just a few hours after the pre-orders started on September 18.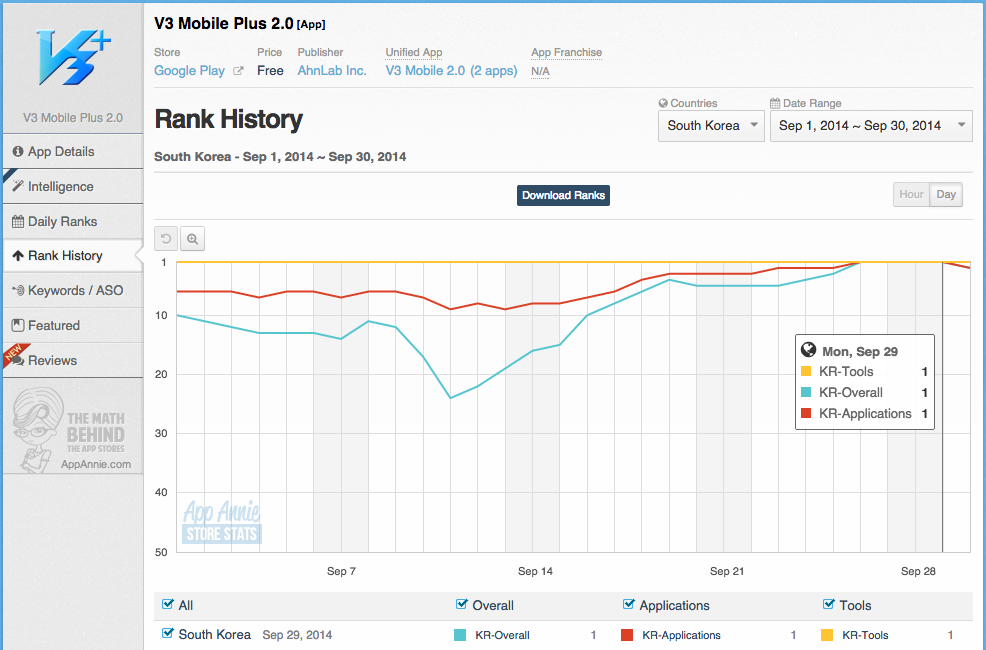 Downloads of V3 Mobile Plus 2.0 spiked from September 26 to 29, matching dates on which Samsung started to ship the new flagship Galaxy Note 4.
There were a few potential drivers of the Galaxy Note 4's astounding success in September 2014. Samsung pioneered the phablet category 3-4 years ago in order to meet the strong demand in South Korea for phones with bigger screens, and have dominated the space ever since. In September 2014, the absence of the iPhone 6 Plus in South Korea left the Galaxy Note 4 as the only viable new phone for phablet-hungry consumers. The fear of lower phone subsidies might have spurred Koreans to purchase the Galaxy Note 4 as well. Despite past government attempts to cap spending, Korean carriers have continued to use big subsidies to attract new subscribers. Government discussions about tightening restrictions and enforcing the subsidy cap for consumers occurred as early as March this year, which could have driven some Korean consumers towards the Galaxy Note 4 over the potentially unsubsidized iPhone 6 Plus (new restrictions were announced on October 1).
GMarket: A Korean Market for Global Consumers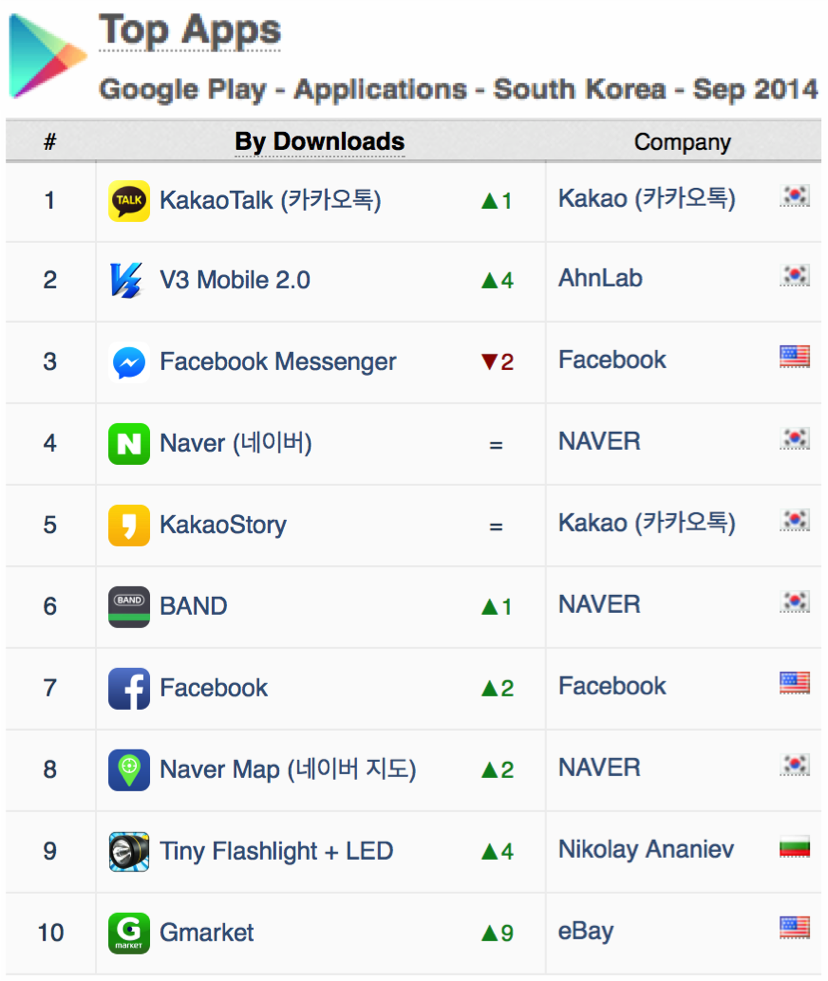 Alibaba's $25 billion USD IPO last month on the New York Stock Exchange highlighted the influence of global e-commerce. Gmarket (G마켓), the e-commerce leader in South Korea and a subsidiary of eBay, enjoyed its own highlight in September, with its app joining the top 10 apps by Google Play downloads.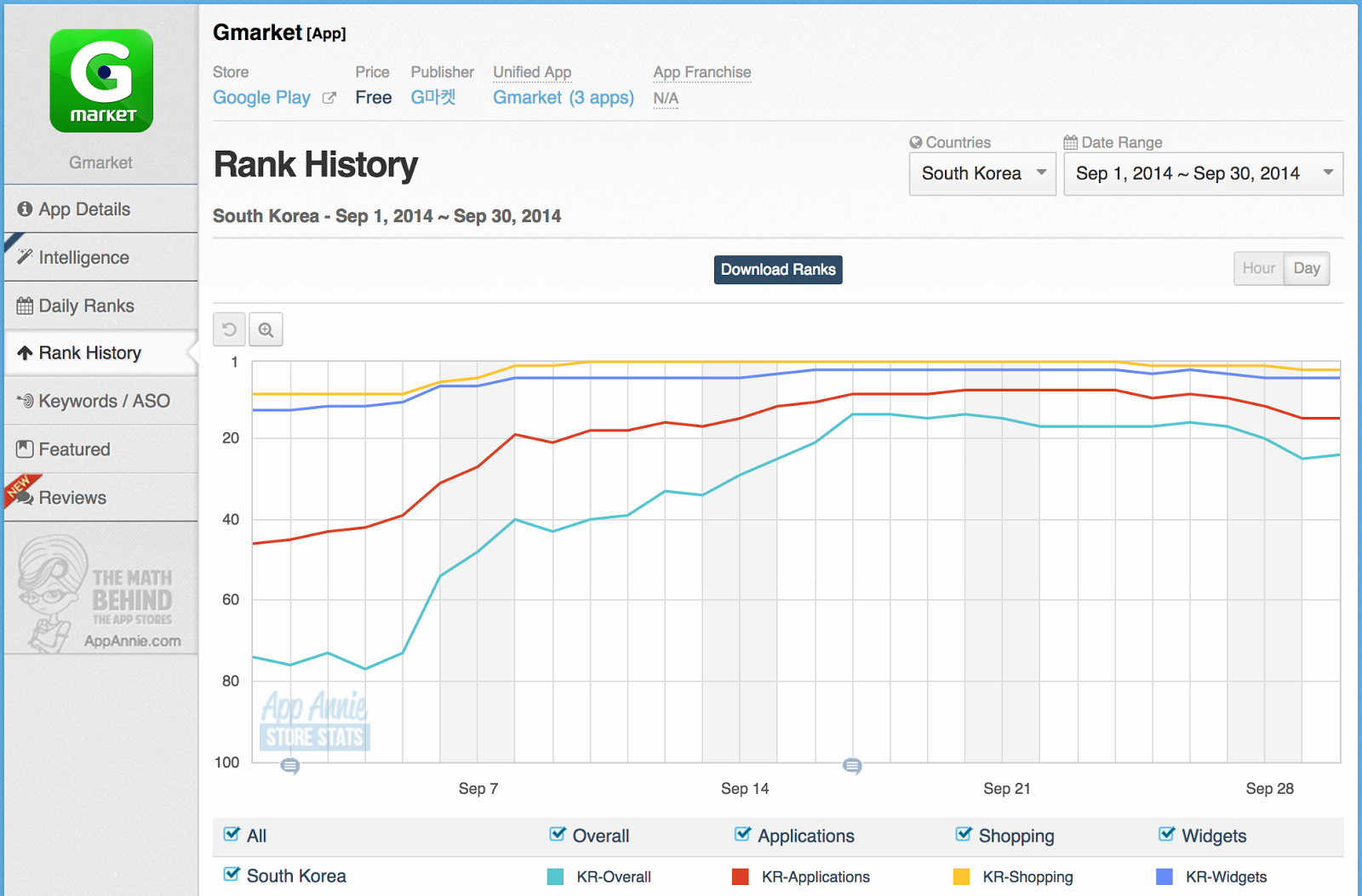 Gmarket's downloads on Google Play picked up around September 24.
The app's strong performance may have been driven by two large-scale promotions that Gmarket executed in September: 1) A domestic travel package promotion from September 15 to 21 that offered 50% off, increasing revenue of domestic travel products by 468% compared to the same period in last year; and 2) The exclusive online pre-order of Xbox One in South Korea, with a lottery to win Surface 3 tablets.
Similar to eBay and Taobao, Gmarket started as a peer-to-peer (C2C) marketplace before gradually developing into an e-commerce giant hosting thousands of merchants. What makes Gmarket stand out is its global vision, which includes a multiple-language website, international payment channels, and overseas shipping. Gmarket not only enjoys business from local Korean consumers, but also fulfills global demand for Korean goods. The site closely monitors Korean pop culture's dissemination throughout Asia and the Americas to offer timely product promotions, and consistently runs promotions tailored to shoppers outside of South Korea as well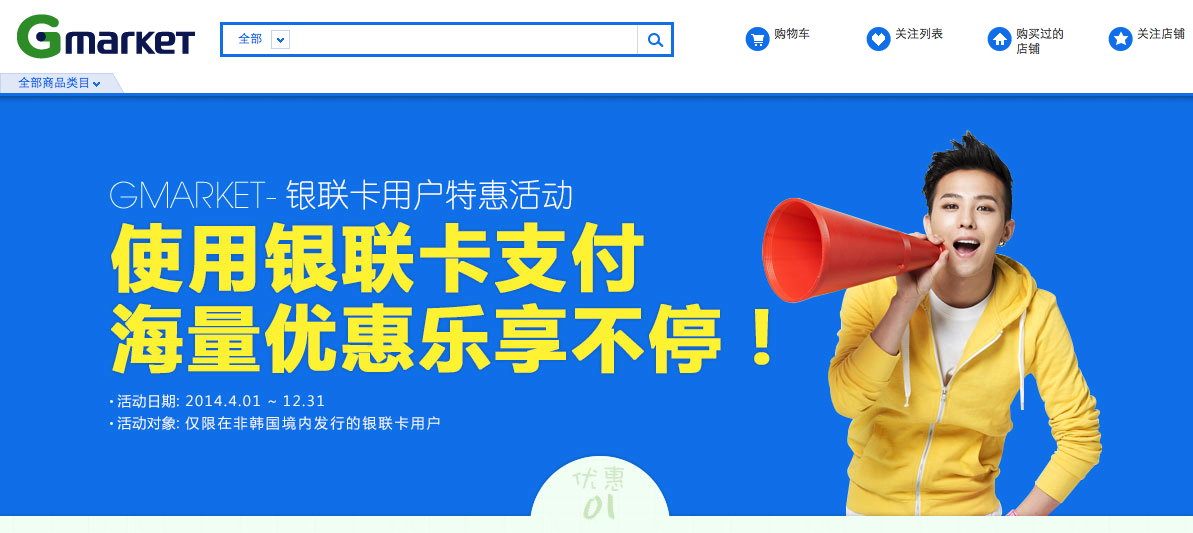 Gmarket rolled out a promotion specifically targeting UnionPay (Chinese counterparts of VISA or MasterCard) card users.
Gmarket's success represents a significant change to eBay's overseas strategy by allowing Gmarket's founder Young Bae Ku and his Korean operational team to keep Gmarket independent in terms of brand and business model. Maintaining the original team's spirit and brand has been instrumental to eBay's success in Korea.
---
| | |
| --- | --- |
| | Want to get even more advanced with your app store market analysis? Check out our enterprise product App Annie Intelligence. |
---
For those of you who also are looking for an update on top apps in gaming, please check out our South Korea App Annie Index for Games. To keep up-to-date with all the changes at the top of the app and publisher charts, check out the complete set of App Annie Index tables.
Notes:
The company and app rankings reported in the App Annie Index are based on the download and revenue estimates available through App Annie

Intelligence

. The daily rank history charts and the home page feature app data are available to all users through App Annie's app tracker solution,

Store Stats

.

While the Index for Games covers games, the Index for Apps provides app tracking on everything but games. Note that the Top Company rankings in the Index for Games are based solely on the company's games downloads and revenue, while the Top Company rankings in the Index for Apps are based on the company's downloads and revenue from apps excluding games.

Through September 2013, similar versions of the same app with different names (e.g., Naver Ndrive (네이버 N드라이브 - Naver Ndrive) and NAVER Ndrive for iPad (네이버 N드라이브 for iPad - NAVER Ndrive for iPad) were ranked separately. Effective with October data, similar versions of the same app with different names will be unified (e.g., Naver Ndrive (네이버 N드라이브 - Naver Ndrive) and NAVER Ndrive for iPad (네이버 N드라이브 for iPad - NAVER Ndrive for iPad) are now aggregated and ranked as a single Naver Ndrive unified app).

Company and unified app rankings in the App Annie Index for Games and Index for Apps are based on individual apps that ranked in the Top 1,000.

In the first month in which an app becomes unified, its rank change in the Index will compare the unified app that month vs. its highest-ranking individual app in the month prior. As a result, rank changes for newly unified apps may overstate ranking increases from August 2014 to September 2014.

In the iOS App Store, an app can be categorized under a Primary Category as well as an optional Secondary Category. If an app has a Primary Category of Entertainment and a Secondary Category of Games, it is a candidate to be included in this Index for Apps. If the app's Primary Category is Games and its Secondary Category is Entertainment, then it will not be included in this Index for Apps; it is a candidate for the Index for Games.

Note that the ranking approach used in the App Annie Index differs from that used in the iOS App Store. In the latter, app rankings for a given category will include all apps whose Primary Category or Secondary Category matches that given category. So an app can appear in the rankings for more than one category within the iOS App Store or in App Annie Store Stats rankings.

In Google Play, an app can be categorized under only one category, so there is no double-categorization.

Occasionally, a publisher may decide to shift an existing app from one category to another category. In these cases, the App Annie Index will rank that app based on how it is categorized in the subsequent month. Given that the App Annie Index has a Games report and an Apps report, the scenario where an app's recategorization could shift it from one Index to another is if its category changes from the Games category to a category other than Games or vice versa.
In the App Annie Index, all apps and publishers are reported under their parent company, where available; for example, the PangYo (판교인들을 위한 카풀 서비스) app is reported under its parent company SK Group, rather than its direct publisher SK Planet. Note that if you view the SK Group parent company page on Store Stats, you will see the publishers under the parent company SK Group, including Kakao. The PangYo (판교인들을 위한 카풀 서비스) app will be listed under the SK Planet

publisher page.

Company and app rankings are based on the App Annie DNA relationships at the time of publications. App Annie DNA relationships are subject to change over time.

App Annie Index revenue rankings are based on revenue that the iOS App Store and Google Play earned from paid downloads and in-app purchases. They do not include revenue earned from in-app advertising.

Certain trademarks and/or images used in this report may belong to third parties and are the property of their respective owners. App Annie claims no rights in such trademarks or images.

Kakao Corp. and Daum Communications Corp. officially merged on October 1, 2014. When referring their Kakao or Daum's app performance in September, they will be referred with Kakao or Daum separately. When referring the action of the merged company in October, it will be referred as Daum Kakao.