From Instagram to WhatsApp and beyond, Facebook's collection of apps dominated many markets
Following the release of our 2017 Retrospective Report, the industry's largest and most trusted analysis of the state of the app economy, we'll be highlighting some key areas of the report in an ongoing series. In our previous posts we looked at consumer spend, downloads, engagement and much more. Now we're turning our attention to the high profile state of social media apps across the world.
Social media is now a truly global phenomenon that has connected large percentages of the world's population. In fact, in 2017, over two billion people worldwide used at least one of the top give social apps each month on average.
The top five Social apps by time spent have changed the most in emerging markets. For example, in India alone, over 71 billion hours were spent in the top 5 Social apps on Android phone, with WhatsApp accounting for over 50% of those hours.
By contrast, mature markets have seen fewer changes to its top 5 Social apps. Instead, it's increased functionality and growing user bases, often through the network effect, result in greater overall use.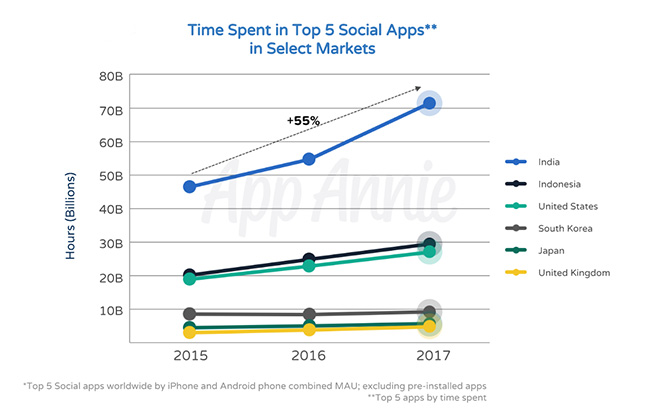 When we begin to look at the top social apps by country, Facebook's domination becomes immediately apparent. With the exceptions of South Korea and China, which are well known for the popularity of their homegrown publishers, the Facebook app itself and the collection of apps that Facebook owns - Facebook Messenger, Instagram and WhatsApp - occupy all top three positions in many countries.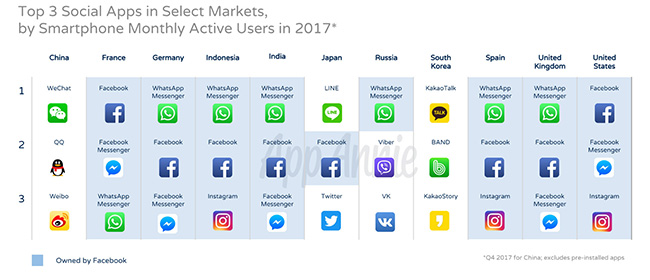 This focus on social media is only a single highlight in a wide-ranging report. For much more, including in-depth analysis of the year's biggest apps and stories, download the App Annie 2017 Retrospective Report directly on the page by filling out the form below. Customers who log-in can download immediately.