Following our recently released report, we take a closer look at the highly lucrative state of live multiplayer games
Continuing our series following the recent release of our report with IDC, the Gaming Spotlight 2017 Review, we want to dive even deeper into an important trend; the rapidly increasing popularity of mobile games featuring two or more people playing live, known as live PvP or co-op gameplay.
As we highlighted in our last post, live multiplayer games have already proven to be both immensely popular and highly lucrative on mobile devices as the top two grossing games on both the iOS App Store and Google Play in 2017 featured live PvP gameplay.
Consistent with the rise of esports-related games and tournament streaming and viewing, live multiplayer gameplay is increasing in popularity on all major platforms. Looking closer, while penetration of live PvP or co-op gameplay on smartphones and handheld consoles (e.g., Nintendo 3DS/2DS, Sony PlayStation Vita) lagged behind home consoles and PCs/Macs in 2017, the gap narrowed last year, and should this year too.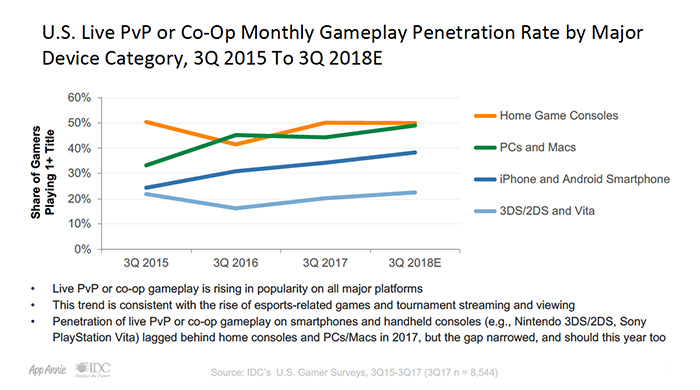 It's also telling to examine some of the demographics behind this rise. Looking at the results of IDC's 3Q17 U.S. Gamer Survey, we see that live PvP or co-op gamers, on smartphones and handheld consoles, skewed younger and male, and were more likely to play more than 5 hours a week, compared to the non-PVP or co-op gamer sample. In addition, live PvP or co-op smartphone gamers were nearly 2x more likely to have spent money on a mobile game in 3Q 2017 than smartphone or handheld console gamers who do not play those types of games. Put both of these statistics together - higher time spent playing games and higher spend - and it's clear that live multiplayer games have a lucrative future.
This look at the trends behind live multiplayer gaming in 2017 is just a slice of what's covered in the overall report. For more detailed stats, analysis and stories, download the Gaming Spotlight 2017 Review report by filling out the form below. Customers who log-in can download immediately.