In China and South Korea, online-first dominates usage but in Japan, bricks-and-clicks retailers remain strong. Here's our continued look at global retail trends.
As retailers experiment with using the mobile platform to drive more in-store and online sales, it shouldn't come as a surprise that the Asia Pacific market is one of the leaders in this space.
In our latest report, The Growth of Retail Apps — What Retailers Can Learn From Top Apps, we look at how consumer behavior is driving explosive growth around the world. In just the past 12 months, the total time spent in online-first retail apps increased by more than 50%.
In China and South Korea, online-first apps monopolize usage. In this region, very few of the top retail apps based on monthly active users (MAU) meet the definition of bricks-and-clicks — apps from retailers with an extensive brick-and-mortar presence. Only in Japan do we see bricks-and-clicks with enough users to make it into the top rankings; GU leads the way at #3.
Online-First Apps Dominate Usage in Asia Pacific
Payments are especially big business in Asia — the market's heating up in China, where nearly half of all e-commerce sales are made with mobile devices. Compared to top European retail apps, this region offers a much wider range of payment options.
Demographics are another reason for the different usage numbers. Aging populations with low overall growth rate have prompted retailers to invest heavily in engaging their existing customers. Because of this, we see aggressive discounting and rewards. Loyalty plans that require active participation (such as the daily lucky draw in South Korea's Gmarket and Super Point Up program in Japan's Rakuten Ichiba) are seeing some success.
Let's take a closer look at five bricks-and-clicks apps.
Asia Pacific Retailers Have It All — Except Live Customer Service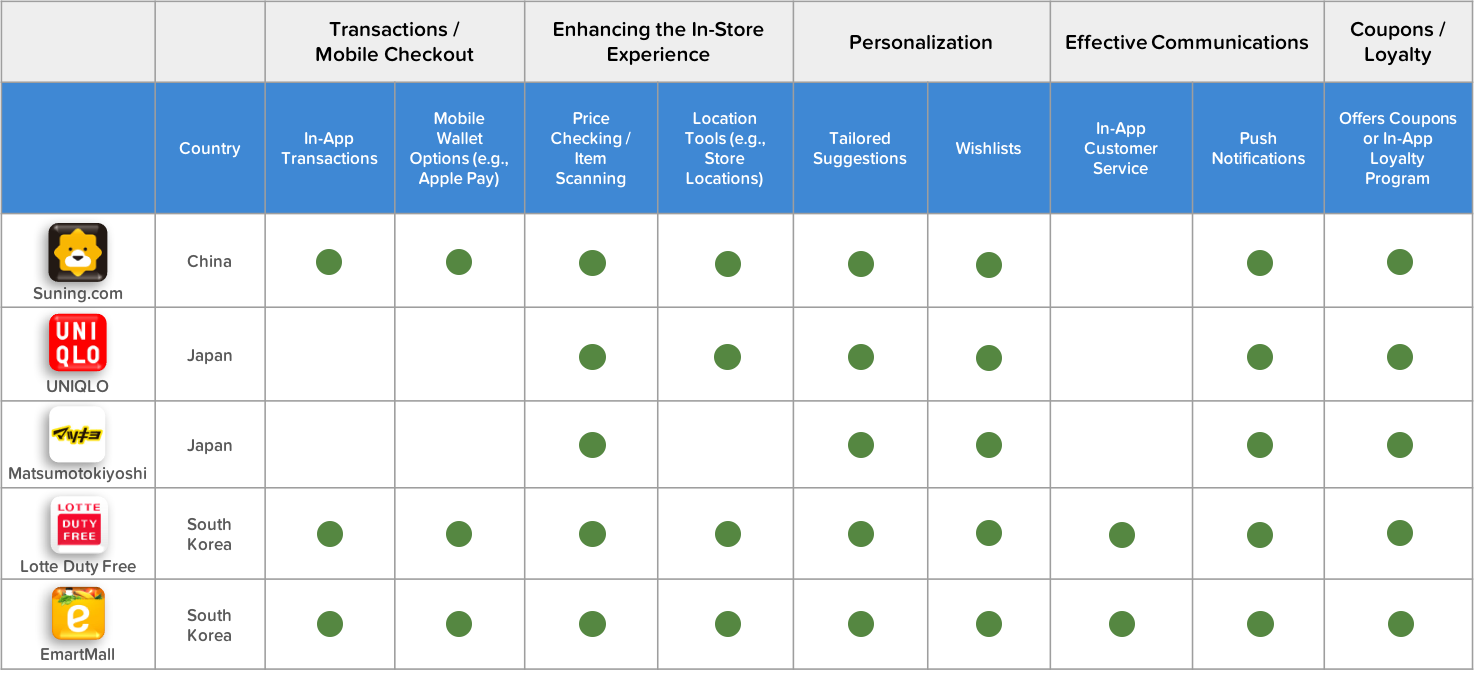 These apps all build on the in-store experience with price-checking and personalization features. Integrated customer service — such as speaking with a representative via live chat, as we see with British shopping emporium M&S — is the one area that shows the most room for improvement.
A few highlights:
Overall, our research shows that apps from online-first retailers are seeing more sessions per user, and faster growth, than those from bricks-and-clicks companies. This gives traditional retailers significant opportunities to learn from online specialists.
Apply Best Practices to Your Retail App Business
To help your team align with this fast-moving market, check out the best practices in mobile retail in our latest report. Download The Growth of Retail Apps today.
And stay tuned for our follow-up on bricks-and-clicks apps in the United States.