Banks in Brazil and Canada lead the pack, US banking apps face off with fintech
Retail banking is one of the traditional industries currently disrupted by the rise of mobile apps. Increasingly, customers' experiences are defined by what happens inside their bank's app, not what happens in the branch. Especially for younger users deciding between banks, the primary differentiator between retail banks is becoming the mobile experience.
App Annie has been researching and analyzing the retail banking app space for some time (see our US, Europe, and APAC retail banking and finance reports). In this blog post, we will take a look at the retail banking landscape in five of the largest app markets in the Americas, and rank the top retail banking apps in each of these countries.
Top Banking Apps in Brazil Lead the Way in Time Spent
The average user in Brazil, Canada, Argentina and Mexico spent more time in the top 5 retail banking apps in H1 2017 compared to previous years. Of these countries, Brazil clearly led the way. There, the average Android phone user spent nearly 25 minutes per month during H1 2017 in the top Brazilian retail banking apps in Brazil. Banco do Brasil accounted for nearly half of the total time among these apps in H1 2017, though all five of the top apps in Brazil contributed to the growth.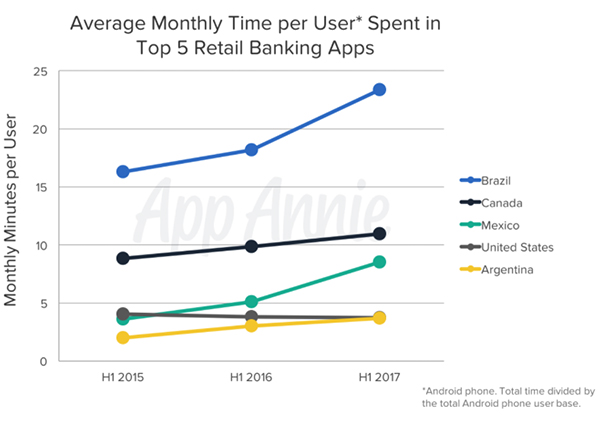 According to a 2017 report by the Brazilian Federation of Banks, the number of mobile transactions in Brazil has been climbing over recent years thanks to large technology investments by major Brazilian banks. In fact, the number of mobile transactions actually surpassed the number of internet transactions for the first time in 2016, making mobile the number one source of banking transactions in Brazil.
The average Android phone user in the United States, on the other hand, spends slightly less time in the top 5 retail banking apps when compared to the previous two years. While total time spent in these apps has been increasing (about 10% from H1 2016 to H1 2017), it has not kept pace with the overall growth in the smartphone user base. In fact, Canada has also exceeded the US in time spent per user in the top 5 retail banking apps since H1 2015, in addition to increasing steadily each year.
One cause of the US's decline in this metric could be the rise of fintech apps in the United States. We have previously written about the threat that fintech apps pose to retail banking, a phenomenon which seems most stark in the US (although European retail banks are facing a similar reality). Of the top 10 US apps by monthly active users (MAU) in the iOS Finance category, half are fintech apps. This is not true in any of the other four countries.
Major US banks are clearly aware of the threat fintech poses to their business. Fintech apps could dilute banks' relationships with customers, reducing engagement and limiting banks' knowledge of their customers' spending and finances. The launch of instant bank-to-bank transfer service Zelle (usable through participating retail bank apps) is a clear attempt by major US banks to fend off the growing threat posed by fintech apps.
Top Banking App Penetration Varies Across Americas
Another significant difference between countries in the Americas is the varying levels of usage penetration for the top retail banking apps. This metric measures the percentage of all smartphone users that used an app in a given time period. Again, Brazil was the standout country by this metric, with the top 2 retail banking apps both used by roughly one-fifth of smartphone users in Brazil.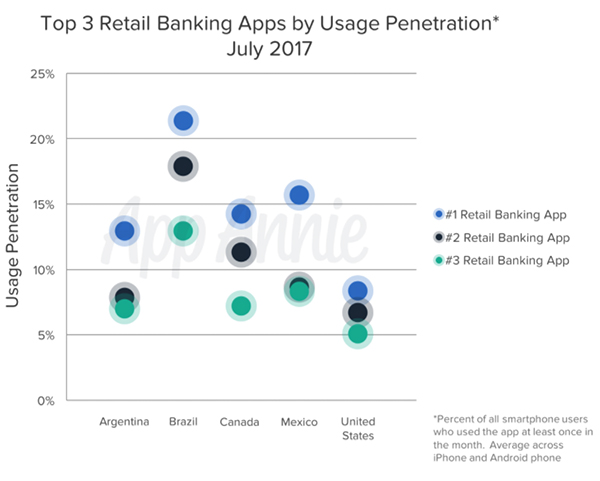 Of course, in the case of retail banking, these numbers are largely dependent on the existing market share of companies. In other words, a bank can only expect as many app users as they already have customers. However, as apps become more central to the retail banking customer experience, a given consumer's choice of retail bank will largely be decided by which bank's app provides the best experience and features. In the coming years, app statistics such as these will come to reflect relative app quality, and not just prior market share.
Country Rankings
For all countries examined, we ranked the top 5 retail banking apps by monthly active users, which is a measure of the size of an app's user base. In each country, we also ranked these five apps by four other important app metrics:
Downloads. This measures the rate of new user acquisition, which can be increased by optimizing your

app store optimization (ASO) and user acquisition (UA) strategies

.

Average Sessions per User. This metric reflects user engagement — ease of use, functionality, and forward-thinking features should keep users coming back to your app.

Open Rate. Another engagement metric, open rate is the percentage of those with an app installed who opened the app at least once during the month. While average sessions per user is important to understanding user behavior, it is only measured among active users of an app, whereas open rate indicates how much of the install base actually used the app. High average sessions per user but a low open rate may indicate that your app is very useful to a small percentage of users.

Average Review Score. This measures self-reported user satisfaction with an app, which can surface issues with an app (such as bugs and crashes) before they begin to seriously impact engagement metrics.
We contacted TD Bank Group, which ranked #1 across all metrics in Canada. "We are pleased that our commitment to delivering best-in-class mobile banking services to our customers is recognized by this influential report from App Annie," says Rizwan Khalfan, Executive Vice President and Chief Digital and Payments Officer at TD Bank Group. "We are honoured to be ranked so highly by our customers as we continue to build a mobile banking experience that enables them to bank where, when and how they want."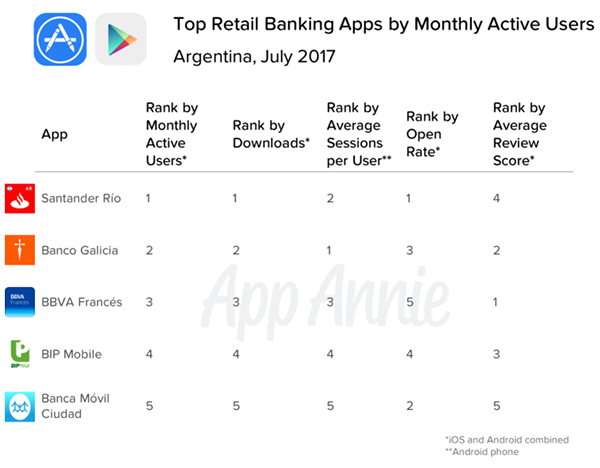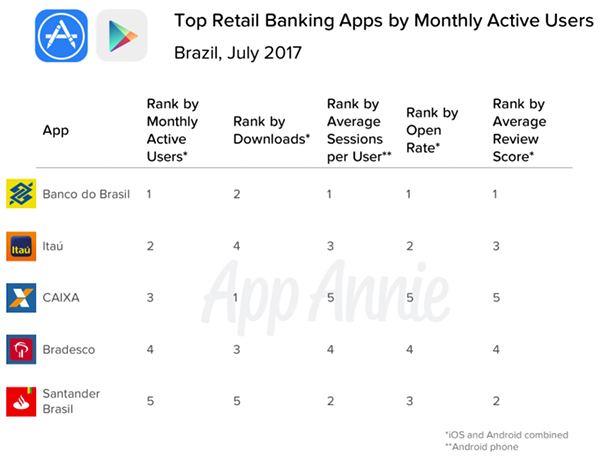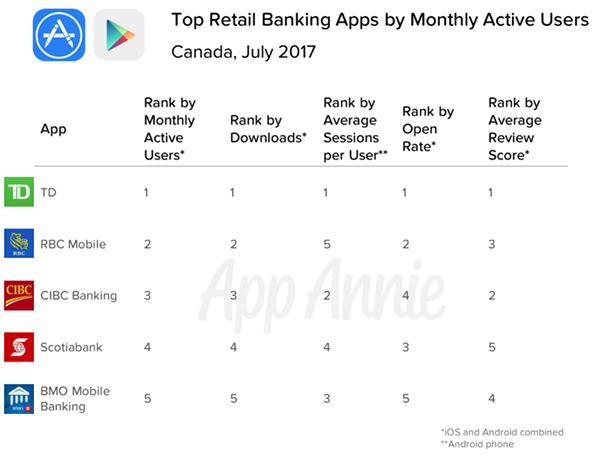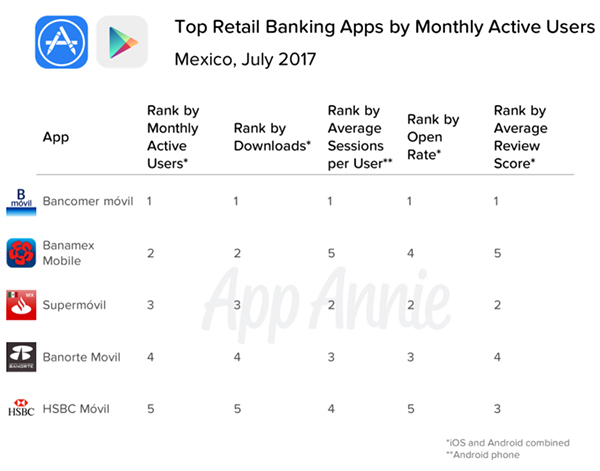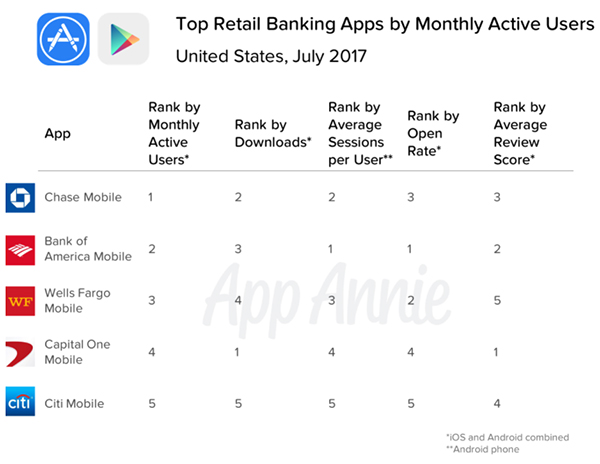 Conclusion
Without question, mobile apps are a disruptive force in banking. However, this shouldn't be regarded as a cause for alarm among established retail banks as it also represents significant opportunity. Thanks to mobile, users are more engaged with their banks and empowered when it comes to their finances than ever before: some of the apps in this analysis exceeded 30 average sessions per user per month. In other words, these app users are engaging with their bank more than once per day on average. Before the rise of mobile, this frequency of interaction would have been unthinkable. However, this is where the industry finds itself, and its members should not be surprised when banking is even more mobile-centric one, two, or three years from now. Banks must be prepared to take charge with comprehensive app strategies and the data to back them up.