Learn why mobile apps had a huge impact on revenue earned by retailers in 2016.
Retail apps flourished in 2016 — netting more downloads, revenue and engaged users than ever before. Mobile earned 44% of retailers' online traffic, totaling 31% of sales in 2016. We took a deep dive into the retail mobile economy as a whole in App Annie's 2016 Retrospective.  Specifically, we looked at the performance of bricks-and-clicks and digital-first retail apps, and the impact mobile holds on seasonal retail-heavy holidays.
Bricks-and-clicks apps are associated with companies that have a heavy brick-and-mortar presence such as Target and UNIQLO. Digital-first apps lend themselves to the opposite, and are associated with companies with a very prominent online presence such as Amazon and Wish. Across the six markets we analyzed — the United States, the United Kingdom, Germany France, South Korea and Japan — digital-first apps earned a higher number of sessions per month, with a faster growth rate as well.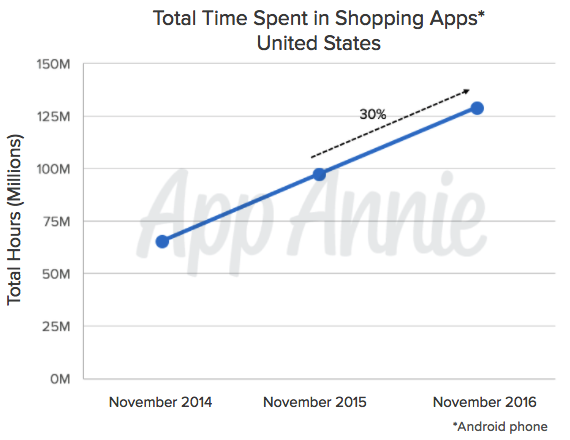 Seasonal holidays like Black Friday, Cyber Monday, and Singles Day helped to draw more and more users to mobile devices to make purchases, research products and deals and serve as a shopping companion for in-store shoppers. These three holidays all fall in the month of November, and attract a lot of shoppers looking for a good deal. Time spent in Shopping apps grew 30% since 2015, reaching over 125 million hours for November in the US. Retailers are expanding sales for shopping-centric holidays beyond more than just one day in order to undercut the competition, such as with Cyber Monday — the Monday following Black Friday — morphing into Cyber Week.
Retailers set their mobile apps up for success by increasing ad efforts the week preceding Black Friday, and optimizing descriptions, screenshots and icons for discoverability on the app stores. With 65% of US iOS App Store downloads coming from search, many apps added some form of the phrase "Black Friday" to hopefully boost their app to the keyword top spot and earn extra downloads. Ad companion app Retale took this a step further and changed its name to Black Friday 2016: Ads, Shopping Deals & Coupons — removing Retale entirely and saw a significant jump in rankings the days following.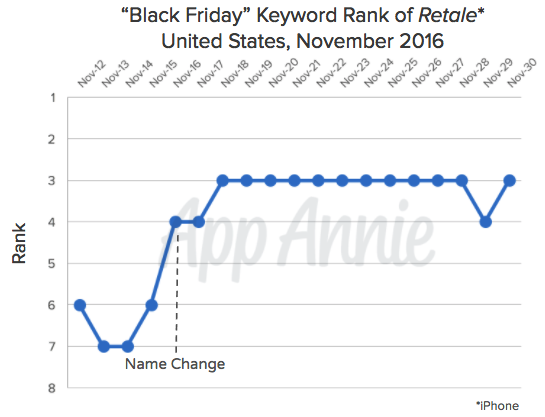 Mobile retail in China, India and South Korea are seeing a steady climb, with the average number of Shopping apps on a user's phone increasing since 2015. Using App Annie Intelligence we took a look at the market size of downloads in India for Shopping apps over the past year, and saw a 40% increase in combined downloads from 2015 on Google Play and iOS App Store. This data is now available to all App Annie Store Intelligence users, and provides more complete picture of the global app economy, empowering users to analyze download and revenue share by country, category and device, and track growth and trends across markets over time.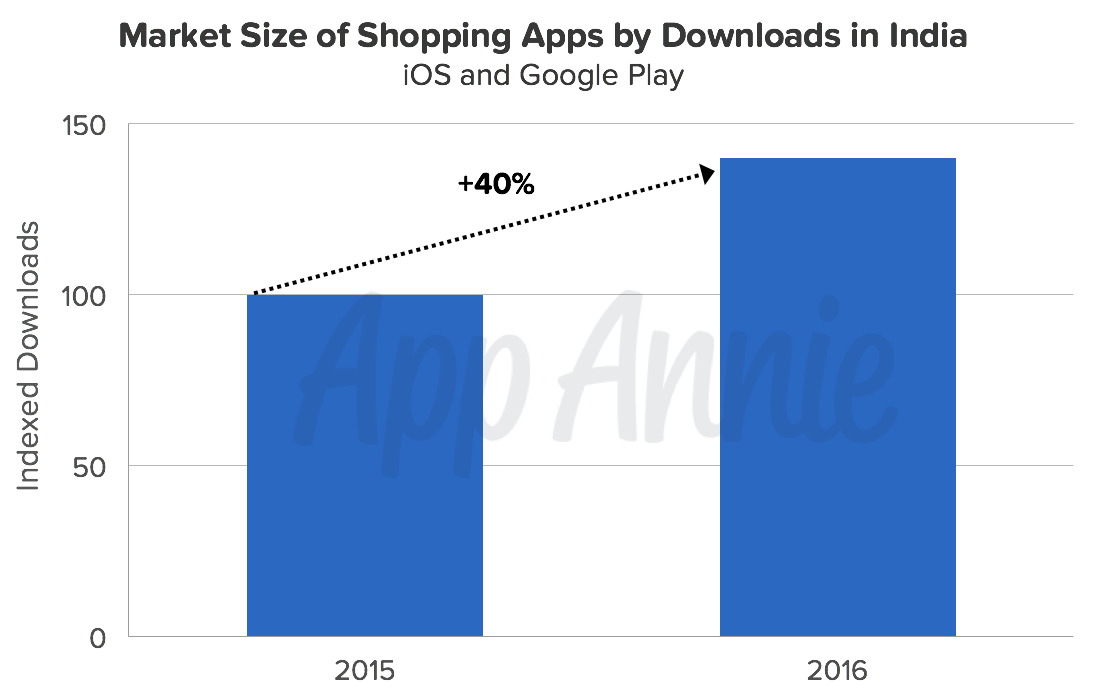 For a full overview of mobile insights from 2016, be sure to sign up for our upcoming webinar and download App Annie's 2016 Retrospective Report to uncover trends that shaped video streaming, banking, social and gaming to inform your 2017 strategies.