QSR mobile apps are on the rise. See what key players are implementing to keep users engaged throughout the customer journey.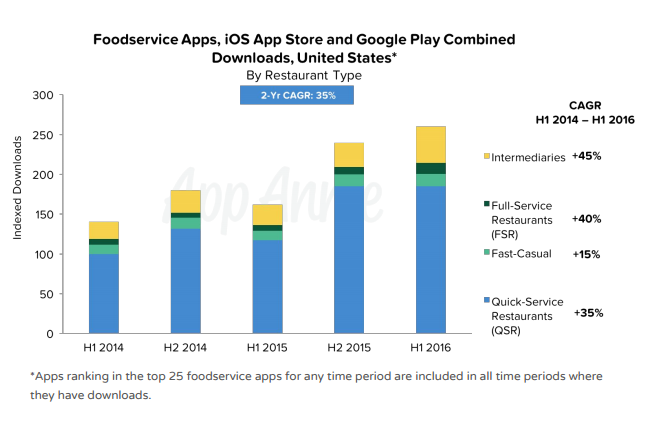 Apps are increasingly becoming integrated into daily life, with App Annie Intelligence forecasting that downloads in the United States will exceed 15 billion by 2020. Businesses across all verticals are seeing the value in offering a complete customer experience, with those in the consumer packaged goods (CPG), transportation and retail space finding it a necessity.
Quick-service restaurants (QSR) under the foodservice apps umbrella have been growing at a fast clip, with a 35% CAGR from H1 2014 to H1 2016. QSR apps are ruling the top foodservice apps by MAU (for iPhone and Android phone) and downloads in the US for (Google Play and iOS App Store combined). Best-in-class QSR apps treat being on customers' devices as a privilege, flawlessly execute both on the app and in-store, and stay focused on innovation.
In our report, State of QSR Apps in the US, we outline best practices that restaurants can integrate and apply to ensure that users are receiving the best possible interaction with them in-app. QSR apps have room to grow, and we provide suggestions for new enhancements that improve and streamline the customer journey.

Download our complimentary report to discover all of our findings on the foodservice and QSR space and see how these insights can strengthen the relationship with your customer:  
To get the full report, click the download button below:
Looking for More?