China hit an industry record with the highest revenue quarter the iOS App Store has ever seen.
This past quarter was full of game-changing apps and unprecedented growth in revenue for iOS. China shattered iOS revenue records with the highest reported this quarter to date for any country. China also not only maintained its spot as #1 for Games (which it earned last quarter), it is now the largest market in the world for iOS App Store revenue, earning a record $1.7 billion.
Now leading the United States by over 15%, China's growth is projected to climb further by 2020. To get the full report on China's dominance in the App Store this quarter and other key trends, download the App Annie Index: Market Q3 2016.
While revenue from Games accounts for the majority of revenue generated in China, other prominent categories like Entertainment and Social Networking are making strides and have more than tripled in the past year. Video streaming apps in China have had a major impact on the Entertainment category as a whole, and include further integrations into traditional cable spaces with investments in smart TV and original content.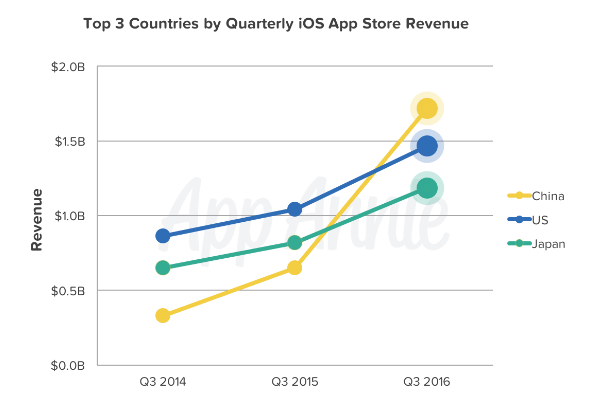 One app in particular warranted a call out — Pokémon GO. With the most successful app launch to date, it brought the world of augmented reality (AR) to mobile and eclipsed previous revenue and engagement records, all while resurrecting a well-loved IP. Pokémon GO was most notably able to capitalize on users' non-mobile time by integrating easily into their daily life. Spurring partnerships and movie deals, Niantic is keeping users engaged through new feature releases that will enhance the already immersive AR experience.
Outside the realm of Games, Entertainment apps as a whole saw the largest worldwide spike in revenue for the app stores this past year. More apps are adopting the subscription style of monetization, with video streaming apps in particular impacting an overall shift in how video content is consumed. Key international players like Netflix are dominating certain markets, with localized preferences making it big in Europe and Asia.
Explore these key trends and others in our App Annie Index: Market Q3 2016.
To get the full report, click the download button below:
Stay on top of the latest market data and deepen your understanding of the app economy. Request a free demo of App Annie Intelligence.