New data.ai research reveals the total dominance of the mobile lifestyle in Indonesia and Singapore – and reports that users in 13 regions now commit more than 4 hours a day to apps
Is it possible to spend 6 hours a day in apps? We may soon find out. According to data.ai's Q2 2022 Regional Pulse Index, consumer appetite for mobile content is still trending upwards – with users in the top two markets, Indonesia and Singapore – now spending a stunning 5.7 hours a day on mobile.
These are the headline numbers of a revealing report which shows that the huge gains in consumer attention earned during lockdown have not been diluted now that the physical world has opened up again. In fact, users have doubled down on time spent in smartphones.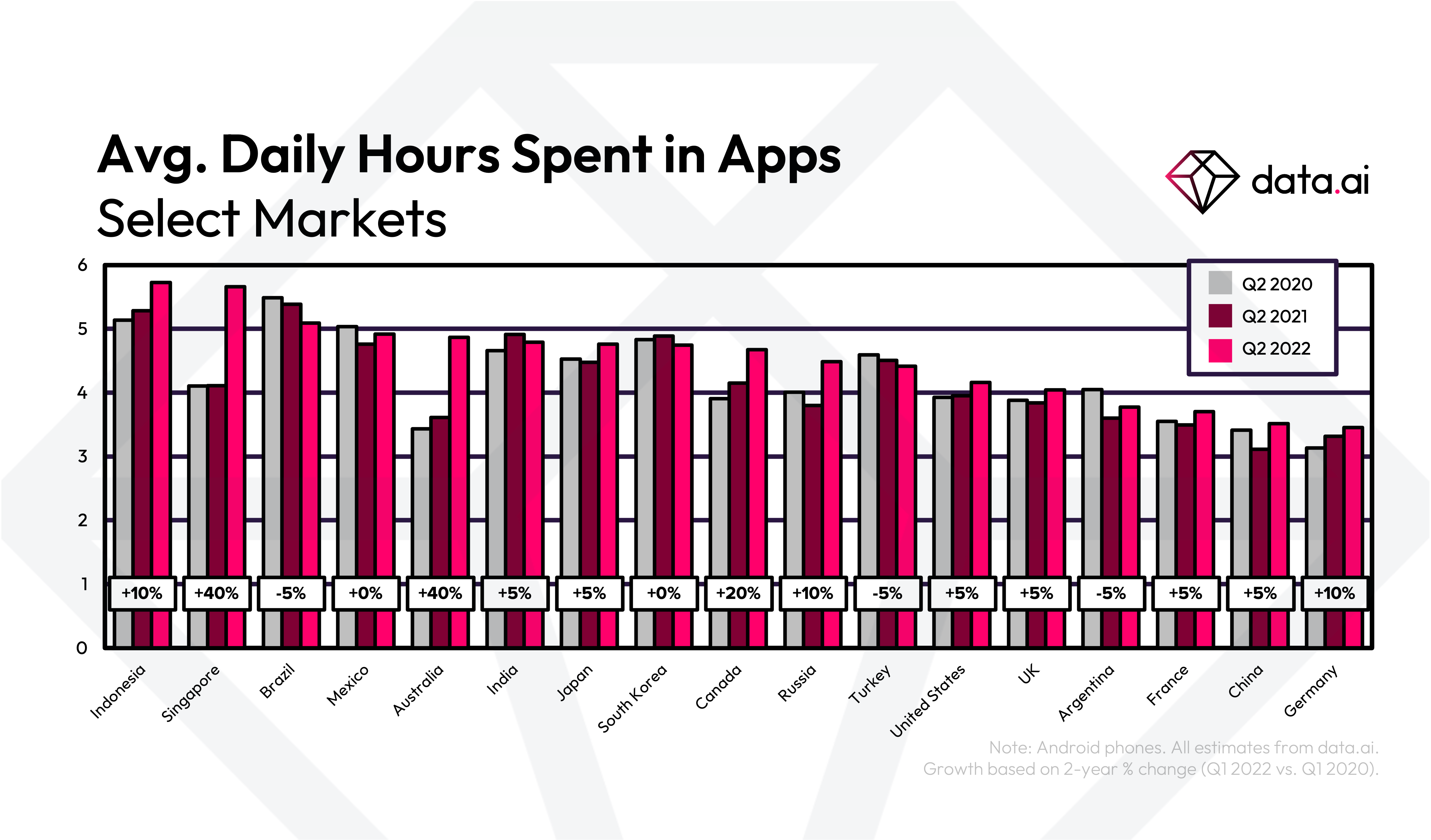 The data reveals that consumers in three markets (Indonesia, Singapore, Brazil) now spend more than 5 hours a day in apps. Meanwhile users in 13 regions (Indonesia, Singapore, Brazil, Mexico, Australia, India, Japan, South Korea, Canada, Russia, Turkey, US, UK) now commit to more than 4 hours per day. That's up from 12 markets in Q1.
Obviously, daily time spent growth rates vary from country to country. In general, the rises are slowing down. However, it's important to note we are comparing to Q2 2020 — the peak Covid-induced boom that catalyzed mobile usage habits around the world. And the high-growth regions are especially eye-catching. In the last two years, Singapore went from 4.1 to 5.7 hours. In Australia, from 3.6 hours to 4.9. Both represent a 40% rise in time spent.
Meesho's Top 10 Status Reflects the Rise of India's Mobile Commerce Sector
It raises the question: where is this attention going? data.ai's top rankings of Q2 2022 by download, consumer spend and monthly active users (MAUs) reveals little change over the previous quarter. The chart is still dominated by the established app giants of social media and video streaming.
That said, there are one or two notable movers in the Q2 2022 Regional Pulse Index. Rising four places to number 8 by downloads is Meesho. It's riding the wave of India's exploding digital commerce market. The company claims 44 million active product listings, and says it recorded 5.35 million orders during a recent one-day sale event.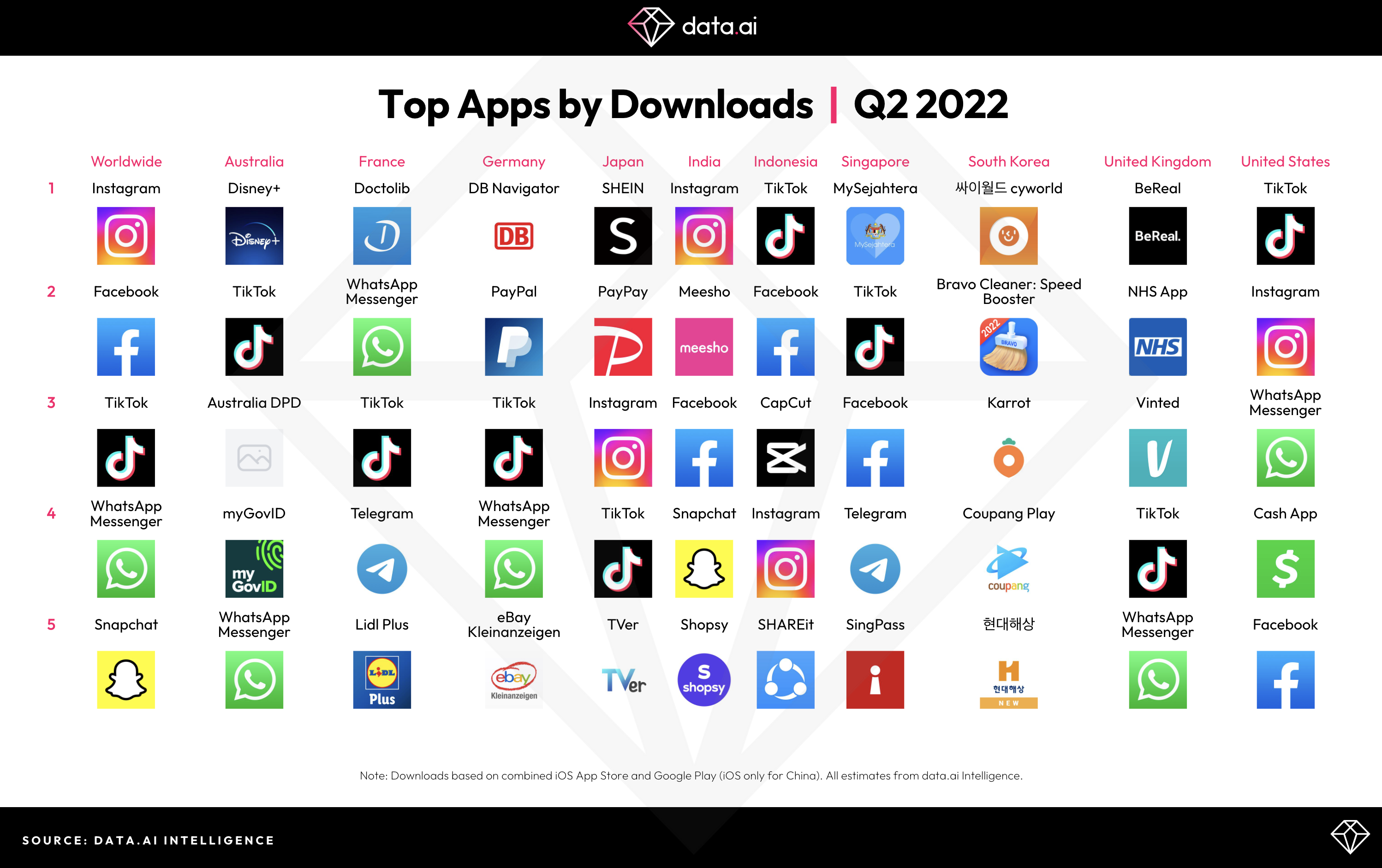 Download the Q2 2022 Pulse Rankings to uncover the full top 10 ranks for each market.
Bumble and Tinder Show the Earning Power of Dating Apps
In the area of consumer spend, there's a notable player in the top 10: Bumble. Bumble ranks in the top 10 apps by consumer spend for Q2 2022 in 8 of the 11 markets analyzed including Australia, Singapore, the UK, Germany, India, the US, Indonesia and Worldwide. Bumble also ranked in the top 10 for Mexico — a fast-growing mobile economy.
 Bumble was also a breakout app by consumer spend in 9 of the 11 markets analyzed: 
UK (#1) 

Australia (#2)

Germany (#3)

India (#4)

Worldwide (#4)

Singapore (#5)

US (#5) 

France (#6)

Indonesia (#8) 
Breakout spend highlights rising stars for the quarter — seeing the largest absolute quarter-over-quarter growth.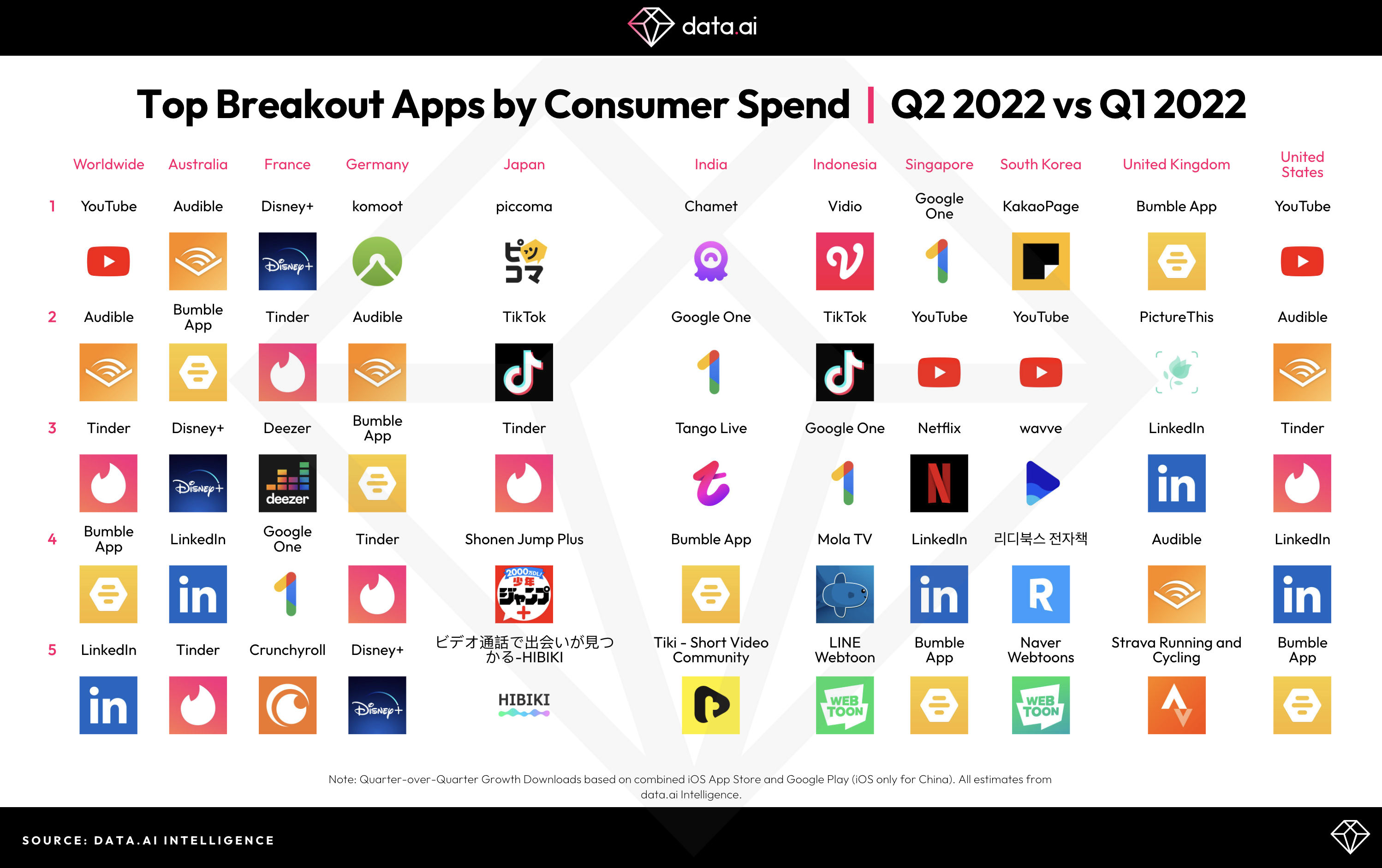 Audible, Linkedin, Dating apps and Video Streaming apps had a standout quarter for growth - get a full breakdown of the rising stars for consumer spend, MAU and downloads in our Q2 2022 Market Pulse Report.
Bumble was also a breakout app by spend in Mexico (#3), Turkey (#4) and Vietnam (#10). The female-friendly dating product is proving itself Tinder's closest global rival in the lucrative app-based dating space.
Games: Tall Man Run, Stumble Guys and Fill The Fridge! Were Q2 Big Winners by Download
There's a little more movement in the games arena, where consumer tastes are more capricious and product turnover is more prolific. In terms of downloads, Free Fire and Subway Surfers remain in the top spots for many main markets. As identified in our Q2 2022 Games analysis, Subway Surfers celebrated its 10 year anniversary on mobile with special promotions and in-game experiences: driving the title back up the charts. But there's plenty of action further down the chart.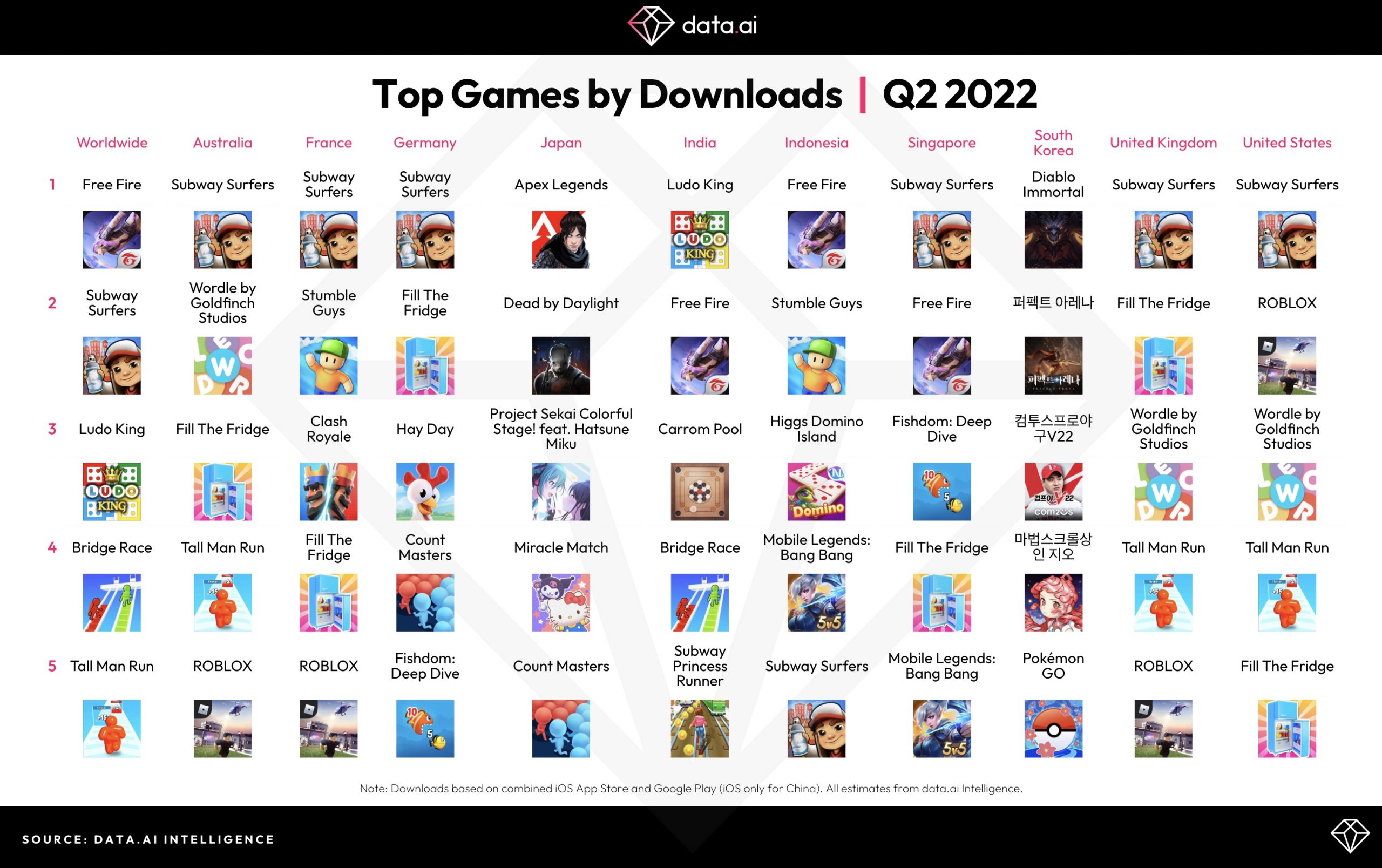 In fifth place globally is a new entry, Supersonic Studios' Tall Man Run. It's another casual runner game in the mold of High Heels and Hair Challenge, in which the player has to control the changing height of the runner while avoiding traps and obstacles. 
A place below it is the massive multiplayer party knockout game Stumble Guys by Kitka Games. It rose 23 places in the quarter. And the #10 game by downloads – Fill The Fridge! moved up 84 places. This hypercasual game challenges players to fit as many shopping items as possible into the fridge. Not exactly rocket science. But fun.
While hypercasual games tend to dominate the downloads charts, we recently dove deep into the mechanics of Army Commander, a hypercasual game that has flipped the script on monetization and cracked the code in In-App Purchases for a (typically ad-based) hypercasual game. You can read Part 2 of the deep dive analysis here.
Breakout Games: Diablo Immortal Makes a Strong Showing for Consumer Spend  Across A Broad Spectrum of Markets
Looking at the breakout consumer spend charts we get a picture of the games that grew the most quarter over quarter and have the potential to shake up the gaming landscape. Diablo Immortal by Activision Blizzard stands out. Its success is particularly impressive given the game only officially launched in June 2022 — with only 1 month of the quarter it managed to top the charts for growth in spend, downloads and active users.
The MMORPG game is the first mobile installment of the popular PC/Mac and console franchize, initially released in 1996. This is yet another example of beloved video games titles moving onto mobile to capture a wider, more diverse audience. Notably, also an audience with greater propensity to spend (specifically 3.2x greater). In terms of its monetization success, the game itself is Free to Play, but it provides multiple options of monetization techniques that are deeply tied to the gameplay loop mechanic of loot rewards, which gives players more flexibility to spend as little or as much as possible. Diablo Immortal ranked in the top 9 breakout games by consumer spend in 9 key markets including:
US (#1) 

Germany (#3)

South Korea (#3) 

France (#4) 

Australia (#5)

UK (#5) 

Brazil (#5) 

Worldwide (#7)

Mexico (#7)
Diablo Immortal also ranked in the top 10 for breakout downloads in South Korea, Germany, US and Japan and the top 10 for breakout MAU for Australia, Mexico, South Korea, Turkey, Germany, the US and Worldwide.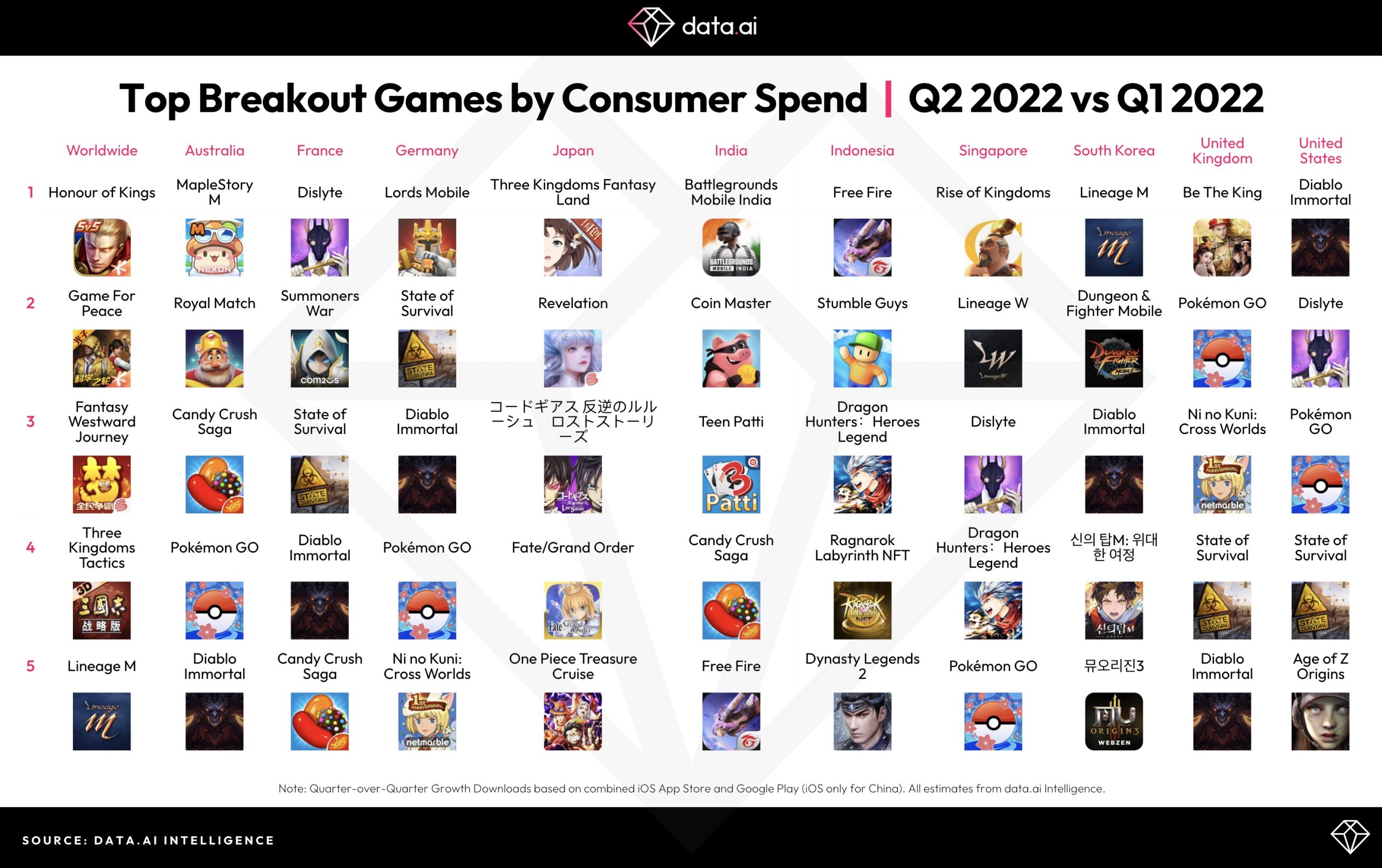 Download the Q2 2022 Market Pulse report to uncover the breakout games by downloads and monthly active users across 11 markets.
Other rising stars included Pokémon GO. The game saw a strong boost in widespread global usage from the new season (Season of GO) launching on June 1st and the Pokémon GO Fest 2022 Kick-off event on June 4 and June 5th. Both are in anticipation of a larger festival in August. Thematic events — whether in-app or in-person — can be a great way to drive re-engagement, especially around a strong IP. 
Pokémon GO ranked in the top 10 for quarter-over-quarter breakout consumer spend in the UK (#2), Turkey (#3), US (#3), Germany (#4), Australia (#4), Singapore (#5), France (#7), South Korea (#8), Brazil (#9) and Japan (#11). The upcoming Pokémon GO Fest 2022 in August 2022 features 3 global events and 2 live events in Berlin, Germany, Seattle, USA and Sapporo, Japan. We expect to see another strong quarter for the game leading up to and including the global festival in August.
Breakout Apps: Strong Showings for Video Editing and M-Commerce
Turning to the Q2 2022 Regional Pulse Index Breakout App charts, we get more of an insight into the current trends impacting the app market. These listings arrange apps by quarter-over-quarter growth rather than total activity.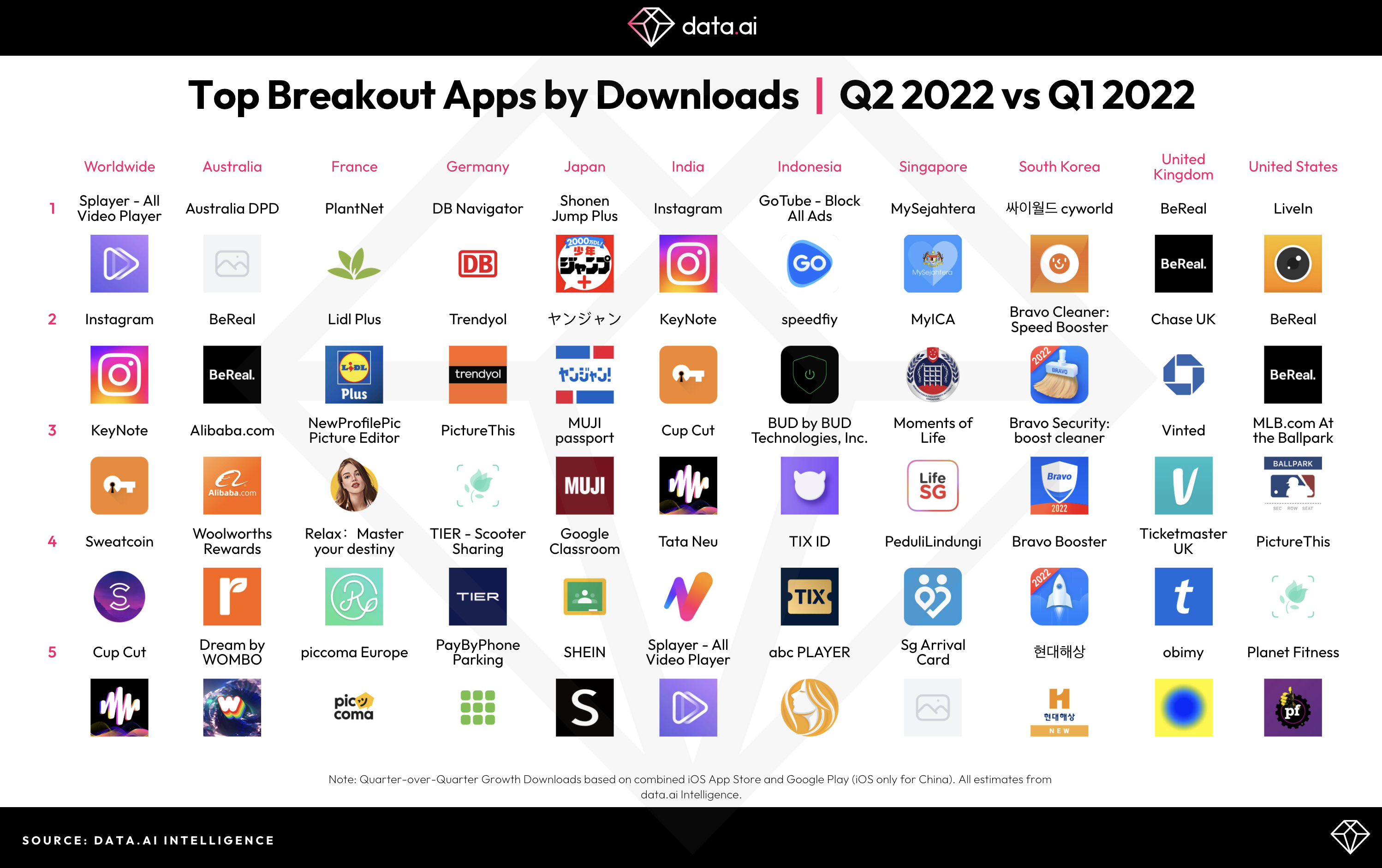 To uncover Q2's rising stars across 3 KPI's and 11 markets, read the Q2 2022 Market Pulse Report.
The charts illustrate the ongoing popularity of video playback and editing tools, which probably reflects the enthusiasm among app users for making short form social videos (ie TikTok). Top of the breakout downloads is SPlayer, a free video player that supports all video formats, and is capable of HD playback. Capcut, the editing tool for TikTok, is #8 by global breakout MAUs. 
And the download chart offers yet more evidence of the fast-moving Indian m-commerce space. It features Shopsy at #6 and Tata Neu at #7 on a global basis.
Elsewhere, there is another strong showing by Sweatcoin at number 4 by global downloads and 6 by MAUs. The 'move to earn' app blends fitness with cryptocurrency by rewarding users with 'Sweatcoins' for every 1000 steps they walk.
BeReal and LiveIn Breathe New Life into the Social Genre
Also, social media app BeReal is still present in the MAU chart – though its popularity is skewed towards western markets (it's #1 by breakout MAU in US, Australia and the UK). The app is the latest to try to cultivate a social platform that avoids some of the downsides of the incumbents by championing authenticity. To date (July 28, 2022), the app has been downloaded nearly 23 million times worldwide, with top markets including the US, UK and France.
Another socially-oriented product has captured the US market. This is LiveIn, which appears at #1 by breakout downloads and #2 by breakout MAUs. LiveIn lets users share photos, hand-drawn notes and doodles, which are then displayed on the recipient's home screen. LiveIn is very similar to Locket Widget, which was a top 5 hit in the UK, US, France, Germany and Singapore last year. LiveIn launched in January 2022 and has seen over 9.2 million downloads to date (July 28, 2022). Its top markets represent a wide, diverse geographic footprint including the US, Saudi Arabia, Indonesia, the UK and France. 
Download data.ai's Full Q2 2022 Regional Market Pulse Report
To find out more about the most popular apps and games of Q2 2022 – and their relative performance per regional market – read data.ai's Q2 2022 Mobile Pulse Top Apps and Games Rankings report now.
In it you will discover:
Top apps and games by critical performance metrics, including:

downloads, consumer spend and monthly active users
Movers & Shakers

: breakout apps and games by downloads, spend and MAU

Global view: chart-topping apps and games of Q2 2022 across 11 countries and 3 regions
Click here to read the report:
Looking to make more of the mobile opportunity? Talk to an expert today.
DISCLAIMER: 
data.ai is a mobile market estimate service provider. data.ai is not registered in any investment advisory capacity in any jurisdiction globally, and does not offer any legal, financial, investment or business advice. Nothing contained in this communication, or in any data.ai products, services, communications, or other offerings, should be construed as an offer, recommendation, or solicitation to buy or sell any security or investment, or to make any investment decisions. Any reference to past or potential performance is not, and should not, be construed as a recommendation or as a guarantee of any specific outcome. You should always consult your own professional legal, financial, investment and business advisors. Additionally, by providing the information herein, data.ai does not make any representations or warranties and does not undertake any legal or contractual obligations whatsoever. No liability may accrue to data.ai as a result of providing this information to you.