New record: data.ai reports daily time spent grows up to 35% from Q1 2019 to Q1 2022, marking the "most mobile" global economy yet
Is there an upper limit on the time that consumers can spend inside apps? After all, people have to work, eat and sleep. data.ai's Q1 2022 Regional Pulse Index suggests the summit has not been reached yet as consumers embrace mobile's ability to enhance all aspects of life.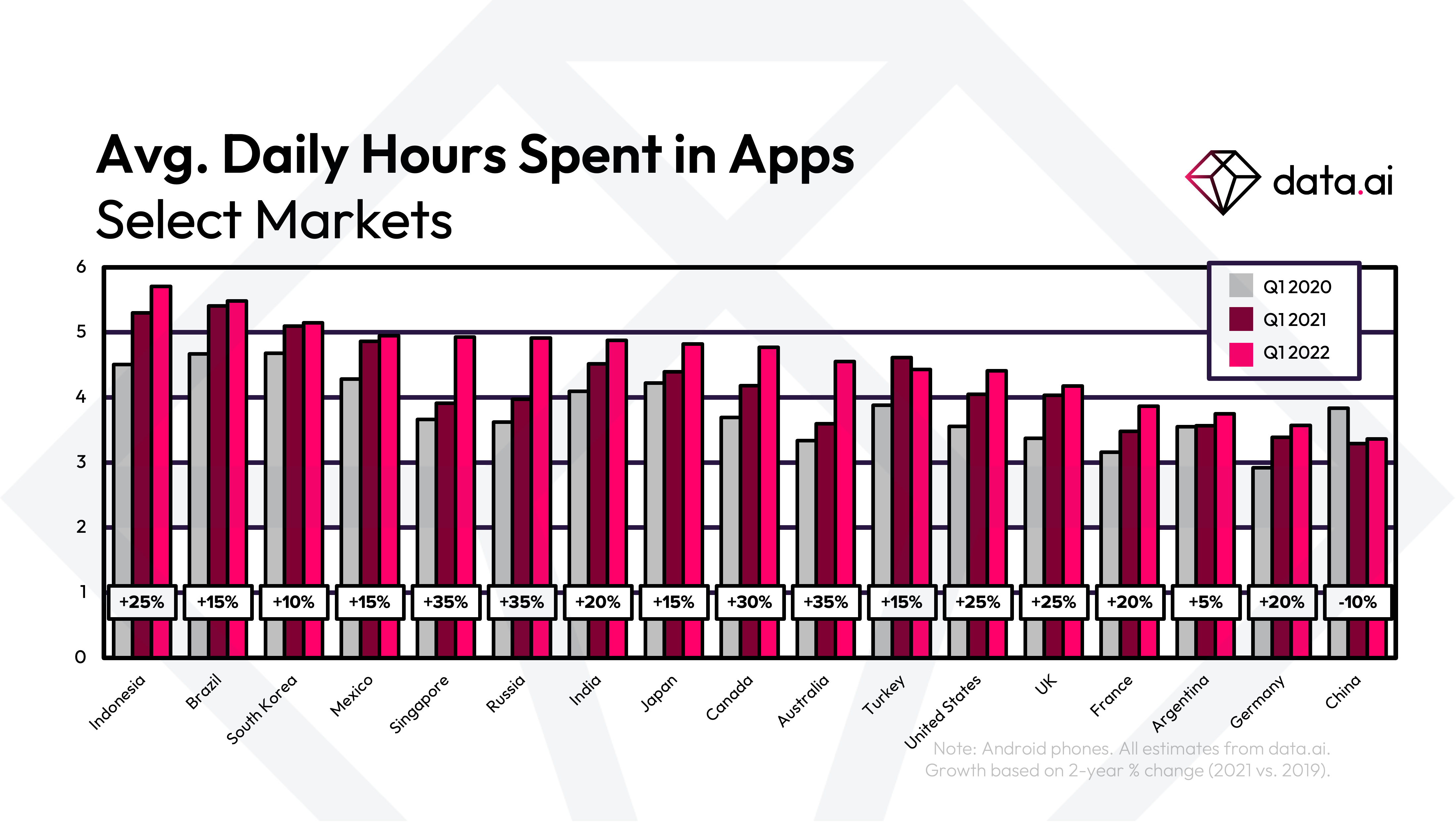 Industry observers might have been surprised when users in some countries first broke through the 4 hour a day barrier. Now, it's standard. According to the Q1 2022 data consumers in 12 markets spend more than 4 hours per day in mobile apps. In the top 4 markets, it's more than 5 hours. data.ai's Q1 2022 Regional Pulse Index reveals the top performers and rising stars across 12 major markets:
Although these rates have been rising upwards since the birth of the app market, there's no doubt that the COVID-19 pandemic and its subsequent lockdown and social distancing policies has accelerated the migration of users away from 'traditional' media and towards apps. data.ai's data shows that consumers averaged 20% more time daily in apps in Q1 2022 than they did in 2019, among the top 10 markets. 
In some regions the rises were more dramatic. Singapore, Russia, Canada, Australia grew 35%, 35%, 30%, and 35% respectively from Q1 2022 to Q1 2019.
Indonesians Approach 6 Hours a Day in Apps
Indonesia is clearly home to the world's most eager app-using population. Since 2020 the country has leapfrogged Brazil and South Korea to become the undisputed leader in terms of time spent.
In 2021, Indonesia broke through the 5 hour barrier for daily app use. In Q1 2022, the figure rose to 5.7 hours. Is 6 a possibility? The results over the coming quarters will be revealing.
We Shall Not Be Moved: the 'Big 4' Apps Stay Put at the top of the download chart
The app economy, 15 years after its launch and with billions of active users, is now a very stable domain. It has its blockbuster products, and they don't change much from quarter to quarter. The global Top Apps by Downloads chart for Q1 2022 is largely the same as it was in the previous quarter. Instagram, TikTok, Facebook, and WhatsApp Messenger hold the top four slots. The only change from Q4 2021 is Snapchat, which moved up two places to #5 spot.
Of course, diving into the regional data reveals a more nuanced picture. In the US, HBO Max jumped +9 places to take the #5 spot by downloads. The video streaming space is intensely competitive, but HBO Max is clearly holding its own with Disney+ and Netflix. The company revealed In January that it has 46.8 million US subscribers (of both its cable and streaming services).
Covid and Shopping Apps Challenge the Dominance of TikTok in Selected Markets
Elsewhere, it's noticeable that in some regions COVID apps are still prevalent despite the general easing of restrictions. Interesting to see that COVID products appear at #1 and #2 in Germany and #1 and #5 in France. These two countries have retained more restrictions than the UK, for example whose official COVID app does not appear in the top 5 (though its general health service app NHS is at #2).
In India, the dominance of the blockbuster apps was broken by two mobile commerce products Meesho and Shopee (at #1 and #3 respectively). India has an especially vibrant mobile payment and shopping sector. These two products are winning for now. Meesho has just announced an expansion into the grocery space.
India's payment app community can also reflect on a success outside its borders – in Japan. At #2 in Japan's download chart for Q1 is PayPay. PayPay lets users scan or generate a QR code to make payments in more than 3 million shops.
Free Fire Tops the Global Games Chart, but Wordle by Goldfinch Studios Ranks #1 for US, UK and Australia
The most downloaded game of the quarter was Free Fire, published by Singapore's Garena. The hugely popular Battle Royale title is now firmly established as one of the gaming sector's big hitters alongside Subway Surfers, ROBLOX and Candy Crush.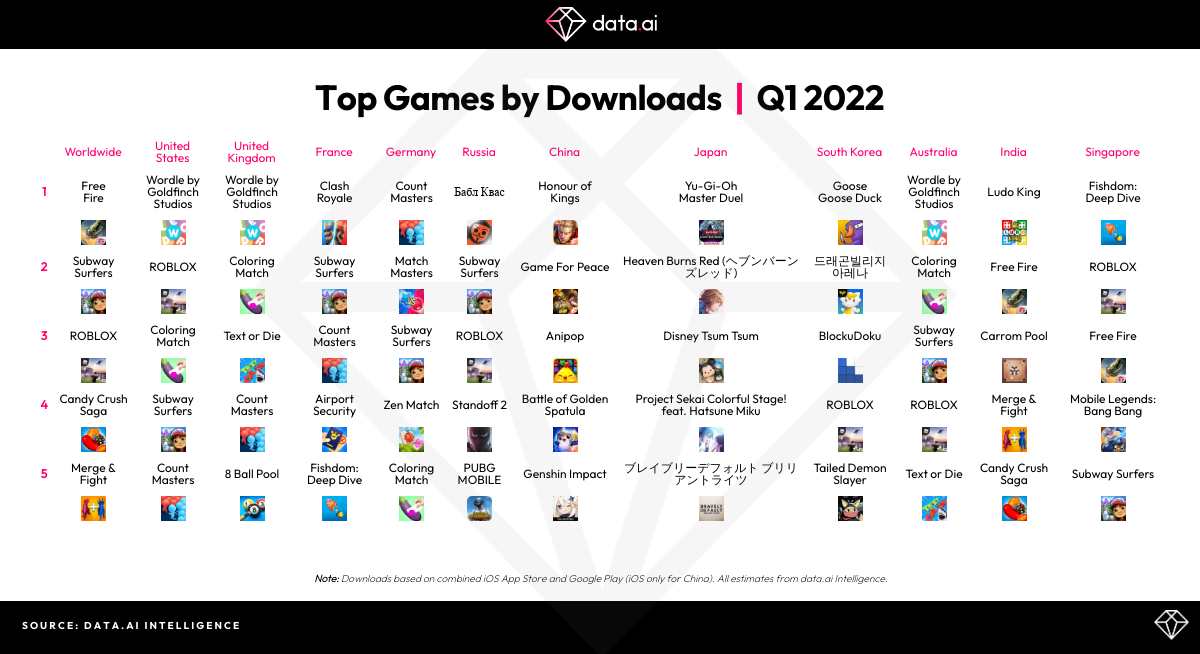 Looking around the regional games charts, one stand out performer is Wordle by Goldfinch Studios. It's both the #1 game and the breakout game by downloads in the UK, US and Australia. Wordle is that rare thing: an accidental chart topper. Users were clearly looking for the mobile version of the viral hit Worldle. Goldfinch's game is not it. We also see other closely related games seeing a surge from the 'Worldle' virality, Word Guess - Word Games ranked #7 by downloads in Australia, and Wordscapes ranked #8 by MAU among Games in both Australia and the US.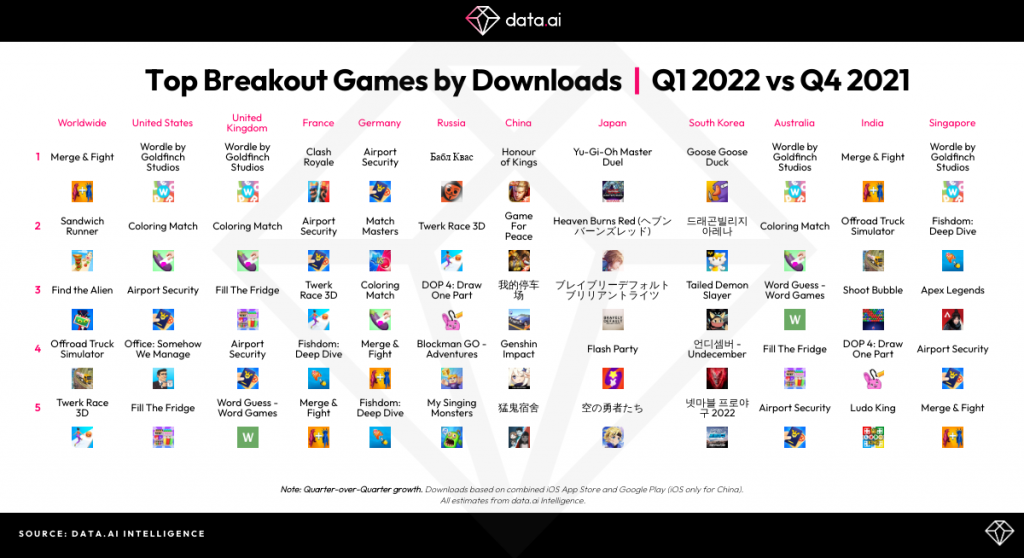 Merge & Fight, a hypercasual title published by Homa was the #1 breakout game by downloads globally. The game was launched in Jan 2022 and features some more midcore strategy elements. Players merge their dinosaurs to compete against dragons, monsters or other dinosaurs. By combining your dinosaurs, you can unlock more powerful monsters. According to the game 'only 1% of players unlock all the creatures and win the challenge'. 
Despite only launching at the end of January, Yu-Gi-Oh Master Duel was the #1 game by downloads and breakout downloads in Japan for the full quarter. Yu-Gi-Oh Master Duel is a strategy game based on card decks, or a Strategy > CCG-Battle game according to data.ai's Game IQ, and features the popular Yu-Gi-Oh IP.
App Users Embrace Locket Widget's New Twist on Photo-Sharing
The Breakout Apps chart is perhaps more revealing than the overall downloads listing. It monitors the products that grew fastest quarter over quarter, and always throws up some surprises.
Note in Q1 the performance of Locket Widget, a top 5 hit in the UK, US, France and Singapore. Locket Widget lets users see live photos from friends on the home screen. They can use the widget to take a pic and return it instantly. Its success proves the enduring appeal of any new idea that combines pictures and messaging in a novel way.
Elsewhere, utilities dominate. There's a good showing for products that offer private browsing (Secure VPN, VPN Master, Fast Candy) faster connectivity (1.1.1.1 Faster Internet, Speedify), home working (VooV Meeting), as well as seasonal finance apps for tax season (TurboTax and IRS2Go in the US, China Individual Income Tax in China, Taxfix in Germany and HomeTax in South Korea). 
Also worth noting is Outfit 7's Talking Ben the Dog, which charted in US, UK, Russia and Argentina. The game launched in 2010, but was updated as a free app earlier this year giving it a new lease of life. Gamers have obviously been charmed by Ben – a retired chemistry professor – yes, really – who will ignore you till you poke or tickle him.
Download data.ai's Full Q1 2022 Regional Market Pulse Report
To find out more about the most popular apps and games of Q1 2022 – and their relative performance per regional market – read data.ai's Q1 2022 Mobile Pulse Top Apps and Games Rankings report now.
In it you will discover:
Top apps and games by critical performance metrics, including:

downloads, consumer spend and monthly active users
Movers & Shakers

: breakout apps and games by downloads, spend and MAU

Global view: chart-topping apps and games of Q1 2022 across

12 countries and 3 regions
Click here to read the report:
Looking to make more of the mobile opportunity? Talk to an expert today.
DISCLAIMER: 
data.ai is a mobile market estimate service provider. data.ai is not registered in any investment advisory capacity in any jurisdiction globally, and does not offer any legal, financial, investment or business advice. Nothing contained in this communication, or in any data.ai products, services, communications, or other offerings, should be construed as an offer, recommendation, or solicitation to buy or sell any security or investment, or to make any investment decisions. Any reference to past or potential performance is not, and should not, be construed as a recommendation or as a guarantee of any specific outcome. You should always consult your own professional legal, financial, investment and business advisors. Additionally, by providing the information herein, data.ai does not make any representations or warranties and does not undertake any legal or contractual obligations whatsoever. No liability may accrue to data.ai as a result of providing this information to you.