Time spent in apps surged by up to 80% in selected markets between Q1 2019 and Q1 2021
If we live in an attention economy, then there's no doubt where people are currently directing their eyeballs. Our new data for Q1 2021 reveals that consumers are spending more time than ever in apps – and the surges in some countries have sent daily dwell times past five hours.
In a stay-at-home year for billions of people, the app habit grew stronger in all markets analysed. The global average time spent was 4.2 hours a day, up 30% compared to two years prior.
In Q1, daily time spent passed four hours in the US, Turkey, Mexico and India for the first time. In Brazil, South Korea and Indonesia, it was more than five hours. The biggest surge came in India. Its consumers spent 80% more time in apps in Q1 2021 than they did in Q1 2019.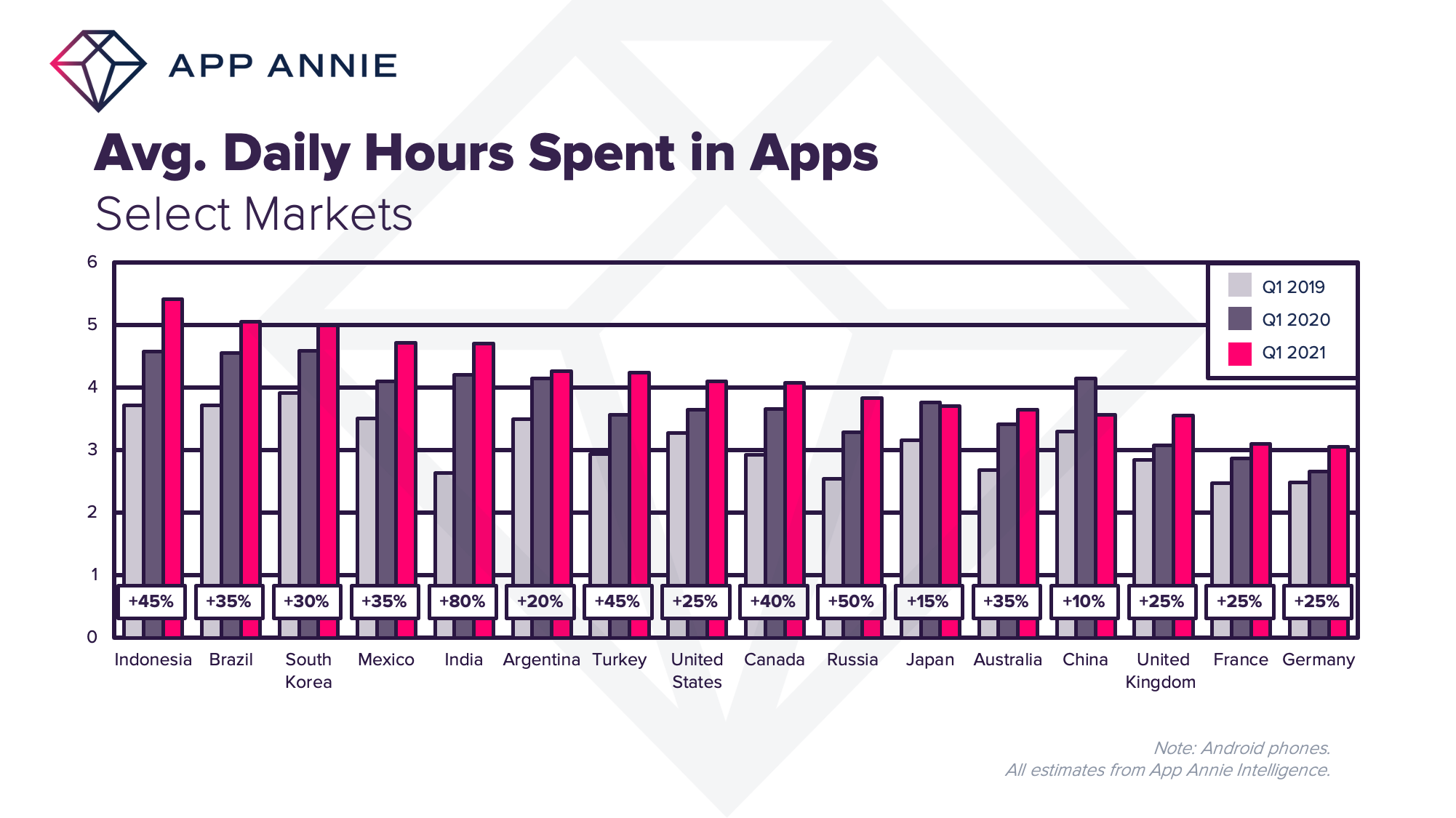 Breakout Apps of Q1 2021: Private Messaging, Investing and Video Sharing Products Dominate the Quarter
If consumers are devoting more hours to app activity, this raises an important question: which apps?
The overall download charts reveal little movement across the quarter – they are still dominated by evergreens such as TikTok, YouTube and Facebook — see our global Q1 2021 wrap-up.
However, we can discern what's trending from the breakout charts, which measure quarter-over-quarter growth in downloads based on iOS and Google Play (iOS only in China).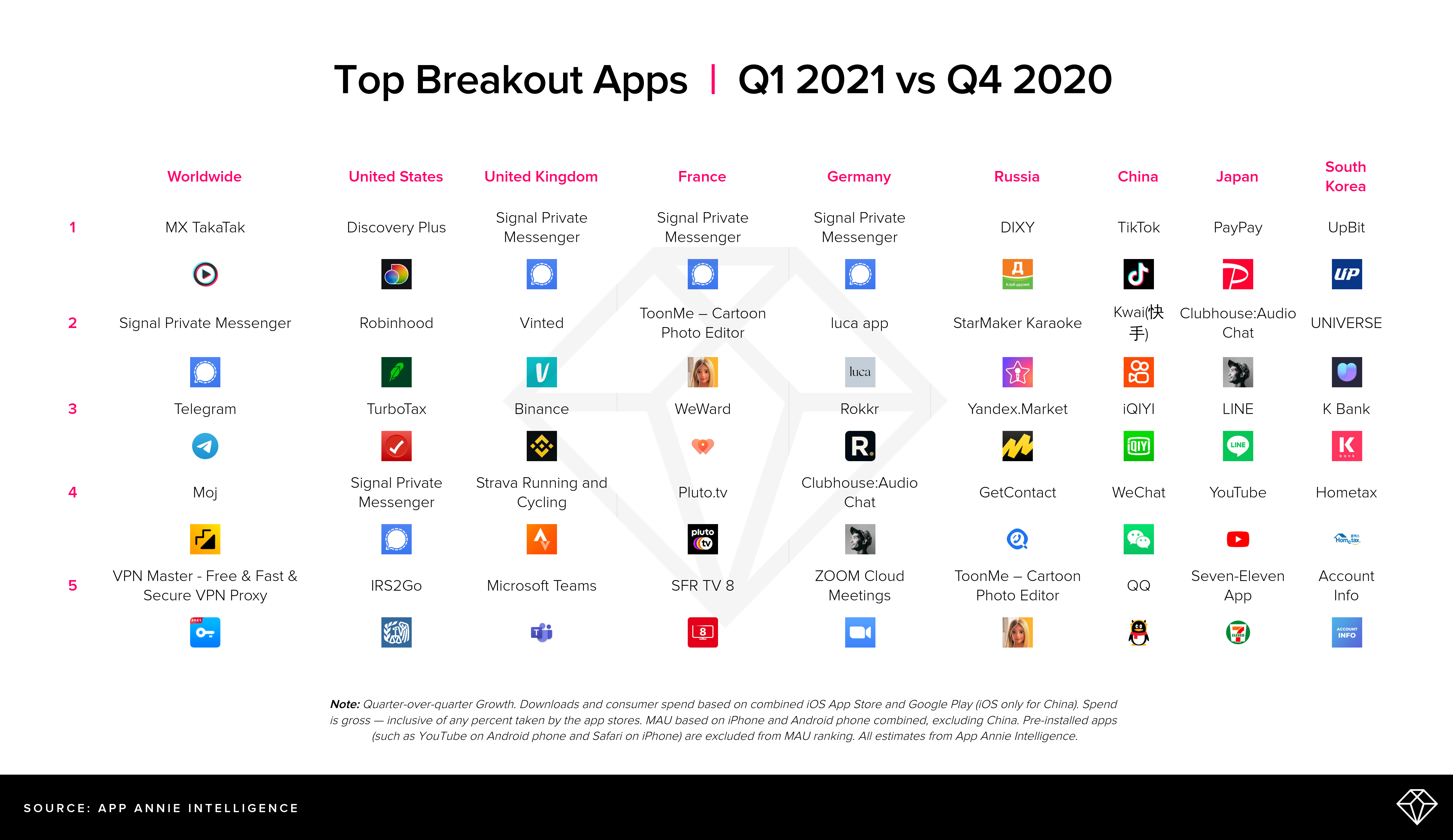 Read the report to see the full top 10 apps and games rankings across key markets in the Americas, Europe and Asia-Pacific.
There are fascinating regional variations. In Western markets, we can trace the rise of the two market-leading secure messaging products: Signal and Telegram. Signal places first in the UK, Germany and France, and fourth in the US. Meanwhile Telegram appears at 9 (UK), 5 (France) and 7 (US). Interestingly, these products do not appear in the top 10s of the other four countries analysed.
Elsewhere, the charts reflect the rise of investment and trading apps as consumers explored alternative ways to manage their incomes. Crypto is a common theme, with the Coinbase app appearing at 6 in the US and UK. Binance was France's seventh most popular breakout app.
The trend was even more pronounced in South Korea, with Upbit at number 1. The Upbit app lets consumers trade crypto currency. Last year, it formed a successful partnership with digital bank K Bank, which might explain why the latter's app is number 3 on the Q1 breakout chart for South Korea. Another trading app, Kiwoom Securities Hero S, scores at number 6.
A different kind of finance product leads Japan's breakout chart. This is PayPay. It's a payment app, owned by SoftBank, Yahoo Japan Corporation and India's digital payment company Paytm. PayPay lets users scan or generate a QR code to make payments in shops. Japan has lagged other countries in this type of activity, but appears to be catching up now.
As in so many areas, China's breakout app chart is unique and quite different from the rest of the world. If there's a theme within it, it's the emphasis on video sharing and editing. TikTok is at number 1, while Kwai is at 2. Meanwhile CapCut – a video editing app for TikTok is at 7. iQIYI, a video streaming service, places at 3.
Crash Bandicoot: On the Run Lands on the Top Breakout Games of Q1 2021 Charts for US, UK and Germany With Only 1 Week Showing
TikTok's overwhelming influence on mobile culture is also evident in the breakout games chart. One of the quarter's biggest successes was High Heels, a hyper-casual game which was heavily advertised on the video sharing app.
High Heels was developed by Istanbul-based Rollic (acquired by Zynga in 2020). In it, a character collects higher and higher heels, which enable them to get past obstacles. They must also avoid traps that cut their heels down in size. The title was number 1 on the US and UK breakout games download chart, and scored at 3 in China, 7 in Germany and 6 in Russia.
The success of High Heels also reflected the ongoing rise of the hyper-casual genre. Another example of this came from Project Makeover, which appeared at 4 in Japan, 7 in the US and 6 in the UK.
The other two notable breakout hyper-casual games in the quarter were DOP 2: Delete One Part and Phone Case DIY. These two titles led the global breakout games download chart, with DOP 2: Delete One Part scoring at number 1 in Russia, 2 in Germany and 3 in France.
And it's also worth mentioning Crash Bandicoot: On the Run. Although mobile gaming has yielded a huge range of original IP, it still presents a sizable opportunity for 'classic' franchises. Activision Blizzard (via its King subsidiary) only launched Crash Bandicoot: On The Run on March 25, but the game still generated 21 million downloads in just four days. Its solitary week of availability was enough to propel it to the top of the breakout chart in Germany, 2 in the US, 3 in the UK and 9 in France.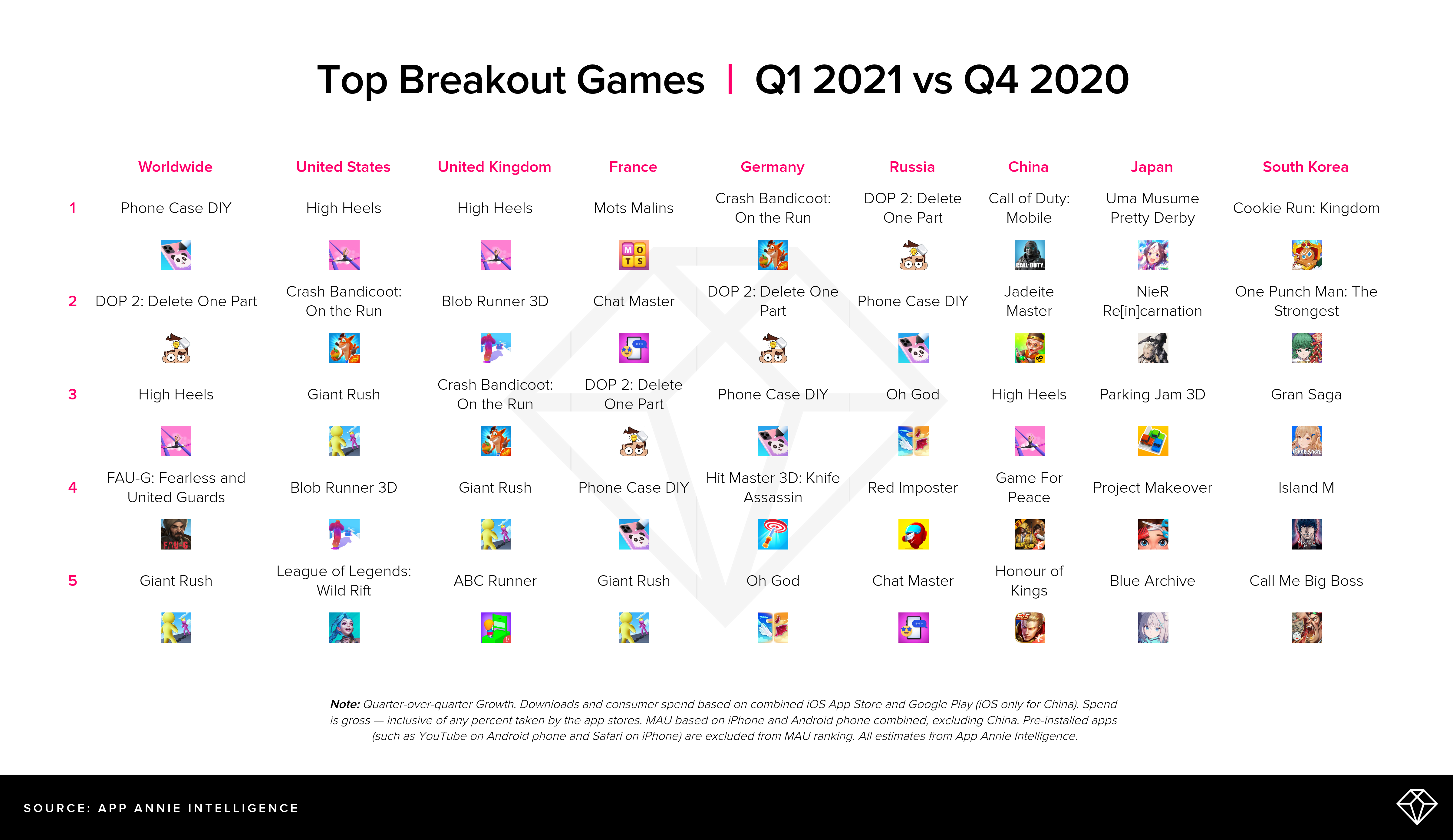 To find out more about the most popular apps and games of Q1 2021 – and their relative performance per regional market – read App Annie's Q1 2021 Market Index: Top Apps & Games Rankings report now.
In it you will discover:
Top apps and games by critical performance metrics, including:

downloads, consumer spend

and

MAU
Movers & Shakers: breakout apps and games

by downloads, spend and MAU 

Global view: chart-topping apps and games of Q1 2021 across

8 countries and 3 regions
Click here to read the report: