We saw strong growth in iOS Downloads and Google Play Consumer Spend in Q1 2018 – narrowing the respective gaps between stores for each metric.
2018 started with the strongest quarter the app economy has ever seen, shattering records set in Q4 2017 for both consumer spend and downloads. Global iOS and Google Play combined downloads grew more than 10% year-over-year to 27.5 billion – the highest of any quarter. Global iOS and Google Play combined consumer spend grew 22% year-over-year to $18.4 billion.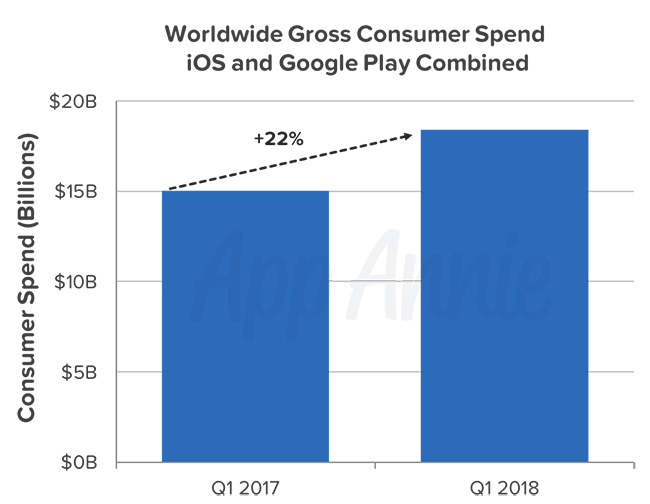 Both of these figures are staggering, especially since the downloads figure only reflects initial installs and does not include re-installs or app updates. Furthermore, consumer spend only includes the money generated by iOS and Google Play in the form of paid apps, in-app purchases or in-app subscriptions. In reality, however, the revenue earned in the app economy is much larger and includes revenue flowing through third-party Android stores, m-commerce (e.g. ride-sharing, shopping) and in-app advertising.
With over 6.2 million apps available across both iOS and Google Play at the end of Q1 2018, it is clear that apps touch nearly every aspect of consumers' lives. This is readily apparent in consumer behavior – the average smartphone user spends nearly 3 hours a day in apps and accesses close to 40 apps per month.
iOS Narrowed Downloads Gap With Google Play
Q1 2018 was a record-breaking quarter for downloads on Google Play and iOS. Google Play downloads exceeded 19.2 billion and iOS downloads exceeded 8.2 billion, respectively. Quarter over quarter, iOS narrowed the global downloads gap with Google Play by 10 percentage points.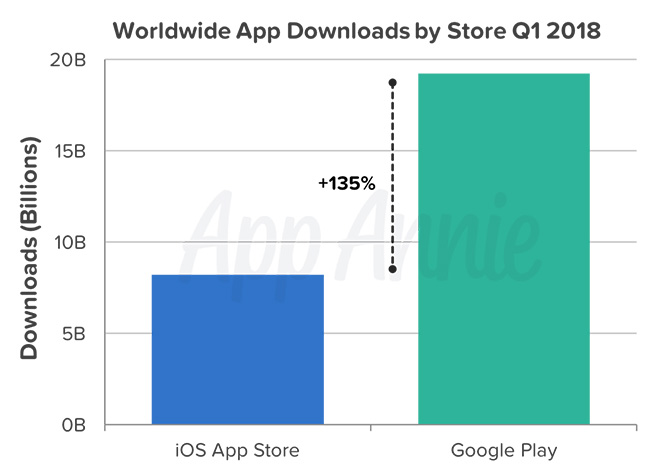 Shopping apps experienced large year-over-year growth in market share of downloads in Q1 2018 across both stores. Retail continues to migrate to apps, as both e-commerce and traditional retailers double-down on their mobile shopping experience in response to consumers' mobile shopping appetites. We expect to see this trend continue as retailers adjust to the new shopping environment with mobile as the cornerstone of success.
Games were a large driver of downloads quarter over quarter across both app stores. Users were drawn in by monumental changes to mobile gaming, such as the surge of battle royale gaming popularized by PUBG Mobile and Fortnite.
The United States, Russia and Turkey experienced large year-over-year growth in market share for iOS downloads. Growth in market share is an important metric to identify not only absolute growth but its relation to the global breakdown of downloads. Not surprisingly, emerging markets were prominent among the leaders of year-over-year market share growth of Google Play downloads. Specifically India, Indonesia and Brazil saw the largest market share growth – a trend we have seen play out in the last two years.
Google Play Saw Record Growth in Consumer Spend
Google Play narrowed its worldwide consumer spend gap with iOS in Q1 2018 by 10 percentage points quarter over quarter, resulting in the smallest percentage difference since Q1 2016. Consumer spend on Google Play grew 25% in Q1 2018 year over year, while iOS saw 20% year-over-year growth. Regardless, the iOS App store maintained a sizable lead over Google Play for global consumer spend.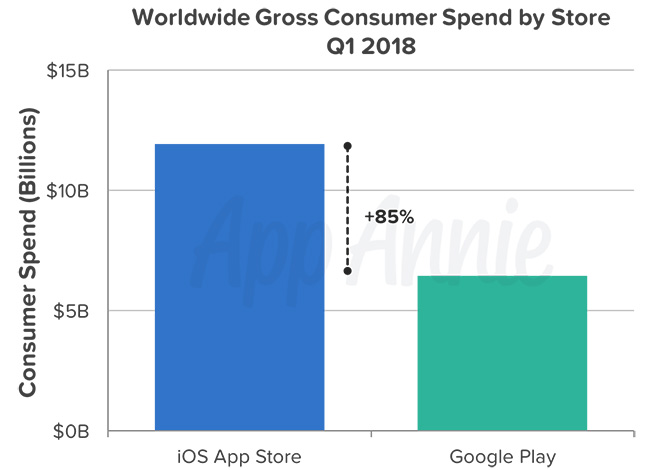 The US was a strong driver of Google Play's consumer spend growth and also saw the largest growth in market share of any country both quarter over quarter and year over year. After the US, Japan and the Phillipines saw the largest quarter-over-quarter market share growth of Google Play consumer spend, respectively. For year-over-year market share growth, Germany and France ranked second and third.
Across all categories, Music & Audio and Entertainment apps experienced the largest market share growth of global consumer spend on Google Play, both quarter over quarter and year over year. This speaks to the larger trend of consumers choosing to sign-up and pay for music streaming and video streaming subscriptions in apps. The experience is quick, frictionless and secure, which is an inherent benefit mobile apps provide over other channels in addition to their ability to allow users to consume content virtually anywhere.
On iOS, consumer spend in Health and Fitness apps experienced large quarter-over-quarter growth, indicating the seasonal impact of New Year's resolutions, as well as the behavioral shift for consumers to subscribe to fitness apps. The US, United Kingdom and Germany experienced the largest market share growth in iOS consumer spend, both year over year and quarter over quarter. The performance of these countries demonstrates that, as app markets mature, consumers, at a large scale, are increasingly willing to pay for the growing benefits that they receive from apps.
The app economy had a record year in 2017 and has continued the strong momentum on Google Play and iOS into Q1 2018. We are excited to see how the consumers continue to embrace mobile throughout 2018.
To hear more of App Annie's insights into the mobile app economy, check out our 2017 App Market Retrospective Report — the industry's largest and most trusted analysis of the state of the app economy. If you're interested in looking into some of the data behind the app market yourself, sign up for our free product here and get started today.