With 6 months and counting until PSD2 legislation in Europe changes the banking and technology landscape, we look into: - What this means for the traditional retail banking industry - How Fintech apps have grown, and how they stand to benefit - What retail banks can do to defend their position in post PSD2 Europe.
What is PSD2?

There's now less than six months to go until the much discussed PSD2 (second Payment Services Directive) legislation comes into effect in Europe. With implementation starting in January 2018, PSD2 is set to revolutionise the consumer finance industry in Europe.
In a nutshell, PSD2 will require retail banks and payment service providers to allow third party providers to access account and payment data, securely and in real time, as long as they have the account owner's permission. For example, this means that a retail bank like Barclays will now be required to share authorized user account information with a third-party app like Revolut. This is a boon to financial technology (Fintech) firms which are mobile first, tend to specialise in one area (for now at least), and as a collective threaten retail banking's portfolio of services. The additional access given by PSD2 will allow them to improve and expand the services they offer, and will further deepen their relationship with traditional banks' customers.

Fintech Will Continue to Change Retail Banking in Europe

This is set to cause major disruption to the traditional retail banking value chain. Although banks currently own most direct interactions with customers, PSD2 mandated account access will allow Fintech companies to further expand their reach into this area.

And they are in a great position to do so. Fintech firms are often mobile experts, and in a world where mobile is increasingly our channel of choice, this is a huge advantage. Through their apps, Fintech companies are already able to offer a convenient, streamlined experience — an area of improvement for banks — covering services such as account aggregation, payments and investment management. In many ways, Fintech apps have already changed our expectations when it comes to managing our finances.
As a collective, Fintech companies already offer a full suite of retail banking services.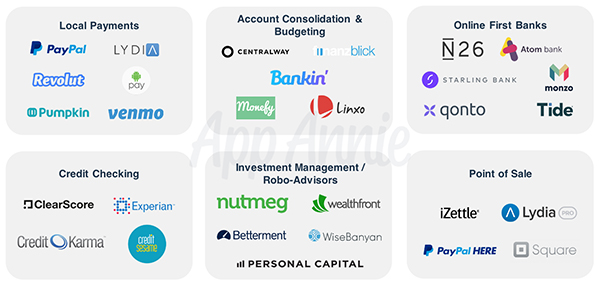 In addition, although starting small, Fintech companies have been continually refining their technology, processes and product offering (without the restrictions of legacy systems). They were built to be well optimized for the now mobile-first world.

This means that, over time, Fintech companies will increase their role as a link between customers and their bank accounts. With consumers able to choose from a selection of unbundled services, banks will no longer dominate the full retail banking value chain. This creates a serious risk that some traditional banks could be limited to providing back end services (managing accounts) with limited visibility to, or loyalty from, the end user.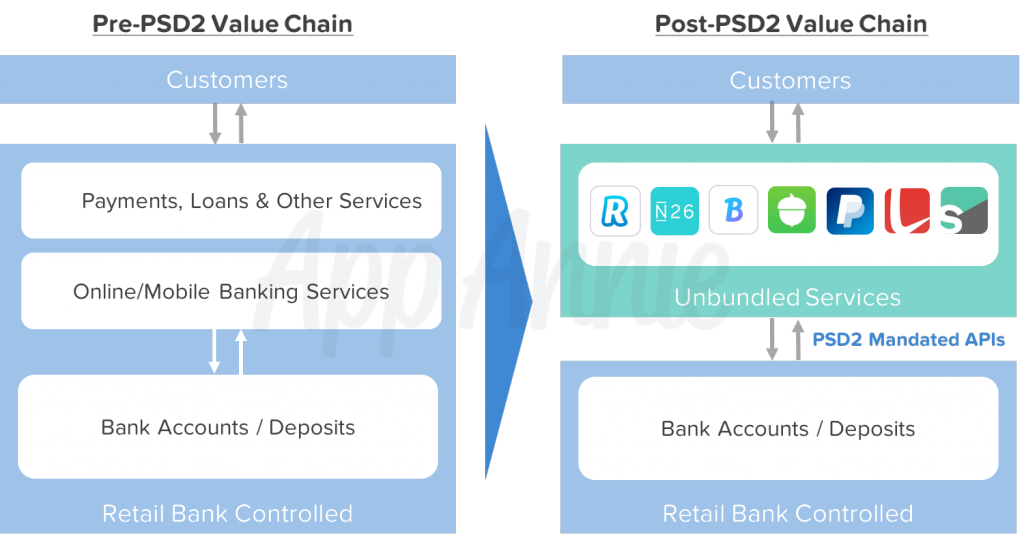 While the pre-PSD2 value chain is largely controlled by retail banks, PSD2 will enable an unbundled layer of financial services (often Fintech owned) between customers and their accounts.

In this regard, service aggregators such as Centralway Numbers and N26 (also a mobile bank) pose a particular threat to retail banks. With the potential to host a full suite of retail banking services, effectively acting as a marketplace for other providers, they are well placed to become the first port of call for future finance customers. This is coming soon. N26 have made no secret of their plans to build a financial platform, and they've already started to bring partners on board.


Fintech Already Has a Beachhead

It's clear PSD2 will significantly improve Fintech companies' already strong position. Yet even ahead of the legislation coming into effect they're growing fast. Last year we showed the rapid growth of Fintech apps — this has continued.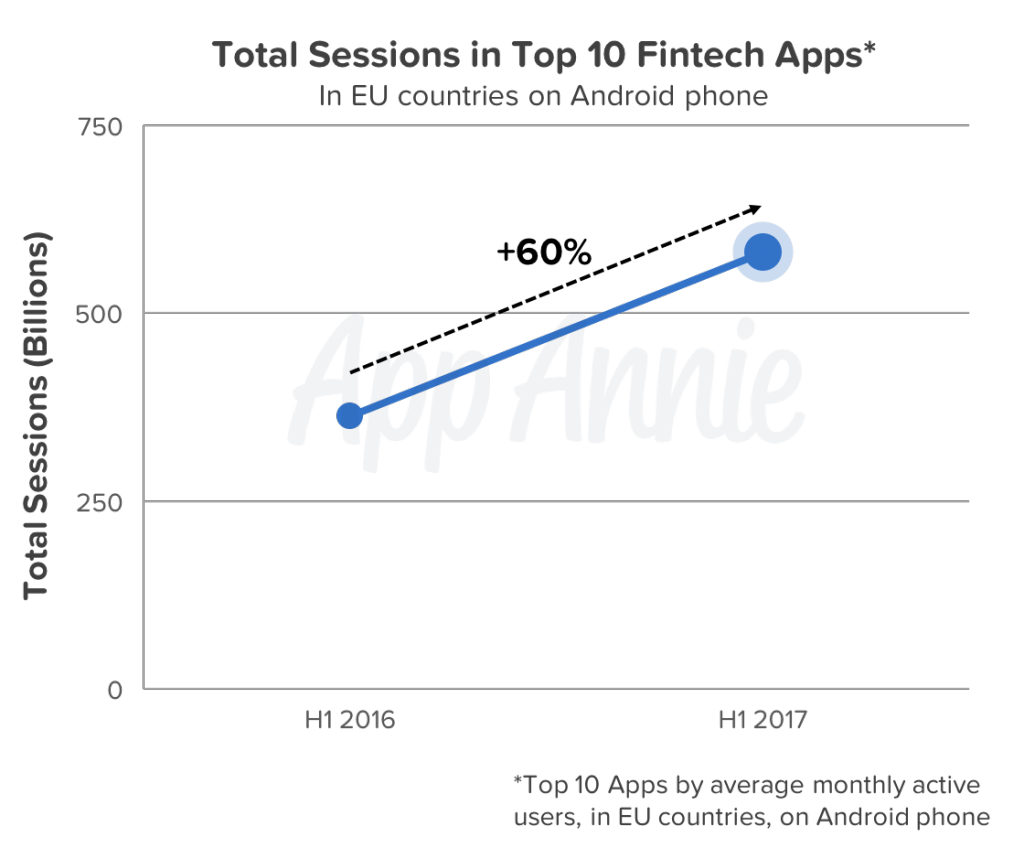 We're seeing rapid growth in the number of interactions with Fintech apps


Alongside this, retail banks' users are already engaging with Fintech apps — Fintech companies have a direct relationship with many banking customers.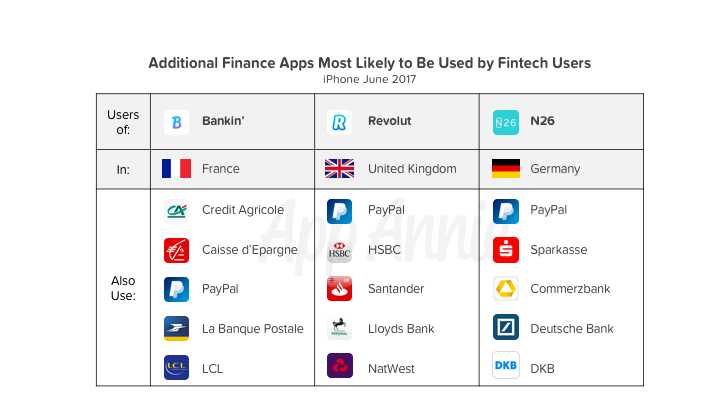 4 of the 5 Finance category apps that are most used by customers of these Fintech companies come from retail banks.

What can be done?
Despite the big changes that are on the way, retail banks are still in a strong position. They have a large customer base, strong trusted brands and many longstanding customer relationships — even on mobile, for the moment, Fintech companies cannot compete on scale.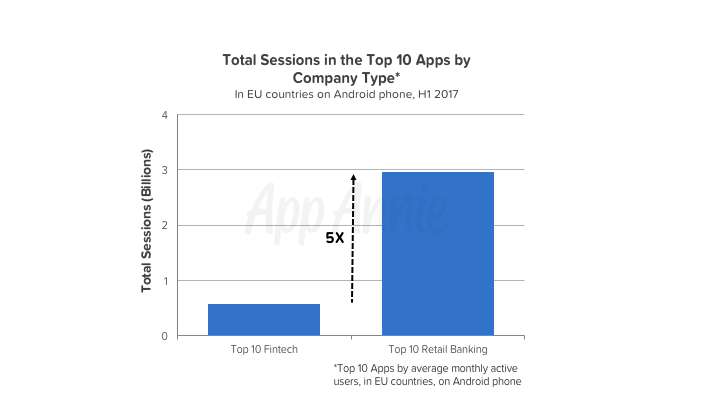 Retail banks still own the majority of customer interactions through apps
Yet this size difference also makes it difficult for large banks to respond. It's hard to prioritize a smaller (but rapidly growing) opportunity over ongoing, larger business activities — even if it poses a significant threat in the coming years.
However, waiting is not an option. Fintech companies have already transformed customer expectations, they are continually refining their products/processes and they are rapidly acquiring new users. Eventually the products Fintech firms are offering will become the norm, and it will be impossible for any slow-to-act retail banks to catch up.
But for banks who do respond early, there is still an opportunity to secure their place alongside the Fintech providers at the top of the new retail banking value chain. At a minimum, leveraging their large user bases and brand heritage, following mobile best practice and ensuring their own apps offer a competitive level of service will be essential.
The recent release of the retail bank backed payment service Zelle in the US is a great example of the banking industry pushing back, and many of App Annie's own retail banking clients are well ahead of the game when it comes to preparing for industry changes as a result of PSD2.
It's going to be an interesting few years for the world of retail finance.
Report methodology and updates are available here.