Read our top predictions for apps in 2018 covering a broad range of topics from augmented reality, video streaming, retail, finance and more.
2018 will mark the 10-year anniversary for both the Apple App Store and Android Market. Since their launches, mobile apps have impacted society at an astounding pace and scale. Over nearly a decade, the app economy has matured in a number of ways:
By the end of October 2017, the iOS App Store and Google Play had more than 2 million and more than 3.5 million apps available, respectively. Furthermore, new apps continue to be introduced at an exponential rate. During the month ending October 31, 2017, roughly 50,000 new apps launched on the iOS App Store and over 150,000 were added to Google Play.
Across mature markets, users on average are spending two hours per day — which equates to one month out of every year — in apps.
More than 40 countries will generate over $100 million each in consumer spend in 2017 for iOS App Store and Google Play combined.
Apps play a key role in almost every industry today, including retail, banking, travel, QSR, CPG and media and entertainment.
At a deeper level, this maturation is most apparent in the evolution of how mobile apps have transformed people's everyday lives. This has continuously raised their expectations of apps. Convenience is just one, but important, dimension where people expect apps to have a significant impact and it is a core theme that underlies many of our predictions for the coming year.
Worldwide Gross Consumer App Store Spend Blows Past the $100 Billion Mark
The continued evolution of markets across the globe, as explained by our App Market Maturity Model, has led app monetization to continuously grow. This trend will continue next year and we forecast that worldwide consumer spend across all mobile app stores will grow approximately 30% year over year to exceed $110 billion in 2018. Games will continue to account for the majority of overall spend. However, the share of spend for apps outside of games will increase next year as its growth rate outpaces that for games. This shift, which has been largely driven by subscriptions, is a strong reflection of the app economy's increasing maturation as the value that apps deliver to users broadens.
China, India and Brazil Are Top Markets to Watch
As in past years, China will continue to be a key market for app store consumer spend in 2018. In fact, we expect its growth rate to significantly outpace that for the rest of the world. This is particularly impressive given that China is the top market for iOS App Store consumer spend.
Next year, time spent on Android phone will be driven by emerging markets led by India and Brazil. Year to date through October 31, 2017, time spent in India and Brazil experienced significant growth compared to the same time period in 2016, at nearly 50% and nearly 30% respectively. For its part, India has seen a dramatic increase in Google Play downloads that coincides with the disruptive launch of Reliance Jio's network in September 2016. Meanwhile, though Brazil is a more mature market than India and further along in shifting beyond the download growth phase, it is a mobile-first country with plenty of room left for growth. Both countries have large populations of people who do not yet own smartphones. Continued increases in smartphone penetration in both of these markets will fuel future growth of total time spent, which will in turn lead to higher mobile commerce spend.
App Store Curation Drives Higher Overall In-App Purchase Revenue, Expands Opportunity for Independent Publishers
As mentioned in the intro, there is a massive number of apps on the market which continues to increase at healthy rate. While this scale broadens the ways that apps can enrich people's lives, it also makes app discovery more difficult. In June 2017, both Apple and Google announced updates to the iOS App Store and Google Play aimed to alleviate this issue through app curation and editorial content. As these enhancements continue to gain traction in 2018, we predict that they will have a particularly significant impact on apps that help people occupy their leisure time. These types of apps, which tend to be entertainment-centric, are most likely to connect with consumers when they are casually browsing through the app stores. Conversely, "needs-based" apps (e.g., food delivery, payments, etc.) are far more likely to be downloaded based on word of mouth recommendations or focused searches when a user encounters a particular need.
Furthermore, curation and editorial content give Apple and Google a powerful platform to showcase newer and lesser-known apps from independent publishers. Since leisure time apps often monetize via in-app purchases (IAP), we expect that these improvements to app discovery will not only help boost IAP revenue overall, but also spread these gains across a broader group of publishers.
Glance-centric Use Cases Broaden Augmented Reality (AR) Adoption
Pokémon GO and Snapchat sparked huge mainstream interest for AR, but their implementations only scratch the surface of the numerous possibilities for this technology. We predict that in 2018, AR will take another significant step forward towards realizing its massive potential. This will be driven by the foundation that was set by the major, AR-related initiatives unveiled by Facebook, Google and Apple at their developer conferences in 2017, as well as those from China powerhouses Alibaba, Baidu and Tencent, just to name a few. These initiatives will accelerate the space by making it easier and faster for publishers to develop AR apps, while also stoking consumer interest. In fact, starting in September 2017, there has been a significant increase in iPhone app downloads for the top ranking apps by "Augmented Reality" app store search.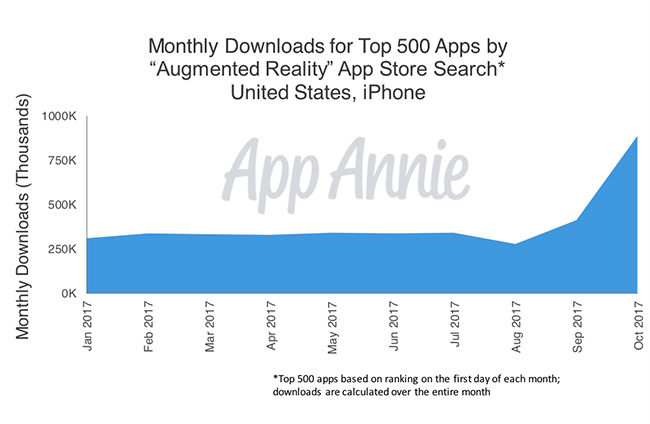 Starting in September 2017, downloads for AR apps rose significantly on iPhone due to increase of new AR-related apps, as well as existing apps incorporating AR.
On the gaming front in particular, we also expect that Niantic's forthcoming Harry Potter: Wizards Unite will build off of its success with Pokémon GO and generate additional excitement around AR gaming.
However, as a broader range of app publishers continue to claim their first stake in the AR opportunity, we expect that in 2018 "glance-centric" use cases built around layering contextual information on top of the real world — like those from Google Translate and MLB.com At Bat — will see the most widespread traction with users. These shorter use cases, with broader appeal, will be the entry point where most users begin to try out AR in a wider context beyond entertainment (e.g., gaming, photo filters) and develop their habits.
Fragmentation of the Video Streaming Space Accelerates
Apps have significantly transformed how people watch video content across a number of dimensions. 2017 has been another extraordinary year for video streaming services as they continue to capture large audiences and receive critical acclaim for their original studio content. Year to date through October 31, 2017, these apps have driven significant growth of worldwide consumer spend for the Entertainment category on both iOS and Google Play. This is an increase of over 85% and over 70%, respectively, compared to the same time period in 2016 — pushing it to record levels on both stores. We expect that 2018 will mark the beginning of an inflection point for this space, in terms of fragmentation, as its success attracts even more activity, from content owners and distributors, to an already complex landscape. In fact, among iPhone video streaming users (i.e., those who have at least one of the top video streaming apps installed) in the US, the share who had four or more of the top video streaming apps installed on their iPhones increased year over year to more than 30% in October 2017. In short, the popularity of video streaming, along with increasing choices, appears to be driving the installation of multiple apps.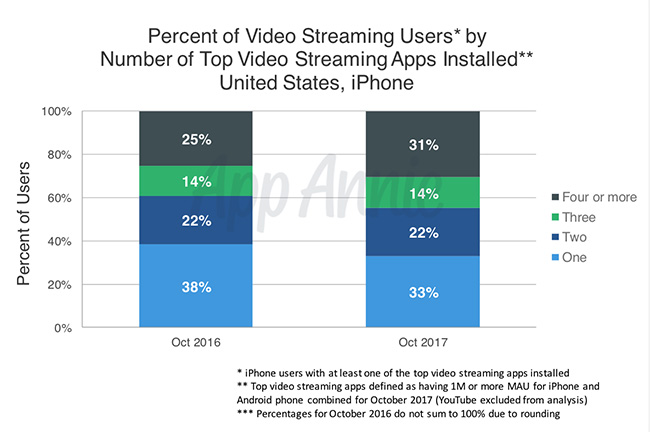 The share increase for iPhone video streaming users with four more of the top video streaming apps installed demonstrate increasing fragmentation.
Some of the biggest names in the entertainment industry and app economy — including Netflix, Apple, Google, Facebook, Snap and Disney — have announced huge plans to expand their footprints in variety of ways that range from investment in original content to starting new video streaming services. Overall, this space will continue to see steady growth in terms of revenue and engagement, as users continue to shift more of their viewing time towards mobile apps. However, the underlying dynamics are going to experience strains caused by fragmentation due to so many players trying to grab a piece of this attractive opportunity. This flurry of activity will ultimately result in consolidation, in the years that follow, as consumers need to rationalize how they spend their time and money among a dizzying array of choices, resulting in some players succumbing to profit pressures as they get crowded out of this competitive space.
Mobile Pushes Towards the Center of the Retail Customer Journey
Over the years, mobile has become an increasingly integral part of the retail shopper journey. Starting largely as a research companion (e.g., pricing, product information, reviews) for in-store shopping, it has become a full-fledged channel in its own right. In turn, traditional Brick-and-Mortar retailers embraced apps themselves which further evolved the retail customer journey. Shoppers are now very engaged with mobile apps. Year to date through October 31, 2017, across all Android phone users in the United States and United Kingdom, consumers spent nearly an hour on average in Shopping apps each month while those in South Korea spent approximately an hour and half. Furthermore, Cyber Monday 2017 was the first $2 billion mobile shopping day ever in the US and during Alibaba's record breaking Singles Day in 2017, mobile users accounted for 90% of sales.
In the past, it has been easy to segment retailers between Bricks-and-Clicks and Digital-First. However, these lines are becoming increasingly blurred by acquisitions, partnerships and innovation. These activities are impacting all dimensions of the shopper journey, including in-store, in-home and delivery. We expect that in 2018 these changes will cause consumers to change their shopping habits, which will in turn begin to redefine the relationship between and even the very nature of existing retail channels (e.g., mobile app, web, brick-and-mortar). For example, as we have seen in China, people in western markets will increasingly use physical stores as a place to pick up items purchased on mobile. In addition, cash registers' longstanding role in the checkout and payment process will become reduced, or in some cases replaced, by mobile. In the coming years, people's expectations around core principles like confidence, value and convenience will progressively increase and evolve to the point that a new retail paradigm emerges. For many consumers, mobile will be a core part of the shopping experience regardless of channel.
Restaurant Aggregators Drive Mobile Conversion as Delivery as a Service Further Penetrates Premium Markets
As we predicted in last year's post, there was some consolidation in the food delivery space. Grubhub completed its acquisition of Eat24, adding to an already impressive portfolio of brands. Looking ahead to next year, we expect that aggregators (e.g., Grubhub, Just Eat, Yogiyo) will continue to expand the addressable market for this space by opening up underpenetrated markets as well as converting users who do not currently use mobile apps from intermediaries to order meals. Meanwhile, delivery as a service (DaaS) providers (e.g., UberEATS, Deliveroo) will gain market share in premium markets where customers are more likely to pay more for better experiences as well as access to higher-end and more expensive restaurants that don't have their own delivery fleets. Furthermore, we expect more quick-service restaurants (QSR) to respond to the increased competition from food delivery by partnering with DaaS apps, similar to McDonald's growing partnership with UberEATS. Similar to video streaming, this space will face consolidation in later years as it needs to rationalize the fragmentation felt by customers and the profit pressures felt by service providers competing in a crowded space.
In-Home Voice Agent Category Boosted by New Entrants and Continued Seasonal Buying
Amazon cracked open the in-home voice agent market when it introduced the first-generation Echo in 2014. However, this space gained significant traction with the launch of the second-generation Echo Dot. Its release near the 2016 holiday season, combined with its entry-level $49.99 price point, spurred much higher sales. This was followed up by another surge around Prime Day, which featured significant discounts on Echo devices, on July 12, 2017.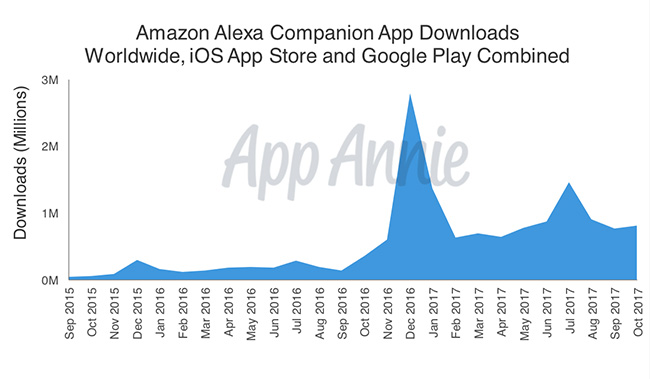 Downloads for the Amazon Alexa companion app trended upwards following the October 2016 release of the sub-$50 Echo Dot, with significant spikes around the holidays and Amazon Prime Day.
Looking ahead to 2018, we expect these overarching trends to accelerate with device sales spiking around seasonal events (e.g., holidays and Prime Day) and price promotions. Sales of in-home voice agents will also be bolstered by the recent release of the $49 Google Home Mini, as well as new market entrants like Apple, Samsung and Chinese heavyweights Alibaba and Baidu. Increased sales has led to developer interest and experimentation with these platforms, but use cases will remain largely consistent in 2018 (e.g., music listening, basic web searches and utilitarian tasks). We do, however, expect increased adoption of other connected home devices from the most tech-savvy users as they attempt to find new uses for in-home voice agents (e.g., controlling lights, thermostats, AV equipment, etc.).
Finance-Related Apps Poised for Most Significant Transformation in 2018
European Open Banking Legislation Triggers Value Chain Shift:
Though convenience has been a significant driver behind the app economy's success, it can sometimes be countered by concerns about security. Not surprisingly, Finance apps have had to fight to overcome this hurdle (though less so with digital natives). This is nothing new and has been overcome by previous innovations, including credit cards and ATMs, throughout the history of the finance space.
Next year, we expect this pattern to continue, starting in Europe with the implementation of PSD2 legislation. These rules will open the door for more players to provide comprehensive, app-centric, financial-related services, while providing users with the security that comes from government oversight and legitimacy. This will unbundle the banking value chain in Europe, with aggregation apps increasingly becoming the primary gateway for consumer finance. As the benefits of these changes become realized, we expect that it will drive similar innovation in markets outside of Europe. In addition, traditional retail banks will also continue to innovate across the globe. For example, in November 2017, Wells Fargo announced that it will launch Greenhouse, a standalone app that combines mobile-first bank accounts with spending analytics, in the first half of 2018.
P2P Payment Apps Further Diversify Transaction Volume:
Person-to-person (P2P) payment apps, like Venmo, have been some of the shining stars in the fintech app revolution. They have transformed how consumers, particularly millennials, exchange money, by displacing the use of cash and checks. In the next year, we expect these services to capitalize on their popularity and broaden their range of services in an effort to expand their revenue potential, fend off increased competition from traditional banks and deepen user engagement. In particular, we expect P2P payment apps to see increased transaction volume due to growth of instant bank transfers and third-party payments, with the latter bolstered by increasing adoption of these services as payment options by retailers and sellers. These initiatives have been well received by users, as they will provide even greater levels of convenience. In addition, this space will see increased activity from successful players in other categories, like messaging and social networking, who are constantly looking for additional ways to serve, monetize and engage their large user bases. Among these companies, WeChat is uniquely positioned because, for many users, it the default distribution channel for services in China and is the central hub for a broad range of activities.
These are just a handful of areas where we expect the app economy to evolve over the near future. Despite how far this space has advanced over its first decade, it is just scratching the surface of its full potential. Growing expectations of apps will fuel app developer innovation and technological advances at an even faster pace. Users are no longer satisfied if apps merely replicate the activities that they can do on other mediums. Rather, they increasingly expect apps to completely transform the very nature of how they accomplish goals and tasks, as well as create brand new experiences not possible on other platforms. We are excited to see how app developers surpass the boundaries of what's currently possible and deliver on these needs over the app economy's second decade.
To monitor mobile trends and start tracking specific app performance across countries, sign-up for App Annie Intelligence for free right now.
Methodology: Report methodology and updates are available here.