| | |
| --- | --- |
| Fitness trackers currently dominate the list of top wearable apps. With the Apple Watch hitting the market in April and Android Wear OEMs improving their designs, 2015 could paint a very different landscape. | You might also be interested in: |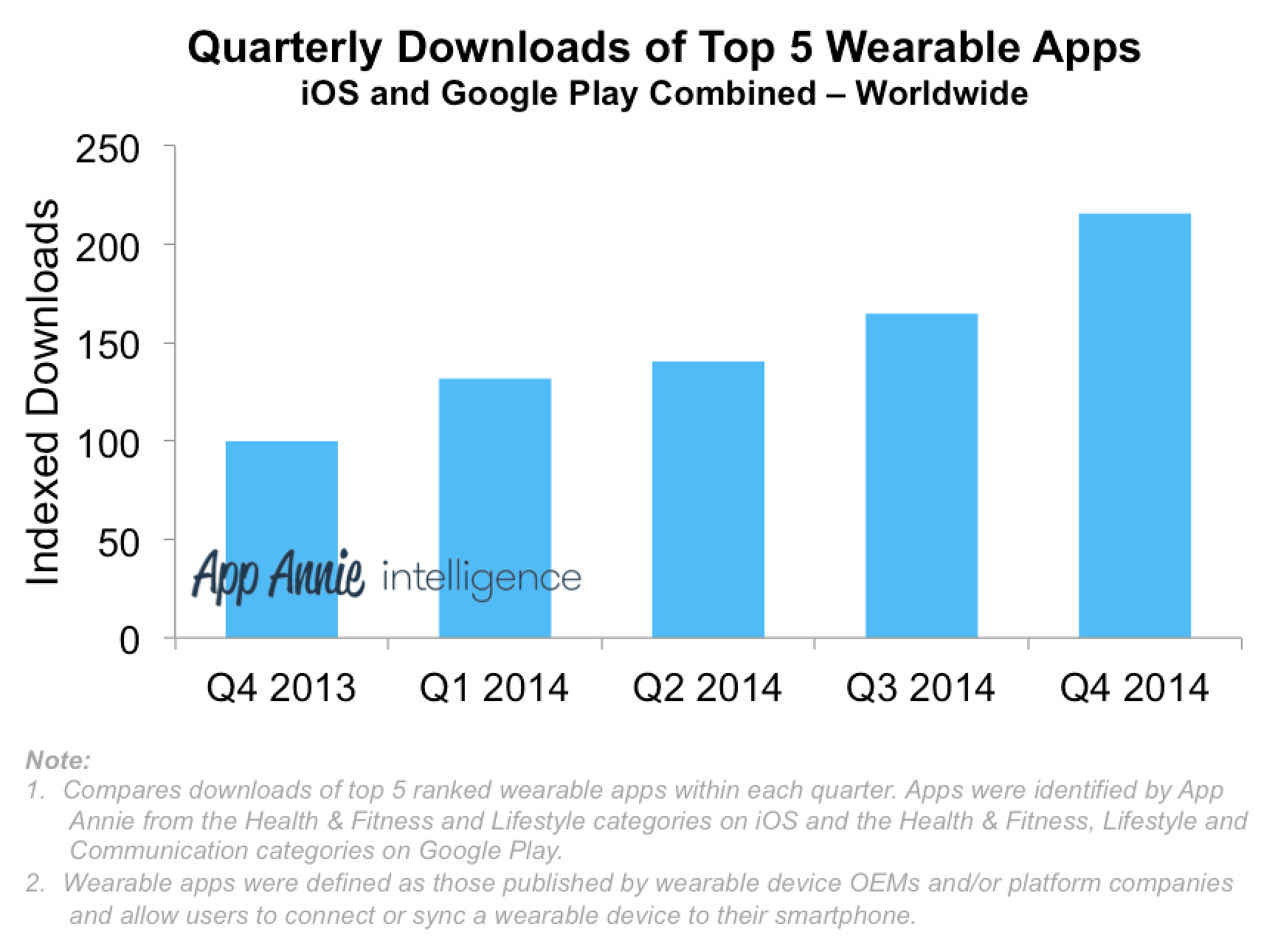 Quarterly downloads of top wearable apps more than doubled over the past year.
On iOS and Google Play, downloads of the top 5 wearable apps more than doubled worldwide in 2014, lending to the category's considerable growth. As we showed in our Connected Devices Report, Health & Fitness has been a popular category, where 4 of the top 5 downloaded wearable apps in each of the past 5 quarters have been fitness trackers like Fitbit and Jawbone. This also seems consistent with reports that have pegged fitness trackers at nearly two-thirds of all 2014 wearable shipments.
Among fitness trackers, Fitbit has performed very well on both iOS and Google Play, ranking among the top Health & Fitness apps throughout 2014. This was particularly true in the United States, where the majority of wearable app downloads occurred.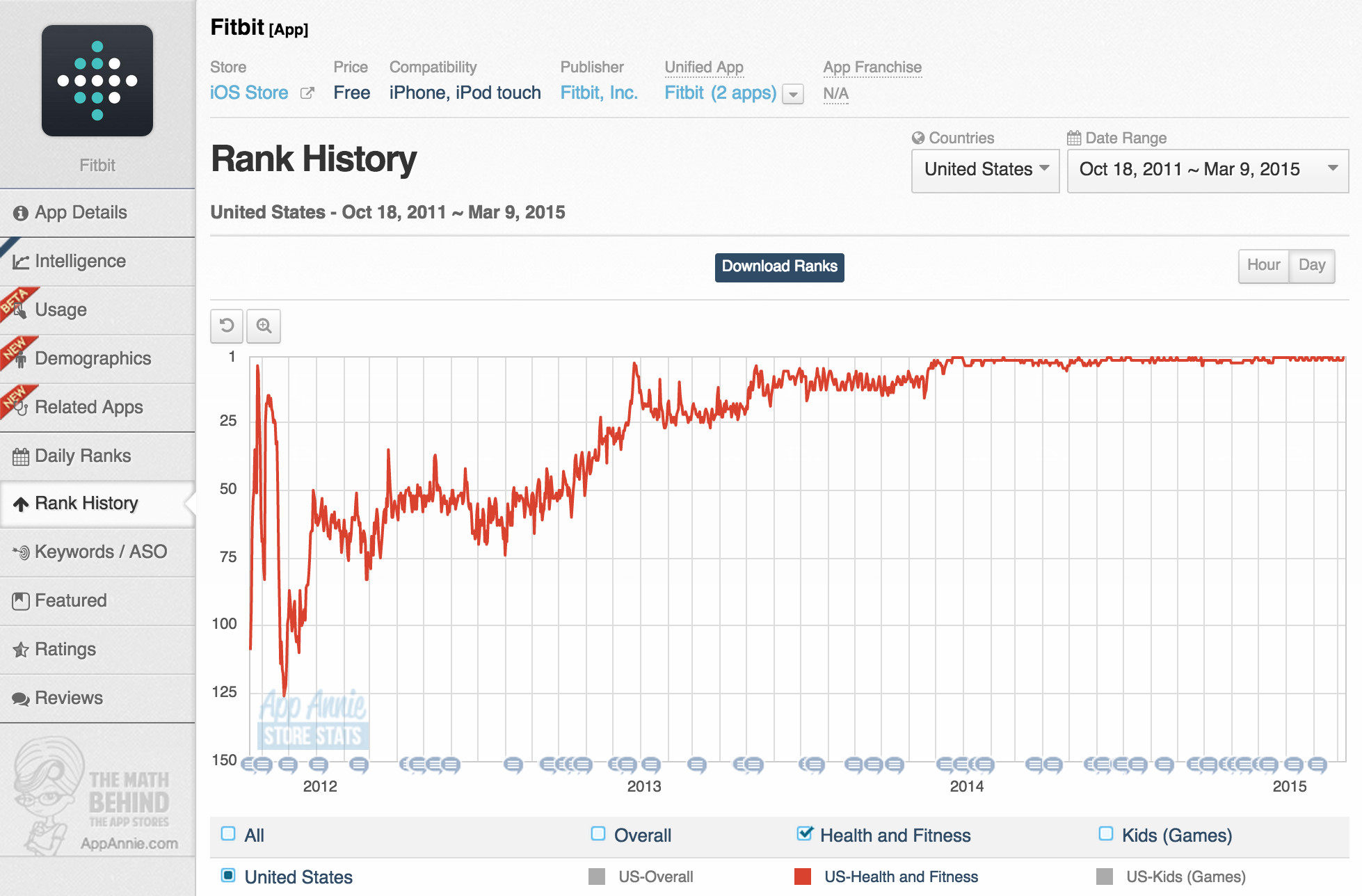 Fitbit consistently ranked as one of the top Health & Fitness apps in 2014.
The early lead held by fitness trackers is partially a function of battery technology — a key benefit is that wrist-worn tracker consumes far less power than a wrist-based computing device. This could be a critical factor to watch as the market continues to evolve. Additionally, aesthetics may play just as much of a role as the underlying technology.
During this week's Apple Watch announcement, Apple placed a fair amount of emphasis on the Watch's aesthetics, such as different materials and watch band variants. In combination with improving smartwatch designs from Android Wear OEMs, this could help both Apple and Google become significant players in this fledgling industry.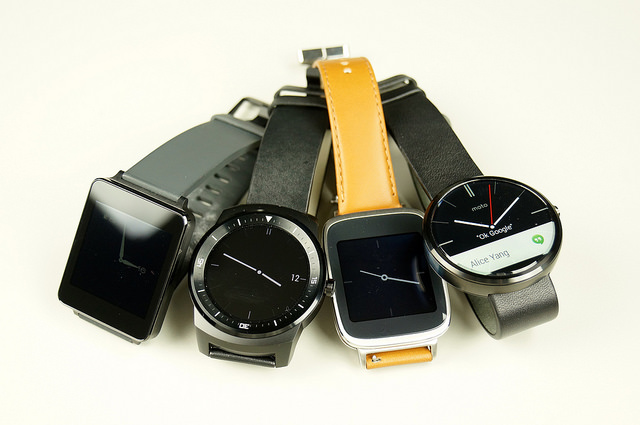 Improved designs and band types may help increase smartwatch adoption. (Source: Flickr)
That said, it's important to note that we are still very early in the adoption cycle. While most expect to see growth over last year's shipment performance (there were 4.6 million shipments in 2014 according to Canalys), there is tremendous diversity of opinion about the industry's growth trajectory. For example, 2015 shipment estimates for just the Apple Watch range from a low of 8 million to a high of more than 40 million. The wide variation is partially due to questions about how mass-market consumers will use these devices, putting the onus on app developers to discover new use cases and drive consumer adoption.
Today, most apps for smartwatches fall into a handful of categories. Some relate directly to the form factor of the device category (e.g., different watch faces), while others attempt to complement existing mobile apps and web services in order to create a unified experience across a range of devices and platforms (e.g., productivity apps such as Evernote and OneNote for Android Wear). Beyond these examples, there may still be opportunities for developers to leverage wearable form factors and deliver benefits that today's smartphones cannot provide on their own. These innovations could push the entire wearables ecosystem forward and accelerate the adoption cycle.
Notes:
The download estimates referenced here are available through App Annie Intelligence. The daily rank history charts and the homepage feature app data are available to all users through App Annie's app tracker solution, Store Stats.

The Indexed Downloads metric provides an easy way of comparing different downloads numbers against each other. For example, if Q2 2014 has Indexed Downloads of 100 and Q3 2014 has Indexed Downloads of 200, then Q3 2014 downloads are 200/100 = 2 times as high as Q2 2014 downloads. If Q3 2014 has Indexed Downloads of 80, then Q3 2014 downloads are 80/100 = 80% of Q2 2014 downloads. The same applies to the Indexed Revenue metric.

Certain trademarks and/or images used in this report may belong to third parties and are the property of their respective owners. App Annie claims no rights to such trademarks or images.

App Annie Intelligence is currently available for the iOS App Store and Google Play. It does not currently provide estimates for other app stores, such as the Amazon Appstore. While iOS and Google Play represent a significant portion of the app market in many countries, that is not the case for some countries. For example, China has a number of sizable third-party Android app stores.
Estimates for the apps in this report are based on unified apps made possible by App Annie's exclusive DNA. In unified apps, similar versions of the same app with different names and on different platforms are unified. For example, Argos and Argos for iPad on iOS, and Argos on Google Play are aggregated and ranked as a single Argos unified app.