Early September is when many high schoolers and other students are returning to school. With mobile devices reaching younger demographics, it's natural that many classrooms could be filled with iOS and Android users.
PhotoMath is a notable app that is not only reaching high download ranks in the educational category, but in overall downloads in various countries for the second year in a row.
Number One in the US iOS App Store

PhotoMath hit #1 iPhone Free US downloads early September 2015, a time when many students were returning to school.
PhotoMath is an educational app that quickly scans math problems and shows step-by-step solutions. The app's streamlined user interface has great appeal to quickly reach the student demographic (typically 5-22 in the US).
PhotoMath's initial 2014 popularity coincided with being featured on the Ellen DeGeneres Show. For 2015, the back to school period combined with a renewed word of mouth, illustrated by a high ranking with several ASO terms including "Algebra" and "Math" in the last 3 months, seems to have been key drivers.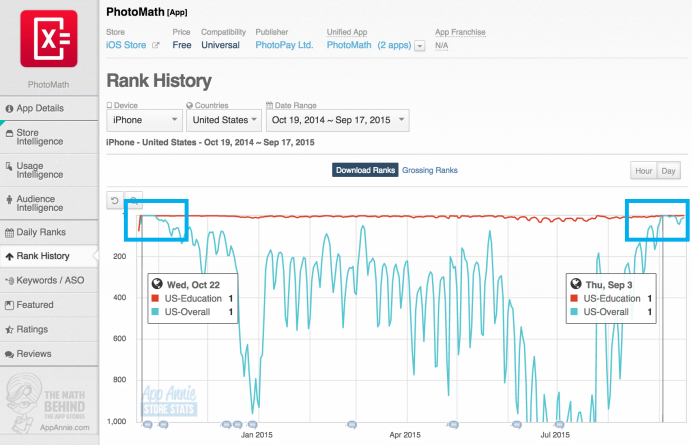 PhotoMath reached US-Overall #1 iPhone downloads during October 2014 and again during September 2015.
In the US, PhotoMath ranked highly in the overall iPhone downloads from September 2, 2015 to September 10, 2015, staying within the Top 10 Free Apps and took first place for several days. This date range matches up with many US students preparing for their first week of school.
A Strong Traction with Students Around the World
In other countries, including Australia, Canada, Brazil and New Zealand, PhotoMath has charted consistently within the top Education Free Apps from August 17, 2015 to September 16, 2015. Similar to the US, the app had even higher download ranks closer to those countries' back to school dates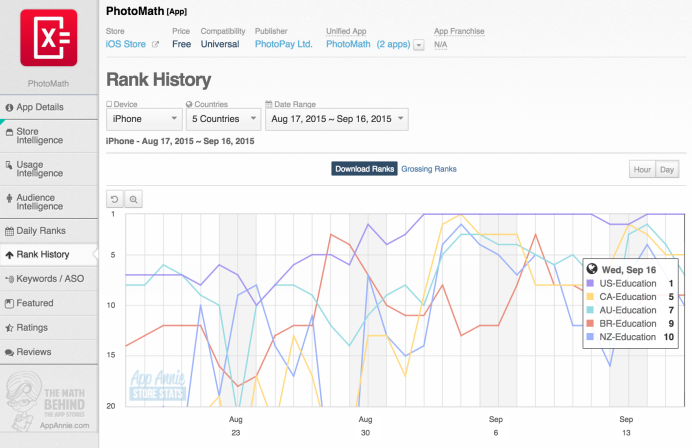 During the first half of September 2015, PhotoMath has had global appeal in countries like Brazil and New Zealand.
PhotoMath follows the path of another educational app's global success. Focusing on learning foreign languages, Duolingo spiked during October 2013 in overall Free iPhone downloads in multiple countries including the United States, Italy, France, Brazil and Canada. It's good to be mindful of global appeal, as educational apps are growing in various regions like China's.
Using Cameras to Solve Problems
PhotoMath utilizes augmented reality to help students solve math problems via a device's camera. Within mere seconds the app's scanner and solver show step-by-step instructions on how to complete the equation. Currently, the app only supports printed text, but hand-written problems are planned for a future update.
Google Translate was another recent app leveraging augmented reality to solve real life problems: the app updated in July 2015 with a feature allowing quick translations of 27 languages via the camera. This might be the start of more AR apps focused around direct tangible benefits.
Want More? App Annie Has It
Subscribe to our blog to see more app industry reports, conference updates and product news. We love hearing from our readers, so share your questions and comments below or on Twitter.
Want to perform your own analysis? Create a free Store Stats account or request an Intelligence demo today.