Instagram is incredibly popular, maintaining the #4 spot by overall worldwide combined iOS and Android downloads from January 2015 to July 2015 on our Apps Index. In March 2015, Instagram released a companion app on iOS – Layout from Instagram – to help users create collages of their favorite photos, with an Android version released later in May.
By early June, iPhone downloads started to steadily pick up in countries like Brazil and Russia. These installs helped Layout from Instagram take the #8 spot by overall iOS downloads worldwide during July 2015. Below we look at how Instagram's latest app hit such a high ranking in the highly competitive photo collage space.
A Strong Global Brand
As previously mentioned, Instagram is a well-known app and brand. Name recognition and cross-promotion helped with other apps, such as Vine released by Twitter on iOS in January 2013. The video app stayed within the top #30 Social Networking downloads on iPhone for its entire first year in countries including the United States, France and Canada.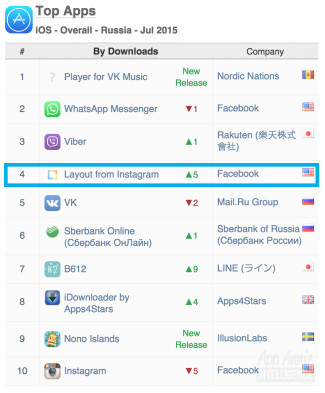 Layout from Instagram is very popular in Russia, reaching #4 by overall iOS downloads during July; 6 spots above even the original Instagram.
With Layout from Instagram, downloads were also impressive, staying within the Top 10 Photo and Video downloads on iPhone from June 6 to July 31 in the United Kingdom, Sweden, France and many more countries. This cumulative popularity helped Layout from Instagram reach the Top 10 by overall iOS downloads during July in 5 key countries: #4 in Russia, #6 in Brazil, #8 in the United States, #10 in Spain and also #10 in Italy. The spike in downloads was also very close to two version updates at the end of May and middle of June, allowing the Instagram team to touch up features and consider user feedback.
How Layout Competes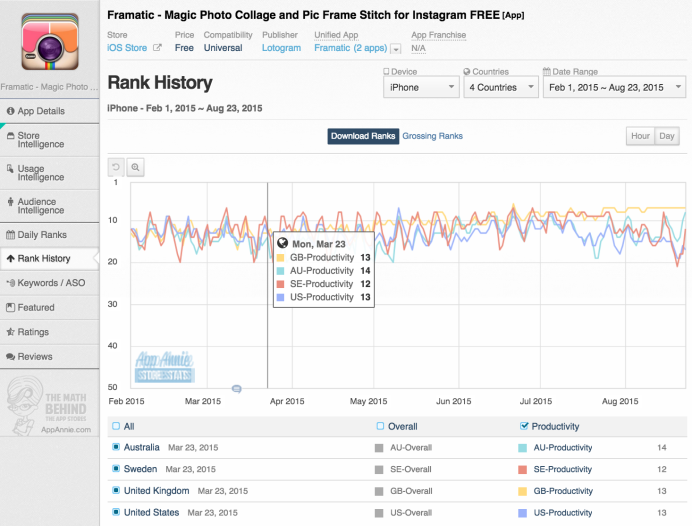 Popular third-party apps like Framatic inspired Instagram to make their own first-party collage app.
Layout from Instagram is a companion app that allows users to create collages. Not a new concept, as third-party apps, such as FotoRus (released August 2011) and Framatic (released October 2012), have similar features. In fact, Instagram told multiple news outlets that one-fifth of their 300 million monthly active users tried a collage app at least once. However, according to Instagram's designers Layout from Instagram is meant to be simpler than the competition — the user interface and collage creation process is more intuitive and allows greater artistic control.
Third-party apps prioritize arrangement and amount of pictures first. Layout from Instagram instead has users begin by picking images from their Camera Roll. As each new photo is added (up to a maximum of 9) the arrangement options update dynamically, from 6 to 12 depending on the number of photos. Once a layout arrangement is picked, further tweaks can be made. Photos can be resized, panned and cropped, moved between grid slots, and mirrored to create duplicates.
The whole process is more fluent and a great means of attracting users away from third-party apps. Instagram's main focus with Layout from Instagram wasn't monetization, but rather to encourage more photo-sharing by improving on the design of existing collage apps.
Bringing Users Home
Layout from Instagram is a great example of a developer learning from third-party apps to improve its own design. With social networking apps, users may flock to ones with the most appealing interfaces and features.
"Facebook is demonstrating with Layout from Instagram the ability to leverage user feedback and behaviors for future updates and products — in this case, a collage app — and may deploy an experience going above and beyond their competition," said Danielle Levitas, SVP of Research & Analysis at App Annie. "By listening & learning, Facebook may encourage an even deeper level of engagement, especially in number of sessions, for their users while also capturing newcomers to Instagram's umbrella brand and platform."
Want More? App Annie Has It
Subscribe to our blog to see more app industry reports, conference updates and product news. We love hearing from our readers, so share your questions and comments below or on Twitter.
Want to perform your own analysis? Create a free Store Stats account or request an Intelligence demo today.