In Europe, newspaper readership is decreasing as circulation dwindles. At the same time, mobile usage is increasing and there are signs that people are spending more time with long-form news content on their smartphones.
Is the future for Europe's news companies on mobile? Using App Annie Intelligence, we looked at the iOS App Store's News category in various European countries — and we found publishers in their home markets command a massive advantage.
News Apps in the UK: BBC News's Successful App Update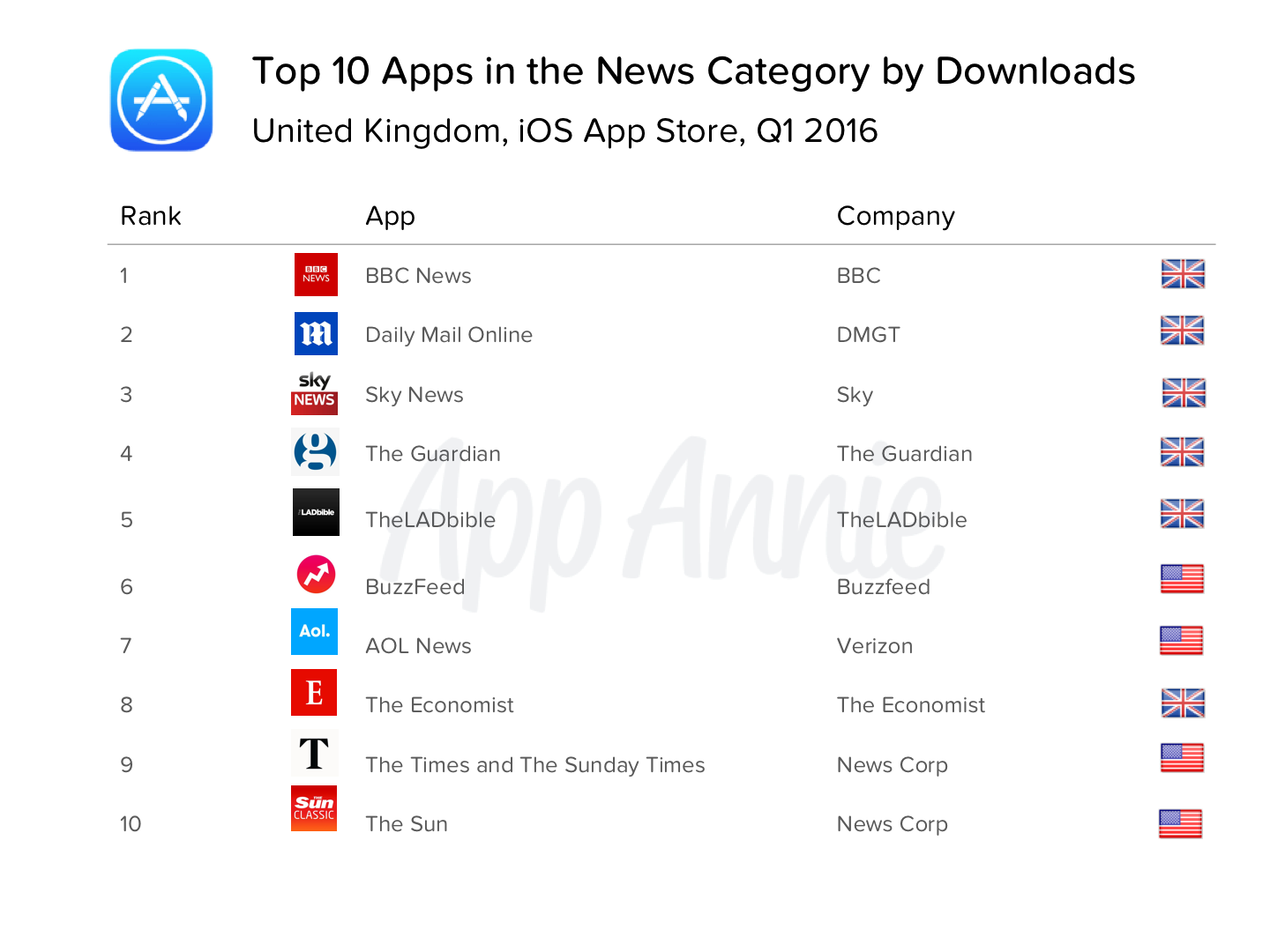 Looking at the top 10 News apps by downloads in the UK on iOS in Q1 2016, 6 are from UK-based news companies. The Daily Mail Online, The Guardian and The Economist implemented monthly — and in some cases, yearly — subscriptions via in-app purchases. Yet, the most-downloaded app in Q1 2016 was BBC News. The company overhauled its app in January 2015 with a focus on personalization, a broader variety of stories and an article tagging system.
News Apps in France: National Newspaper Le Monde Takes the Top Spot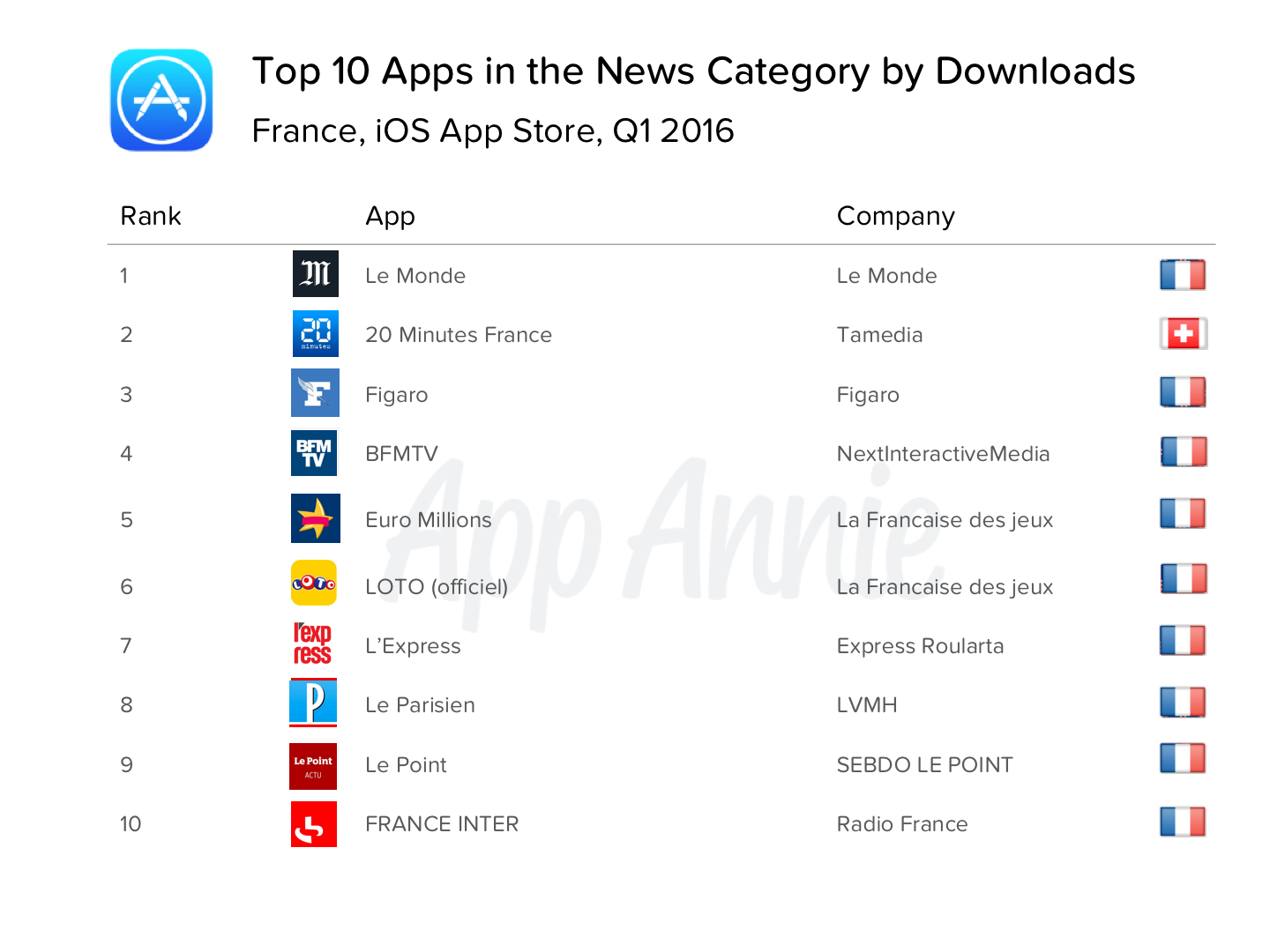 In France, 9 of the top 10 News apps on iOS by downloads were from French companies. Le Monde, a French daily newspaper, was both the most-downloaded app in Q1 2016 and also became one of 2015's top-earning apps (outside of games) in France according to our 2015 Retrospective.
The app monetizes its audience through monthly subscriptions and the option to purchase the digital daily edition. Apart from Le Monde, four other influential newspapers apps in France — Le Figaro, L'Express, Le Parisien and Le Point — also offer subscriptions via in-app purchases. The success of French media on the iOS App Store has prevented news aggregator apps from reaching the top charts in this country, as none appeared in the top 20 most-downloaded News apps in France.
News Apps in Germany: German Publishers Monopolize News on iOS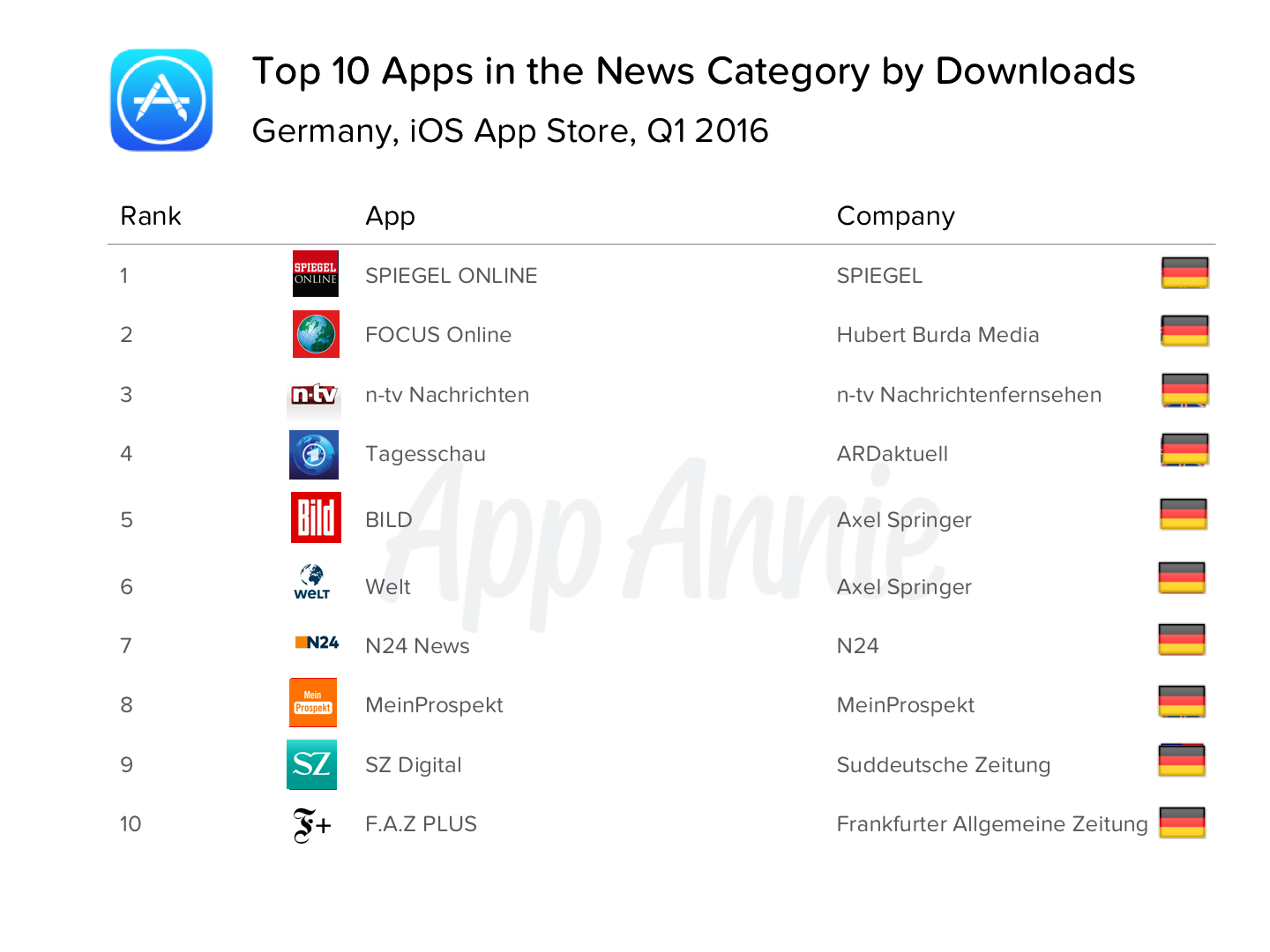 In Germany, all of the top 10 most-downloaded apps in the News category on iOS in Q1 2016 came from German publishers, including some apps from TV networks (n-tv Nachrichten and Tagesschau). Germany's top-downloaded app was Spiegel Online from Der Spiegel, a German weekly news magazine. The company offers a paid subscription via the Der Spiegel app, where users can purchase the digital version of the weekly issue.
Competitors like Bild, Welt, Süddeutsche Zeitung and FAZ also monetize through in-app purchases by letting users subscribe to their daily, weekly, monthly or annual editions.
A Panoramic View of Europe: National News Companies Own the Rankings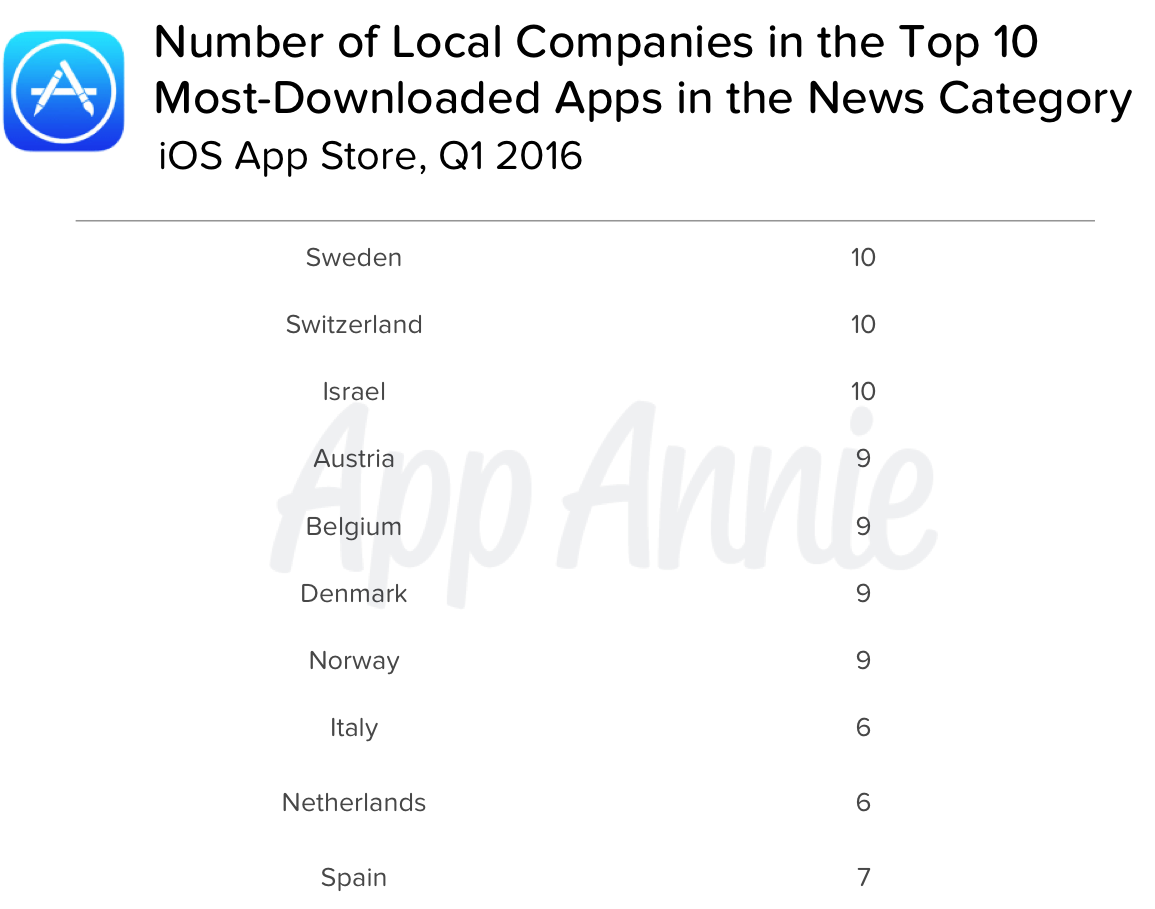 Local companies accounting for most of the top rankings in the News app category is true for many other European countries (and likely other regions as well, thanks to factors like brand recognition). While locally developed apps from Europe might not have high representation in the global rankings, News apps in Europe can seize this hunger for regionally relevant content. So far, Europeans have avoided news aggregators such as Flipboard, LinkedIn Pulse and Google News & Weather — presumably because of the strong brands national news companies have in their local markets.
Now, the challenge for local news companies is to find the best way to monetize their mobile audience. As monetization opportunities expand, there are many in-app monetization models apps can implement, such as purchasing daily editions, monthly or yearly subscriptions, or ad-free services. But as for which publisher will top the rankings in 2016 and beyond — it's anyone's game.
The Technology Behind the Insights
The information contained in this post uses data from App Annie Intelligence, the leading market data solution for the app store economy. To see how you can use this data to generate your own insights and guide your critical business decisions, request a demo.