App Annie's newest report highlights major shifts in the financial landscape, driven by mobile-first innovators.
Rise of Challenger Banks
Neobanks, also known as challenger banks, are financial technology companies that offer specialized software and features that traditional brick-and-mortar banks have not been able to match. These include a range of features such as removing monthly or overdraft fees, incorporating reward programs geared towards freelancers, adding the ability to receive paychecks early, layering in tools to help build credit, and even providing educational components.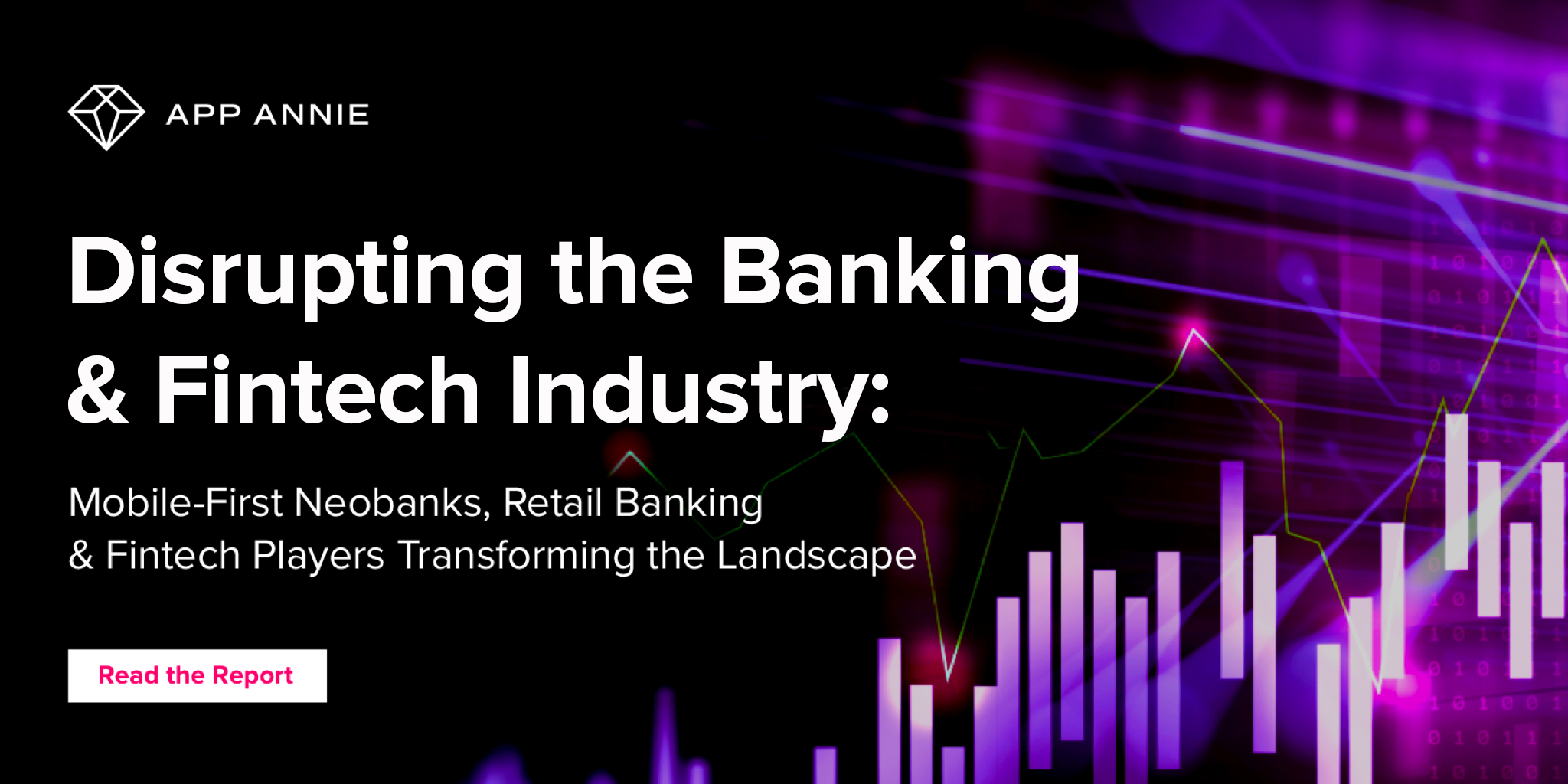 In our latest report, we break down the major fintech trends you need to know to win on mobile.
From Q4 2020 to Q3 2021, Neobank app downloads worldwide exceeded 264 million. Brazil and LATAM is an especially ripe region for growth in neobanks. During that period, Brazil saw the largest share of its overall finance downloads come from Neobanks at 25%, primarily thanks to Nubank. Nubank offers a range of features including a no-fee digital account, no-fee credit cards, rewards and loans and has become the #1 most downloaded Neobank in Brazil since Q2 2021 and the 9th most downloaded finance app in the world in Q3 2021.
Reaching a New Generation: Neobanks for Teens
One subcategory of Neobanks that is quickly gaining traction is Neobanks geared towards young adults. From Q4 2020 to Q3 2021, 29% of Neobank downloads came from those geared towards teens in the United States, with Current - Debit Card for Teens being the most popular. In the EMEA region, goHenry is the most popular Neobank for teens app in the United Kingdom and PixPay topped the charts in France. In Russia, Tinkoff Jr saw a 92% increase in downloads over the past year ending in Q3 2021. These apps share a common theme of helping young adults learn about saving, investing, and building credit. They not only help teens set up good financial habits for the future, but also give parents financial control over their child's spending. As Neobanks continue to tailor their products towards a new generation of consumers, young adults may be more willing to try Neobanks as they may not have existing loyalty to traditional banks yet. Understanding their needs and tailoring apps that speak to what they care about is key to unlocking the newest customer base. The increasing popularity of Neobanks for teens over the past year shows just that.
While traditional banks have continued to fare well over the past year, challenger banks such as Chime, Lili for freelancers, and Greenlight for teens have continued to chip away at the brick-and-mortar bank's dominance as Gen Z — and the world — increasingly embrace mobile and look towards apps with customized features that fit their needs from the device they always have on them: their smartphones.
Dive Deeper in Our Latest Mobile Finance Report
For more detail on the mobile fintech and banking landscape, read our latest report covering:
The trends driving

consumer demand for finance apps 

How

neobanks are challenging traditional players

and changing the game 

What

cryptocurrency apps

are favored by consumers in

16 key markets 

Where

buy now pay later apps are gaining popularity

and which top the charts 

And more!