As MWC closes its doors, App Annie reviews the most important stories for the app economy.
From the Samsung Galaxy S9 to HMD Global's updated Nokia 8810 (a.k.a. the banana phone) hardware has dominated the headlines surrounding 2018's Mobile World Congress (MWC).
However, while the announced hardware updates are interesting, we haven't seen the same leaps in performance that drove excitement in previous years. Largely this is because handsets in general have become more powerful, capable and feature rich — giving them a longer shelf life. There's less excitement, and less incentive to upgrade, when existing phones are still more than good enough.
However, despite a subdued reaction to MWC from the tech press, a number of clear themes emerged in this year's announcements. We think they tell an interesting story about how mobile will evolve over the coming years.
Android Go Will Accelerate Growth in Emerging Markets
Announced at Google I/O last year, Android Go is an official adaptation of Android Oreo designed for phones with 1gb or less of memory. It offers 'lite' versions of key apps that will run well on lower spec hardware, use less bandwidth overall, and take up less storage space on phones.
MWC 2018 brought us a number of new affordable devices running Android Go, for example the Nokia 1, the ZTE Tempo Go and the Alcatel 1X — all due for release over the next few months and priced around the $100 mark.
However, the impact of Android Go will really be felt in emerging markets, which has the potential to significantly impact the worldwide mobile landscape. As noted in our review of 2017, these markets are driving app download growth globally.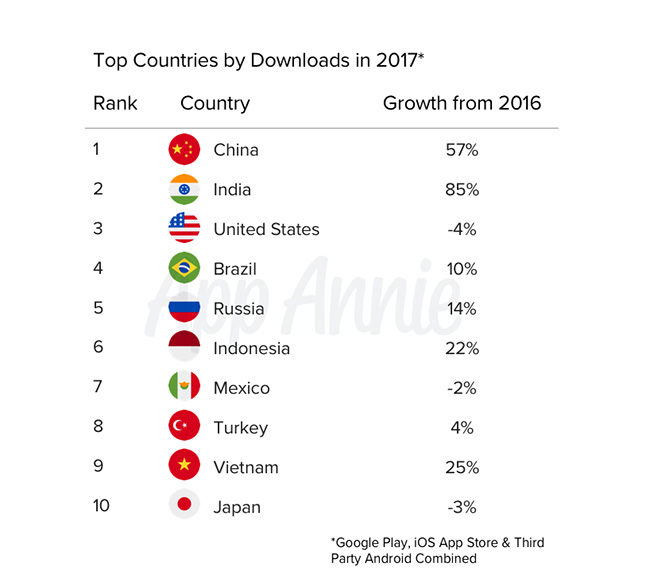 Most of the top countries by downloads are to some extent emerging. They are in, or have recently experienced, a rapid download growth phase driven by both a growing demand for smartphones, and new consumers' experimentation with apps. As smartphone penetration continues to grow, and these markets mature, we expect them to follow markets like Japan and the US into a period of rapidly growing engagement and mobile spend.
In countries where large portions of the population do not yet own smartphones, having a cost-efficient alternative that still provides a quality mobile experience can be a key stepping stone. YouTube, Facebook and LinkedIn have all have light versions of apps that are optimized to meet consumer needs in regions where data plans and infrastructure are not as far along as more mature markets. When even the download size of an app can be a barrier to first use, it may be that the affordable, high performance devices enabled by Android Go will accelerate this transition toward increased mobile usage.
In fact, at this year's MWC a number of manufacturers showed off Android Go devices specifically targeted at emerging markets. For example:
India, having seen a vast spike in app use following the launch of subsidised data packages in September 2016, will soon see the release of the Lava Z50 and Micromax Bharat Go devices.
General Mobile will soon release the GM8 Go in Turkey.
Transsion, under its mobile brands TECNO,itel, Infinix and Spice, is releasing models focused on Africa — a mobile first market with huge potential.
Thanks to Android Go, we may see the amazing opportunities offered by these vast markets grow even faster than expected.
5G Is Finally Here
This year's MWC saw a number of key announcements surrounding the rollout of 5G — the next big update in mobile connectivity. Ericsson declared 5G open for business, announcing it's working with 38 partners globally to bring about trials and commercial deployment of 5G. They expect a few to land in 2018 with even more following in 2019 and 2020. Similarly, T-Mobile plans to launch 5G in 30 US cities this year.
This continues a recent flurry of 5G announcements, such as those from AT&T and Verizon, South Korea Telecom (SKT), China Mobile, Ofcom in the UK, and Three in Ireland.
5G technology promises to bring low latency and gigabit speeds, and the obvious implications are better, faster connections for smartphone users. This would, for example, allow for better performance in online games or faster, higher quality streaming of music and video content. However, 5G is more essential than that. Our demand for mobile data is growing significantly every year: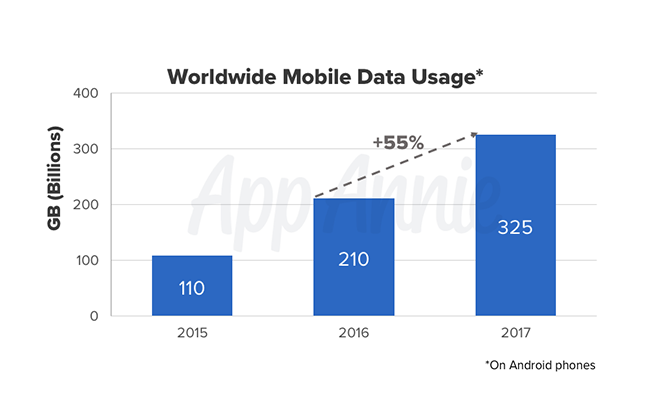 In addition, our growing need for mobile data is likely to accelerate. There are expected to be 20 billion connected devices by 2020, up from 8 billion in 2017, and increasingly we're seeing the emergence of high bandwidth technologies such as AR & VR, connected cars, and a wide variety of industrial uses.
More than just a bonus feature, 5G will eventually be a necessity for consumers, businesses and carriers.
However, these announcements need to be approached carefully as there are some key factors that will limit the rate of 5G adoption — at least within the consumer market.
Firstly, 5G compatible smartphone hardware isn't available yet. Huawei only announced its first 5G chip at MWC, Qualcomm doesn't expect 5G phones to hit the market until at least 2019, and AT&T and Verizon are even planning to launch 5G supported WiFi hotspots next year — filling the gap until 5G enabled devices are more widespread.
The second limiting factor is consumer adoption. As with many new technologies, and as with Gs 1 through 4, 5G will initially be a niche service. It will take time for market penetration to grow. Ericsson expects there to be 1 billion 5G subscribers by 2023, a huge number, but this will still only represent just over 10% of all mobile subscriptions.
So while 5G is an extremely exciting development, it's going to take time to have a significant impact on the app economy. Still, we're one big step closer to 5G enabled flying drone taxis.
Augmented Reality Continues to Move Towards Wider Adoption
While not technically an announcement from MWC, over the last few days Google also announced it's bringing its augmented reality system, ARCore, out of beta. Previously only available on Pixel phones, ARCore is now available across a number of modern Android devices.
ARCore is a platform developers can use to harness device sensors in order to create Augmented Reality (AR) experiences. In conjunction with Apple's ARKit, Facebook's AR Studio, as well as similar products from Chinese giants Alibaba, Baidu and Tencent, developers interested in AR now have a strong foundation to build on.
However, contrary to expectations, we still haven't seen the AR boom many predicted. The US saw about 1m downloads of apps related to AR, on iPhones, in October 2017. To put this in context, there were about 450M downloads in total, on iPhones alone, in the US that same month.
While an exciting technology, developers are still trying to figure out compelling AR experiences that also make sense ergonomically (holding your phone to your eye for a long stretch can be uncomfortable). While Pokémon GO's release in 2016 popularized AR, and Niantic's pending release of a Harry Potter AR mobile game is likely to build on their success, we have yet to see that kind of large-scale success more widely.
AR as a whole is very early in its majority cycle, but MWC 2018 suggests it may be starting to find its feet. There were a number of interesting announcements which could significantly improve adoption this year.
Ghostbusters World was announced, which may set off the kind of impact we saw around Pokémon GO.
Oath announced AR ad formats that will allow many companies to see how the technology can be used to promote their brands.
Samsung used AR in its MWC Galaxy S9 hands on events, and brought its own spin to animated emojis.
We expect AR technology to become increasingly prevalent, and increasingly useful, over the coming years, and MWC 2018 was an important milestone. However, it's not quite there yet.
To hear more of App Annie's insights into the mobile app economy, check out our free 2017 App Market Retrospective report — the industry's largest and most trusted analysis of the state of the app economy. If you're interested in looking into some of the data behind the app market yourself, sign up for our free product here and get started today.