Which terms were people typing into app store search boxes in 2021? The answers are gold dust for mobile marketers. data.ai has captured the most searched terms of 2021.
data.ai's State of Mobile 2022 report contains the top 10 keywords across 11 app categories and 15 countries. Want to peer into the collective mind of the world's mobile users? There's only one place to look – the App Store search box. 
Whatever the public is interested in, it's all The Quick ASO Checklist to Increase App Downloads there in the keywords they enter every day. And this makes the search box of great interest to mobile marketers.
 Yes, you can spend money acquiring new customers – and this is an art in itself. But understanding and acting on keyword trends can get your product in front of these users for free.
The Importance of Keywords and App Store Optimization
Keyword strategy is therefore the start point of App Store Optimization (ASO) and it's never been more important. 
After all, there are approximately 5.4 million apps live on the app stores today (1.8 million on iOS and 3.6 million on Google Play). Across both stores, nearly 170,000 new apps and games were launched each month in 2021.
Apple's deprecation of IDFA in 2021 made it harder for marketers to measure and attribute the impact of paid advertising campaigns. Despite this, we didn't see a slow down in mobile ad spend. In fact, we saw 23% growth year over year in 2021 to reach $295 billion. Even without granular ad measurement, demand is high for reaching mobile users. 
Optimizing your app for organic discoverability starts with keywords. Your keyword strategy should be fluid and continuous. It should take into account competitor and cultural changes. And it should be cognizant of the different requirements of Google Play and the iOS App Store.
With all that in mind, it can be helpful to start with the global picture. In data.ai's State of Mobile 2022 report, we have listed the year's top keywords across 11 app categories and 15 countries. The results offer a baseline for keyword planning in your target market and category.
Entertainment: Global Brands Squeeze Out Local Players for Search Traffic
The Entertainment chart reveals domination by global mega brands across the landscape. Branded keywords, "Google", "YouTube", "Netflix" and "TikTok" comprised the top 4 in virtually all of the 15 countries. It's only lower down that more local flavors emerge. For example, "hotstar" and "mx player" at #4 and #5 in the Indian chart, "Exxen" at #6 in Turkey and "UOL" and "Globoplay" at #5 and #6 in Brazil.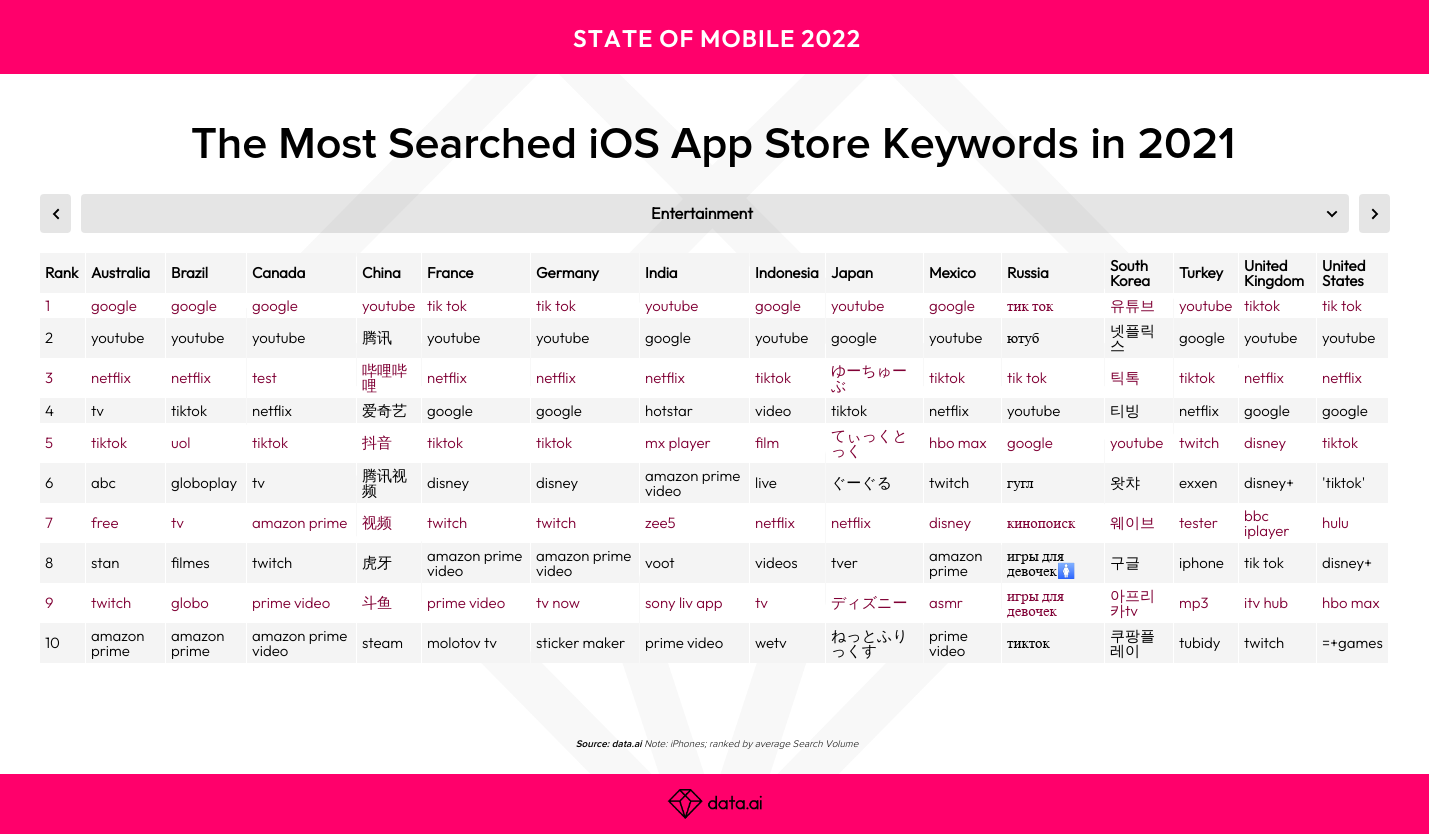 The other notable presence is "Disney+". The streaming app only launched in limited regions in 2020, but is now firmly established in the keyword chart. It appears at #5 in Germany, France and the UK.
Finance: Payment Apps and Crypto Figure Heavily in Search Terms
In other app categories regional differences are much more evident. Take Finance. Here, the only app that users in all countries search for is PayPal. Otherwise, the chart is dominated by local terms – especially those related to challenger bank apps.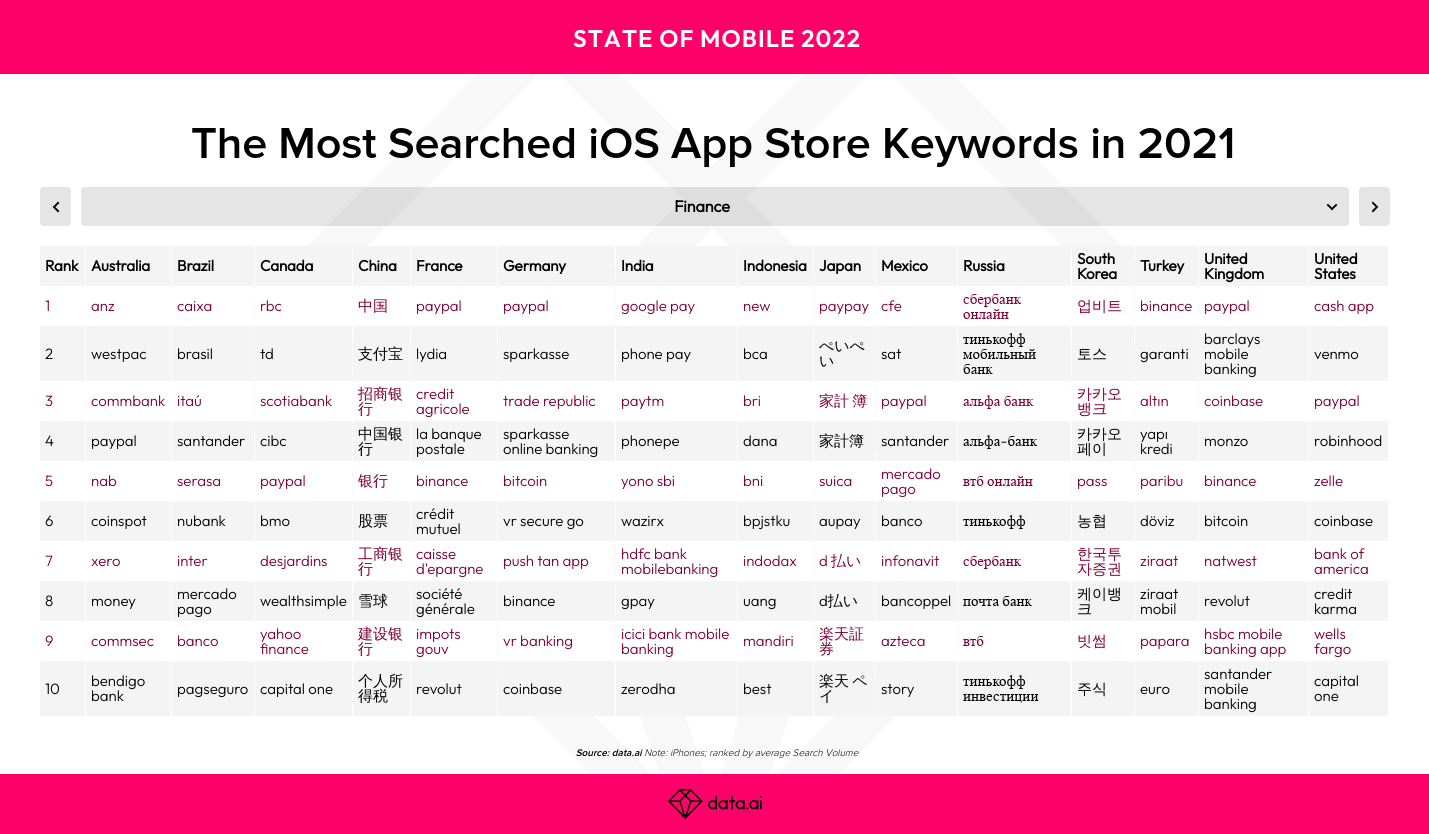 It also reveals interesting nuances in terms of product type. The US, for example, has developed a strong market for P2P payment apps (i.e. apps that make it easy to push small sums to friends). This was started by Venmo — the branded term "venmo" appears at #2 on the chart, but the list is topped by interest in Block's Cash App. And another – "zelle" – appears at #5.
An equally notable trend is the enduring interest in crypto. For example, the cryptocurrency exchange branded keyword "binance" appears in the French, German and UK charts and is at #1 in Turkey.
Health & Fitness: The Curious Popularity of ASMR
Another fascinating keyword chart is Health & Fitness. This area is especially diverse and dynamic, reflecting the fast-changing interests of the public: mindfulness, personal fitness tracking, feminine health, among others.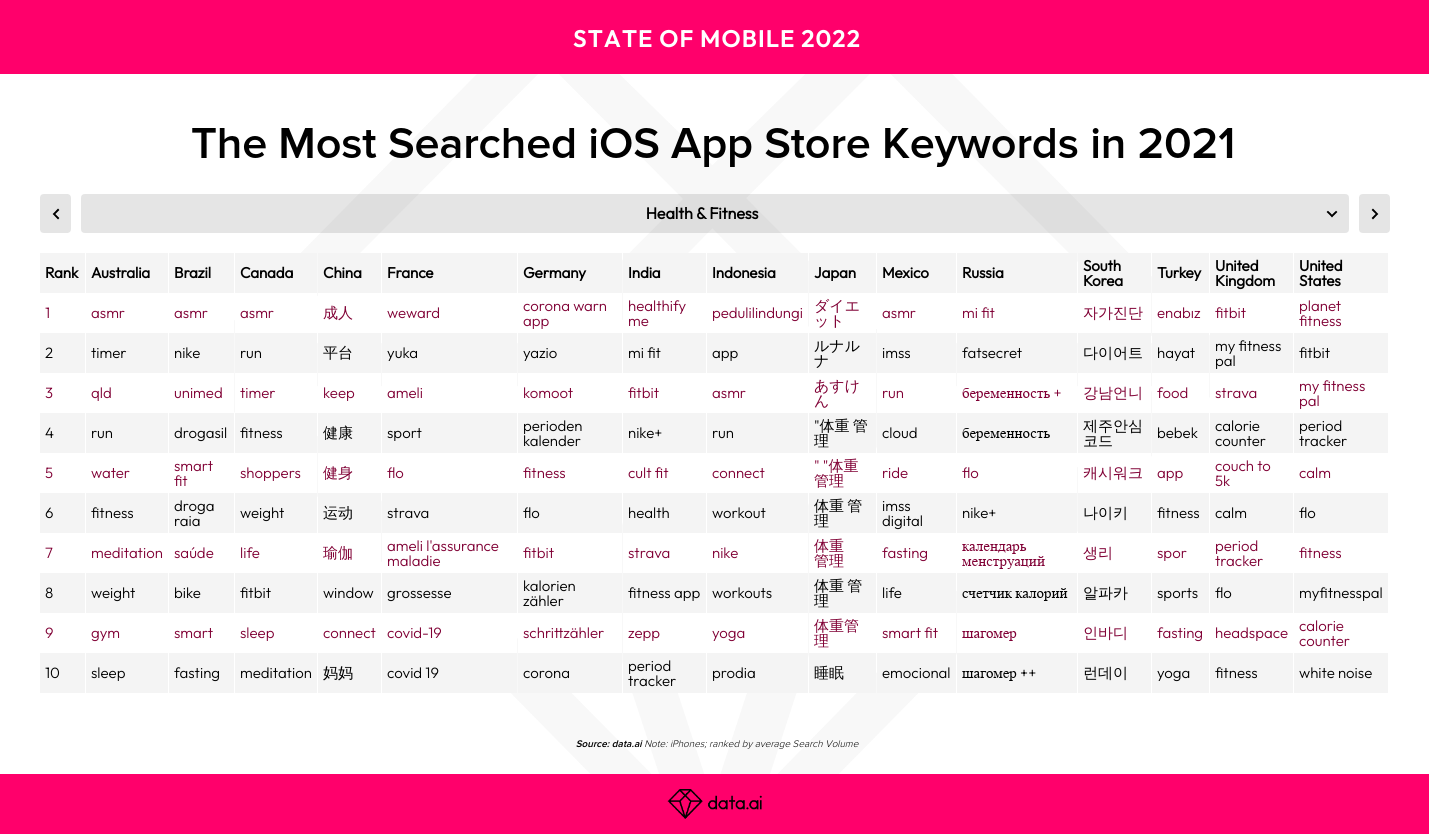 But perhaps the most surprising takeaway is the appearance of "asmr" as the top keyword in Australia, Brazil, Canada and Mexico. ASMR (autonomous sensory meridian response) describes a tingling sensation that is triggered by soft voices and sounds. It's a relatively newly talked-about phenomenon but has gathered a huge community around it. ASMR apps help users find video content or even generate their own.
Business: "Zoom" Tops the Charts for Search Traffic but Look Out for Demand for Scanning Apps
A glance at the top keywords in the Business category says a lot about the direction of the market after two years of COVID. Video conferencing and employee collaboration products have figured heavily in these listings since 2020. They still do. And it seems as if "zoom" is the 'winner' – it is still the #1 or #2 search term in 9 of 15 countries. "Teams" and "meet" are the other two most popular video conferencing terms, and it's worth noting they are both 'branded' keywords.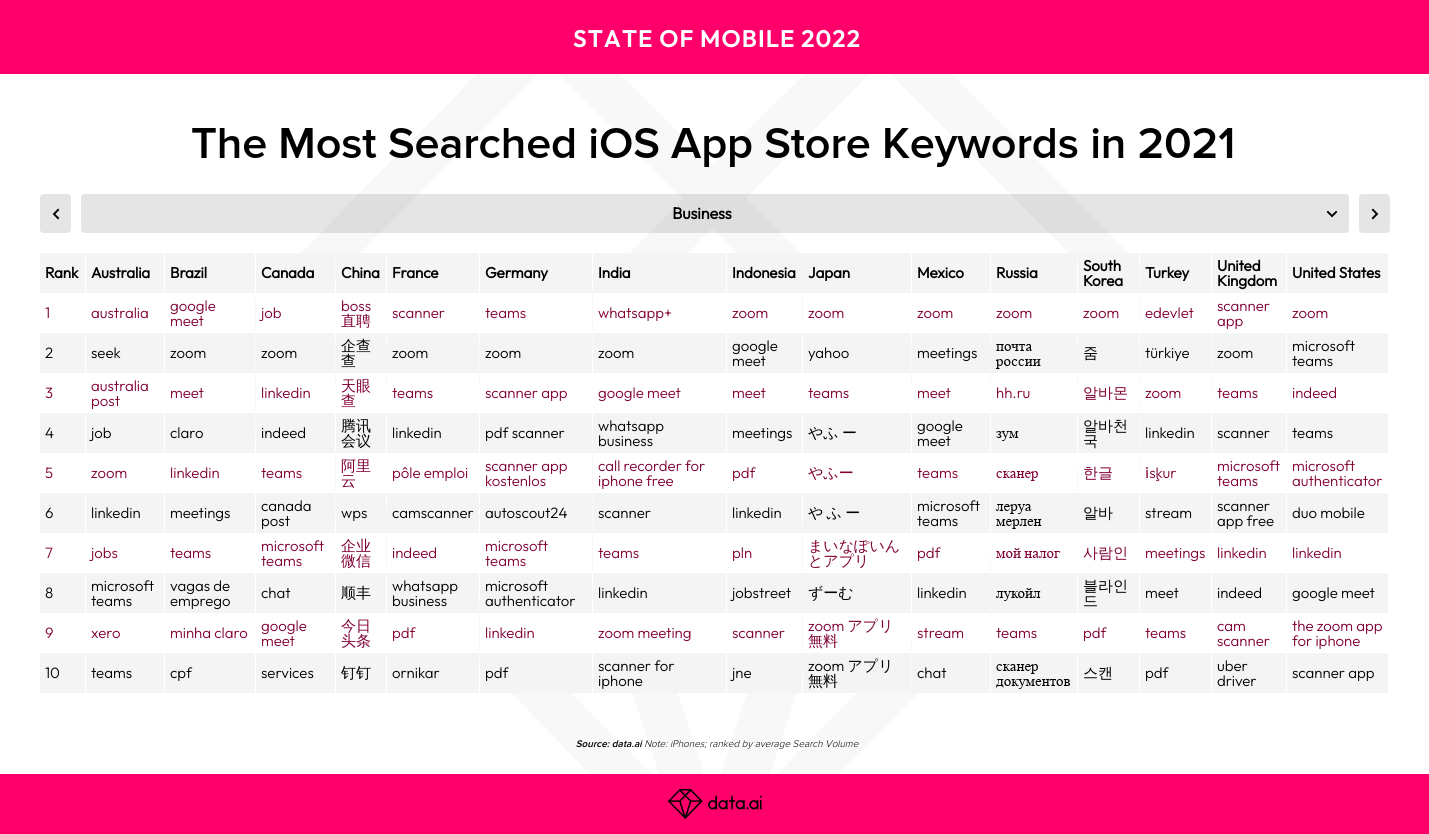 Also notable is the frequency of "scanner app" as a keyword search term. There is clearly a huge demand for apps that can scan tax documents, business cards, contracts and so on. And there are plenty of apps out there meeting this demand: Adobe Scan, CamScanner, SwiftScan, among others.
Looking for More Mobile Insights?
Sign up here to claim a copy of data.ai's industry-leading State of Mobile report:
Looking to make more of the mobile opportunity? Talk to an expert today.
DISCLAIMER: 
data.ai is a mobile market estimate service provider. data.ai is not registered in any investment advisory capacity in any jurisdiction globally, and does not offer any legal, financial, investment or business advice. Nothing contained in this communication, or in any data.ai products, services, communications, or other offerings, should be construed as an offer, recommendation, or solicitation to buy or sell any security or investment, or to make any investment decisions. Any reference to past or potential performance is not, and should not, be construed as a recommendation or as a guarantee of any specific outcome. You should always consult your own professional legal, financial, investment and business advisors. Additionally, by providing the information herein, data.ai does not make any representations or warranties and does not undertake any legal or contractual obligations whatsoever. No liability may accrue to data.ai as a result of providing this information to you.