Reviews of the top retail banking apps show where they're hitting the mark or falling short of user's expectations.
As 2016 came to a close, retail banking apps saw record levels of engagement. In November 2016, the top 10 retail banking apps by monthly active users (MAU) collectively garnered the highest average MAU they have ever seen.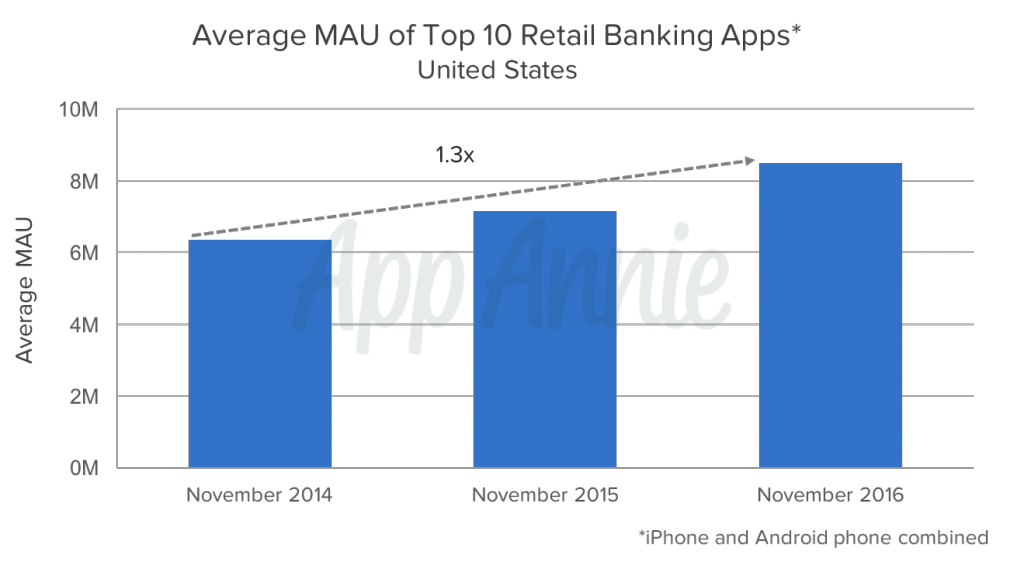 The average MAU of the top 10 retail banking apps in the US has increased 1.3x in November 2016 from November 2014.
However, in order to keep existing users and attract new ones, there is still room for improvement in the new year. As we identified in our retail banking report, the customer experience delivered by retail banks is becoming increasingly defined by their mobile apps. Some customers select or leave particular banks based on the quality of their mobile banking experience. A study by SNL Kagan reports that 57% of customers would consider changing banks based on the app experience. For many customers, the app is the sole touchpoint for a bank. The emergence of mobile-only banks is an indication that new companies are taking advantage of that. Retail banks should carefully evaluate their feature offering or fear being passed by fintech competitors.
App Annie recently sat down with Tom Dixon, Head of Citi Mobile in North America to get his thoughts on how app features help to make Citi Mobile one of the most successful retail banking apps in the United States. "We have moved a significant portion of our customers over to our mobile app by offering a steady stream of new features that our customers have asked us for," he said. "In a world that is increasingly digital by default and where consumers are using mobile as a standalone channel, Citi's strategy is increasingly 'mobile first' and we continue to see a surge in mobile usage, engagement and the NPS metrics. In fact, today, our mobile app logins surpass browser logins."
"...today, our mobile app logins surpass browser logins." Tom Dixon, Head of Citi Mobile in North America
The Most Successful Retail Banking Features in Q4 2016
We took a look at the ratings and reviews for the top 10 retail banking apps by MAU in Q4 2016 to assess the strongest performing features across the board. Users cited simple account access and management as the #1 most frequently praised feature in favorable reviews (i.e., four- or five-star reviews). As smartphones become further integrated into our lives, having always-on access to information that is vital to our daily lives is no longer a nice to have, it is a must have.
The second most successful feature at the close of 2016 was overall user interface (UI) and user experience (UX) design. While not a standalone banking feature itself, if users find features difficult to access or don't enjoy using them, it can degrade the overall app experience.
For Citi Mobile, user experience is not just a feature but a strategic loyalty technique. In our talk with Tom Dixon he mentioned, "We have run several targeted marketing campaigns to promote the ease and simplicity of the app. We haven't rewarded users per se over and above offering a user experience that we hope will meet and surpass their expectations and instill loyalty and usage in the long run." Given that the app achieved a 4.7 / 5 overall on iOS in the US in Q4 2016, prioritizing the user experience for Citi Mobile's users appears to have paid off.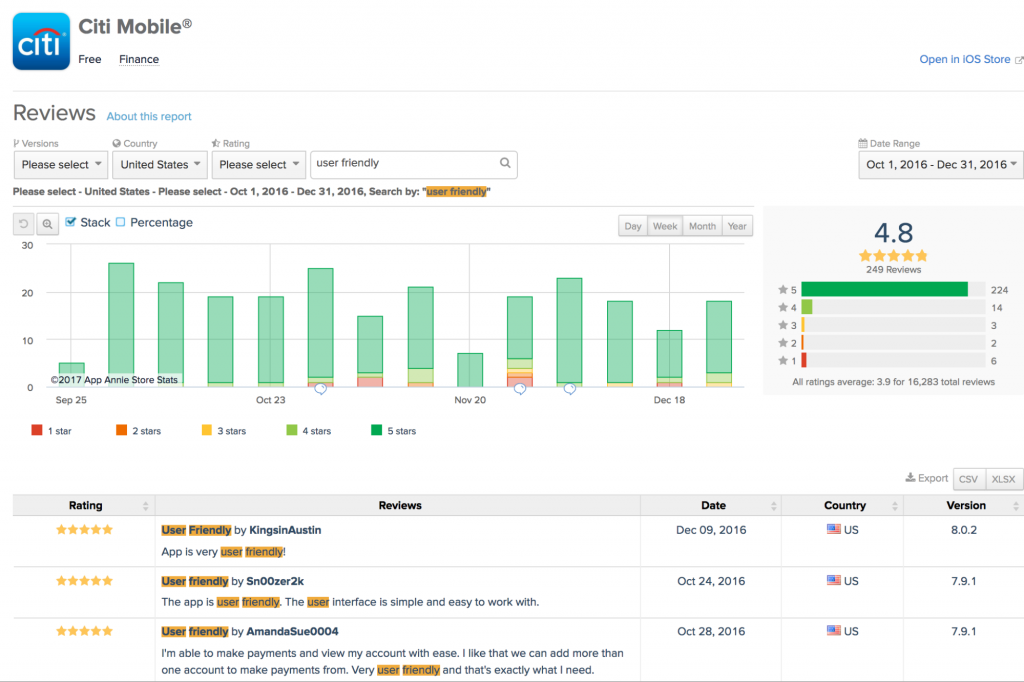 Citi Mobile's iOS users speak positively about the app's user experience, rating the app at a 4.8 in reviews mentioning "user friendly" during Q4 2016.
The Most Desired Features in Retail Banking Apps in 2017
While retail banks appear to be nailing the interface, the reliability for many apps tends to fall short with users. The critical reviews (i.e., one- or two-star reviews) of the top 10 retail banking apps by MAU in Q4 2016 reveal that the most frequent feature complaint is the reliability of the app, including updates, crashes and errors. During a time when smartphones are incorporated in nearly all aspects of life, an error-prone app experience can be the deciding factor for an uninstall. Retail banking apps are not only measured against other banks and fintech apps, but against apps that users trust, such as tech giants Facebook, Snapchat and Google Chrome. Since banks handle a user's most sensitive information, trust is paramount to success. An error-free app experience should be prioritized  for retail banking apps across the board, or else they risk leaving the opportunity for a more technically savvy fintech to resolve these frustrations.   
Second to the app reliability, users report mobile deposits as the feature most in need of attention. Mobile check deposit is largely considered a staple feature among retail banking apps, dating back to as early as 2010 in the case of Chase Mobile. However, in Q4 2016 it is still one of the most prominent features noted in the critical reviews. While most retail banks do include this feature, users state that it is simply not working or is error-prone. Retail banks should focus on nailing the basic features in the new year in order to maintain the growth in MAU.
As retail banks refocus on their mobile success in the new year, we encourage them to spend time listening to what their users want. Reading reviews to understand the problematic functions of features as well as to see what features are delighting competitors' customers can inform a plan to regain trust with users. For the top retail banking apps, reliability and mobile deposits should be the top priorities in 2017. Without strategic changes based on what users want, retail banks could leave a void for fintech disruptors to fill. We look forward to see how retail banking apps adapt in the new year.
Download our report to discover best practices used by retail banking apps:
Notes:
Retail banking and Fintech banking service apps were identified by App Annie from the finance category on the iOS App Store and Google Play.
Retail banking apps were identified as coming from organizations that are designated as commercial banks that are the primary provider of banking services. This includes apps from banks with no physical branches, or apps that only offer a single service type. It does not include apps that consolidates banking services offered by other companies.
Fintech banking services were identified as coming from organizations that are not classified as banks, but offer at least one specialist retail banking service to consumers.
The monthly active user figures in this report are based on estimates available through App Annie Intelligence.
App Annie Intelligence is currently available for the iOS App Store and Google Play. It does not currently provide estimates for other app stores, such as the Amazon Appstore. While iOS and Google Play represent a significant portion of the app market in many countries, that is not the case for some countries. For example, China has a number of sizable third-party Android app stores.
App Annie Intelligence data for smartphones and tablets were derived from mobile usage data collected from a large sample of real-world users, combined with additional proprietary data sets.
App Annie tracks usage at the device level using a privacy-protective hashed device ID. Data is only reported to third parties in aggregated format.
Push notifications are not considered active usage and, as a result, do not count towards estimates of users.
Certain trademarks and/or images used in this report may belong to third parties and are the property of their respective owners. App Annie claims no rights to such trademarks or images.