Retail apps saw record numbers of time spent in 2018, and mobile was critical to driving growth and enhancing the customer experience in physical stores in 2019.
This week thousands of retailers, investors, marketers and more descend upon Las Vegas for Shoptalk 2019 — a leading conference on all things retail and innovation. Some of the sessions at Shoptalk include: Engaging Customers through Next Generation Mobile Experiences, Omnichannel and the Seamless Physical and Digital Organization, and Overview of Retail and E-commerce in China. Clearly, mobile is top of mind for retailers in 2019.
That's for good reason. Our 2019 State of Mobile Report found that global time spent in shopping apps grew to 18 billion hours in 2018, up 45% from 2016, including a 70% increase in the US. Worldwide there were 65% more mobile sessions than there were in 2016. And this trend is only going to increase: By 2021, more than 75% of ecommerce transactions will be through mobile. Our data also illustrates that the more consumers spend time in an app, the more they will spend in that app (see chart below). The conclusion is simple: apps drive tangible bottomline revenue growth.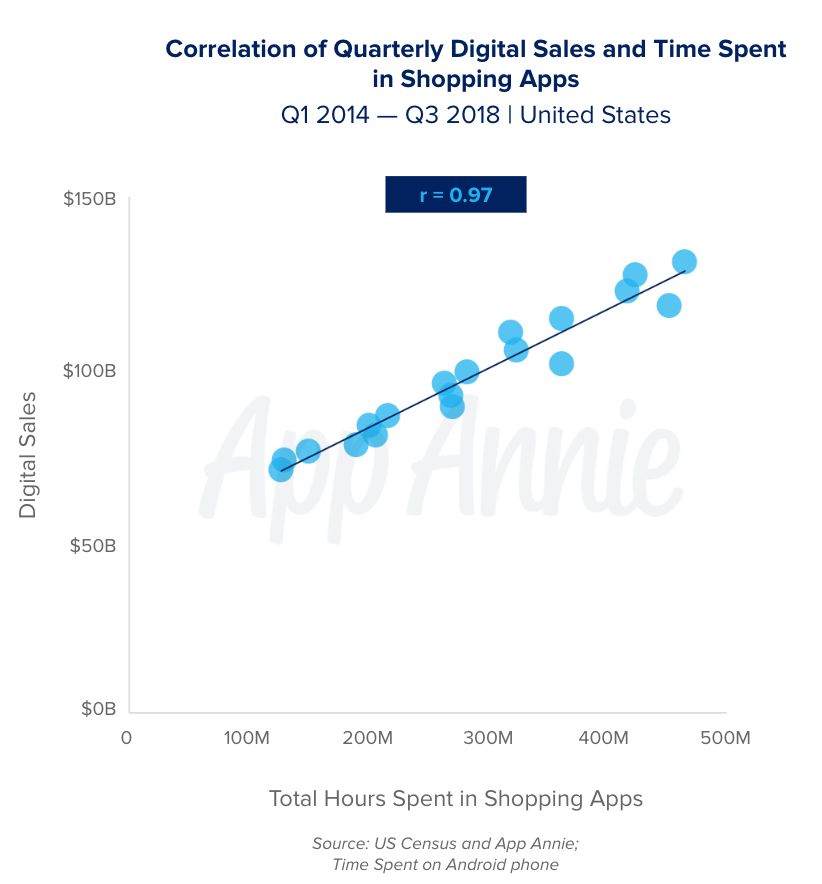 Companies are driving growth on mobile in a number of ways: increasing store efficiencies and streamlining checkout times, creating special flash sales or days, or in the case of Burger King, even using geotagging to engage with customers who are near a McDonald's. Retailers are innovating in just about every imaginable way to attract and retain customers.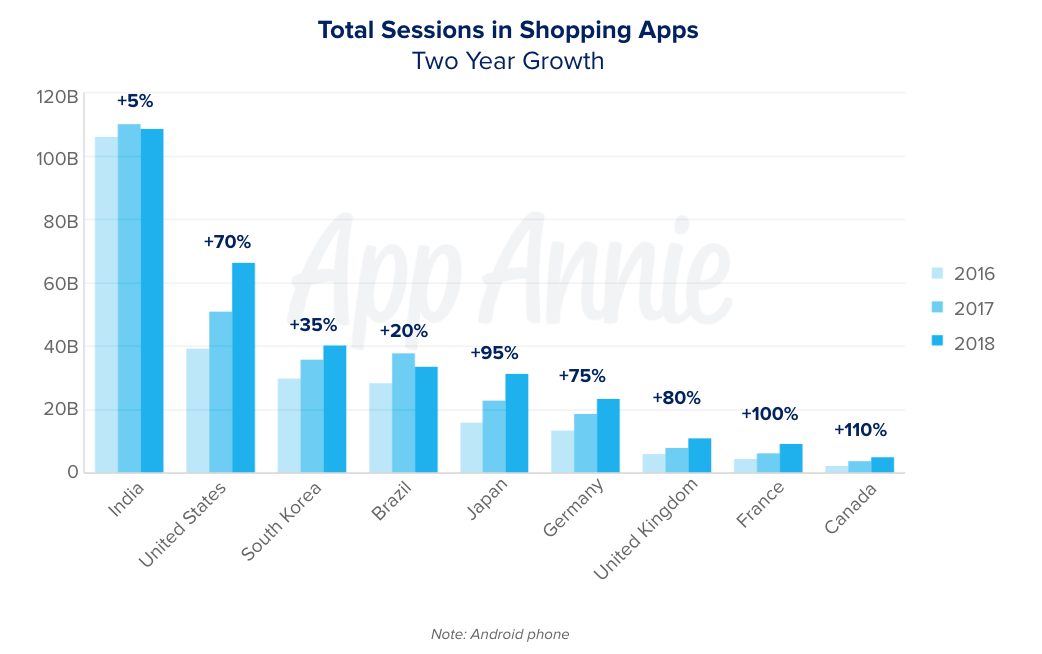 Let's take a closer look at one of the most fruitful initiatives: company flash sales. Historically, Hallmark has played a role in driving the growth of holidays like Mother's Day and Valentines Day to increase card sales. The contemporary online equivalent are events like Alibaba's Singles' Day and Amazon's Prime Day, which both focus heavily on mobile — and it's definitely a cause for celebration for these e-commerce behemoths: Singles' Day brought in $30.8 billion in revenue, while Prime Day saw 100 million products purchased. Other companies are also taking note and trying to get in on the action: Travel Day Tuesday gained traction in 2018, as airlines and hotels offered discounts in order to generate lift after Thanksgiving.
Another pressing topic for retailers is bridging the physical and digital retail worlds. In the US, digital-first retailers like Amazon and Alibaba still hold a decisive advantage over bricks-and-clicks retailers, or those stores with both a physical store and e-commerce offerings. Globally, Digital-First retailers saw 1.5 to 3x more average sessions per user than apps from Bricks-and-Clicks. But that gap is closing.
Many companies are leveraging mobile to drive customers to and enhancing their experience at physical locations. In 2018, Walmart and Target incorporated store maps into their mobile apps, improving the customer experience and optimizing store efficiency. Lowe's got in on the trend of Augmented Reality, letting customers use their app to envision products in their home space, or even test drive a chainsaw in Virtual Reality. Nike revamped its app to empower customers to reserve products through the app and pickup in store, as well as check out instantly and skip lines. Though digital-first retailers still experience more engagement through mobile, the advantage for physical stores is personal: Revel, a POS systems provider, found customers are 5x more likely to develop loyalty to a brand through an in-person shopping experience than an online one. This is likely a major contributing factor in why Amazon has opened several physical bookstores and acquired Whole Foods. Mobile is vital to driving consumers to these in store experiences and enhancing that experience while consumers are there.
The companies that win in 2019 will be the ones that are able to innovate and drive revenue both online and in physical stores, and mobile is the conduit for this success. Those two worlds were far apart in the past, but mobile is the channel that's shrinking this gap.
To uncover more on the state of mobile for retail in 2019, download our latest report: