Mobile helped enable digital-first and brick-and-mortar retailers to increase engagement and sales in 2019.
Next week was supposed to mark the Shoptalk 2020 Conference, a leading retail conference. But due to COVID-19 concerns, that conference has been postponed. 
Like so many other industries, the Coronavirus has upended retail. On one hand, some of the household goods stockpiling has helped retailers such as Walmart and Target. On the other hand, it disrupted global supply chains, decreased tourist spending and pedestrian traffic. The overall impact in 2020 has yet to play out, but interest in mobile shopping apps has increased as consumers remain indoors amidst shelter in place policies. The week of March 8th, 2020 downloads of Shopping apps in the US increased 10% from the weekly average of January and February — the result of consumers turning to mobile for grocery delivery and supply stockpiling.   
But 2020 also marks the start of a new decade. If you look at the big picture and beyond the Coronavirus, it should still be a lucrative decade ahead for retail — in large part thanks to the growth of mobile.
In 2019, Mobile Powers Range of Retailers
Today, virtually all retailers leverage the power of mobile. Brick-and-mortar stores can no longer afford to have their physical front door as their only storefront — they have to have a mobile storefront as well. 
And that mobile storefront is paying off: for example, Bricks-and-Clicks apps saw strong gains in total sessions year over year, often outpacing digital-first apps in their respective markets — which is a notable change from past years. The prioritization of mobile has led to increased time spent in shopping apps. Many retailers not only grew their user bases but also increased mobile engagement in 2019. Downloads of global Shopping apps grew 20% from 2018 to 2019, with 5.4 billion last year.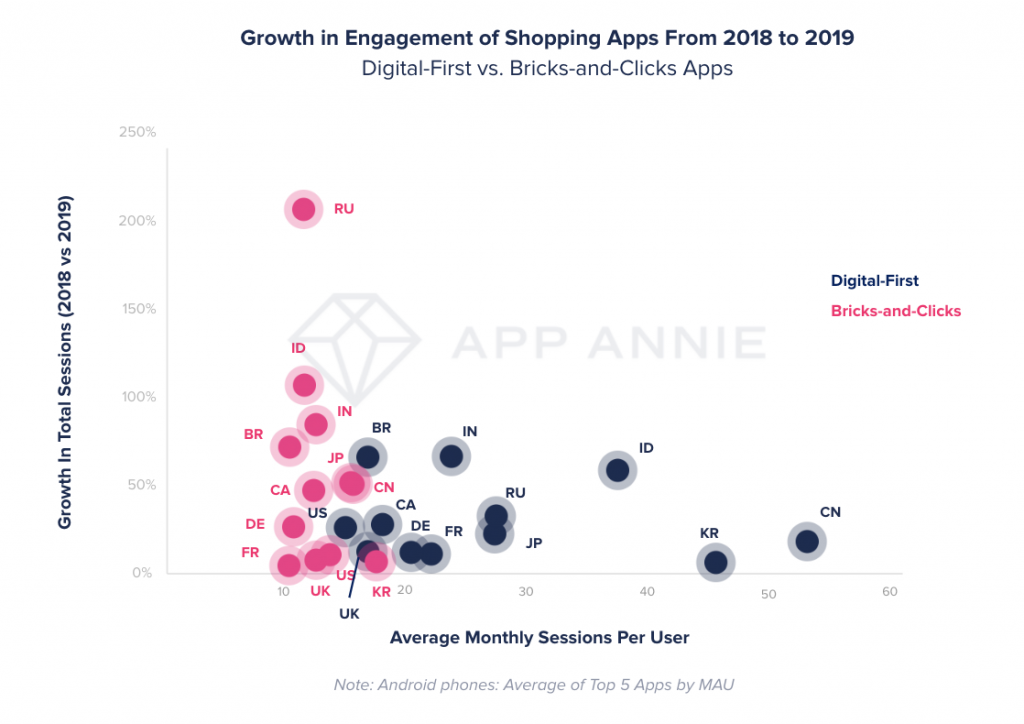 Retailers are also investing more time in mobile as companies strived to streamline usability, personalization, and services on their mobile platform in 2019. Nike, for example, leveraged their app to enhance the in-store experience, including product reservation and foot scanning technology to give shoppers an accurate shoe size. The result was 42% growth in their digital experience in Q3 2019.
Mobile Fuels Worldwide Spending
The rise in downloads, time spent on mobile retail apps, and engagement led to record worldwide sales. 
$38.4 billion was spent globally in 24 hours on Alibaba's Singles Day 2019 -- with the lion's share coming by way of mobile. On Black Friday and Cyber Monday and the two weeks following, consumers spent more than 2.5 billion hours in shopping apps on Android phones, which was up 40% year over year. From November 1 to December 2, 2019, $33.1 billion was spent on mobile in the US alone, representing 40% of all online sales. 
Businesses Enhance Mobile Experience to Drive Loyalty and Sales
It is clear that many businesses felt the importance of mobile on their bottom line. But increasingly mobile platforms are delivering an omni-channel experience that's vital to attracting, fostering loyalty, and retaining customers.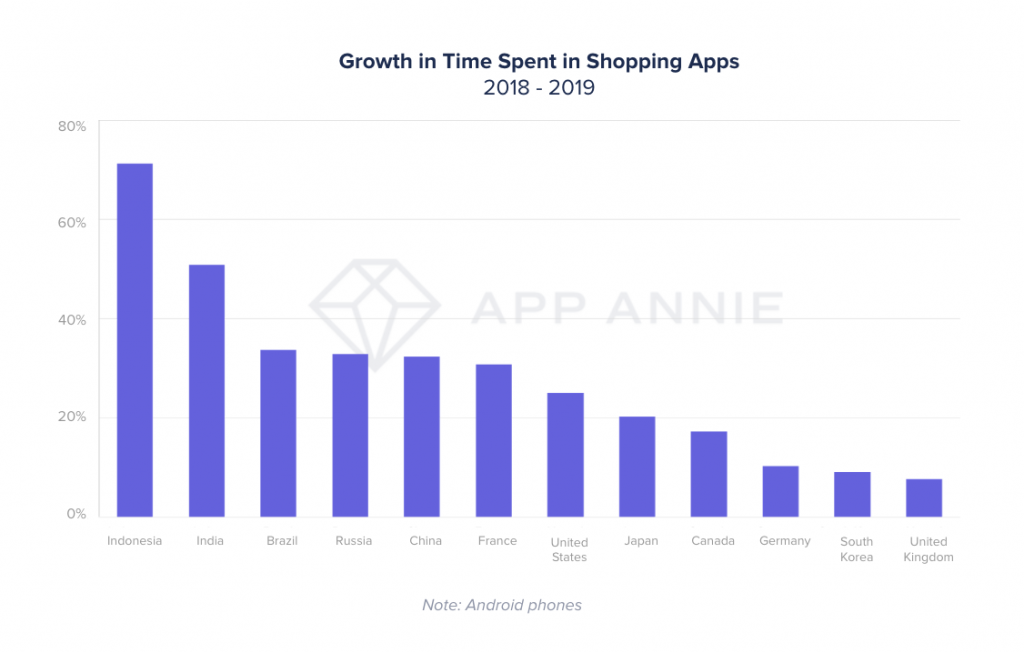 Many companies are looking to drive engagement and loyalty through mobile. It's vital for companies to provide value through their mobile experience, such as being able to track packages, inform research and facilitate in-store pickup. In fact, we saw a strong correlation (r-value of 0.94) between overall sales (in-store and online) and time spent in retail apps, indicating that retailers' investment in enhancing mobile experiences is paying dividends.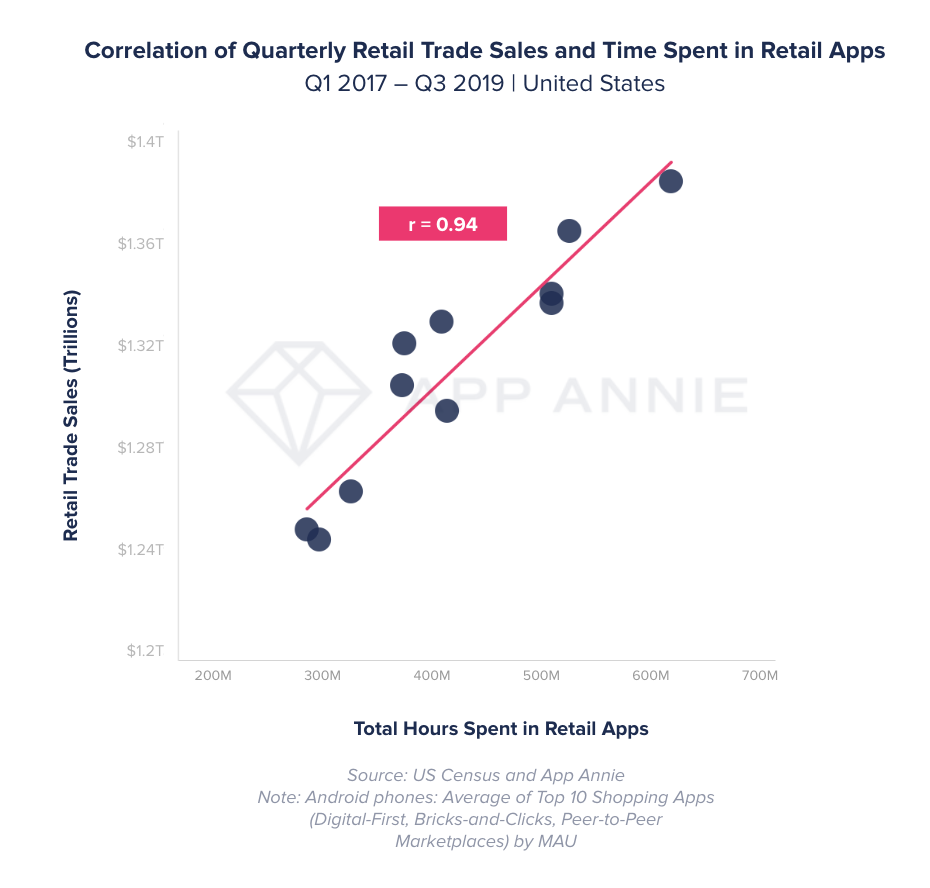 Mobile should continue to be a digital and physical connection for retailers. Many will turn to App Annie to enhance their mobile presence in 2020 and beyond.
---
"As a mobile app, it is critical for us to understand the extent to which users are engaging with the app, and how our growth over time compares to other solutions. App Annie provides in-depth data on app usage that helps us to get to the core of what sets us apart from other shopping apps."

— Adam Sand, CEO at Shopkick
---
Ready to transform your mobile strategy?