Mobile retail scales new heights in 2020 as COVID closes physical stores. Consumers also begin experimenting with next-gen smartphone shopping habits: social commerce and livestream shopping.
London's Oxford Circus is one of the most famous shopping destinations in the world. And located right on top of it is fashion retailer Topshop. The iconic store has been there since 1994. But just days ago, Topshop was bought by online-only retailer Asos. With consumers shifting their shopping habits to digital, this also comes with a shift in items purchased — one example is that bright colors do well online compared to neutrals and black in-stores. 
It's become a cliche to talk about how 2020 accelerated consumers towards a new (digital) normal. But this was never more true than in retail. In our State of Mobile 2021 report, we showcase how 2020 came to be the biggest mobile shopping year to date. Global time spent in shopping apps (outside of China) grew 45% year over year. For some countries – newer to the m-commerce habit – the spikes were even higher. Russia grew 50%, Mexico 65%, Indonesia 85%.
The biggest week for mobile retail came towards the end of 2020. From November 8 to November 15 consumers worldwide spent an incredible 2.3 billion hours in mobile shopping apps on Android phones — during the notable 11.11 Singles Day Shopping festival.
New Players and Incumbents Race to Dominate the New Shopping Landscape
Clearly, consumers are switching their spending from physical shops to smartphone apps. According to eMarketer, US consumers spent $709.78 billion on ecommerce in 2020 (up 18.0%) while spending $4.184 trillion on bricks-and-mortar retail shopping (down 14.0%). In some verticals, the switch was even more marked. eMarketer predicted a 32.4% uplift for digital personal care and beauty spending, and a 58.5% boost for digital food/beverage sales.
This mass migration to smartphone shopping made retail apps some of the biggest winners of the year in mobile. SHEIN was a prime example. China's e-fashion brand spent 2020 scaling its operation globally. The State of Mobile 2021 report revealed how successful it was. Time spent in its app grew 170% in Mexico, 440% in Australia, 490% in the UK, 530% in France, 550% in Canada and 5525% in Brazil. The company expected sales to hit $10 billion in 2020.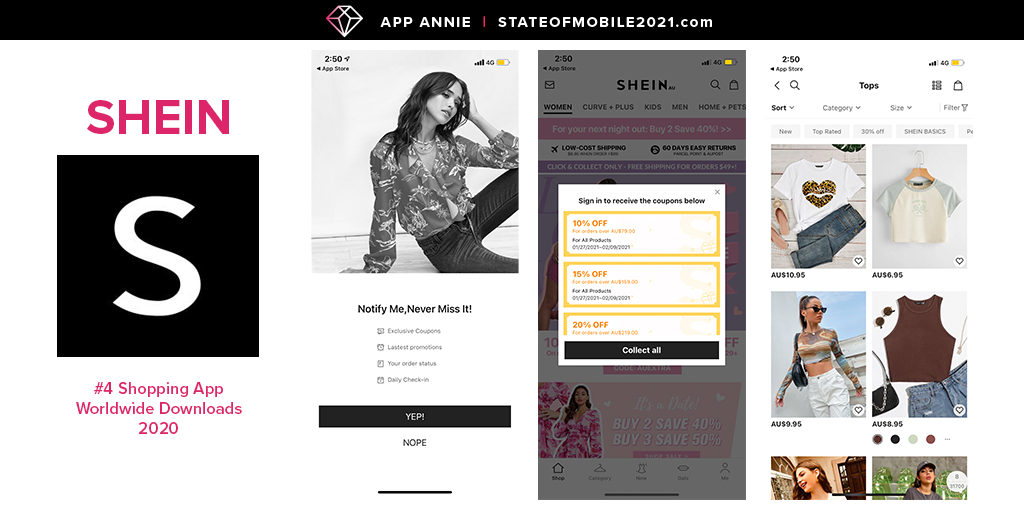 As a mobile-native retailer, SHEIN leverages 'influencer' style product placements in images, and allows for outfit 'likes' — slotting into existing mobile-first behavior found in social apps like Instagram. SHEIN also has a community aspect with shoppers submitting user-generated content — a great way for users to see products in real life as well as cultivate a stronger relationship associated with the brand. SHEIN takes user-generated content a step further even including polls, a shrewd move that could allow for product testing, fuel the recommendation engine and drive deeper engagement — mirroring tactics leveraged by fashion influencers on Instagram in 'stories'. These features are also powerful draw cards to register for SHEIN — alongside coupons and delivery deals. 
---
Incorporating mobile-first gestures like this is a standout way to slot into existing habits from mobile-first users like Gen Z. This is one of the main reasons publishers should look beyond their immediate group of competitors for emerging mobile trends and industry best practices. The "Instagramification" of a Shopping app is a powerful way to meet the moment and cultivate stickiness with shoppers. Instead of a Social app adding shoppable elements, this is an example of a Shopping app incorporating trending social engagement.
---
However, pureplay digital shopping companies such as SHEIN (and also other stellar performers such as Shoppee, MercadoLibre, Instacart) didn't have the market to themselves. It's worth noting that brick and mortar retailers Walmart and Target were #2 and #4 respectively in terms of growth in time spent in retail apps in the US. Other notable successes were Woolworths (#2 in Australia), ZARA (#5 in Argentina) and Lidl Plus (#3 in Germany).
After Many False Dawns, Social Commerce Starts to Deliver in 2020
Our research also revealed the emergence of new trends in mobile retail. Two stand out: social commerce and live shopping. The big social networks have been experimenting with adding 'buy buttons' to their operations for years. It makes sense given how much time is spent in these apps, and the rise of influencers. In 2020, shoppable buttons began to gain traction. 
Pinterest is at the forefront of the trend. Since introducing buyable 'pins' in 2015, it has steadily built out its merchant support. In our State of Mobile 2021 report, we reveal Pinterest grew its global downloads by 50% over 12 months. Meanwhile, Instagram, also on a similar social commerce push, saw downloads rise by 20%. With consumers flocking for inspiration, Pinterest reported 76% growth in Q4 2020 revenue — an indication of the growing demand for experiences beyond social networking — including inspiration, how-tos and shopping.
Buy It Now: Livestream Commerce Spreads Out From China to New Markets
Live shopping had a similarly impressive 2020. The activity is like QVC for mobile. Brands and influencers pitch products in a live broadcast, and viewers click to buy in real-time. Live shopping, like so many other mobile phenomena, began in China. Indeed, we saw downloads of China's top app in the space, TaoBao Live, double its annual downloads from 3.9 million to 7.87 million in 2020.
But the category is now taking off elsewhere. Familiar brands such as Amazon, YouTube and Facebook have all launched live shopping offerings. But they have competition from venture capital-backed startups such as NTWRK and Grip, whose apps were downloaded 690,000 times in the US and 895,000 times in South Korea, respectively, in 2020.
While outside of China, the industry is still in its early stages, we believe social commerce and live shopping will continue to show impressive growth — representing a $2 trillion market globally by 2024.
This analysis of the retail app market is drawn from App Annie's State of Mobile 2021 report. For more insights on the industry as a whole and other app categories, sign up for the full report:
DISCLAIMER
App Annie is a mobile market estimate service provider. App Annie is not registered in any investment advisory capacity in any jurisdiction globally, and does not offer any legal, financial, investment or business advice. Nothing contained in this communication, or in any App Annie products, services, communications, or other offerings, should be construed as an offer, recommendation, or solicitation to buy or sell any security or investment, or to make any investment decisions. Any reference to past or potential performance is not, and should not, be construed as a recommendation or as a guarantee of any specific outcome. You should always consult your own professional legal, financial, investment and business advisors.
Additionally, by providing the information herein, App Annie does not make any representations or warranties and does not undertake any legal or contractual obligations whatsoever. No liability may accrue to App Annie as a result of providing this information to you.