As mobile continues to grow, it's fundamentally changing the way we consume media, interact with others (including brands) and ultimately how we live our lives.
Change has come quickly. Ten years ago, before the release of the iPhone, it would have been hard to predict the extent to which mobile would change the consumer landscape. As a result, many slower-moving industries have yet to fully exploit its opportunities.
Using App Annie Intelligence, we have seen mobile become the first screen for consumers — the device the majority of the world's consumers prioritize above all other platforms — which means neglecting this channel will put you at a significant disadvantage.
App Usage Just Keeps Rising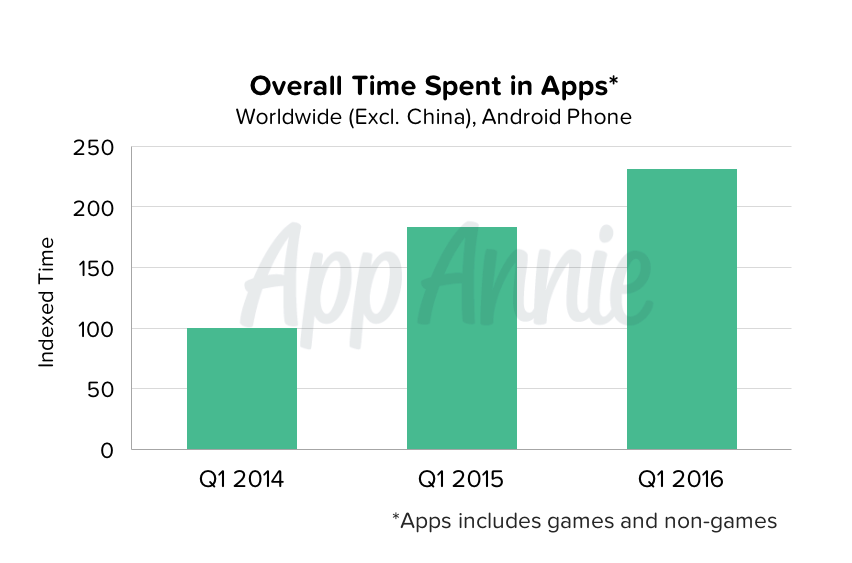 In the two years since Q1 2014, time spent in apps worldwide has more than doubled.
A growing install base of devices, particularly smartphones in emerging markets, is a major driver of this trend. However, even when we look at the average time individual users are spending in apps, we've seen growth of nearly 25% over the same time period. We are spending more of our lives in apps than ever before.

Interactions With Apps Are Getting Longer
As apps offer increasingly sophisticated features, the time we spend interacting with them is also going up. Between Q1 2014 and Q1 2016, we saw the worldwide average length of an app session on Android phones increase by approximately 35%. Longer, more complex app interactions are increasingly common (although the platform is still the ideal channel for quick or low-effort interactions), with consumers increasingly using their devices for accessing music and video content, shopping and even core gaming.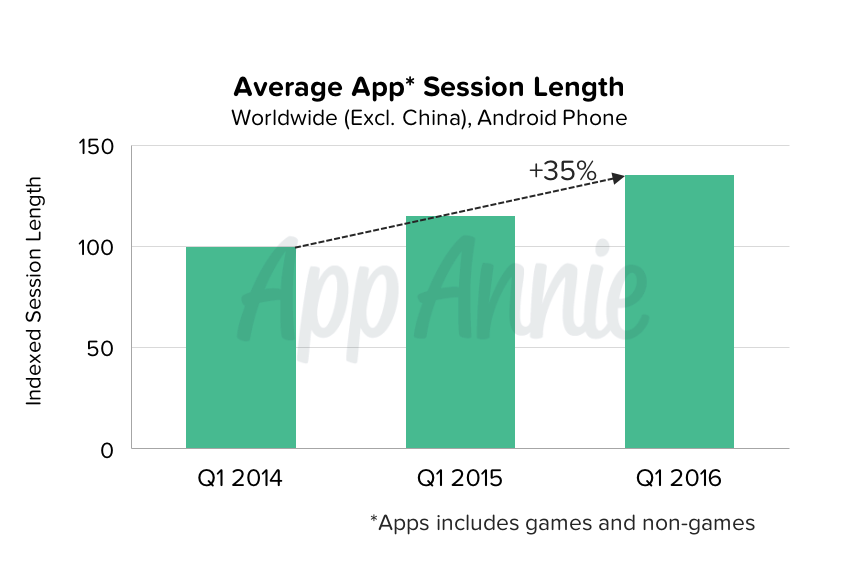 In fact, the growing sophistication and expanding feature set offered by many apps is allowing mobile to more than meet the needs of consumers, disrupting many traditional industries like search, television media, retail and more.
Mobile Use Is Replacing Traditional Platforms
Smartphones are now our first stop for a number of key activities — and this trend is taking place worldwide.
For example, mobile is now the preferred way to go online. According to Google, more searches happen through mobile than computers across key markets, and recent Ofcom data suggests that smartphones have overtaken laptops to become the UK's "most important" device for accessing the Internet.
Mobile is even gaining ground on the long-established TV industry. Digital is taking up a growing share of video consumption in the United States, largely driven by those watching via mobile.
In emerging markets traditional platforms aren't being replaced; these are fully mobile-first economies with mobile-centric consumers. We've previously noted that mobile is the primary device in key growth markets such as China, mobile-first companies are redefining retail in India and, as long-term infrastructure investments in mobile networks and Wi-Fi begin to pay off, we expect mobile use to continue to explode worldwide.
Globally, this means mobile has become the primary screen for consumers. We're at a tipping point in developed markets, and we've long since tipped in emerging markets. Older platforms and traditional channels are no longer powerhouses.
Mobile Brings Huge Opportunities, but Your Business Needs to Adapt
This growing mobile usage suggests mobile is now the best avenue for engaging consumers. Here are things you should consider to ensure you're making the most of it:
Mobile for Ads: It Isn't Just Big, It's Dominant
Some studies expect mobile ad revenue to overtake TV by 2020, and social giant Facebook recently noted that 82% of its ad revenue is coming from mobile platforms. Is your marketing strategy taking advantage of the exposure mobile advertising can bring?
Apps Drive Purchases
Users are increasingly turning to apps ahead of mobile browsers, and they are using these apps to make purchase decisions. In Q1 2016, over 90% of app users' time was spent in apps (and only 10% of their time was spent in the world's top 10 mobile browsers by monthly average users (MAU)).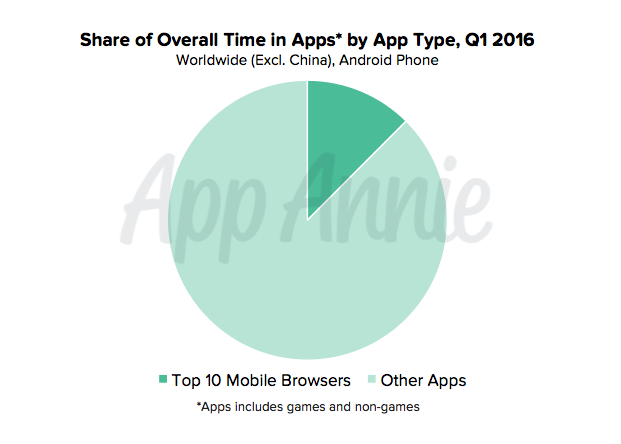 This preference for apps (rather than the mobile web) is also having an impact on retail behavior. In 2016, Google stated that 50% of app users turn to apps to make purchase decisions, 45% used apps to look for product information, and 29% made a purchase (either online or offline) having used an app for research. This was born out during Black Friday 2015, where online and mobile were the shopping channels of choice in the US. Based on interviews App Annie conducted with a number of Western retailers in late 2015, basket spend was greater in apps versus mobile browsers and, in some cases, even greater than desktop browser purchases.
Beyond the transactional benefits, many retailers are also using apps to enhance the retail experience and boost customer engagement and loyalty. Through enhanced personalization and targeted notifications (among many other techniques), not to mention the valuable consumer data generated, apps are key to providing the best customer experience possible.
Apps have a massive influence on our spending. Does your digital strategy account for this growing app-centricity?
Consumers Will Expect to Contact You Via Mobile
As consumers' use of messaging continues to grow, and as new tools such as chatbots and "click-to-message" ads become available, third-party messaging apps now have a place in a business's communication arsenal. In APAC, B2C communications via popular messaging apps (such as LINE and KakaoTalk) have been prevalent for a number of years, and Facebook has been clear about the importance they assign to messaging apps in Western markets. If you're looking to send the right message (at the right time and in the right place), consider that many consumers are turning to messaging apps over other, more traditional channels.
The Mobile-First Future Is Here
Consumers aren't going mobile — they've already gone mobile. Whether you're in a developed or emerging market, smartphones have become the first screen we turn to for accomplishing tasks and entertaining ourselves. Publishers and businesses that have embraced this are only just beginning to reap the benefits.
Finally, there is one last point to consider: Our demographic analysis shows stronger mobile-first behavior among younger users — indicating these mobile-first trends will only become more dominant as time goes on.
Start Building a Better App Business
Subscribe to see more app industry reports, conference updates and guides. Have something to add? Share your questions and comments on Twitter.
Want to take your app business to the next level? Create a free account to dive deeper into Store Stats or request an Intelligence demo.