Major banks are investing heavily in efforts to win mobile mindshare from fintech apps with large mobile audiences.
Mobile retail banking apps have become an increasingly prevalent part of consumer's everyday lives. According to our 2019 State of Mobile Report, users checked their mobile banking apps nearly daily last year. This represents a monumental change in consumer behavior. Prior to mobile, the average consumer wouldn't necessarily walk into a bank branch every day. Now, with mobile banking, users are in fact engaging with their banks on a daily basis.
That being said, retail banking apps have faced competition from mobile-savvy fintech competitors. In the United States, specifically, fintech apps Venmo, Credit Karma and Paypal had larger smartphone user bases than all retail banks outside of Chase Mobile in Q1 2019. With the average consumer spending nearly 3 hours a day on mobile, it is clear that mobile has become a critical battleground for success with consumers.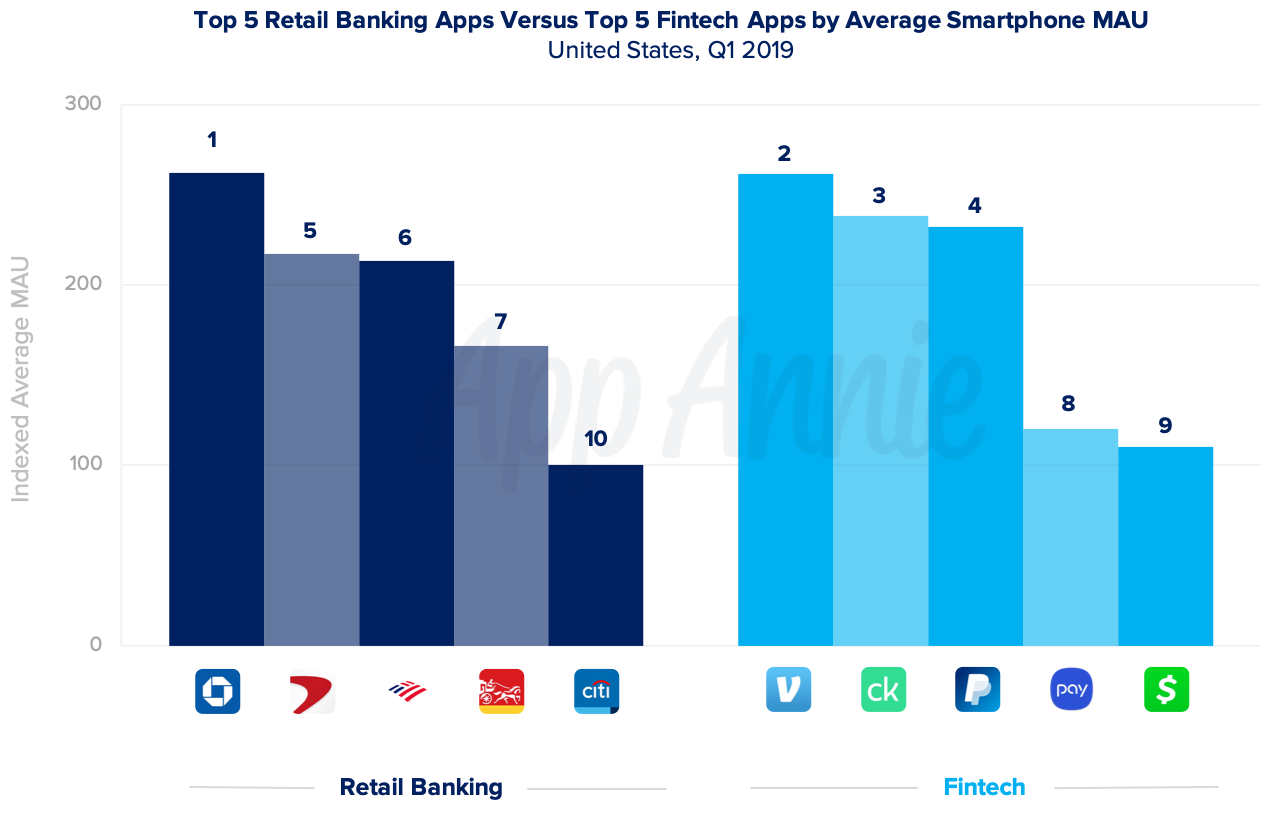 Retail banks are noticing this shift in the industry and prioritizing mobile over physical branches. For example, Bank of America recently announced an Apple Watch integration for its CashPro mobile app, Chase added an eGift card feature to its Chase Pay app and CitiGroup expanded its mobile offerings with the launch of new credit-card capabilities and enhancements to its rewards program resulting in $1 billion worth of additive digital deposits in Q1 2019 —  greater than all digital deposits in 2018 for the bank.
Fintech Apps Integrate into Users' Regular Habits
New user growth and increased sessions within top fintech apps indicate the stickiness of these services and their ability to become monthly, weekly — even daily — habits that slot into existing preferences like checking credit scores, managing budgets and shopping.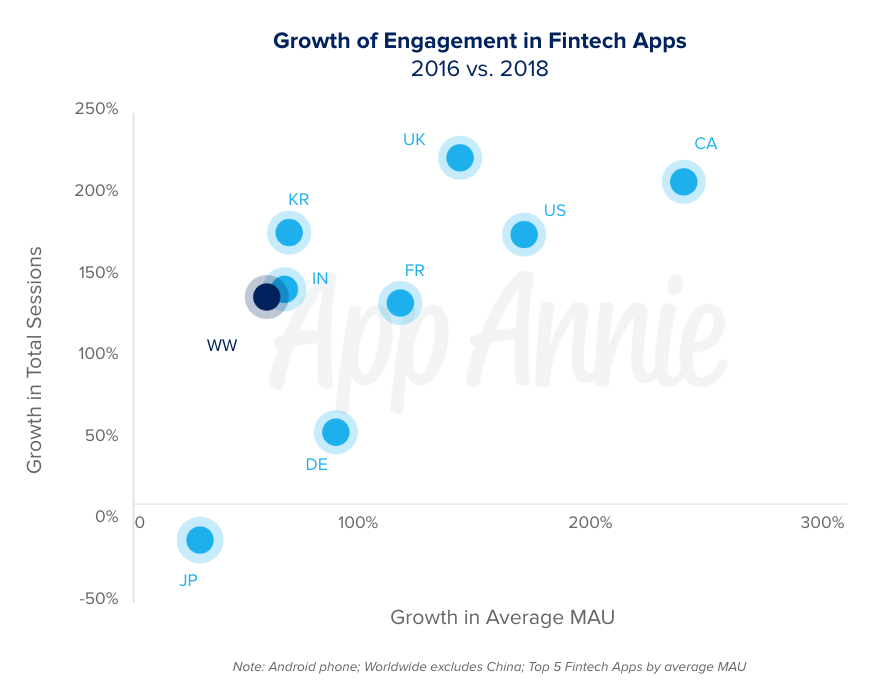 Last year marked a turning point for fintech apps, with many making a move into consumer banking, signaling an even larger threat to retail banks. Historically, digital or mobile-first fintech apps have been able to move quickly on consumer trends, and offered streamlined mobile app experiences to their users. In 2018, Venmo announced a debit card with a mobile app-only application process and has plans to unveil a credit card later this year. Zelle, retail banking's solution to Venmo, enables banking apps to have seamless peer-to-peer transfers in their apps powered by Zelle as well as in a standalone app. However, as of Q1 2019, Venmo had a larger user base than any other fintech or retail banking app in the US after Chase Mobile.
Tech Giants Vying for Role in Mobile Banking
As mobile payments become increasingly popular, tech companies are leveraging their expertise to help offer consumers more seamless payment options. Tim Cook recently announced Apple Pay is on track to reach 10 billion transactions before the end of the year with more businesses and public transportation systems accepting the solution as a form of payment in place of traditional credit cards. Apple also recently launched the addition of Apple Pay as a form of payment option for its main proprietary services including iCloud, iTunes, App Store and Apple Music — an effort aimed at boosting sign-ups. In its continued efforts to double down on services, Apple is also planning to unveil Apple Card later this summer which will provide more intuitive statements overlayed on Apple Maps to better understand spending, daily cashback on Apple products and no fees in addition to competitively low interest rates.
The Next Evolution of Retail Banking
Retail banks are shrinking their physical footprints to increase mobile engagements. For example, Chase reduced its branches by 2% last year and invested $10.8 billion for technology that resulted in 11% growth in active mobile customers. Investments in mobile are proving to be a win-win for traditional banking: a good mobile app creates more frequent touchpoints with a customer, while simultaneously reducing costs of staffing brick and mortar branches.
In efforts to keep pace with fintech upstarts and tech leaders, retail banking's digital investments are proving to be paying off. Total sessions in the top 5 US retail banking apps grew 70% in 2018 from 2016. However, total sessions in the top 5 US fintech apps grew even faster at 175% over the same period. Retail banks need to move quickly and prioritize the mobile experience to compete with mobile-savvy fintech companies in order to win mobile mindshare with consumers. The bottom line is: winning on mobile is non-negotiable for future growth.
For more on the State of Mobile in Banking and Finance in 2019, download our latest report:
This post is the latest in a Mobile Minute series that features App Annie's perspective on how mobile is impacting current events and consumer trends. Check in weekly for our take on the latest news cycles and how mobile transformation is shaping industries around the world.