Americans are set to spend over 20 million hours in Amazon's app during its fifth annual Prime Day event — providing a model for how retailers can utilize flash sales to drive increased engagement and loyalty.
Flash sales and shopping events provide retailers a unique opportunity to stand out among competitors at any time of the year. According to our 2019 State of Mobile Report, consumers spent 18 billion hours worldwide in shopping apps last year alone, up 45% from 2016. Not to mention, by 2021 mobile is expected to comprise nearly 75% of total e-commerce transactions. Given mobile is an influential channel for browsing and research, the increase in activity during these special events, can be highly influential in terms of establishing sustained lifts for increasing engagement and driving conversions year round.
Prime Day Set to Break Mobile Records in 2019
During Amazon's highly anticipated annual summer Prime Day event this year, American shoppers are set to spend more than 20 million hours in Amazon's Android phone apps alone, setting a new mobile record for the company. Last year, the 36-hour event is estimated to have seen over $4.2 billion in sales and also highlighted increased mobile engagement for the online retailer, a trend we expect to see continue this year.
Outside of its branded day, Amazon has seen strong success on mobile during Black Friday and Cyber Monday. In 2018, the company experienced a spike in daily active users of its app on Black Friday and Cyber Monday, followed by an overall sustained lift in the weeks following the event.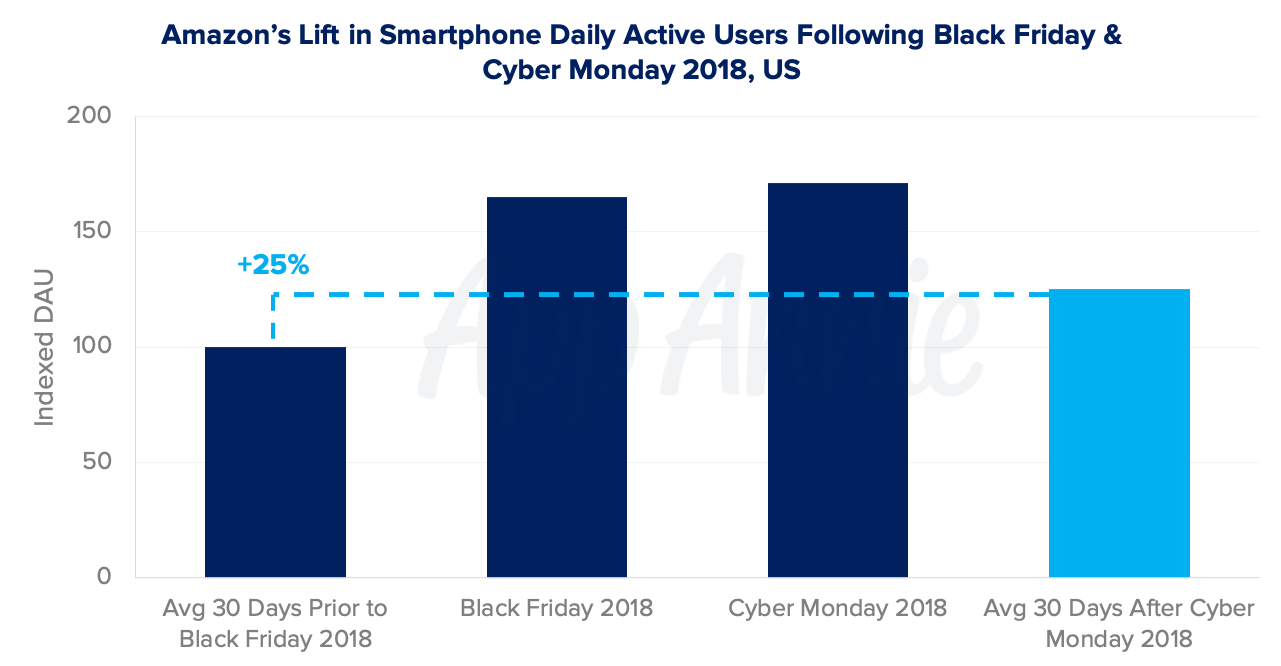 In the US, Amazon has seen peaks in usage on Prime Day and Black Friday/ Cyber Monday historically, with strong lifts in daily active users after 2018's Black Friday and Cyber Monday events.
Amazon's mobile performance during flash sales like Prime Day, Black Friday and Cyber Monday provides a model for how retailers can leverage mobile to drive conversions on the day and experience a sustained lift in engagement after the event.
Independent Retailers Follow Suit to Generate Buzz During Calmer Seasons
Retail days are becoming increasingly more popular among independent retailers to drum up new customer acquisition and sales around quieter shopping seasons.  Not to mention, they offer retailers a way to test concepts and new technology they may want to leverage during Black Friday or Cyber Monday flash sales, when the stakes are higher.
Wayfair recently hosted its second annual "Way Day" shopping event, where the company debuted a livestream product review feature for items on sale. Along with their mobile VR tool, this is an innovative way of removing some of the friction that comes from buying large furniture pieces without seeing them in person. This year the furniture retailer followed Amazon's lead and extended the event to 36 hours — allowing the company to outpace both sales and number of shoppers year over year. The retailer also reached new heights on mobile — ranking #7 in US iPhone daily downloads of Shopping apps during the sale (its highest ranking in 2019 to date), an indication of the demand for shopping from the comfort of your smartphone.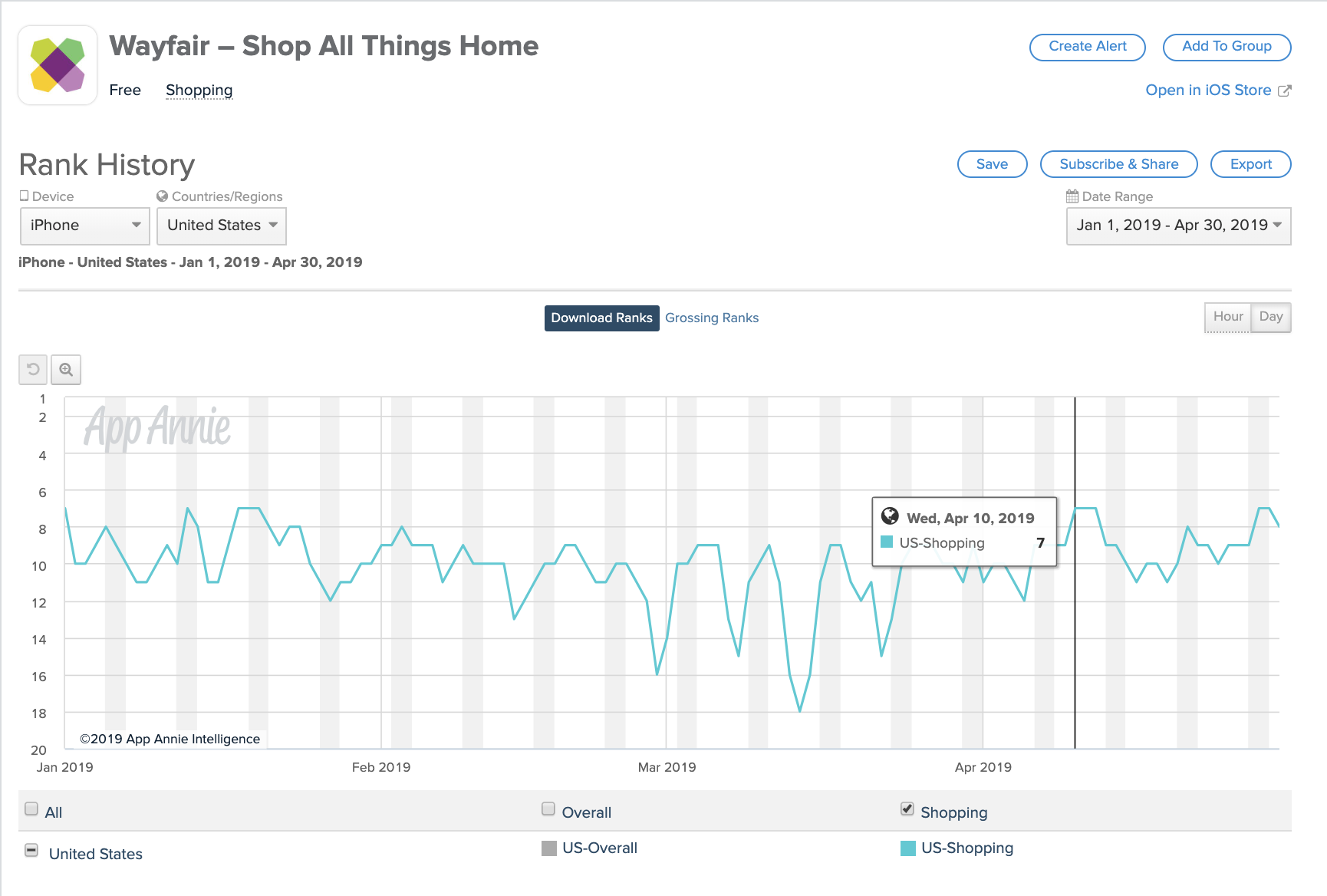 The lure of branded shopping days motivates shoppers to take immediate action or miss out on valuable deals. These "one time only" events paired with the increased access to consumers that mobile provides, can help retailers break through to new audiences and increase the likelihood of conversions by placing the best deals at customers' fingertips.
Alibaba's Singles Day Shattered Records and Poses Global Competition for Amazon
While Amazon's Prime Day has become increasingly successful year-over-year in terms of driving sales and increased engagement, Alibaba has also seen monumental success from its Singles Day event on November 11. In 2018, Alibaba's Singles Day became the most successful retail event with $30.8 billion in sales over a 24 hour period.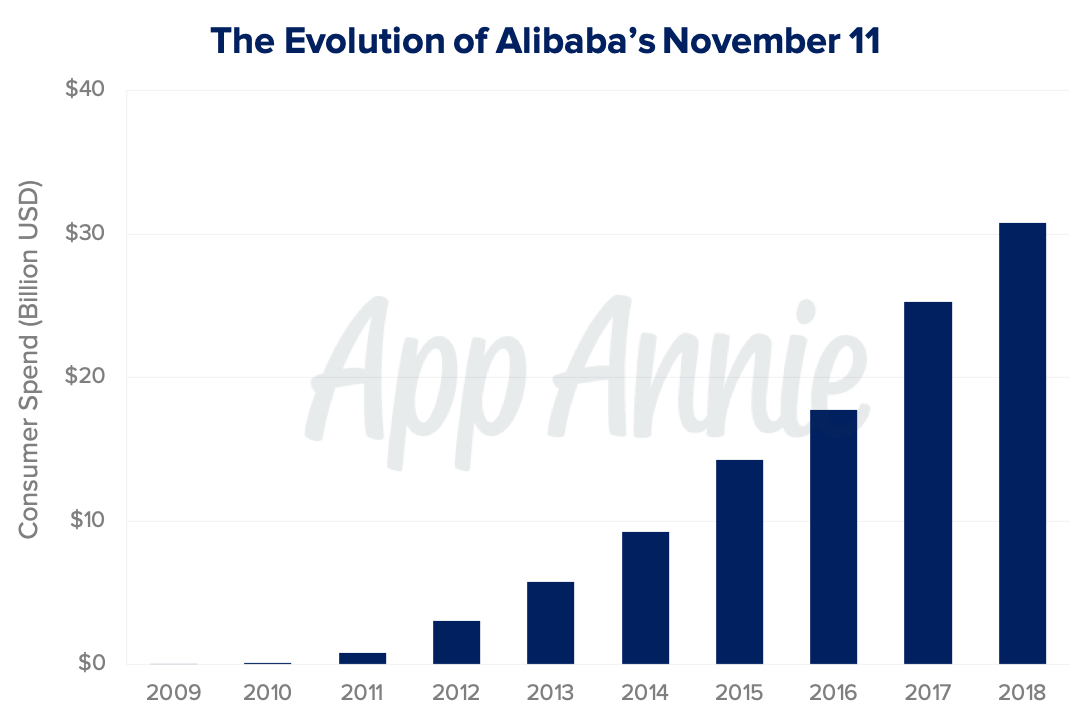 Singles Day falls within the Q4 holiday shopping season and while the United States has traditionally remained loyal to its homegrown holiday shopping days including Black Friday and Cyber Monday, Singles Day has continued to grow its influence in western markets like the US and the UK.
Retail Days Mobilize Shoppers and Build Brand Recognition
By creating a specific time frame for shoppers to take action, flash sales help accelerate the decision-making process for shoppers. Not to mention, branded shopping days can help test concepts ahead of the competitive holiday shopping season. We've seen time spent in shopping apps correlate strongly with overall digital sales in the US, indicating that mobile is driving shopping conversions. With the average user spending nearly 3 hours a day on mobile, and overall time spent on mobile growing each year, it is clear that mobile is playing an increasingly pivotal role in driving growth for businesses. Retailers should look to mobile as a powerful tool to leverage not only during its strategic sales and branded shopping days, but throughout their customer's entire shopping journey: from research to purchase to loyalty and driving repeat visits.
For More on the State of Mobile Retail in 2019, check out our latest report:
This post is the latest in a Mobile Minute series that features App Annie's perspective on how mobile is impacting current events and consumer trends. Check in weekly for our take on the latest news cycles and how mobile transformation is shaping industries around the world.