We reviewed the latest trends in mobile app data and consumer behavior to identify which markets and sectors are recovering from the pandemic.
As some markets begin opening back up, we've seen early indications of industries on the road to recovery. We've also seen signals on what consumer behaviors are here to stay. We've taken a look at the mobile app categories experiencing the biggest growth in Q2 2021 compared to pre-pandemic times (Q4 2019) by downloads, consumer spend and time spent — an indication of which apps are in demand, most used and most valued. 
Games led for downloads growth globally in Q2 2021 versus Q4 2019, dominated by trending hyper casual games like Bridge Race, Hair Challenge and High Heels. Tools apps led for downloads growth among non-gaming apps. VPN apps topped the breakout charts for Q2 2021 quarter over quarter. This is further validation of consumers prioritizing privacy — a major trend underpinning Apple's latest iOS 14.5 release. Entertainment, Finance and Business rounded out the top categories of growth for download from pre-pandemic times.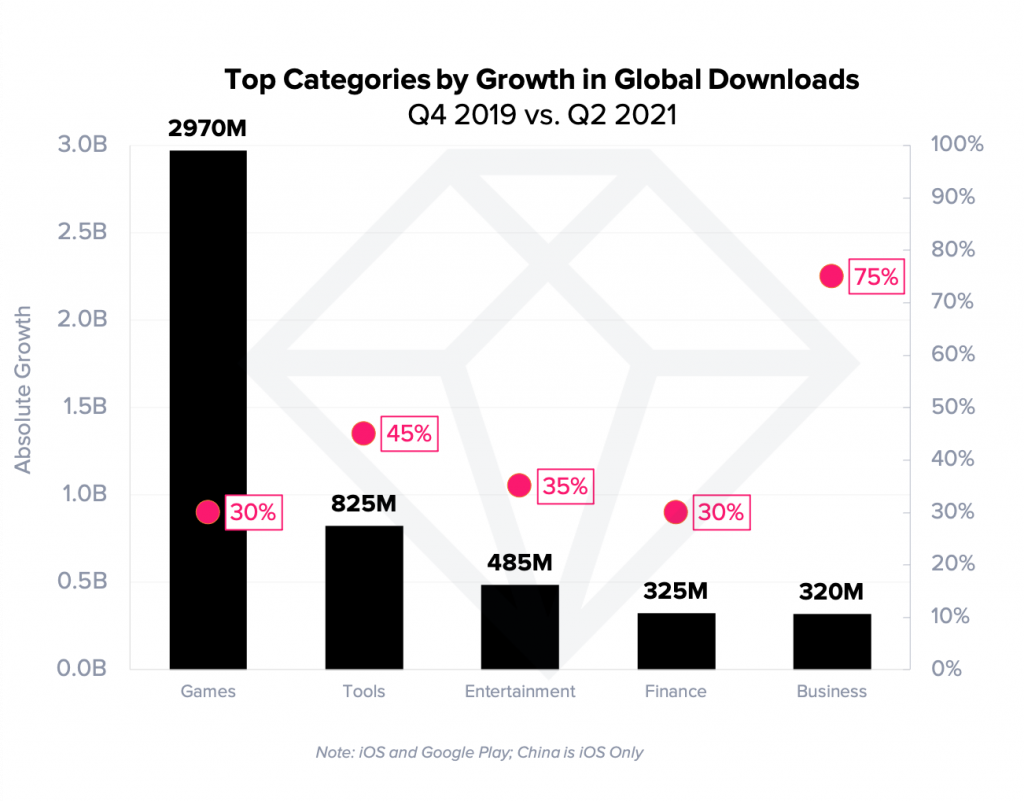 Games remain the biggest driver of growth in app store consumer spend, largely through in-app purchases. Uma Musume Pretty Derby and Clash of Clans topped the breakout chart for quarter-over-quarter growth in consumer spend globally in Q2 2021. Entertainment apps were the second largest driver of growth in consumer spend from pre-pandemic times. During this time, HBO Max launched, Disney+ rolled out globally and many other players gained significant traction, as consumers turned to mobile not only to stream their favorite shows, but to pay for and manage their subscriptions. Amidst strategic content releases in Q2 2021 such as the Friends Reunion, HBO Max reached #2 by breakout consumer spend globally compared to Q1 2021, just ahead of YouTube.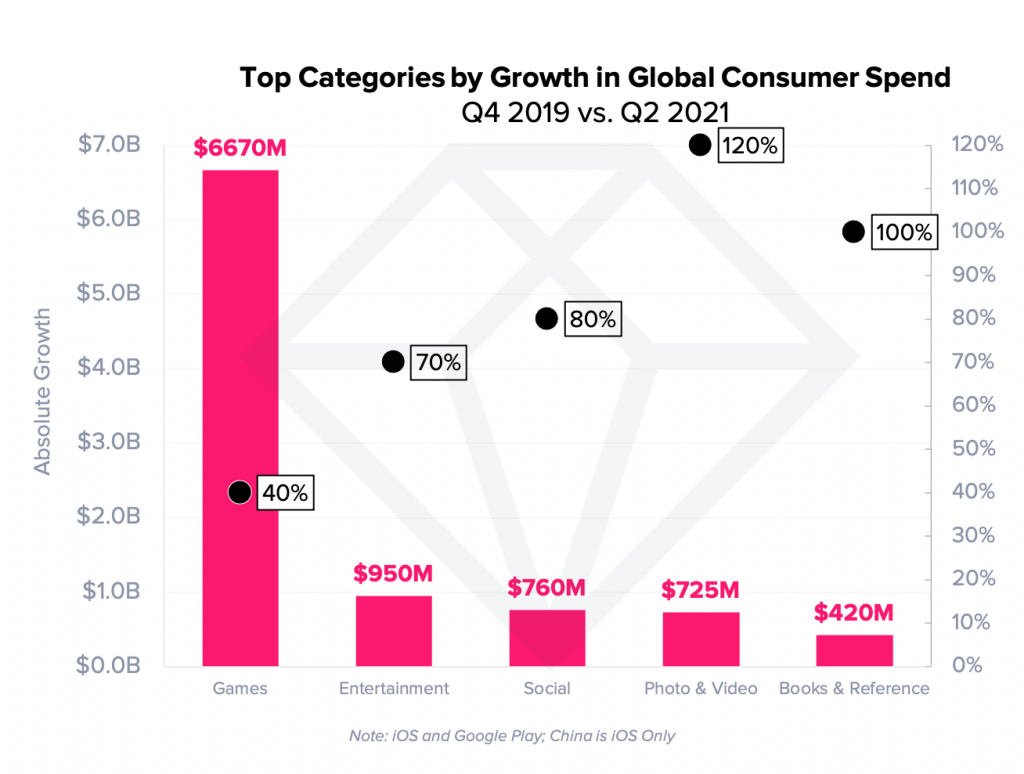 Business apps set new records for time spent in Q2 2021 with the average monthly time spent up 30% from pre-pandemic times. ZOOM and Google Meet continue to top the breakout charts. Photo and Video apps surged in average monthly time spent by 375% from Q4 2019 to Q2 2021, driven by live streaming, short-form video and photo and video editing apps. Cryptocurrency fervor remains popular with Binance and Coinbase seeing strong growth in time spent from Q4 2019 to Q2 2021 on Android phones. Binance was also the breakout finance app by time spent from Q1 2021 to Q2 2021.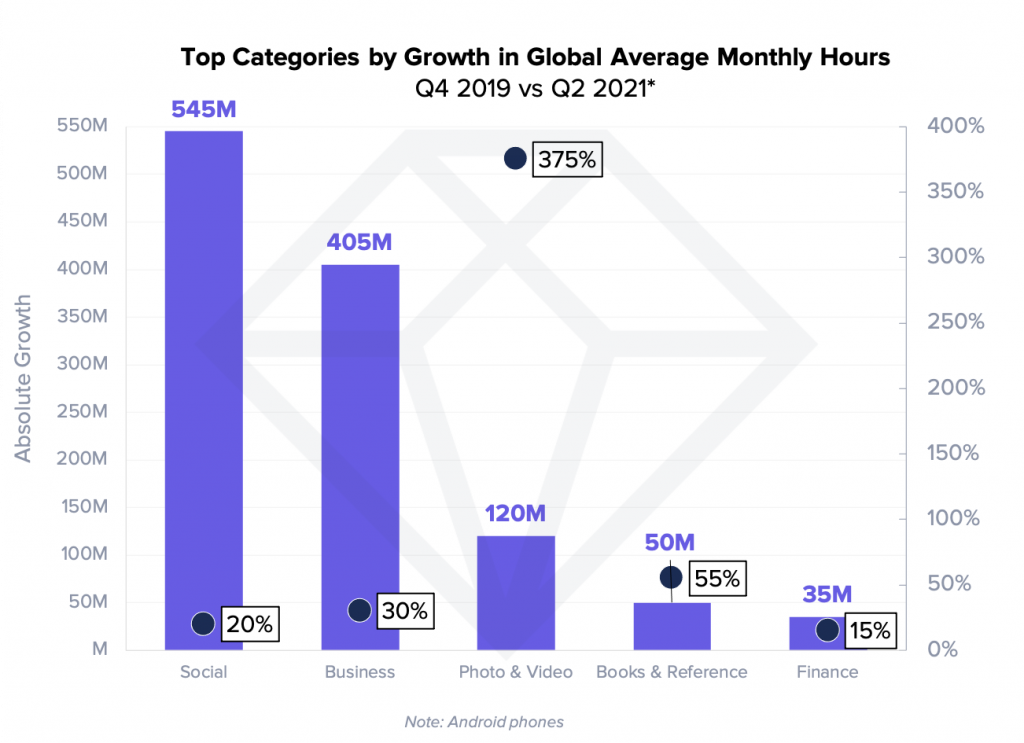 Road to Recovery: Early Signs of Industries on the Mend
As we head into summer in the northern hemisphere, we are seeing signals that consumers are eager to hit the road and the skies. Monthly hours spent in Travel and Navigations apps are on an upward trend in markets like the US and the UK, where vaccination rollout has picked up significant traction. The market has recovered from 2020's low, but has still yet to reach pre-pandemic levels in 2019. South Korea is the most advanced among the three markets in terms of recovery, as time spent in Travel and Navigation apps in Q2 2021 has surpassed pre-pandemic levels, and proved more resilient than other countries with less variance overall. Booking.com was a global breakout app in Q2 2021 for time spent among Travel & Local apps on Android phones ranking at #7 — an indication that consumers are hungry to travel.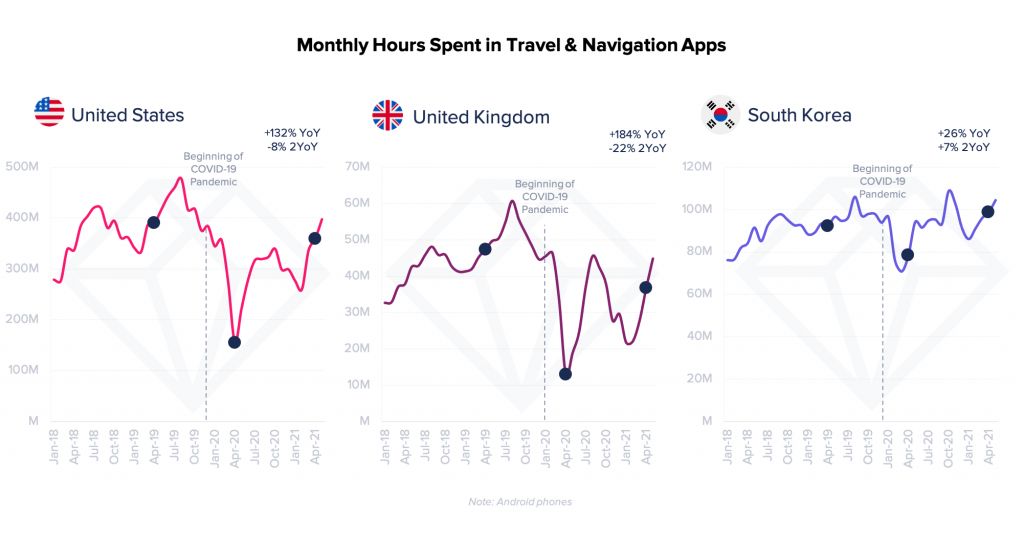 Despite some markets opening up, other markets like Brazil and India are still actively going through new waves of COVID-19. Usage of Travel apps in both countries have rebounded during Q1 and Q2 of 2021 compared to last year — a positive sign for future trends. However, Brazil, France and India still remain on the road to recovery to pre-pandemic levels in 2019. France had seen a strong uptick over summer in 2020 and we expect to see similar levels return over summer 2021, particularly amidst vaccine rollouts. Engagement in Travel and Navigation apps can serve as a leading indicator of 'normalcy' resuming in a market, but this is closely tied to vaccine rollout and active waves of COVID-19.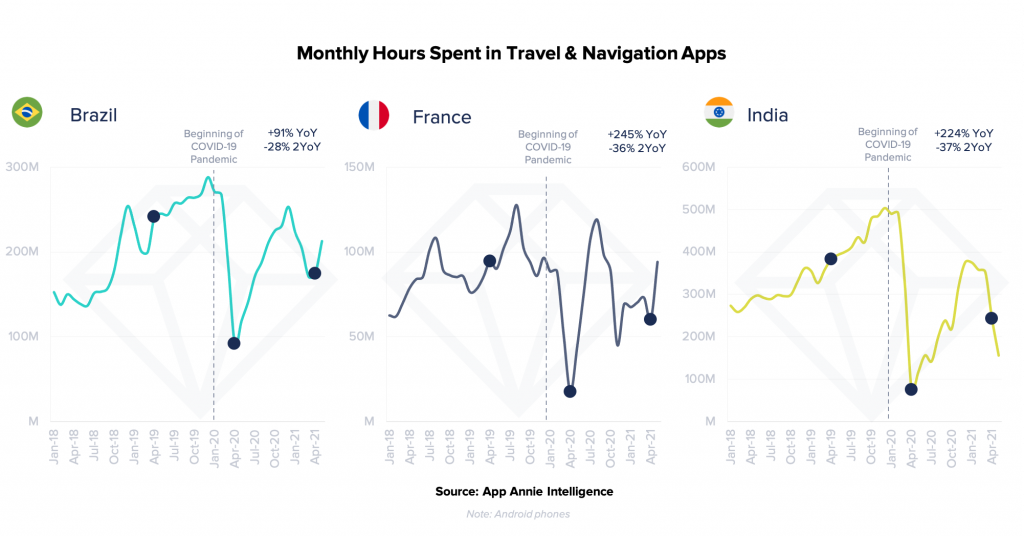 The Sports industry is also making a comeback. In Japan and Korea, time spent in April 2021 has rebounded from the fallout in 2020, and surpassed pre-pandemic levels in April 2019 by 20% and 10% respectively. The Olympics could bring in a significant viewer base globally, while the UEFA Champions League and UEFA European Football Championship has helped bolster the European rebound, with time spent in Sports apps in April 2021 up 10%, 10%, 20% and 55% year over year in Germany, Spain, the UK and Italy. In fact, UEFA 2020 Official  was the #1 breakout Sports app worldwide in Q2 2021. While the US has bounded back since April 2020, time spent in Sports apps remains US is on the road to recovery and poised to see interest in sports apps resume amidst cities opening up, live events and full stadiums as vaccines roll out. The upcoming NFL season will likely drive viewership and engagement in fantasy football apps.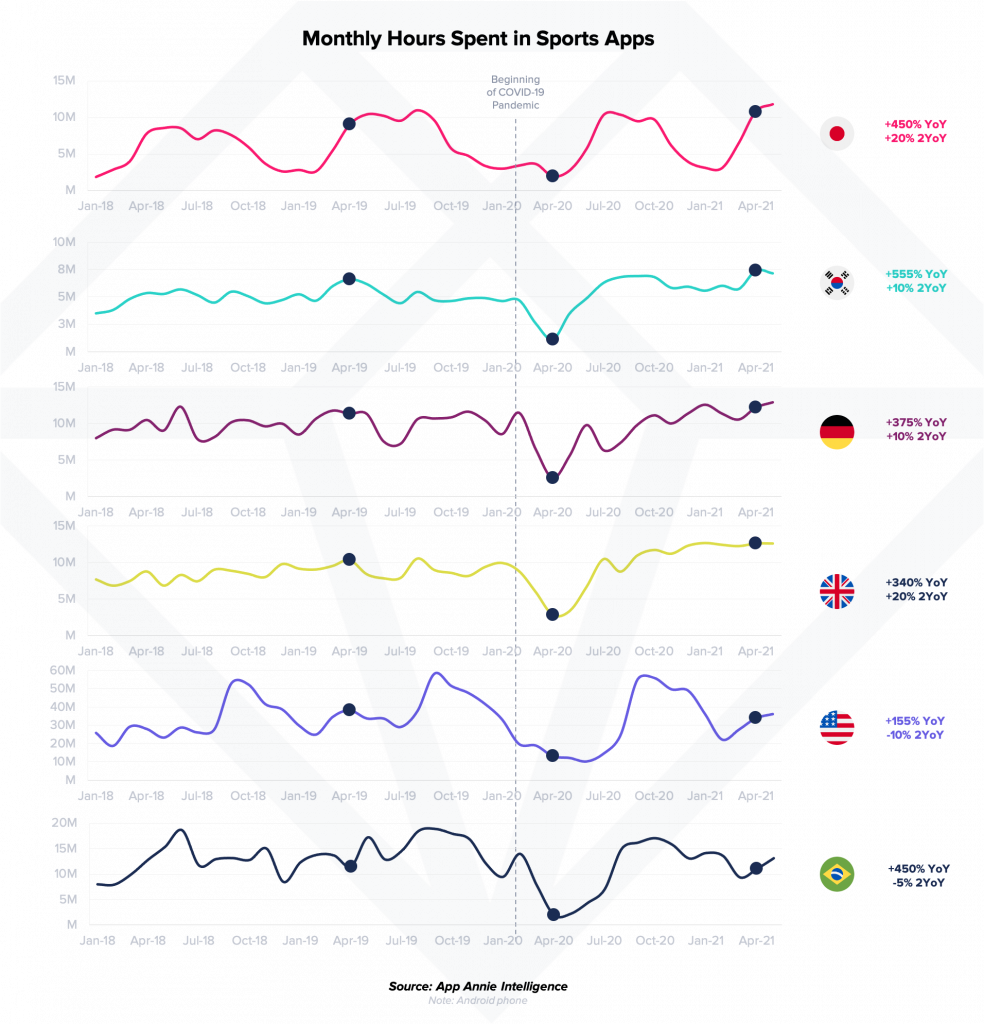 Mobile Habits That Are Here to Stay: Hybrid Work, Short-Form Video, Fitness Subscriptions and Food Delivery 
Hybrid and work-from-home models are truly the new norm. Time spent in Business apps is still growing as we head into the 6th quarter of working from home. Time spent is up quarter over quarter even in markets with strong vaccine rollout like the US (+55% vs Q1 2021) and the UK (+15% vs Q1 2021). We are spending more time in Business apps than ever before — even compared to last year at the height of the pandemic. Even in markets like Australia and the US — where employees are going back into the office — consumers are still using business apps heavily to connect and collaborate while working remotely. Mobile connectivity is more important than ever as employees and businesses embrace a hybrid, or even fully remote, working model.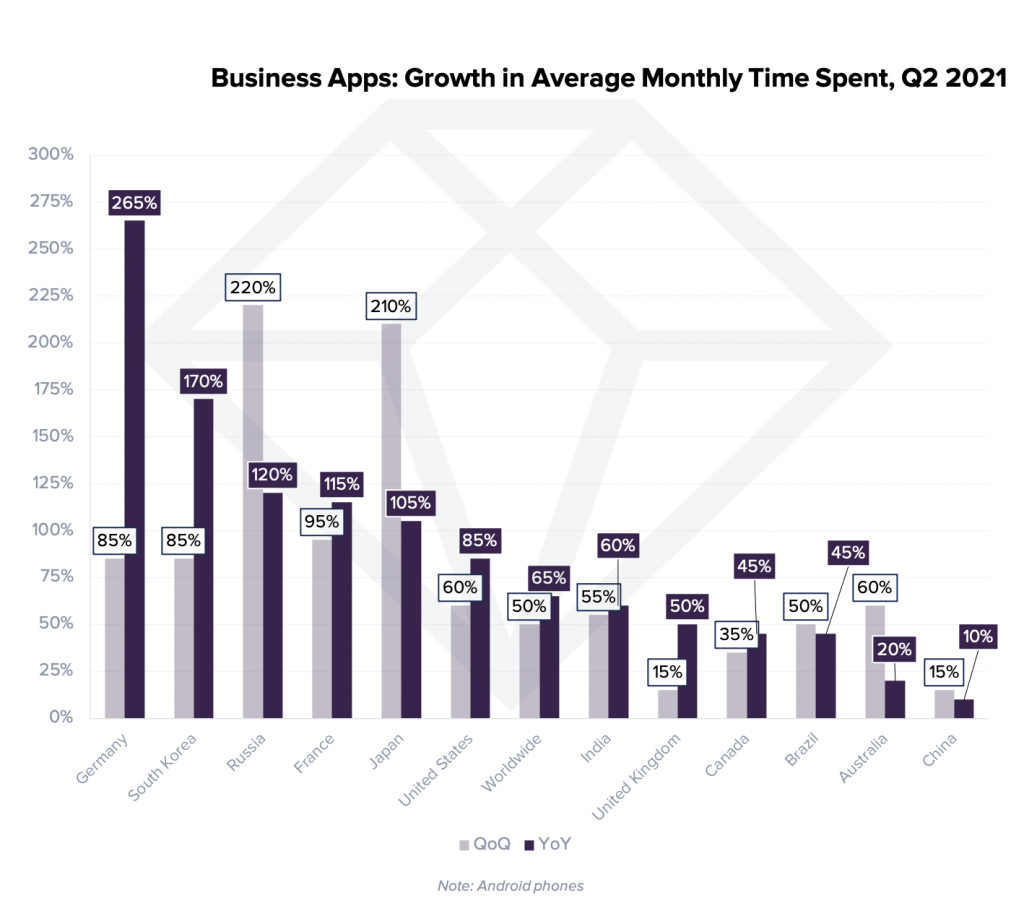 Our social habits formed during the pandemic are sticking around — and deepening. In the world of social, short-form video is king. YouTube and TikTok command some of the deepest engagement among social and video streaming apps — reaching as high as 40 hours per month per user in South Korea on YouTube. TikTok has surpassed YouTube for average time spent per user in the US and the UK. As of May 2021, the average user is spending 24.5 hours a month in TikTok in the US and nearly 26 in the UK. In the US, the average user is spending 50% more time in TikTok on Android phones than in December 2019. In the UK ths growth was even more dramatic at 80. However, in both Korea and Japan, YouTube maintains a sizable 2.5x lead over TikTok in average time spent per user in May 2021. In South Korea this equates to over 40 hours, up 15% from December 2019. Although, this growth pales in comparison to the growth rate TikTok has seen — more than doubling over this time frame. Social Audio also had a breakout Q1 and Q2 2021, popularized by Clubhouse which has seen over 25 million downloads to date as of June 25, 2021 despite an iOS-only release and invite-only mechanic initially. Google was released in late May 2021, and in little over a month already surpassed 9 million Google Play downloads.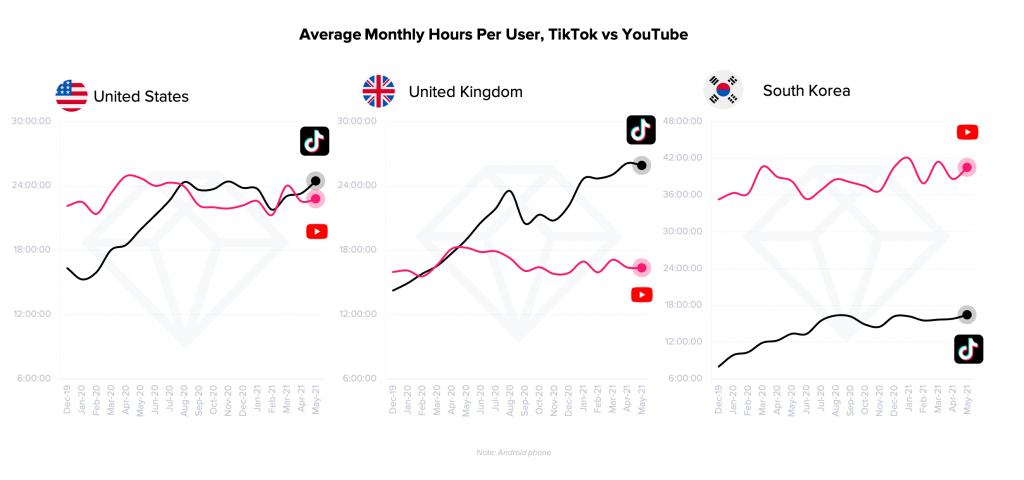 "At-home" fitness remains in high demand globally — particularly those apps that focus on getting consumers out and about, such as Strava, Kahoot, AllTrails and MyFitessPal. Connected devices like Peloton and Fitbit also make the top breakout apps by consumer spend. Weight loss apps also saw breakout consumer spend from Q1 2021 as consumers choose mobile app subscriptions to manage their weight loss plans and strategies.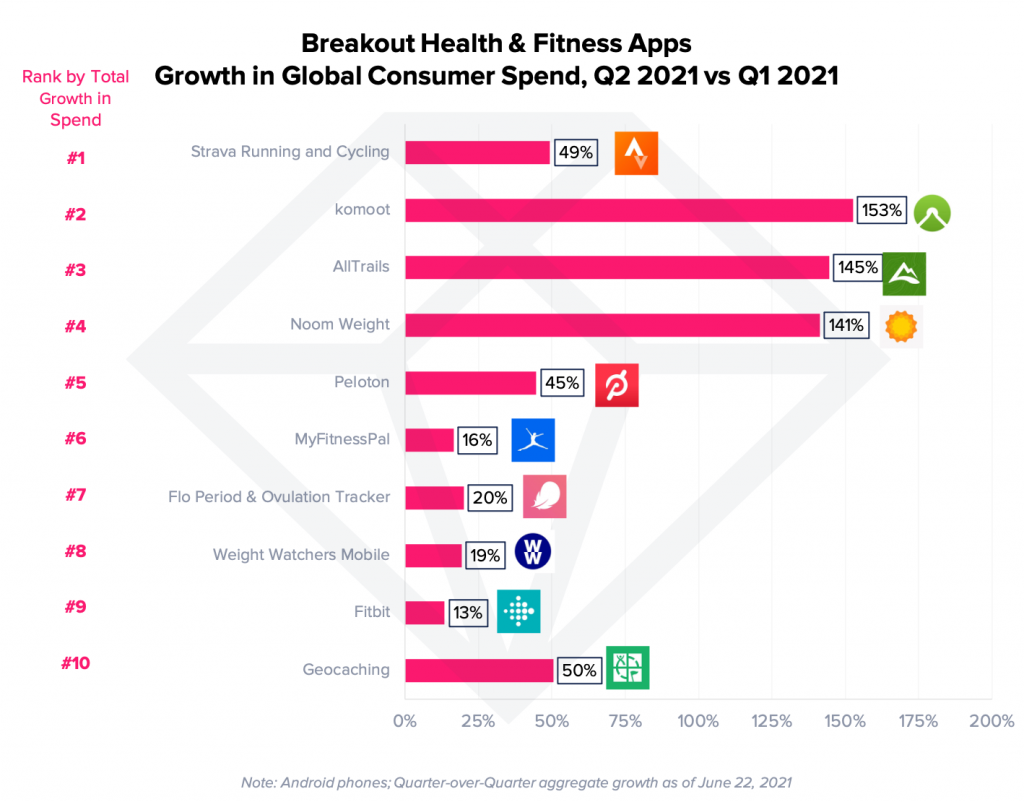 Food and Drink apps represent a relatively unique vertical that has seen dramatic growth in time spent since the start of COVID-19 and is showing no signs of slowing in markets like the US and UK. Ultimately, food delivery, grocery delivery and restaurant based apps make people's lives easier — creating a simple, seamless experience for getting fresh produce or restaurant-quality food. Recipe apps also make the top charts for many markets as consumers choose to get creative in the kitchen while stuck at home — a mobile habit set to continue.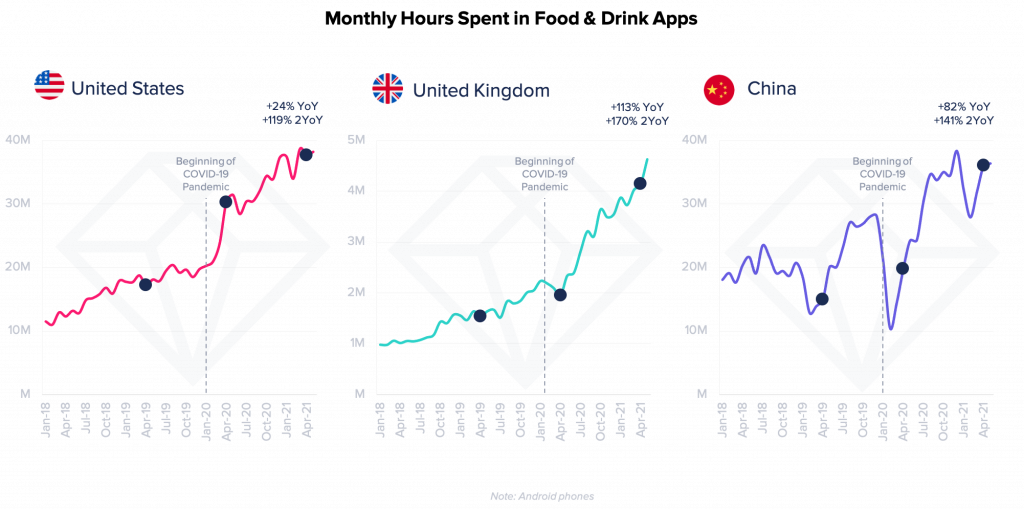 Mobile is at the heart of our daily lives. It's our most trusted device and almost always within arms reach. As industries begin to rebound from COVID, mobile usage is an early indicator of changing consumer demand and market sentiment. We'll be continuing to monitor the major sectors of growth and shifts in consumer behavior as countries begin to turn the corner towards the new 'normal' world — a world with new ingrained habits, working styles and appreciations — but ultimately, a mobile-first world. 
For more on the State of Mobile in 2021, download our industry-leading report: 
DISCLAIMER: 
App Annie is a mobile market estimate service provider. App Annie is not registered in any investment advisory capacity in any jurisdiction globally, and does not offer any legal, financial, investment or business advice. Nothing contained in this communication, or in any App Annie products, services, communications, or other offerings, should be construed as an offer, recommendation, or solicitation to buy or sell any security or investment, or to make any investment decisions. Any reference to past or potential performance is not, and should not, be construed as a recommendation or as a guarantee of any specific outcome. You should always consult your own professional legal, financial, investment and business advisors. Additionally, by providing the information herein, App Annie does not make any representations or warranties and does not undertake any legal or contractual obligations whatsoever. No liability may accrue to App Annie as a result of providing this information to you.