2018 was the most mobile-centric year to date. Q1 2019 carried the momentum into the new year with record level app downloads and consumer spend.
In Q1 2019, we saw both Google and Apple announce product advancements going deeper and broader in their offerings, and mobile was at the core of these initiatives. In Q1 2019, global iOS and Google Play consumer spend surpassed $22 billion — the most lucrative quarter ever, up 20% year over year. Globally, we saw 30 billion global combined app downloads — also the largest quarter ever, up 10% year over year.
Google Play Extends Its Downloads Lead Over iOS
In Q1 2019, global Google Play downloads grew 10% year over year — fueled largely by continued growth in emerging markets and growth in Auto & Vehicles and Entertainment apps.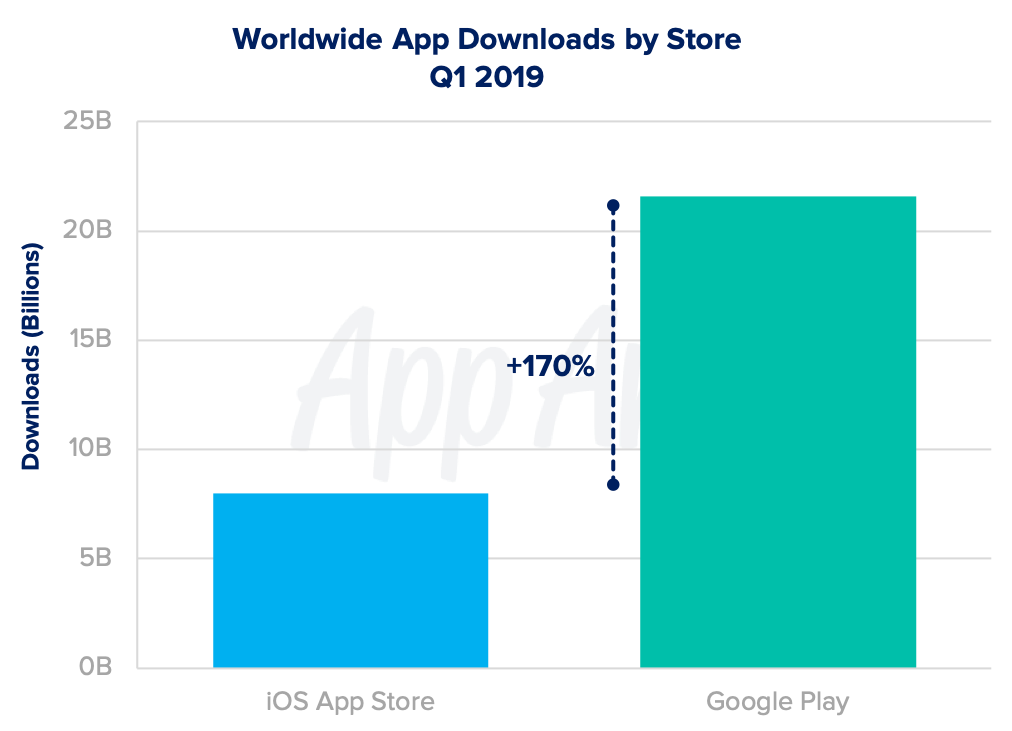 While India, Indonesia and Brazil continued to be the largest contributors to year-over-year Google Play download growth in Q1 2019 — consistent with trends we've reported on in previous quarters —  Egypt and Pakistan also saw meaningful year-over-year growth in market share of Google Play downloads. Brazil was also a large contributor to year-over-year download growth on iOS. However, mature markets were largely the key drivers of download growth on the App Store, including the US, Japan, South Korea and Germany. China saw a softening of iOS downloads in Q1 2019 largely due to game licensing freezes.
Entertainment and Games continue to be two of the largest contributors to downloads growth on both Google Play and iOS. This is in-line with trends we've monitored and forecasted in both sectors: in 2019, 1 of every 10 minutes consuming content — whether on TV or internet — will be streaming video on mobile and mobile gaming is set to hit 60% market share of consumer spend in 2019 among all gaming including PC/Mac, handheld and home consoles. Google and Apple both made announcements to expand further into the mobile gaming market with Google's Stadia Cloud gaming service and Apple Arcade subscription service. Apple also announced plans to launch Apple TV+, its foray into the video streaming arena as well as Apple Card, its new branded credit card. The bottom line: it's all about services and content, and the tech giants are making mobile the centerpiece of their growth strategies.
Downloads of Auto & Vehicles apps on Google Play saw exceptionally strong growth in Q1 2019 — fueled largely by car-related games with Extreme City GT Car Stunts, Multistory Car Crazy Parking 3D 2 and Army Bus Driver US Soldier Transport Duty 2017 occupying the top 3 ranks. By strategically listing under the Auto & Vehicle category, this likely provided App Store Optimization (ASO) benefits such as discoverability and visibility.
On iOS, Food and Drink apps saw the largest year-over-year growth in market share of downloads globally — an indication of another industry being completely transformed by mobile.  The top three apps were food delivery apps: Uber Eats, DoorDash and Grubhub, respectively. It is impressive to note that the latter two services only operate in the US.  KFC China, McDonalds App and Starbucks USA were the top 3 Quick Service Restaurant (QSR) apps and also the only non-food delivery apps in the top 10.
iOS Consumer Spend Grew 20% Year Over Year, Topping $14 Billion
Both Google Play and iOS saw their most lucrative quarter to date, surpassing 2018's holiday season and highlighting mobile's centrality in our lives. While iOS maintained a nearly 2x lead, consumer spend on Google Play grew 25% year over year.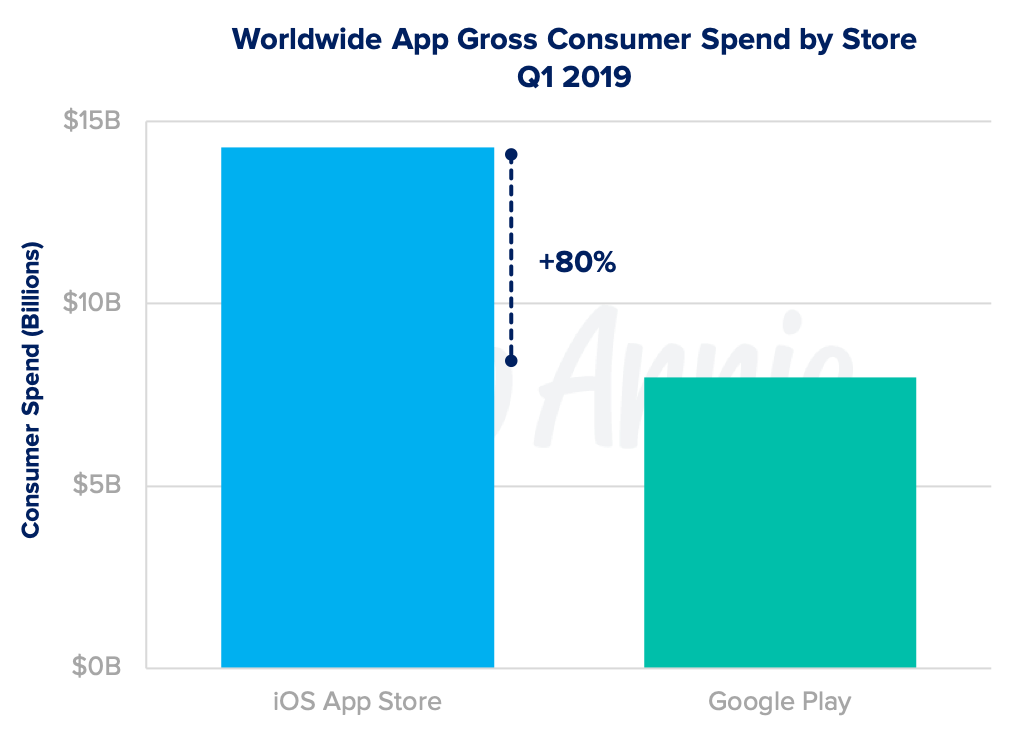 China, the US, Japan, Taiwan and the UK continue to be large contributors to growth in consumer spend on iOS, and together made up 80% of iOS spend in Q1 2019. Hong Kong and France also saw strong year-over-year growth in market share of iOS consumer spend. On Google Play, the US, Japan, South Korea, Germany and Taiwan were the largest contributors to growth in consumer spend, and collectively made up 70% of total spend in the quarter. However, Russia and Indonesia saw meaningful strides in year-over-year growth in market share. Publishers should watch these markets in the quarters to come, particularly for potential expansion opportunities.
Similar to downloads, Games were a key driver of consumer spend on iOS and Google Play. This further supports the strategy behind Google and Apple's plans to move into this space, especially given that mobile games saw 20% more spend than all other gaming platforms combined in 2018 — PC/Mac, handheld and home consoles. Among non-gaming apps, Entertainment was the #1 contributor of year-over-year consumer spend growth on iOS in Q1 2019, which bolsters Apple's decision to launch its own subscription streaming service in 2019. After all, services and content are king.
Tinder Tops Worldwide App Consumer Spend and Color Bump 3D Was the Most In-Demand Mobile Game of Q1 2019
In Q1 2019, we saw similar trends from 2018 surface in the top ranking apps and games. Hyper casual and hard core games continue to be in high demand on mobile, each representing mobile's inherent advantages and growth opportunities: widespread accessibility and powerful devices capable of facilitating seamless gaming experiences that rival consoles and PC/Macs. Video and social continue to be important for consumers in Q1 2019, both in terms of demand and value — as captured in consumer spend. This is represented by Facebook's continued heavy presence of its apps in the top 10 by downloads, Tik Tok's #4 ranking for non-gaming app downloads and LIKE — Magic Music Video Maker's — sibling app to popular live-streaming app BIGO Live — debut in the top 10 downloaded apps.   
Tinder hit number 1 for global quarterly consumer spend on non-gaming apps for the first quarter ever, due both from strong year-over-year growth from Tinder as well as Netflix not taking new subscriptions on the app stores.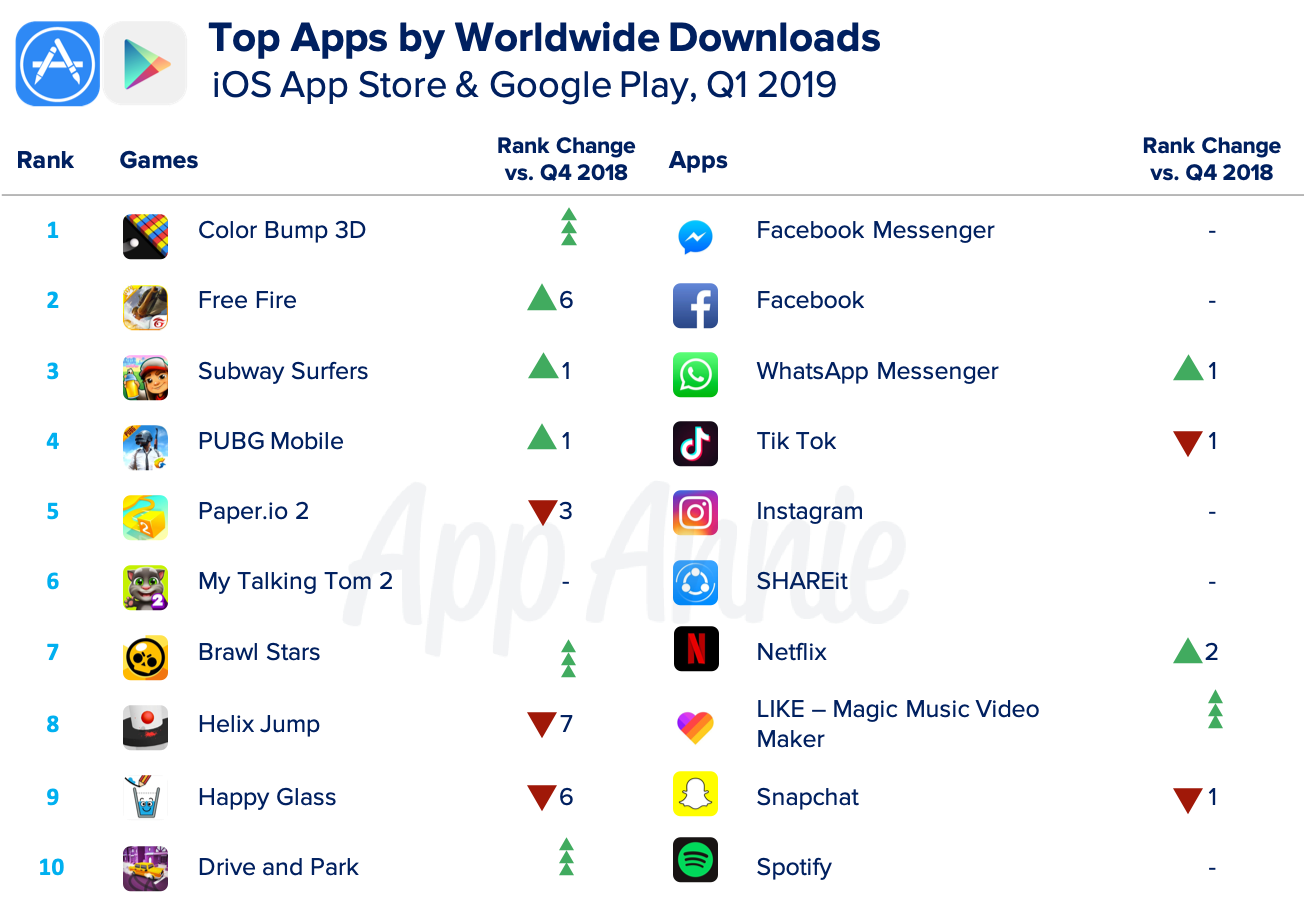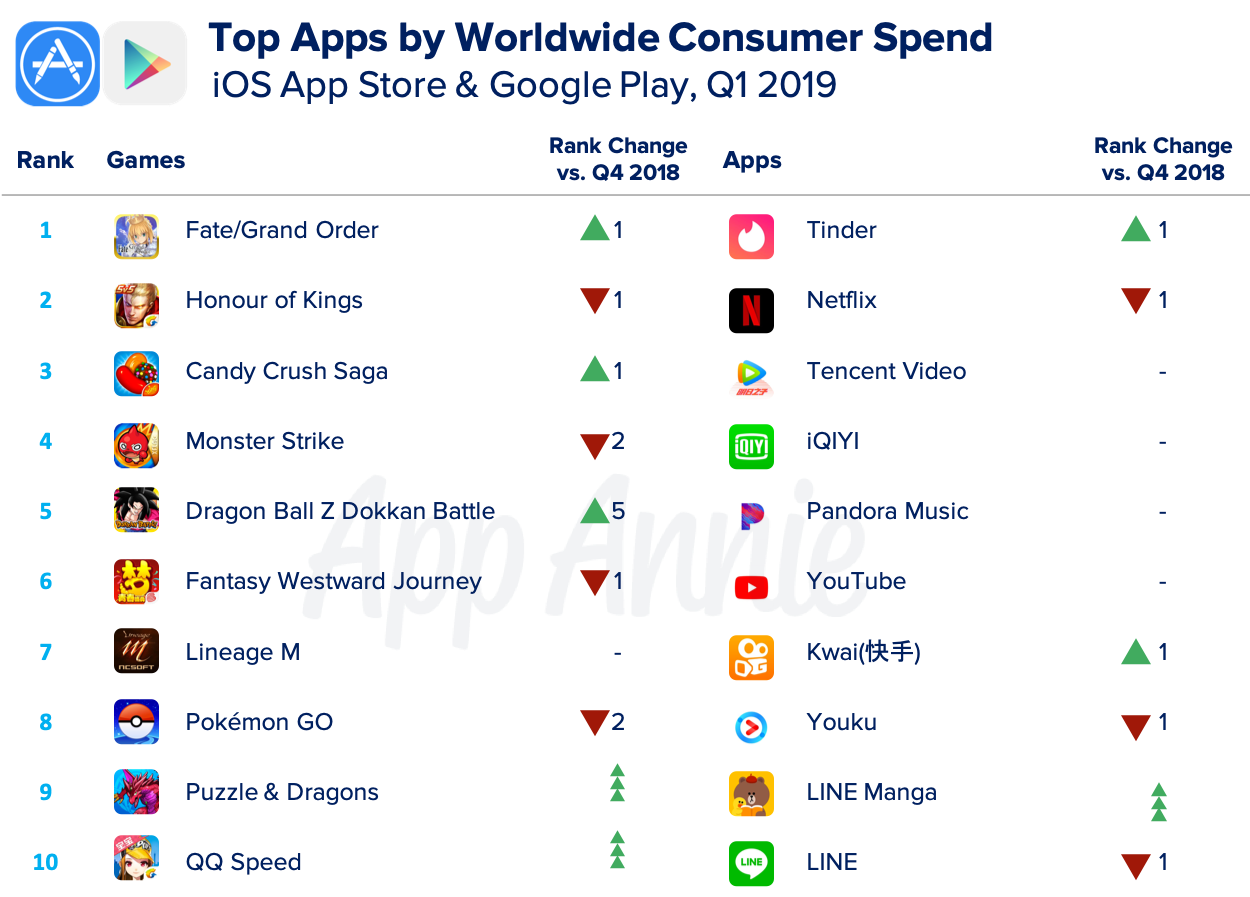 To read more of App Annie's insights into the state of mobile in 2019 check out our annual report — the industry's most trusted deep dive on the mobile economy. If you're interested in looking into some of the data behind the app market yourself, sign up for our free product here and get started today.