2019 was a banner year for mobile gaming, seeing 25% more spend than all other forms of gaming combined. But the best is still yet to come.
Next week, gamers from around the world planned to descend on San Francisco for the annual Game Developers Conference (GDC). Due to concerns around the coronavirus, the conference has been postponed. But this isn't slowing down the mobile gaming industry.
In reality, consumers are turning to mobile games at higher levels. Weekly global downloads of games during the week of Feb 23, 2020 were 20% higher than the average weekly level during Q4 2019. China saw its biggest week in the last year for Games downloads on iOS during the week of Feb 2-8, 2020. Amidst city shut downs to contain the spread of the coronavirus, consumers are turning to mobile to stay entertained. This is a trend that is here to stay — in fact, 2020 is set to be the biggest year to date for mobile gaming.  
Mobile Gaming Lapping Home Consoles and Computers
In 2019, mobile gaming could not lose. It started outpacing all other forms of gaming — including home game consoles, PC/Mac gaming and handheld consoles combined — in 2017. Last year, it extended its global lead in consumer spend, with 2.4x more spend than PC/Mac gaming and 2.9X more than home consoles. Publishers have also recognized this shift to mobile-first: traditional console games such as Call of Duty: Mobile and Mario Kart Tour were both initially released on mobile last year.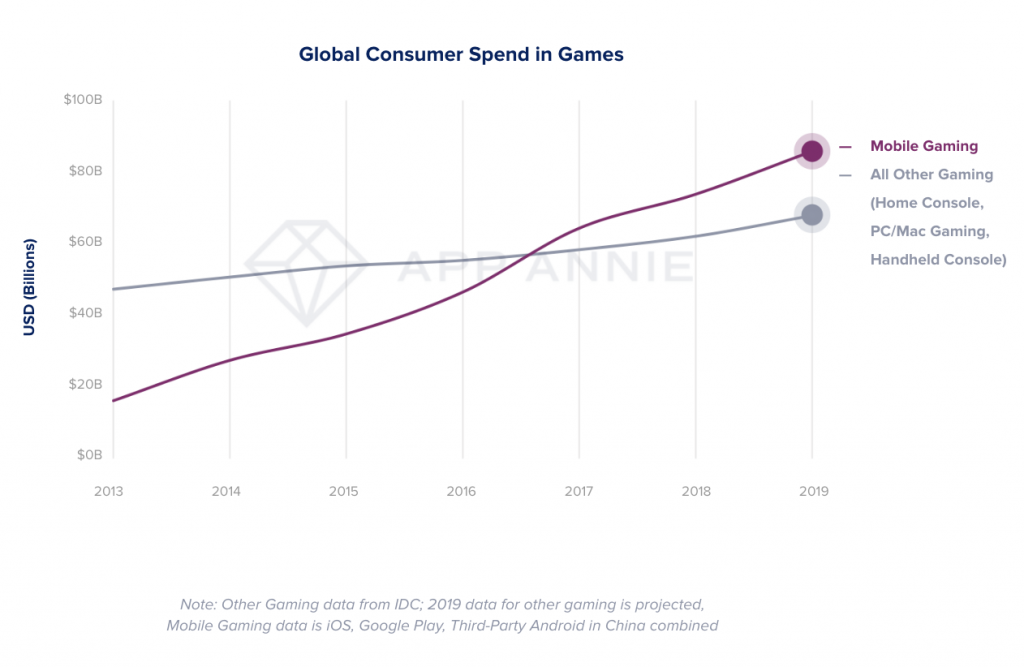 That's because mobile gaming has truly democratized gaming, empowering anyone with a smartphone to play anytime, anywhere. 
As Market Expands, All Publishers Benefit
What kind of games are mobile users flocking to? Casual arcade games accounted for 47% of the top 100 game downloads in 2019. Core games accounted for just 18% of top downloads, but 55% of time spent in top games. When it comes to consumer spend, core games received 76% of consumer spend. Core games engage gamers deeply, leveraging extensive customization, competitive online play, and season pass membership to cultivate stickiness — all of which contributes to more spend.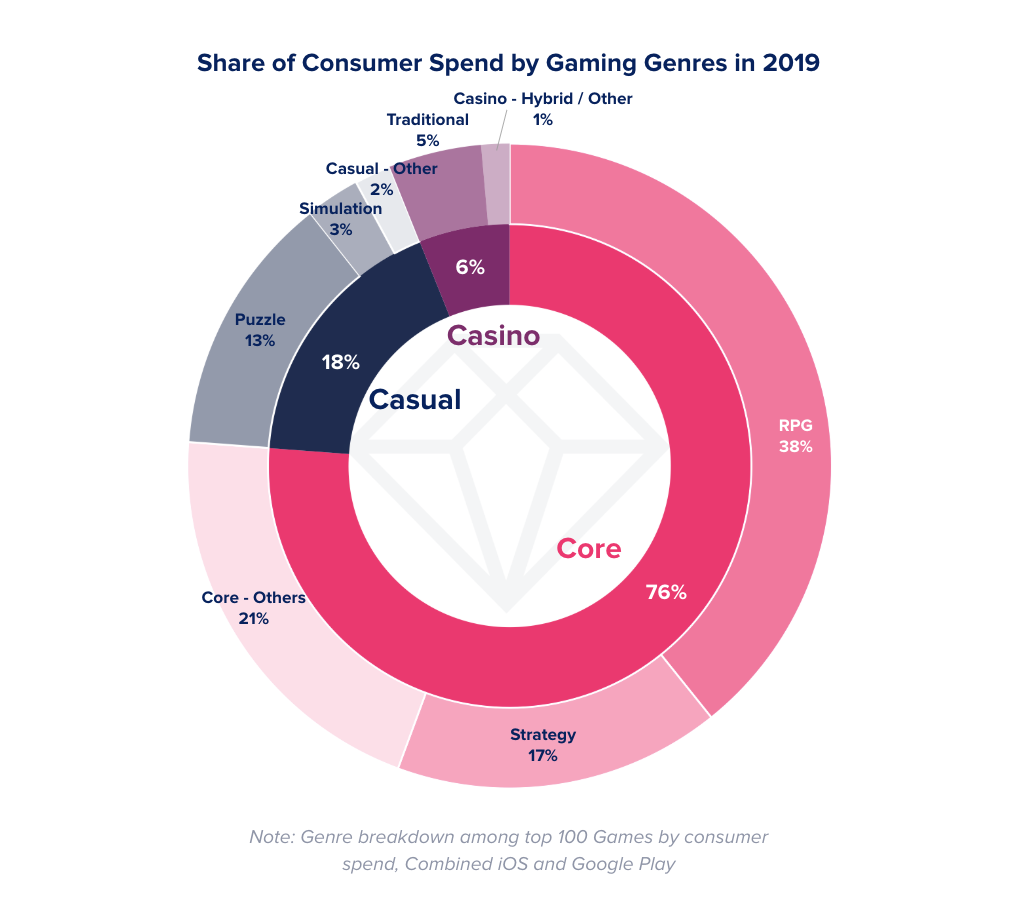 All this spend isn't just limited to the big publishers, either. Emerging players have also performed well in the space, with more games than ever exceeded $5 million in annual consumer spend. The number of games that exceeded $100M annual consumer spend, meanwhile, saw a remarkable 59% growth in 2019 compared to 2017. 
Fueling Game Growth with Mobile Data
Many of the leading publishers are leveraging App Annie to benchmark against their competitors and understand what types of games and geographies to invest in.
Pearl Abyss, a leading game publisher based in China, employs App Annie's market data products to build a product roadmap and shape strategy. The company needed a data-informed plan that would help them determine which markets to expand their mobile presence to, and in which order. Using App Annie's insights, the company was able to quickly understand which games were leading the market by downloads, revenue and usage.
---
"There's no question App Annie is part of the daily lives of mobile app and game industry professionals. Instead of going to the app market rankings, we go to App Annie to look at market trends. When it comes down to market insight and information, I can find almost everything I need via App Annie."

— YJ (YongUn) Jin, Team Leader, Strategic Partnerships at Pearl Abyss
---
That's helped them meet the growing demand and stay a step ahead of the competition in the  ever changing industry. 
And that's a good thing, because this market is only going to get bigger. In 2020, mobile gaming will surpass more than $100 billion in consumer spend. And yet, the industry is still just getting started.
Ready to transform your mobile strategy?