Gen Z is already the largest generation. As they enter the workforce and gain spending capital, this group will only grow in influence.
Last year, Gen Z — or those who were born between 1997 and 2012 — overtook millennials as the largest generation on earth, now accounting for 32% of the global population. But they're not only the largest generation currently; they're the largest generation in history.
Understanding Gen Z: the Mobile-First Generation
That creates an unprecedented challenge and opportunity for businesses around the world. After all, this is a group of people who grew up as digital natives, fluent in the language of smartphones and mobile apps. They socialize, connect and consume media in vastly different ways than previous generations. 
In fact, our State of Mobile 2020 report found that Gen Z had a 60% higher engagement in mobile apps per user than older demographics last year. They also spent more time per app, 3.8 hours on average, every month among the top 25 non-gaming apps.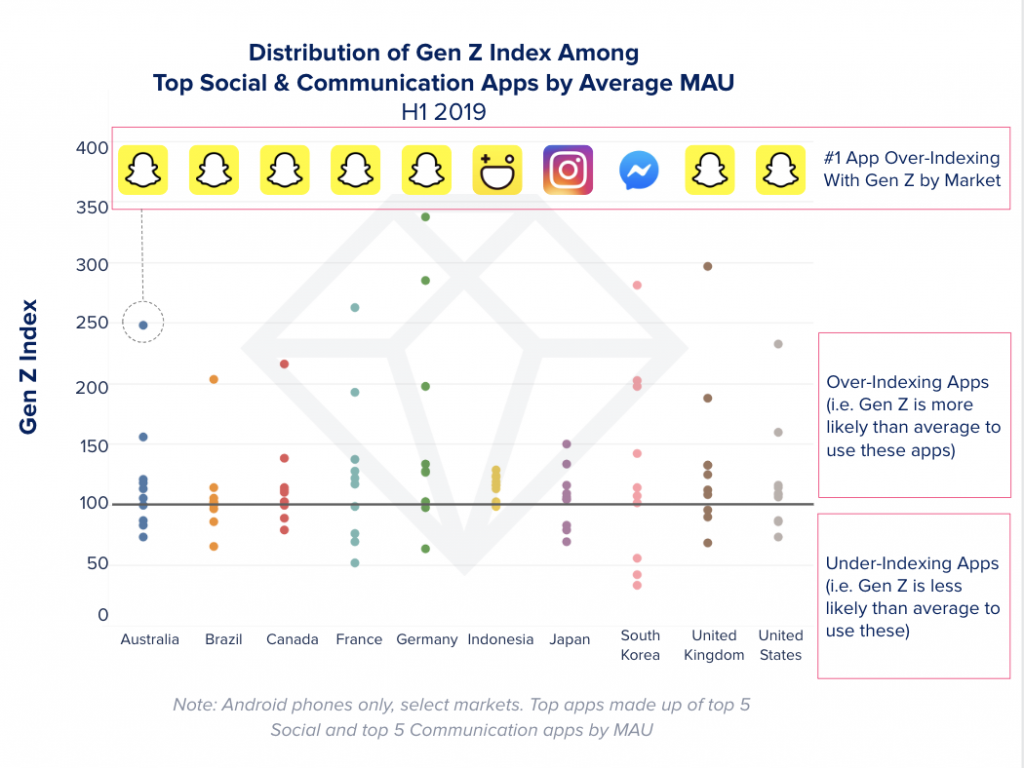 Gen Z is a mobile-first generation. One needs to look no further than apps like Instagram, TikTok, Snapchat and VSCO to understand how powerful a mobile strategy focused on Gen Z can be. VSCO has been particularly successful targeting younger generations: 70% of their users are less than 25 years old, including 50% of paid customers — dispelling the thought that Generation Z doesn't want to pay for premium products.
The Growing Influence of Gen Z
In fact, this generation already influences more than $600 billion in consumer spend. Companies that want a slice of this growing pie must understand Gen Z's mobile behavior, preferences, and brand expectations. 
"We love using App Annie's cross app usage feature," says Bryan Mason, Chief Business Officer at VSCO. "We learned that over 80% of our US users also use Snapchat every month. As a result, we've built an integration with Snap's creativeKIT that allows our users to easily share their content onto Snapchat."
These types of integrations can help companies meet Gen Z on the platforms they are already using. Snapchat has also harnessed the power of Gen Z, with 81% of teens saying they use the app regularly. 
---
"Millennials and Gen Z have over $1 trillion in direct spending power, and will continue gaining influence in 2020 and beyond. In order to reach them, marketers need to take advantage of immersive mobile platforms like Snapchat, where we build engaging mobile experiences and drive powerful incremental reach among younger audiences."

— Kathleen Gambarelli, Group Product Marketing Manager at Snapchat
---
Looking Ahead
Generation Z isn't going anywhere. In a few short years, Gen Z will not only be the largest generation ever, they'll be the largest generation in the workforce. That means they'll have more disposable income and impact an even greater amount of global spend. The most successful companies will be those that are able to appeal to them and become a part of their daily digital lives.
Clearly, it's imperative to win Gen Z on mobile, or risk missing out on a mobile-native generation of consumers.
Ready to transform your mobile strategy?