Consumers accessed finance apps more than 1 trillion times in 2019 as mobile increasingly becomes consumer's financial hub.
In 2019, US and China trade tensions created economic turbulence in international trade. But in the mobile consumer world, finance has never been more seamless.
Our State of Mobile 2020 report found that across essentially all markets, consumers are migrating more of their financial activities to mobile. Consumers accessed finance apps more than 1 trillion times in 2019 across Android phones, which is a 100% increase over just two years ago. User bases for mobile finance — across both banking and fintech — grew dramatically in 2019. Around the world, the average monthly active user base of the top 10 fintech apps grew 20% year over year in 2019; while the MAU of the top 10 banking apps grew 15%.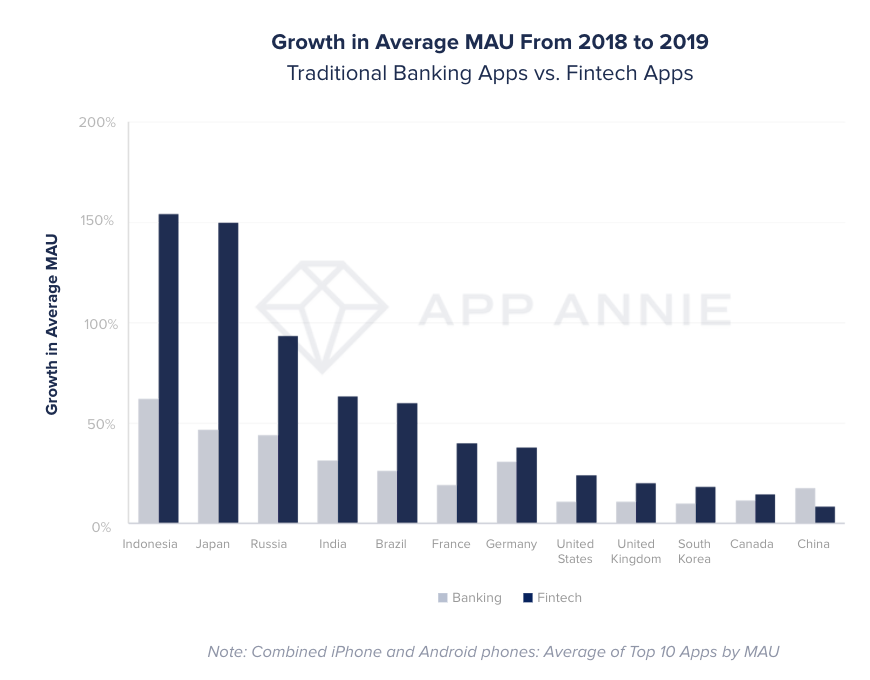 Creating a Seamless Mobile Finance Experience
As such, more and more financial companies are looking to optimize their mobile platform. Some loyalty and referral programs can help create deeper engagement in finance apps. Citi reported 83% of consumers — and 94% of millennials — are more likely to participate in a loyalty program if it's on mobile. The stickier a financial app is, the more likely it will be utilized — and the greater the insights fintech and financial services companies can glean. Seamlessness and security is also key: Garanti Bank started looking more at biometric security, such as face or fingerprint recognition, after reviewing App Annie data about how competitors are using this technology.
---
"App Annie provides us with an exciting depth of data that helps us strategically measure our app against others in the marketplace so we can ensure we're going in the right direction, as well as plan ahead through being able to spot trends."

— Bora Uluduz, SVP of Digital Channels, Garanti Bank
---
The Race to Become Your Mobile Financial Hub Is On
Financial companies will continue to expand their offerings, hoping to become your one-stop-shop for all things payments and money management. For example Venmo, a peer-to-peer payments platform, is expected to launch its credit card in 2020. Likewise, Square's Cash App, which was formerly a way to pay other individuals, now empowers customers to trade stocks and cryptocurrency commission free. That's why despite the app being around since 2013, it was one of the fastest-growing payment apps in the US last year according to our State of Mobile 2020, with the largest year-over-year growth in iOS and Google Play downloads.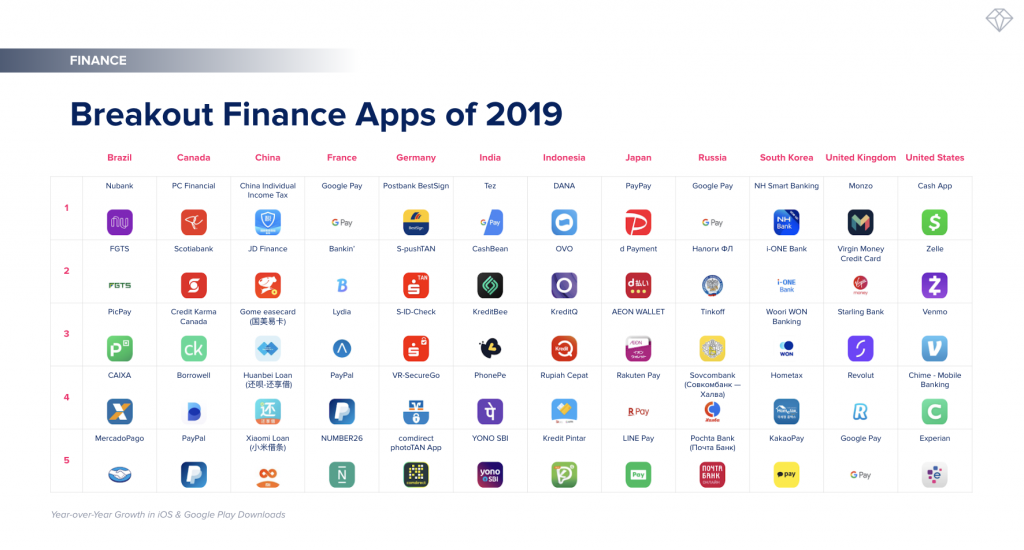 The financial players are moving fast to keep pace with mobile innovation. But it's not just these typical companies that are getting in on the mobile finance action. Apple rolled out its credit card in 2019, and Google now offers checking accounts as they both fight to grab a piece of this sizable pie. 
In 2020, you can expect more companies competing to become the financial hub on your phone. The result will be bigger rewards and low interest incentives for consumers, and more opportunity than ever for companies. 
Ready to transform your mobile strategy?