Around many parts of the world, February is a time to celebrate love. As the pressure to couple up increases, single people are now turning to their phones to find dates, long-term relationships, or causal connections. With App Annie Intelligence, we can gain demographic and behavioral insights — i.e., the age and gender of app users as well as their cross-app usage — that give us a deeper understanding of who these online daters are.
Let's dive in and see what types of users are gaga for different dating apps.
Tinder Crosses Generational Gaps and Other Dating App Insights
Dating expectations vary across demographics. Some are looking for the love of their lives, others are hoping to find their love for the weekend. Similarly, sexual orientation and personal interests have created a market for dating apps that meet every need.
During December 2015, we saw that certain dating apps tended to be more popular with specific demographics across US iPhone users. Dating giant Tinder made an impact on all age ranges, with its highest usage penetration among younger males and females.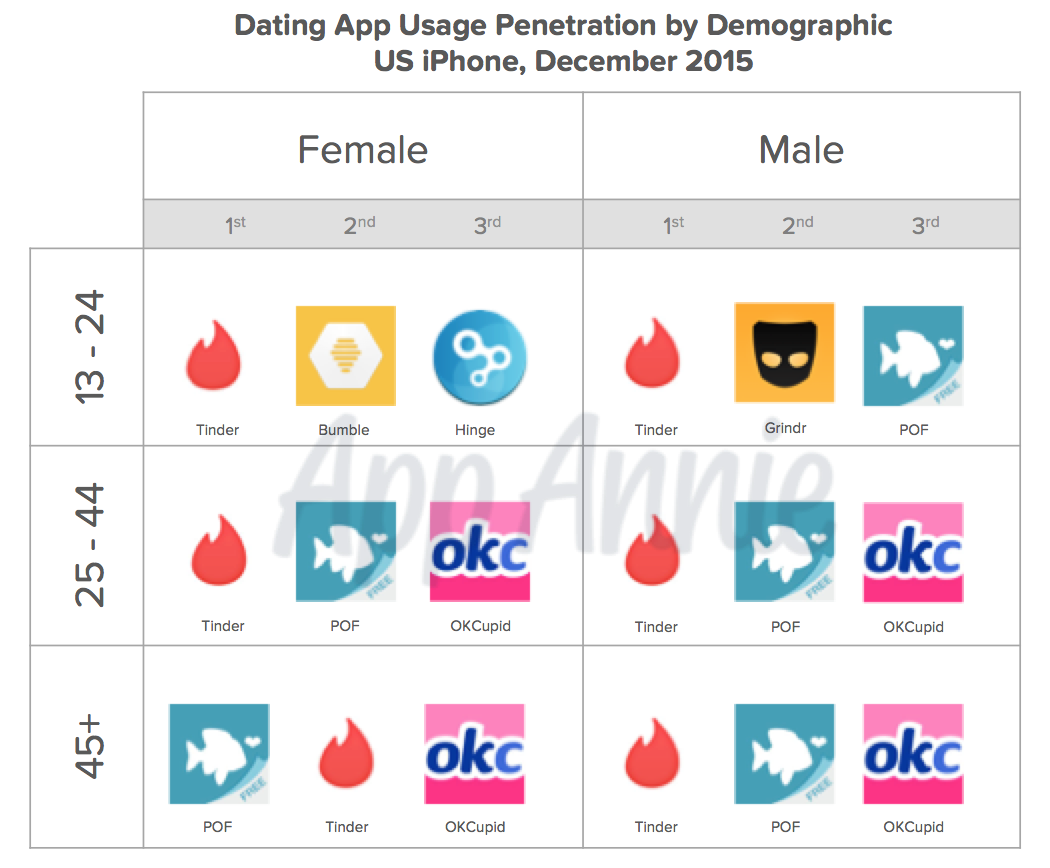 It was only among women 45 and older where Tinder didn't take the number 1 rank, following behind POF Online Dating (also known as Plenty of Fish). Both POF and OKCupid crossed into the 25-44 and 45+ age ranges for both males and females. And men under 25 had high usage penetration for Grindr (a social network to meet other men).
Despite prevailing wisdom that dating app users aren't ready to settle down, it appears that these younger users have committed — to their top app of choice; usage penetration for their top dating app (Tinder) was significantly higher than for the second and third top apps (Bumble and Hinge for females, Grindr and POF for males).
In contrast to the 44 and younger crowd, both males and females 45 and above had a similar level of usage penetration across the top three dating apps, especially among female daters.
What Dating Apps Do Popular App Users Have the Hots For?
Using Intelligence's audience segmentation capabilities, we were also able to drill deeper into the user bases of other apps and see what dating apps they over-indexed for during December. For example, the US iPhone Airbnb user base was six times more likely to use the dating app Bumble than the general population, and five times more likely to use Grindr and Happn. Meanwhile, Buzzfeed users were three times as likely to use Tinder, and twice as likely to use Couple or Grindr.
Among the Etsy user base, Couple was four times more likely be used than the general population, while Match and eHarmony were twice as likely to be used. These sorts of insights can help inform app marketers' content, user acquisition, and co-marketing strategies.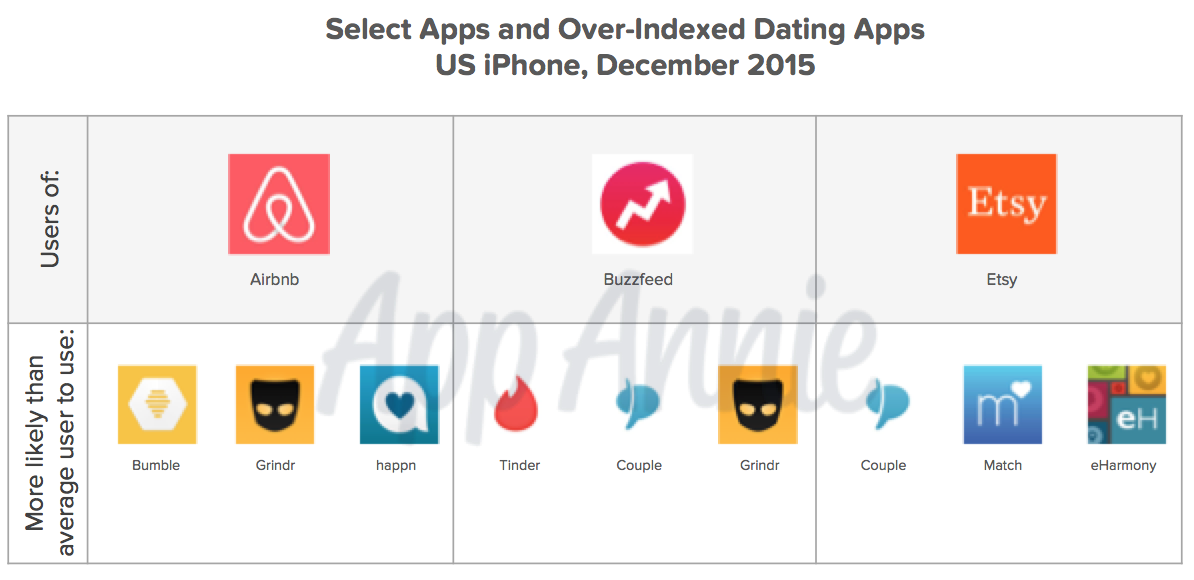 On the entertainment side, users of HBO GO were twice as likely to use Bumble and OKCupid than the general population, and one-and-a-half times more likely to use Hinge. Given how Bumble and Hinge operate, we can posit that HBO subscribers are more interested in finding their own personal romantic lead over a pal for "Netflix and Chill."
Similarly, Linkedin users were three times more likely to use Bumble and OKCupid than the general population, and two-and-a-half times more likely to use Match. Are these professional network users seeking a partner in life?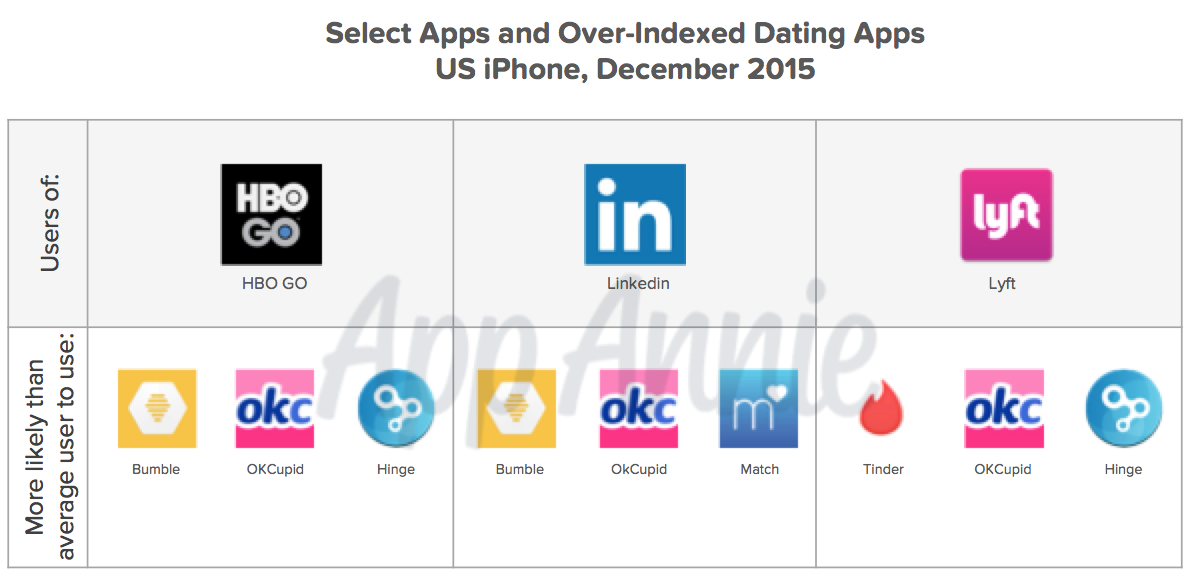 Tinder was a favorite among two major ridesharing app users bases. Lyft users were four times as likely to use the dating app than the general population, while Uber users were slightly above three times as likely. There could possibly be some link between the seemingly on-demand nature of summoning a ride and swiping right for a date!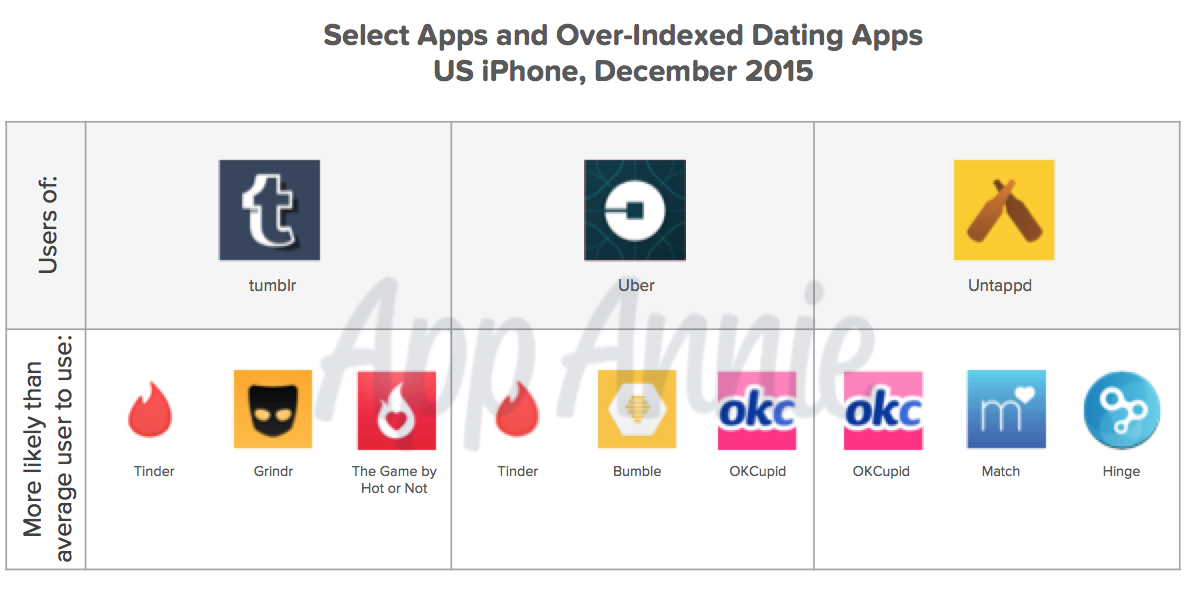 The most diverse dating apps came from the Wish user base. They were six times more likely than the general population to use Badoo, almost four times more likely to use MeetMe, and three times more likely to use Zoosk.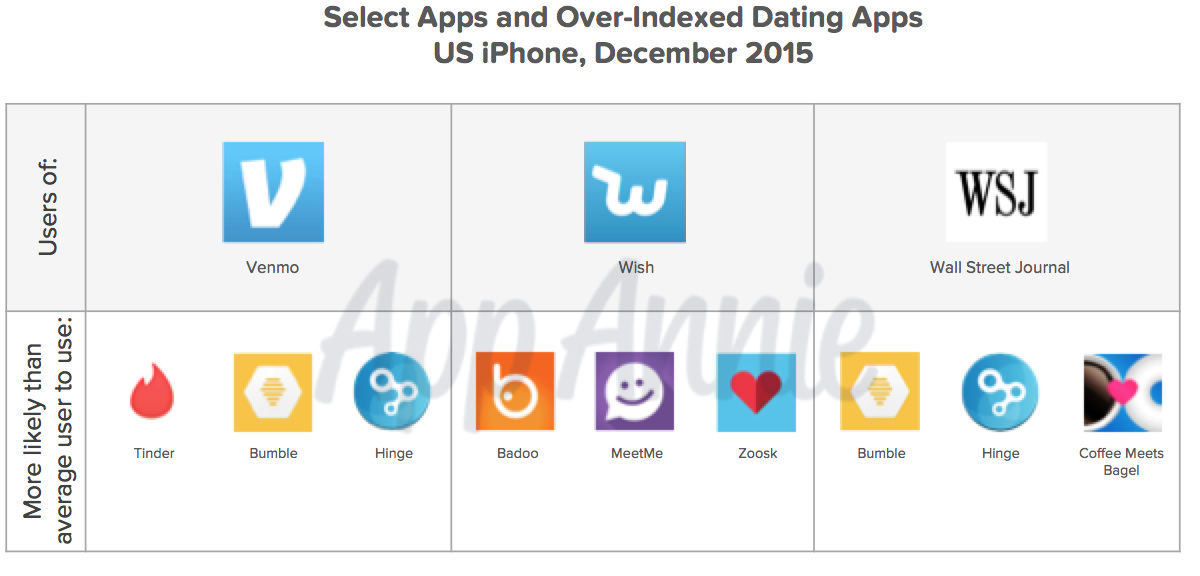 Marketing Apps to the Right Users
Clearly dating app users are not one-size-fits all. While there is closer overlap with age demographics, user bases of different apps are more picky. Users may favor dating apps ranging from convenience that promise frequent matches, while other users gravitate toward apps geared toward developing long-term relationships.
Beyond dating apps, app marketers and product managers can use this type of segmentation and analysis to fashion demographic and behavioral personas and refine their outreach and UA strategies. In a world where consumers are constantly bombarded by advertising messages, it's important to clearly understand your target audience, their personal drivers and the brands they trust to have a scalable yet personalized marketing campaign.
Want More? App Annie Has It
Subscribe to our blog to see more app industry reports, conference updates and product news. We love hearing from our readers, so share your questions and comments below or on Twitter.
Want to do your own analysis? Create a free Store Stats account or request an Intelligence demo today.