Mobile apps impact our lives well after we turn off our phone screens. Whether we're requesting a ride, booking a place to stay, or trying to get in shape, it's undeniable that apps have an immense effect on our physical worlds. Where your average mobile user once pulled out their device to play games or check the weather, today's apps have clearly tangible effects on our real lives.
Our latest free report, Mobile Apps: Blurring Lines Between Virtual & Physical Worlds, investigates several apps contributing to this digital-physical crossover and how this phenomenon is transforming entire industries.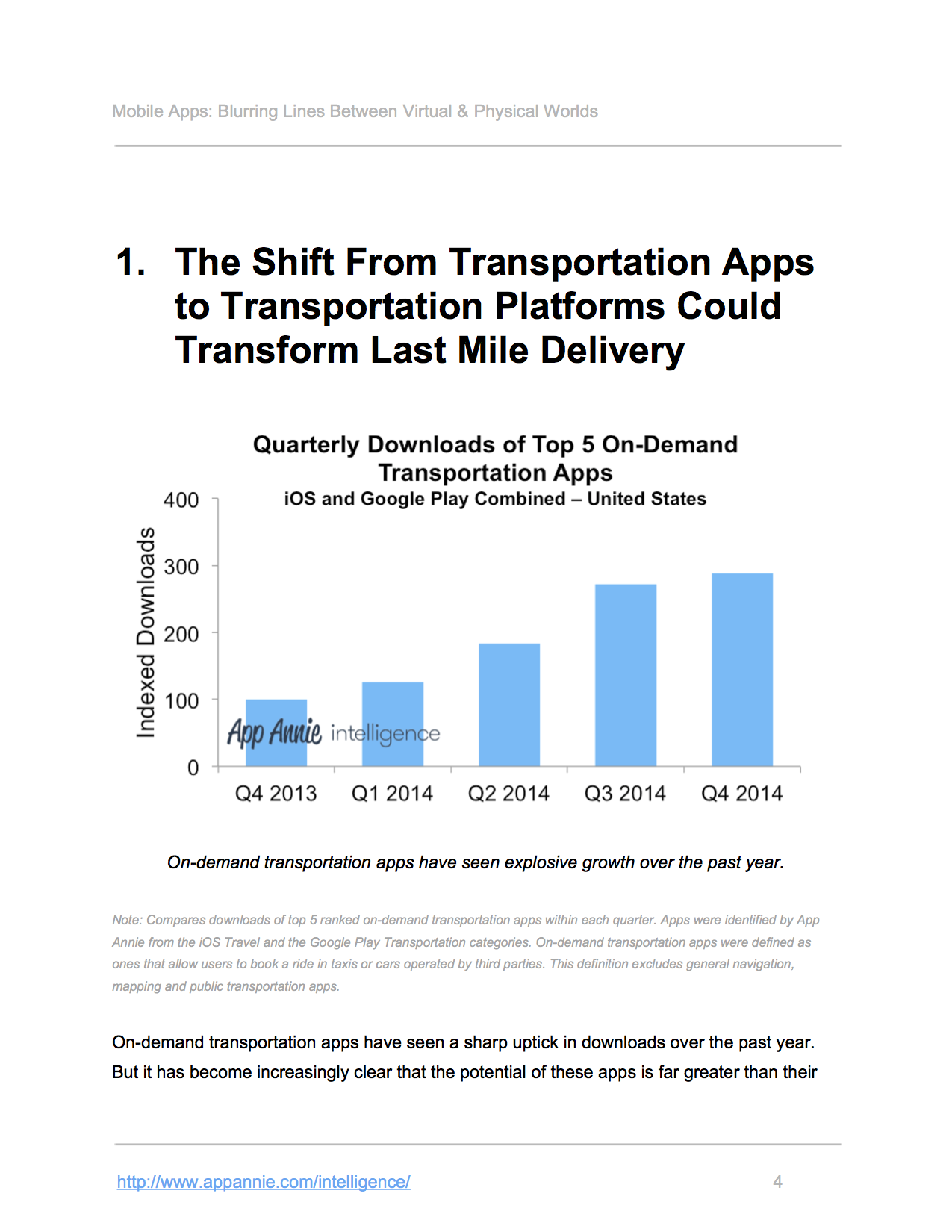 Transportation apps have transformed into transportation platforms. Learn how apps are hooking into Uber and Flywheel's apps to make nearly everything on-demand.
Below is what you can learn from our free report:
Transportation Apps Are Becoming Transportation Platforms
Transportation apps aren't just taxi-hailing alternatives. They're quickly turning into full logistics platforms.
Revisiting How We Learn With Education Apps
Education apps are changing the learning experience. From language-learning to teacher-student feedback, mobile apps are causing big changes to traditional classroom models.
Speeding Up Checkout With Mobile Payments
Lost seconds can cost a company cash (and even market share). Mobile payment systems, while still in their infancy, are poised to make paying at the register a significantly faster process — to the delight of businesses and consumers alike.
To gain access to the full 15-page report, click the download button below:
Want More? App Annie Has It
Subscribe to our blog to see more app industry reports, conference updates and product news. We love hearing from our readers, so share your questions and comments below or on Twitter.
Want to perform your own analysis? Create a free Store Stats account or request an Intelligence demo today.