Last year was unlike any other – and the top mobile stats of 2020 underscore that as we enter into the new normal of 2021.
As we look back on 2020, we can reflect on a year that felt more like three than one. 2020 ripped up all previous forecasts. Thanks to Covid-enforced lockdowns, all the emerging mobile behaviors that had been bubbling away suddenly exploded. Niche mobile habits went mainstream. Three years of projected changes were squeezed into one. 
Everyone working in mobile knows this instinctively, but in App Annie's State of Mobile 2021 report, we lay bare the sheer scale of the changes.
More Time Spent, More Revenue Earned
As ever, our annual app market appraisal provides insight into mobile's impact across industries and the global economy. The new edition shows just how remarkable a year it was.
Key numbers from State of Mobile 2021 include:
Mobile Engagement: Fundamentals Keep Growing
Mobile beats the TV
The 50s-era image of the family in front of the TV is fading. Apps are displacing it. In 2020, Americans spent 8% more time on mobile than watching live TV per day – 4.0 hours in H2 2020. In Indonesia, the average mobile time spent was an astonishing 5.2 hours.
A flourishing app economy
Over 16,000 iOS developers saw more than $100,000 in consumer spend in 2020. 2,304 saw $2 million or more, up 25% year over year.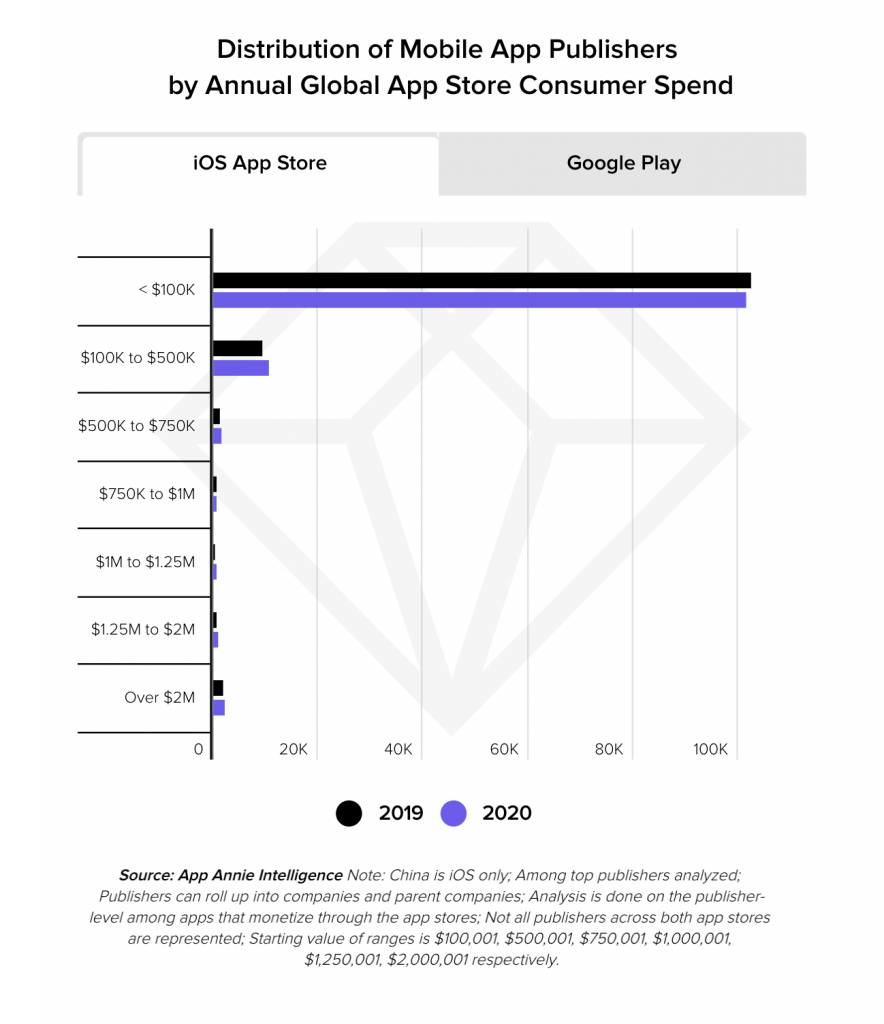 VCs love mobile technology companies
In 2020, nine mobile-first companies raised $1 billion or more in new funding. Overall investment from 2016 - 2020 doubled compared to the previous five years.
Mobile gaming powers ahead
Mobile gaming remains the biggest category in the app market. The gaming market is on track to surpass $120 billion in consumer spend in 2021 — that's 1.5x more than other gaming platforms combined.
Mobile Supports the 'At Home' Revolution
At a more granular level, the State of Mobile 2021 shows just how profoundly mobile innovation is altering behaviors in the physical world. Smartphone's disruption of music, film and news was just the appetizer. Mobile has upended more 'traditional' activities too: physical shopping, food and drink, finance and business.
State of Mobile 2021 reveals this process is well underway and flourishing. Highlights include:
The new shopping mall is an app
2020 was the biggest mobile shopping year to date. Collectively people spent 82 billion hours in Shopping apps – 30% growth from 2019. Americans alone spent $53.2 billion on mobile between November 1 and December 9. This was 55% growth year over year. 
Looking ahead, this market looks set for further acceleration as social commerce (via Pinterest, Instagram and others) go mainstream and live shopping shows signs of budding interest. Combined, social commerce and live shopping are poised to be a $2 trillion market by 2024.
A breakthrough year for food and drink apps
Ordering in was not just an alternative for much of 2020, it was the law in many countries. As a result, food delivery and takeout apps flourished. Users clocked up an estimated 128 billion sessions in Food and Drink apps in 2020. In some countries the year-over-year growth was staggering: Argentina (60%), the UK (55%), Indonesia (100%) and Russia (105%).
Mobile reorganizes banking, investment and finance
Time spent in finance apps during 2020 was up 45% worldwide outside of China. Total downloads reached 4.6 billion. Within this space, one of the most vibrant sub-markets was investment and trading, including crypto and bitcoin. Apps such as Metatrader 4, Binance and eToro helped to grow time spent in trading apps by 55% year over year.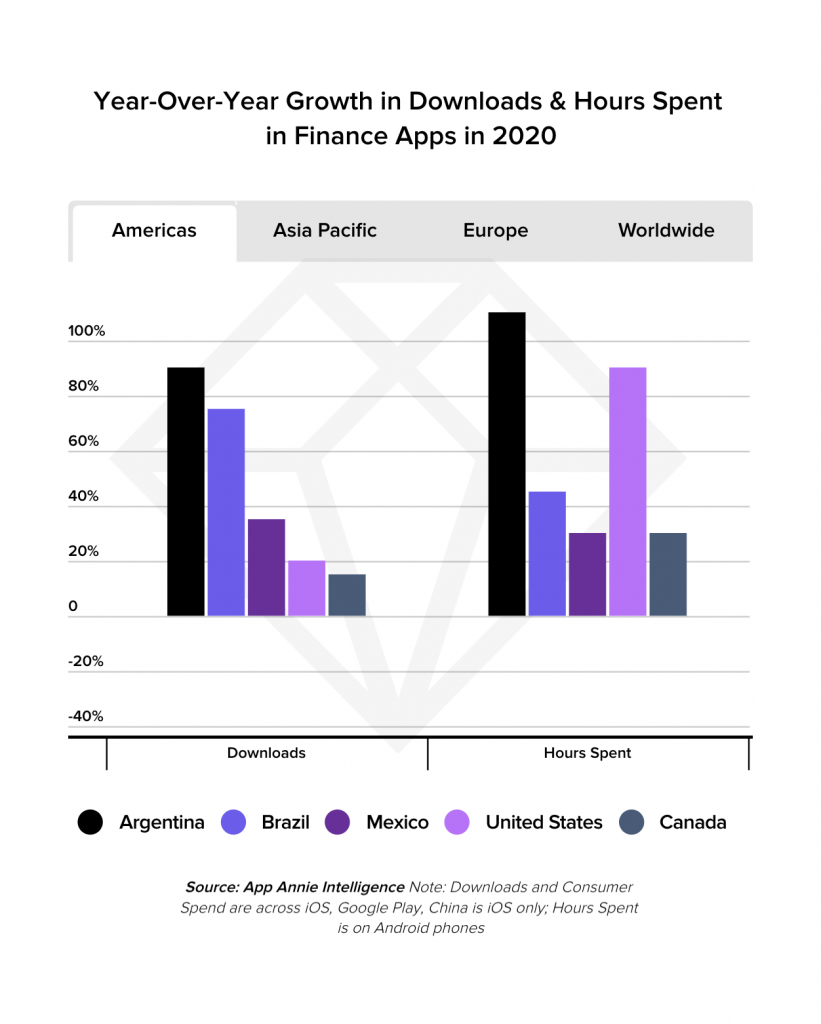 Time spent in business apps up 2.75x in a single quarter
By the summer of 2020, most office workers were making multiple video calls every day due to work from home policies enacted around the world. The shift is evident in State of Mobile 2021, which shows that global time spent in business apps grew 275% year-over-year in Q4 2020 alone. In some regions, the switch was even more remarkable. Argentinians upped their time spent in business apps by 575% across the year. In Turkey, this was 640% year over year.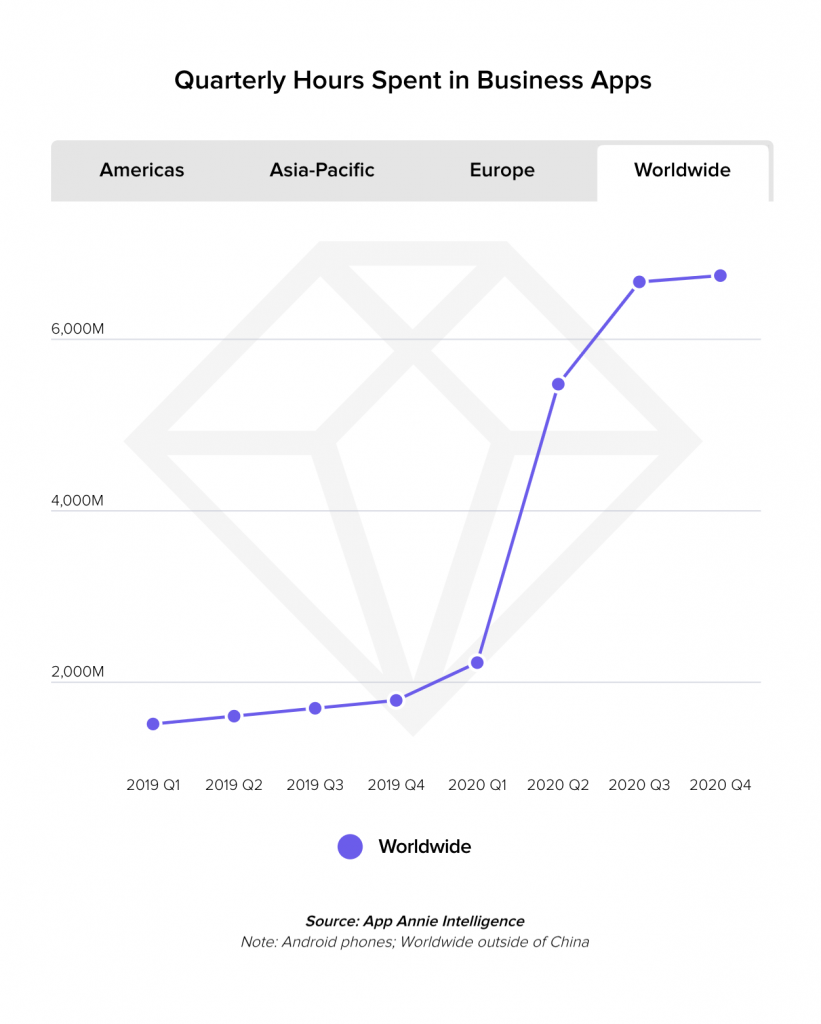 The above is just a taster of the information available in App Annie's State of Mobile 2021 report. For more insights, sign up for the full report:
DISCLAIMER
App Annie is a mobile market estimate service provider. App Annie is not registered in any investment advisory capacity in any jurisdiction globally, and does not offer any legal, financial, investment or business advice. Nothing contained in this communication, or in any App Annie products, services, communications, or other offerings, should be construed as an offer, recommendation, or solicitation to buy or sell any security or investment, or to make any investment decisions. Any reference to past or potential performance is not, and should not, be construed as a recommendation or as a guarantee of any specific outcome. You should always consult your own professional legal, financial, investment and business advisors.
Additionally, by providing the information herein, App Annie does not make any representations or warranties and does not undertake any legal or contractual obligations whatsoever. No liability may accrue to App Annie as a result of providing this information to you.