When it comes to technology, many products offer potential for emerging or mature markets. Mobile provides a rare, massive opportunity in both.
This is the transformative nature of mobile today: there are more than 4 billion mobile devices globally and 96% of the world's population now live within range of a mobile network. Rarely does a device have such a large global market share, but also major penetration in a range of diverse countries, markets and demographic groups.
App Annie's State of Mobile in 2019 report found that emerging markets continued to fuel growth in 2018 and represented 3 of the top 5 markets for app downloads. App downloads in India, for example, grew by 170%, while Indonesia increased by 60%. Across emerging markets, smartphone users spent an average of nearly four hours a day on mobile, compared to nearly three hours in mature markets.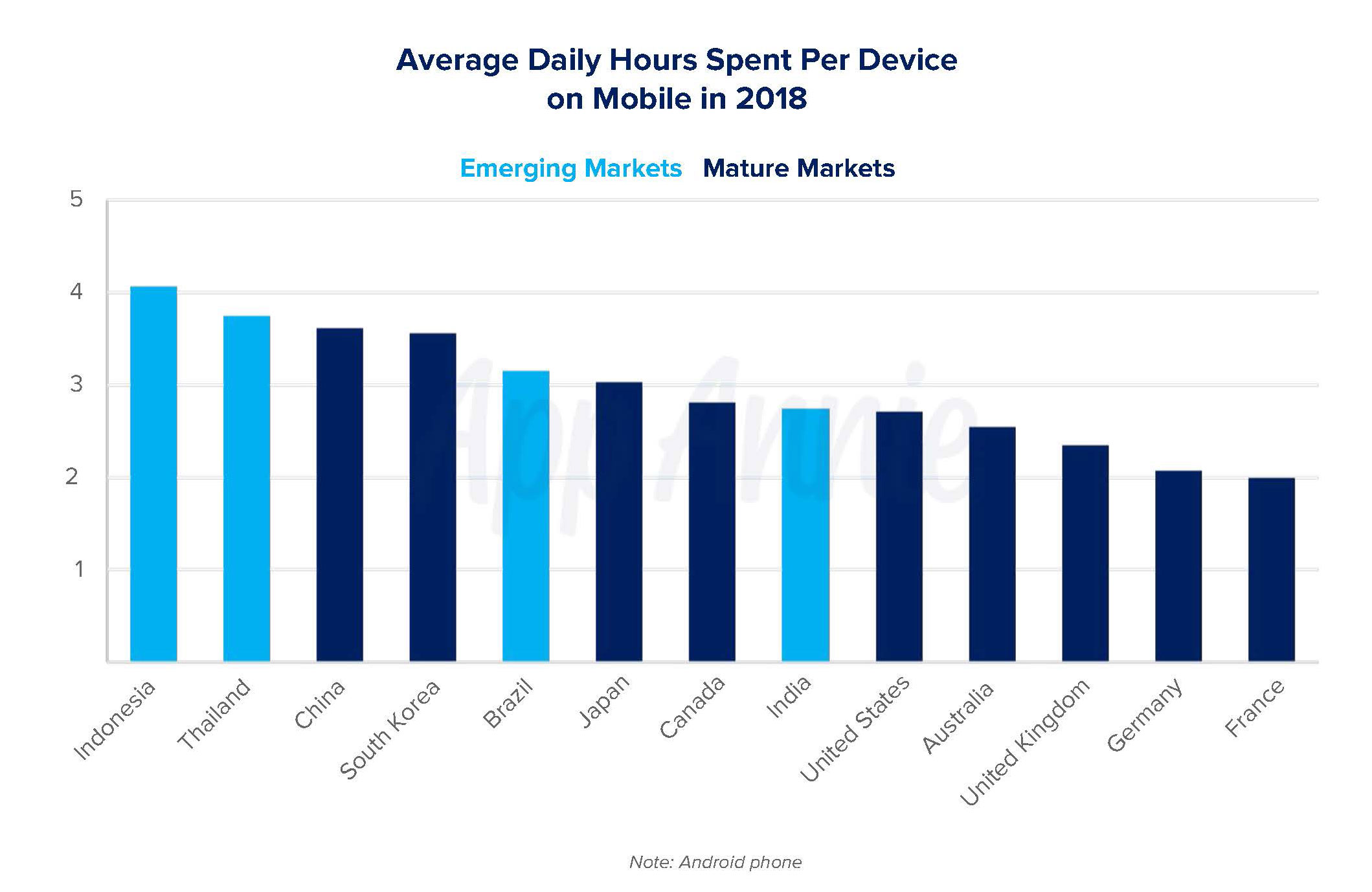 Across both emerging and mature markets, time spent in mobile has grown over the past two years. In mature markets like the US and the UK, the average user spent 10% more time in mobile in 2018 year over year. These consumers are extremely valuable to businesses — as they're highly engaged and likely to make purchases. The US, China and Japan are responsible for the lion's share of spend through the app stores: these three countries accounted for a remarkable 75% of all consumer spend in apps in 2018. This figure doesn't include transactions processed outside of the app stores (e.g. payments in apps such as Uber, Starbucks, Amazon, DoorDash) or revenue from in-app advertising.
So while consumers from emerging and mature markets have smartphones, the way they use these devices varies.
Our State of Mobile report found that smartphone users tend to follow a pattern. At the beginning of mobile adoption, new smartphone users tend to download a lot of apps, but monetization is modest. They're testing many apps and discovering which are most useful, enjoyable and delivering value. We call this the Experimentation phase. As they become more comfortable with app usage, consumers form habits, increasingly settle on certain apps and grow their engagement with these while continuing to test new apps. This is the Adoption phase. Lastly, as users further mature, they enter the Ubiquity phase, marked by heavy engagement and strong consumer spend.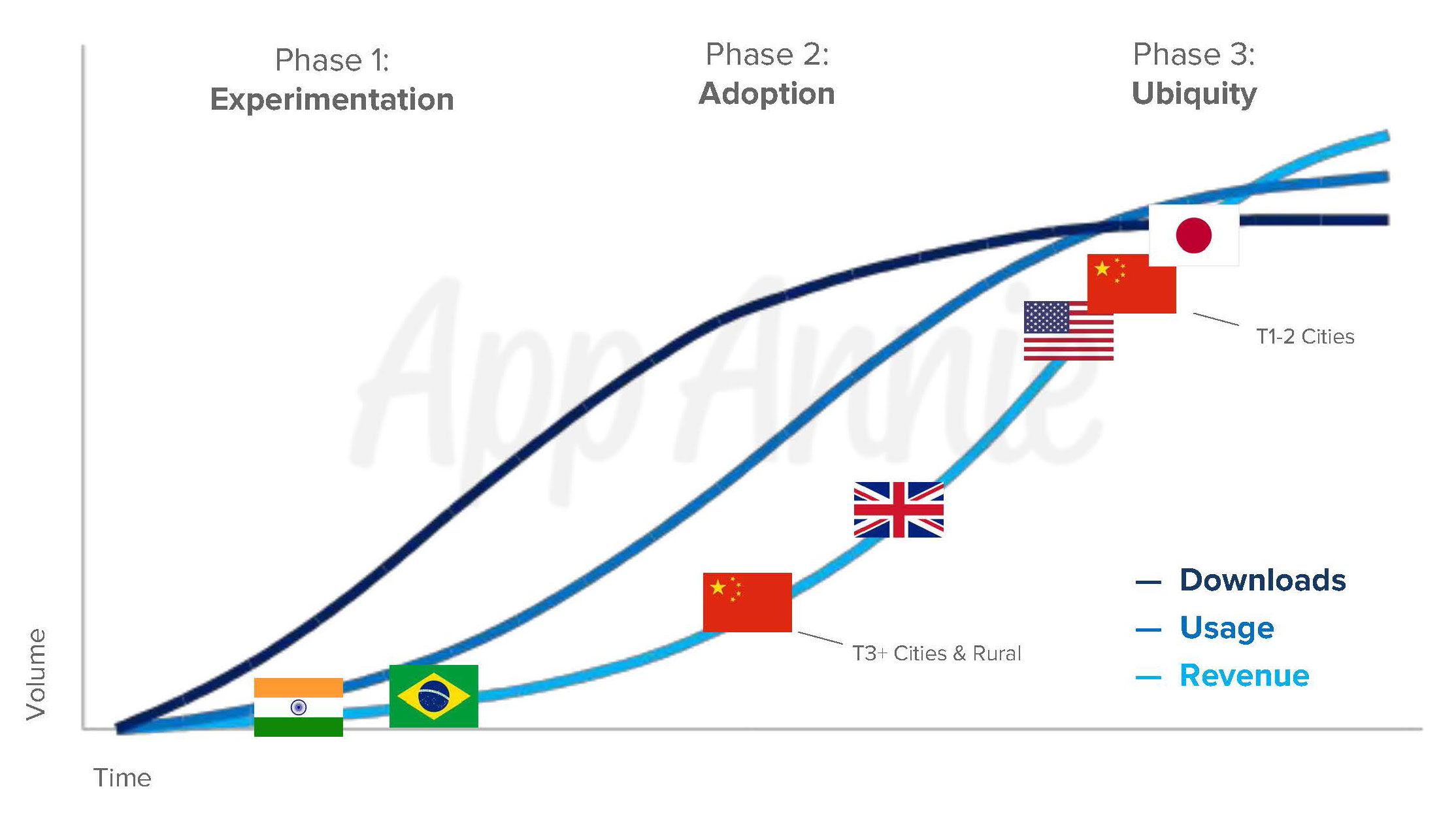 The savvy business in 2019 will be able to recognize what stage their target audiences are in based on the mobile adoption of their market, understand that the nature of their market may impact these phases and be able to segment consumers across regions. A mobile marketer, for example, should ensure their app is sticky with new users and ensure they become loyal and engaged consumers, rather than compelling them to make a purchase right away. In fact, ad monetization models often work well versus in-app purchases for monetizing many apps. Once the consumer matures and enters late Adoption and the Ubiquity Phase, they will be much more receptive to purchase calls to action.
In 2019, whether you're checking your bank statement, buying groceries or accessing the latest news, chances are you're doing so via mobile. Businesses across the globe and industries need to prioritize mobile to not just reach, but to deliver winning consumer experiences.